Island Nurses - Stories of Birth, Life & Death On Remote Great Barrier Island
on 10 May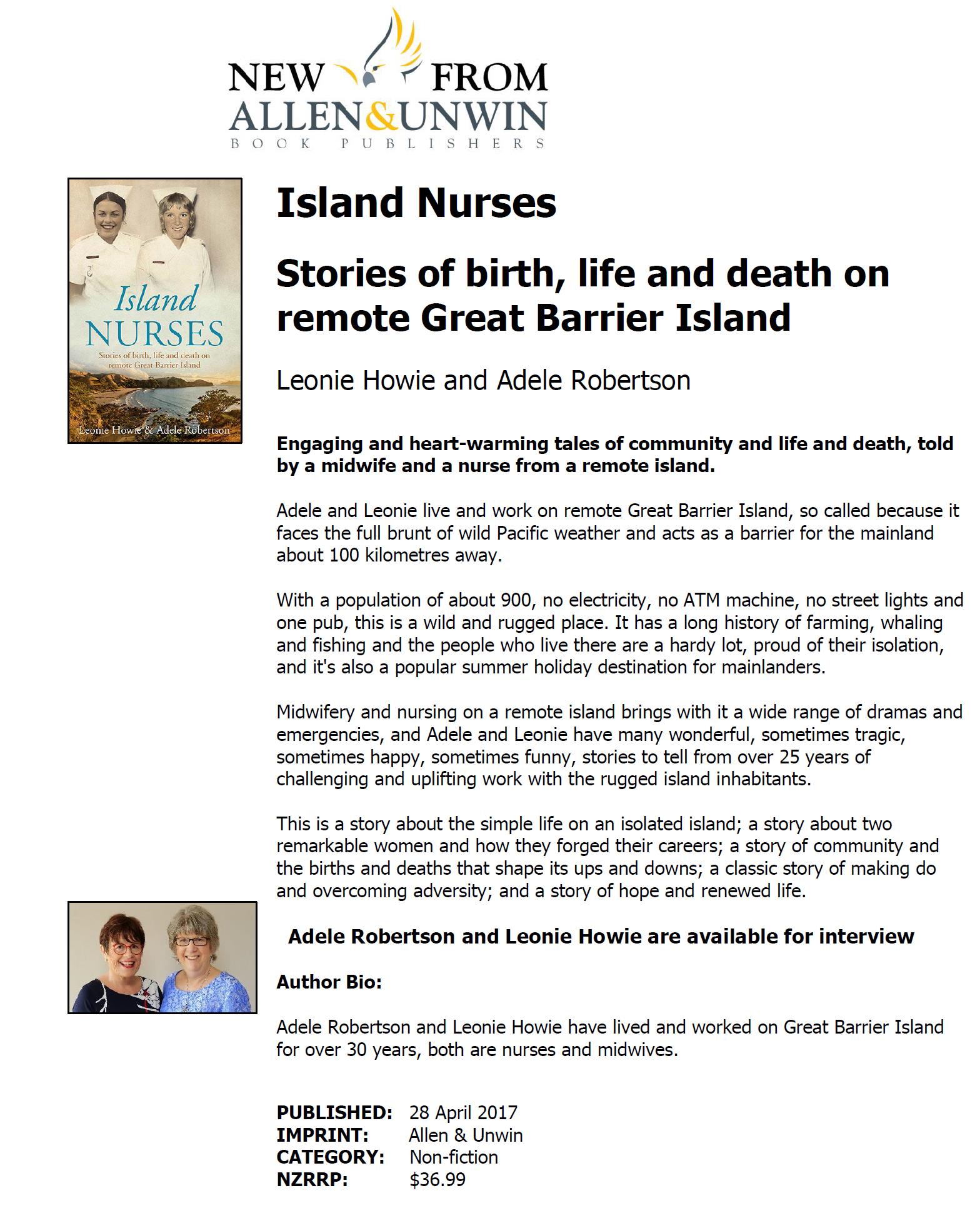 Island Nurses, stories of birth, life and death on remote Great Barrier Island by Adele Robertson & Leonie Howie
I enjoyed this book immensely.
Themes emerging from this book have remarkable congruence with stories from Australian outback nurses. Nursing thrives when it is independent, vital, valued and closely related to communities. In (for example) the Australian book Nurses of the Outback by Annabelle Brayley (Penguin books), the nurses wrote of their distaste for the times they returned to hospital or urban clinic settings where their independence and autonomy was significantly less. Nurses in both books describe how easily nursing embraces the physical, the social, the psychological and the endlessly unexpected. I noticed how very much these nurses in a wide range of rural settings became key figures in their remote communities and how much they were called upon in the broadest way to provide support and care in social situations, to treat injured animals! to provide daily primary and preventative care, to manage social crises and to respond to the most severe events involving cars, air crashes, guns, knives, fire and other trauma.
Reading this book reconnected me with what I understand as the best of nursing. A continuum which spans high pressure quick thinking in complex clinical situations, sheer pragmatism in making it work regardless of context and an ability to connect with and care about people at their most vulnerable and regardless of how they present. Adele Robertson and Leonie Howie have written about years of dedicated service which, like many nurses, was combined with post graduate study (very long distance) and family and other responsibilities.
I am so glad they have written this book; it made me proud of nursing and sad for the many situations in which nursing is currently not flourishing due to the nature of the practice environment. This book is both an insight into nursing, a revelation about the challenges of rurality and a fascinating piece of NZ history.
Professor Jenny Carryer RN PhD FCNA(NZ) MNZM
Executive Director
College of Nurses Aotearoa (NZ) Inc