Conferences & Events
NPNZ Conference 2019.
11-12 April 2019.
Blenheim...WATCH THIS SPACE
---
NPNZ professional development day.
Monday 15 October 2018
Wellington airport or the Mirimar golf course as close to airport for meeting.
Free to NPNZ members
---
NPNZ development day
25th July 2018
---
NPNZ professional development day.
13th April 2018
Christchurch, Sudima Hotel near the airport
---
NPNZ meeting
Clubhouse meeting room at Auckland Airport
Monday 11th April, 2016
Time

Item

9-9:45

NPNZ Updates from the Chair and from Secretary

9:45-10

Morning tea

10:15-11:15

Professor Jenny Carryer – Executive Director, College of Nurses Aotearoa

11: 30-1:30

Alison Hussey (Senior Advisor - Nursing office of the Chief Nurse), Ministry of Health

12:30-1pm

Break within Alison Hussey session (Lunch)

1:30 – 2:30pm

PHARMAC: Sarah Fitt, Director of Operations

An-Ruo Bian, Therapeutic Group Manager (Dermatologicals, Sensory Organs, ECP's)

Sarah Le Leu, Pharmaceutical Project Implementation Lead.

2:30- 4:00pm

Networking and review of upcoming NPNZ work streams (including review of NPNZ survey and feedback from Teleconference with NZNO)

4pm

CLOSE
---
Executive teleconference
8th September, 2015. 730pm
---
Monday NPNZ meeting 2014 (For NZ registered NPs only)
Monday 7th April 9am to 4pm
Building 730, Room 220 Tamaki Campus, University of Auckland

Map to find Tamaki Campus (0.23MB)

Map of Tamaki Campus (0.09MB)
---
Medicine for Psychiatrists, Auckland, 3-4 April 2014
http://www.medicineforpsychiatrists.com
---
Nurse practitioner development days 2014
Friday 4th April 2014 East Tamaki Campus University of Auckland.

NP development flyer 2014 (0.44MB)
Please register by going to the following website:
http://www.nurse.org.nz/event-registration-form.html
Thursday 4th September, Massey University, Wellington
For information, please refer to NPNZ conference cluster details below
---
NPNZ Conference Cluster, Wellington, 4-6 September 2014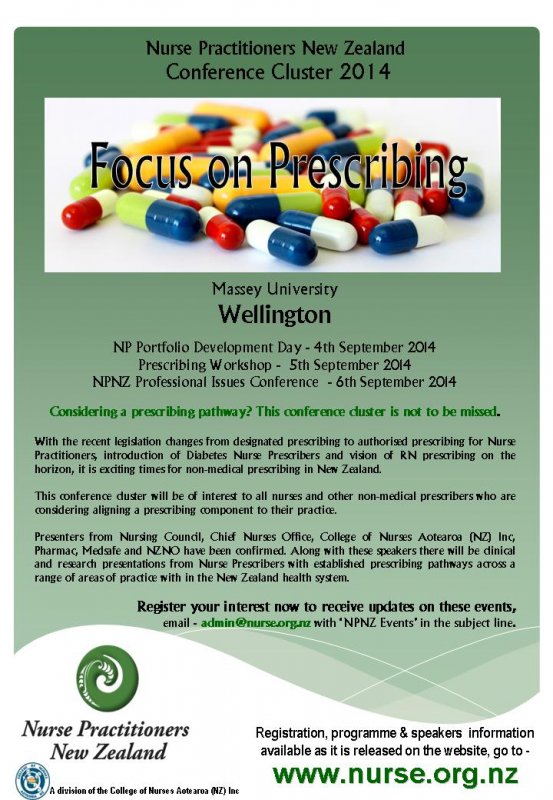 NPNZ conference cluster (0.13MB)
---
College of Australian Nurse Practitioner Conference 1-4 September, Sydney.

Australian NP conference (0.13MB)