Our College Patrons
Professor Marilyn Waring

The College is proud to have as its non Maori patron, Professor Marilyn Waring an outstanding feminist leader who has made a major contribution in numerous fields and in many aspects of public life both nationally and internationally.
Putiputi O'Brien, RGON, QSO.

The College of Nurses , Aotearoa (NZ) is privileged to have a taonga (treasure) such as Putiputi O'Brien as one of it's patrons. Putiputi is in high demand – supporting local developments, supporting nursing (particularly Maori nursing) development, and attending a wide variety of activities (such as the recent annual Maori Student Nurses Hui) where she shares her knowledge and wisdom.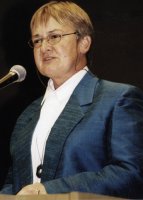 Marilyn Waring (born 1952) is a New Zealand feminist , an activist for "female human rights", an author and an academic. She holds a Ph.D. in political economy .

A member of the conservative National Party, she became the youngest member in the New Zealand Parliament in 1975, at the age of 22; and remained in the House of Representatives until 1984 . At the time of her election, she was only the fifteenth woman elected as a Member of Parliament in New Zealand. As of 2006 , Waring works as a Professor of Public Policy at the Institute of Public Policy at AUT University in Auckland , New Zealand . She has held Fellowships at Harvard and Rutgers Universities. She is a member of the Board of the Reserve Bank of New Zealand . Waring has worked as a consultant for organizations such as the Food and Agriculture Organization (FAO), the UNIFEM (United Nations Development Fund for Women), the Yukon Territorial Government, the Ford Foundation , and the Ontario Provincial Government. Waring's recent work has focused on women's work as an issue of international human rights. She has also done activist work on behalf of women imprisoned or denied refugee status because of what she calls "feminist political issues beyond the restricted definitions and practices of international human rights". She became well-known in Canada following a 1995 National Film Board of Canada video documentary on her work, Who's Counting: Sex, Lies and Global Economics. She has outspokenly criticised the concept of GDP , the economic measure that became a foundation of the United Nations System of National Accounts (UNSNA) following World War II . She ridicules a system which 'counts oil spills and wars as contributors to economic growth, while child-rearing and housekeeping are deemed valueless'. [ citation needed ] Waring speaks publicly on gay and lesbian rights, most recently in support of same-sex marriages . Waring "came out" as a lesbian herself in the 1970s. (Aldrich p433) She teaches on the wonders of globalization and the success in countries like India or China. She also gives conferences to high schools and is interested in giving one in Latin America due to the recent uprisals of anti-globalization demonstrations. Reading of interest
Waring, Marilyn. Women, Politics, and Power: Essays, Unwin Paperbacks-Port Nicholson Press (1984). Issues on women in Parliament, apartheid and New Zealand sport, Nuclear Free New Zealand etc
Waring, Marilyn. If Women Counted, Macmillan (1988). If Women Counted points out the shortcomings of ignoring women's unpaid work in economic tallies. Waring later produced a documentary on the same topic, Who's Counting (see below).
Waring, Marilyn. Three Masquerades: Essays on Equality, Work and Hu(man) Rights, Auckland: Auckland University Press with Bridget Williams Books (1996) ISBN 0-8020-8076-6 . Three Masquerades includes references to Waring's years in Parliament, which she describes as "an experience of counterfeit equality". It also looks at her experiences with farming and with the development field, where she was "daily confronted with the travesty of excluding women's unpaid work from the policy-making process".
Waring, Marilyn. Counting for Nothing: What Men Value and What Women are Worth, Bridget Williams Books (1998). [first published 1977; reprinted seven times] ISBN 0-8020-8260-2 . This feminist analysis of modern economics reveals how economic theory automatically excludes women's housework, caring of the young, sick and the old from value of people.
Waring, Marilyn. In the Lifetime of a Goat: Writings 1984-2000, Bridget Williams Books (April, 2004) ISBN 1-877242-09-8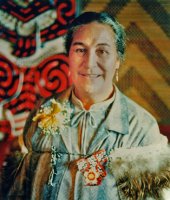 Putiputi O'Brien, RGON, QSO, Dip Public Health, Plunket Diploma
Putiputi's waka is the Matuatua and she is of Ngati Awa descent. She resides in the small eastern Bay of Plenty town of Te Teko. Putiputi registered as a General and Obstetric Nurse at the Waikato Hospital in 1945. From there she embarked on a nursing career in Public Health with the Health Department. On retiring from the Health Department, Putiputi worked in the area of Community health with Midland Health as a District Health Co-ordinator and the manager of the Ngati Awa ki Rangitaiki health initiative.
Professionally, Putiputi has been a role model for nurses and has long held a passion for nurses and nursing with a special interest in Maori nurses, often being a bridge between the two worlds of Maori and tauiwi. She has been the Patron of the National Council of Maori Nurses since its inception, a result of her commitment to working with Maori nurses. Putiputi has travelled with Maori nurses nationally and internationally and has been a participant in, and supporter of the annual National Maori Student Nurse Hui, accompanying students and staff from Waiariki Institute of Technology. She has also been a member of the Waiariki Institute of Technology's Advisory Group.
On becoming the Patron of the College of Nurses, Aotearoa (NZ), Putiputi gifted to the College o whakatauki (proverb), from which the College newsletter has been named – bearing the name Te Puawai, The Blossoming. Kia taha, kia puawai, te maramatanga The illumination and blossoming of enlightenment.
Whaea Putiputi O'Brien presented this paper at the National Maori Student Nurse Hui (Tuteao Marae, Te Teko, 2007 April 19th, 20th, 21st) E oku hoa, koutou nga tauira o nga kuratini o te motu, nga morehu o nga ma ta waka kua tau mai nei ki tenei o tatau marae, tena koutou katoa. Ka mihi ano hoki kia koe e te Rangatira hau nei tatau I whakarite ki to tatau kaihanga ki a pai ai te haere a tenei hui me nga take kei mua ia tatau. Huihuia mai nga mate ma te ra e mihi. Ko te mea nui ano ko tatau ko te hunga ora kua hui mai nei ki te paihere I to tatau whanaungatanga a ki nga toanga hoki e ki ia nei. Ko te Tumanako Ko te Whakapono Ko to Aroha. Nau mai I runga I te reo powhiri o te ra ki konei tatau wananga ai, whaka whiti korero ai. Ina tatau e karakia nei ia ra ia po ka haere tahi tatau I runga I te rangimarie me te aroha. Ka mahara ake ano ki nga kupu a oku tipuna. Inuhia nga Puna-wai hei oranga mo nga hapu o Rangitaiki, kia eke ki te tihi o Putauaki hei tirohanga mo te ao.
This occasion is a very special and humbling one for me. Because of my long journey and association with nurses and as a nurse I cannot help but talk about them today. The following are snippets from papers I presented at other conferences:
Much of the same or more for the future. Absolutely, positively nursing: The impact of nursing. Diversity: Dialogue destiny. Collaboration in action: To Te Runanga A.G.M. Beyond tomorrow the challenges are so numerous. The many changes, a different perspective on the society we want. Cultural diversity likened to the tuku-tuku pattern made of different weaves, texture, different shades, a beautiful piece of work.
Much of the same or more for the future Standing as we are on a bridge between millenniums we wonder about our future as we reminisce about our past. There is good reason for reflection to know where you are going, someone once said " to know where you are going you have to know where you have been". If success during the past 100 years is measured by commitment and worth counted by contribution, then nursing has a rich history indeed. Nursing care may not have made headlines, overshadowed by perhaps by medical innovations, still when it comes to health and healing nursing has been there every step of the way. In a century so dominated by discoveries, nursing made it's own breakthrough bringing new meaning to the word "care" and laying the foundation for another kind of bridge between science and humanity. With such a proud professional heritage today's nurses will cross over to the next millennium hoisted by the courage, commitment and perserverance of the fore-bearers and we expect them ready and able to make a little history of their own.
Absolutely, positively nursing: The impact of nursing Throughout all the changes in health systems, health structures and health politics, there is always nursing. It is the constant that the community, the patients and the whanau can hold onto and rely on. That consistency in itself has a positive impact on so many. As nurses we represent by far the "biggest workforce" in health and as such, our impact is very great. We must stop "under estimating" what we do and we must stop worrying constantly that we "invisible and not valued". We are noticed and very visible indeed by every single person that we come into contact with every day. They know our positive influence on their lives and they experience our love and caring , they see our concern and our smile. They value us and are living testimony to our "impact" even as in some cases they take their last breath and it is nursing that helps them transition this life to the next. Nursing by it's very essence is about positive impact, we just need to tap it's full potential in every setting and every context … Let's together reach out and grasp the fullness of what we have to offer and turn all our energy to achieving a "positive impact" rather than wasting energy on what leads to negativity. Let us collectively agree we are absolutely, positively nursing.
Diversity: Dialogue destiny
In this country we are blessed with such richness in our environment and our lives on a daily basis. This richness is due to the colourful fabric of our country, Aotearoa , the colourful fabric of our families, Whanaungatanga , the colourful fabric of our working lives typified by Kotahitanga and by our rich and diverse spiritual lives Wairuatanga. We are gradually learning as individuals and as nurses to respect and to celebrate this rich diversity. We are gradually learning to move beyond fear and anxiety, to embrace the richness in a positive and whole way that then allow us to engage in the "dialogue". True "dialogue" comes as we trust each other, whether that be in our home, lives, community lives or our working lives. "Dialogue" means much more than merely talking, it means being willing to share openly in a way that connects our "wairua" as well as our "minds" and "voices". It means being willing to make ourselves vulnerable when we engage with colleagues, patients, and with friends and family. It means listening in a way that connects us with the person and the environment. It means observing and absorbing in a way that has meaning to all who participate. In Maoridom, "dialogue" follows the process of the karanga , the mihi , the waiata and the hongi. While these may appear to be merely ritualistic, they are actually one process of acknowledgement and celebration of the "diversity" of thoser present – clearing of the path so that "dialogue" can occur in a way that is safe and supportive. By creating the right environment for "dialogue" it also enables the "destiny" of each person to be guided on it's own unique pathway – past, present and future. Our "destiny" is not just about us the individual, it is about us a part of the unique array of factors. The "creators" dream and plan for our lives, the contribution we are to make according to "his" purpose. The direction laid down by our own forebearers as depicted when we recite our "Whakapapa", the way we care and raise our "Tamariki" amd "Mokopuna", and the way we care for and support and nurture the "Turoro" who are brought into our lives for a time. When they are most vulnerable and most in need the way we support and share with our colleagues; when our paths cross for the period of time "destiny" would happen. Every encounter is a gift, Every encounter is part of our DESTINY, We are shaped and moulded, We shape and mould others, God's hand guides, directs and nurtures us, So we guide, nuture, and care for others, That is expressed through – diversity, dialogue and destiny.
Collaboration in action In the Maori world we believe in wholeness: - the whole person; • the whole whanau; • the whole hapu; • te wairua; • te hinengaro; • te tinana; • te whanaungatanga. It is about wholeness. It is about the unique and individual contribution of every person as part of anetwork that is inextricably interwoven with all others who are involved in a particular situation. Collaboration is about working together in a way that is the same as our shared breath, it is about respecting each other and looking for the positive in what each person can do to bring growth and encouragement in every situation. We need the spirit of "collaboration in action" to continue as through those early days of crisis. We need to grow and develop that Wairua so it becomes the way we do things together every day. That is the way to wholeness. Collaboration in action is a matter of the spirit (te Wairua) a matter of the heart, a matter of the Kaupapa which says, " This is how we will be, This is how we will work together, This is how we will be one and whole."
Special words of encoragement
" You are of a species bred to endure. The suffering of others do not make your own less real, but remember how those others cling to life and in the end won through" You can do it!!
"Our lives are like to course of the sun at the darkest moment, there is promise of daylight". Helen Keller (1880-1968), remember her as this can be you.
" I long to accomplish a great and noble task. But it is my chief duty to accomplish small tasks as if they were great and noble". Just as Mother Teresa also said … "we cannot do great things only small things with great love". "The glory is not in never failing, but in rising every time you fall".
A little prayer:
Dear Lord we ask for your peace, your aroha and your gentleness. Help us live that way. Kia ira ano tatou katoa Enter to learn Go forth to serve. Republished with Whaea Putiputi O'Brien's permission