Do you want to become an NP in New Zealand?
So you want to be an NP, or are currently studying in preparation for NP registration…..
If you are thinking about or actively working towards NP scope, there are some important things to consider and some key steps.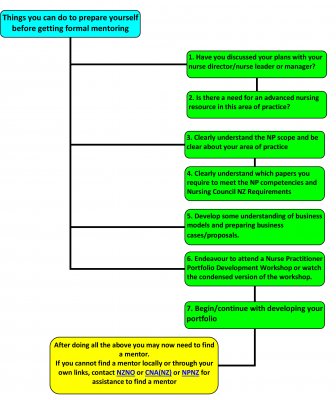 ---
1.
Have you discussed your plans with your nurse director/nurse leader or manager? Is there a need for an advanced nursing resource in this area of practice?
Talk to your director of nursing/nurse leader early on in your planning. These leaders will be able to review and discuss your area of practice in relation to future development needs of NP roles. They will be able to talk about the organisations strategic plan and whether there would be NP role development within the near future. If they see a need for the role they may also be able to support your case in the appropriate forums, as funding of NP roles can be a barrier. There may be an NP champion in your service/area who you can talk to. If there are NPs working in your service/area talk to them about their role development.


You can't guarantee a job unless you have prepared the way, and you can't do that in isolation, you must include people who can help with service delivery, funding strategies, business cases, job descriptions and team development. Becoming an NP is only one aspect of increasing the NP workforce, the workforce must also change shape to accommodate and embrace this new opportunity.
---
2. Clearly understand the NP scope and be clear about your area of practice.
Nurse practitioner is the scope; area of practice is the specialty you wish to practice in e.g. mental health, primary health care, Older persons health. Think broadly when deciding your area of practice. Defining the area too narrowly may be restrictive in the longer term as NP practice develops and roles change. Seek advice around this issue as there is a definite trend in NZ towards broader roles.
The Nursing Council of New Zealand (NCNZ) has

on its website

information about the NP scope and areas of practice
---
3. Clearly understand which papers you require to meet the NP competencies and Nursing Council NZ Requirements
Revised Nurse Practitioner Guidelines for Applicants

Contact the NCNZ approved tertiary providers and discuss it with the coordinator of the NP programme


If you have already completed a Masters Degree but haven't completed a clinical masters you may be having difficulty working out what papers you need to complete, the following information might help:
· Anecdotal feedback from some nurses, who have completed a Master of Nursing degree but don't have the essential clinical papers are having difficultly ascertaining which academic papers are required to prepare them for NP application. In some cases there is a discrepancy in advice received from tertiary education providers and the NCNZ. NCNZ generally advises there are no definitive papers, and that the applicant needs to demonstrate how they meet the individual NP competency indicators. In contrast the information from tertiary education providers suggests that a range of papers are required and that certain core NP papers have pre-requisite papers, which results in nurses needing to complete additional papers. Whilst not intentional this has led to confusion amongst nurses seriously considering NP registration. The following guide has been developed to clarify some of the questions/problems that nurses raise when planning which academic papers to complete.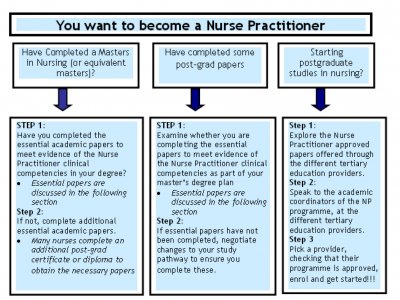 Essential Papers


In most cases nurses must complete the following papers (titles may vary according to the education provider):
Clinical Pharmacology

Advanced Health Assessment and Diagnostic Reasoning/Critical Decision making

Prescribing Practicum
Important Paper Understandings Pathophysiology Paper
The NP competencies require applicants to have an advanced understanding of anatomy and physiology and pathophysiology. Nurses may have varying levels of knowledge in these areas depending on their undergraduate and postgraduate education. For example, prior to the Comprehensive Nursing Programme many of the programmes did not offer specific pathophysiology papers. It is vital to clarify whether your current knowledge is adequate for the NCNZ NP competencies. Completion of a pathophysiology paper may be advisable/necessary. In addition, many universities require a pathophysiology paper as a pre-requisite for the prescribing practicum and some require that it must have been completed in the last five years.
Advanced Health Assessment and Diagnostic Reasoning/Clinical Decision Making Papers
NP competencies require a breadth of knowledge and skills in relation to health assessment, diagnostic reasoning and differential diagnosis. It is vital you read the section on the NCNZ website in the Applicant Guidelines on "Breadth of NP Scope of Practice" so that you understand the precise extent of the knowledge and skills required in this area to meet these competencies. This will help prevent the misinterpretation by nurses and academics that completing a Health Assessment/Diagnostic reasoning paper in a speciality area of practice will be sufficient evidence for the NP competencies. Whilst this information is not entirely inaccurate, in many situations nurses have been left with knowledge gaps as the paper has been too specialised and the nurse is missing the broad range of skills, for example some nurses in mental health have done a specific mental health diagnostic reasoning paper and have not covered off the physical health requirements for NP registration. They have then had to do an additional paper, whereas if they had completed a more general paper this would have been sufficient. In summary, nurses wishing to become an NP are advised to avoid completion of a specialty Health Assessment or Diagnostic Reasoning paper (in the absence of a general one) as this will likely lead to the need to to complete an additional generic Health Assessment/Diagnostic Reasoning paper. Most of the generic papers offer applicants the opportunity to focus on their specialist area.
Practicum Papers
Previously, the only practicum papers offered were papers focused on prescribing. Most education providers have now added a second practicum paper, in some instances by developing a new paper and in others by repositioning some of the content and objectives from one paper to an additional paper. As a result many nurses are completing two practicum papers. Often nurses are informed that this is a NCNZ requirement, however, this is not necessarily/always the case. NCNZ does not put any stipulation on clinical hours, other than the requirement for the nurse to have worked clinically for four years in their chosen area of practice. While some nurses will require the experience (and supervised clinical hours) of two practicum papers, others will not. Nurses who are working in an advanced role in their current clinical setting, and are able to continue working in a way that shows evidence of the NP clinical competencies, with supervision from someone similar to the "clinical associate/supervisor" in the academic papers, may not require a second practicum. Many nurses have gained the NP qualification without having completed two practicum papers. The vital requirement is to demonstrate to NCNZ that the competency indicators are met.

---

4. Develop some understanding of business models and preparing business cases/proposals.
Whilst templates and examples are available on this website you will likely need some support from your nurse leader and/or manager to write one should you require.

NPs work towards health gain to address and reduce inequalities and inequities in health. The role of the NP is centred on patient and population needs and improving health outcomes. Ensure you can clearly articulate how you, in an NP role will address this.

---
5. Developing your portfolio
Nurse Practitioner Portfolio and Mentoring Workshop NPNZ runs a workshop bi-annually for:
Nurses wishing to learn about developing their portfolio and the Nursing Council interview process

People wishing to be mentors for NP candidates; and

People wishing to learn about developing NP roles within their service/organisation (employers, managers, nurse leaders)
To find out about upcoming workshops, please click here for the latest schedule.


This Video file (TO BE LOADED) provides a 60 minute condensed version of the NP portfolio development workshop which provides clear information about the essentials required for your portfolio and tips for the Nursing Council interview process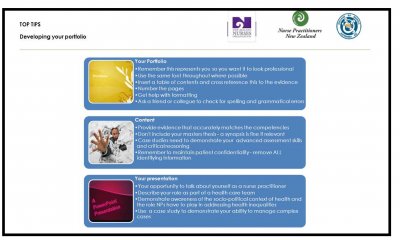 ---
Mentoring
NP mentor guidelines

The Nurse Practitioner Advisory Committee of New Zealand (NPAC-NZ) developed these guidelines to provide a mutually agreed framework for mentorship between the NP candidate and the mentor, and to prevent any misinterpretations of the mentoring relationship.



NP Mentor Guideline.pdf (0.33MB)


---
I am an NP in another country. Can I work as an NP locum in NZ?
Yes, but be aware overseas NPs need to register with the NCNZ first as an RN and then make applications for NP registration. If you are not from Australia (where the Trans-Tasman agreement applies) the registration process must be completed in full and takes a considerable amount of time http://www.nursingcouncil.org.nz/
Practice overseas as an NP does not guarantee NP registration in NZ. Please be aware that the NZ model differs from that in other countries.At this stage of our NP workforce development, locum positions are not widely advertised, so at this early stage you may not find much information on this. However you can check on the jobs for nurse practitioner pages, where job ads and locum positions may be available.