News bulletin 1 June 2016
on 1 June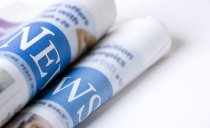 Welcome to the College of Nurses Aotearoa News Update.
No. 302 1 June 2016


National news

Dannemora nurse Susheela Chandra aims for 1000 cervical smears
Susheela Chandra has set herself a goal to help improve women's health.
The Dannemora nurse wants to complete 1000 cervical smears in a year before next month.
Read more here

Visitors who haven't had flu job will have to wear masks at Waikato Hospital
Visitors to Waikato Hospital who haven't had their flu jab will be met with blue masks.
The new hardline stance, an extension of the staff policy which came into effect last flu season, will now make it mandatory for visitors to wear a mask if they haven't vaccinated against influenza.
Read more here
Nurse censured and fined for 'inappropriate relationship' with inmate
A nurse has been censured after forming an "inappropriate relationship" with a prison inmate, and inviting him to live with her upon his release.
The "high-risk" inmate let slip to his probation officer that he was dating the nurse, and eventually moved in with her.
Read more here
Call to tackle toxic surgery smoke risk for doctors, nurses, patients
Surgeons, nurses and patients are being exposed to toxic surgical smoke from burnt body parts, and health staff want new safety measures to combat the risks in New Zealand hospitals.
Read more here
RISK OF TOO MANY UNSUPPORTED NEW GRADUATES IN REST HOMES A 'CONCERN'
A survey confirming rest homes are employing high numbers of new graduates with no guaranteed mentoring is an "ongoing concern", says the nurses union NZNO.
Read more here
NEW GRAD EMPLOYMENT DIPS AFTER RECORD HIGH
The number of new graduate nurses in work is down on the same time last year at just under 74%, according to the latest graduate survey findings.
Read more here
NURSE LEADERS FIND BUDGET HIT AND MISS
Extra money for health is welcomed but it falls short of meeting health needs and investing in the health workforce needed to meet health targets, says nursing and health leaders. And they question increasing tobacco tax without increasing investment in quit smoking programmes and social supports needed to encourage people to quit.
Read more here
Cancer issues
Plan for full rollout of bowel cancer screening programme – a positive decision
Bowel Cancer New Zealand welcomes the budget announcement today of a plan to fully implement a national bowel cancer screening programme. The nationwide charity for bowel cancer patients and whānau has been calling for the introduction of a screening programme since 2010.
Read more here
Age restrictions for bowel cancer screening risk 'unnecessary deaths'
A long-awaited commitment to national bowel cancer screening is welcome but the planned age restriction risks "continued unnecessary deaths", a lobby group says.
Read more here
Proposed test for bowel cancer 'second rate' - expert
The Government has committed to the wrong screening method for bowel cancer, an expert in cancer prevention programmes says.
Last week's Budget revealed the Government would spend $39.3 million over four years to roll out a national bowel screening programme from next year. 
Read more here
Mental health
Number of suicides may be three times as high as recorded
The country's suicide rate may be three times as high as official figures suggest.
The most recent statistics put New Zealand's suicide rate at about 11 people a week, almost 570 in a full year.
Read item here
Pharmacy
Proposals to widen funding access to important vaccines
PHARMAC is asking the public for feedback on proposals to widen funding access to the varicella (chickenpox) and human papillomavirus (HPV) vaccines, as well as other changes to funded vaccines.
Read more here
Public health
Measles outbreak highlights importance of immunisation
Health Minister Jonathan Coleman says the ongoing measles outbreak highlights the importance of being immunised.
Read more here
Free MMR vaccine reminder from Ministry of Health
Don't let measles make you lose your spot at the tractor pull at Fieldays next month – make sure you're fully vaccinated before you go.
Read more here
Taking the fight against rheumatic fever into the community
Porirua parents can now get their children's sore throats checked and treated at any time throughout the year, free of charge and without an appointment.
Read more here
Tobacco, drugs and alcohol
Budget 2016: Cigarettes to soar in price
The cost of a packet of ciggies will rise to about $30 in the next four years after the Budget delivered a 10 per cent a year tax rise.
Read more here
Massive Mass Quit Smoking Challenge
Smoking prevalence remains high amongst people using mental health and addictions services, with a prevailing attitude that they are already under enough stress and smoking is a great way to relieve that stress. This attitude was fostered by a past culture where staff and service users smoking together was the norm and cigarettes were seen as a beneficial tool to treatment. It would take a team of brave souls indeed to implement a mass quit smoking challenge within this environment.
Read more here
Researchers find new ways to reduce smoking in NZ
It will take radical, fresh ideas and new technology to break some New Zealanders of their smoking habit and for smoking prevalence to be less than the Government's goal of five percent in NZ by 2025.
Read more here
Continuing annual tobacco tax increases: New modelling of the likely impact
On Thursday the NZ Government announced it would continue it's programme of yearly 10% tobacco tax increases for the years 2017 to 2020 inclusive. Using our peer-reviewed BODE3 forecasting model, we project that with these additional four years of tax increases smoking prevalence in 2020 will be 21.4% for Māori and to 8.9% for non-Māori – compared to a projected 22.7% and 9.3% if this taxation programme had not continued beyond January 2016. Prevalence reductions may be greater if we hit a 'tipping point' – our modelling necessarily uses responsiveness to tax seen in the past. Thus the further tax increases will help us get to a tobacco-free NZ by 2025, but more 'endgame' strategies are almost certainly also needed
Read more here
Compulsory drug treatment bill under fire
Doctors and human rights advocates are lining up to condemn aspects of a new bill which would let doctors order patients to undergo compulsory treatment for drug an alcohol addiction. Nine to Noon speaks to the chair of the New Zealand Medical Association, Dr Stephen Child, Roger Brooking - an addiction medicine specialist and the Human Rights Commission Legal Manager Janet Anderson-Bidois
Listen here:
Corporates tackle alcohol risks
One of the country's highest-profile sporting bodies is among dozens of corporates to put staff through an alcohol awareness programme.
Read more here
International news
AAP Recommends at Least One Full-Time Nurse in Every School
Children's health needs are increasingly complex, requiring more time and expert care
Read more here
Physician anesthesiologists oppose VA rule replacing physicians with nurses in anesthesia
The American Society of Anesthesiologists (ASA) urges Americans to protect our nation's Veterans by opposing a U.S. Department of Veterans Affairs (VA) proposed policy that removes physician anesthesiologists from surgery and replaces them with nurses, lowering the standard of care and jeopardizing Veterans' lives.
Read more here
Better late than never? FDA proposed ban on powdered gloves welcomed, questioned
The right thing to do — a long time ago
The FDA's recently proposed rule1 to ban powdered latex gloves was welcomed by occupational health advocates, but there was some sentiment that the FDA was finally addressing a problem clinicians long since had to solve themselves.
Read more here

Nurses call for rent controls to improve health and combat housing crisis 
Motion coincides with tenants movement in Scotland calling for full rent controls 
LOTHIAN NURSES want action on sky-high private sector rents to help NHS staff find accommodation in the areas they provide hospital care, and to reduce damage to public health caused by poor housing. 
Read more here
Articles of interest
Five strategies to help prevent nurses' patient-handling injuries
May 2016 Vol. 11 No. 5
For too many years, musculoskeletal injuries from moving patients have been common among practicing nurses. It's time to put all of our energy— both from an individual and organizational perspective—into prevention. Here are five strategies you can use to prevent injuries from manual patient lifting and moving.
Read more here
From the Ministry of Health
New Zealand Health Research Strategy: discussion document
This discussion document seeks your views on the content of New Zealand's first health research strategy for the next ten years.
Read more here
Strategy to Prevent and Minimise Gambling Harm 2016/17 to 2018/19
This document sets out the Ministry's approach to and budget for funding and coordinating services to prevent and minimise gambling harm for the three year period starting 1 July 2016.
Read more here
Standards of Service Provision for Lung Cancer Patients in New Zealand
The Standards of Service Provision for Lung Cancer Patients in New Zealand have been developed to ensure that people with lung cancer receive the best possible care, regardless of where they live. The standards include requirements for investigation, diagnosis, treatment and supportive care. They also specify waiting times for lung cancer treatment, and promote a multidisciplinary approach to treatment planning.
The standards were originally developed and published in provisional form on the Ministry website in 2011. The Ministry provided additional funding to the Midland Cancer Network to support the NLCWG to update and finalise the standards.
Read more here
The above information has been collated for the College of Nurses Aotearoa (NZ) Inc by Linda Stopforth, SNIPS and is provided on a weekly basis.  It is current as at Tuesday 31 May 2016.
If you have any feedback about content - what parts are most useful or what you would like added - please email admin@nurse.org.nz
For more up to date news and information follow SNIPS at:
Facebook:  Snips Info
twitter: @SnipsInfo