News bulletin 12 July 2017
on 12 July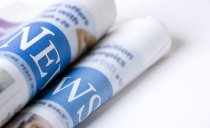 Welcome to the College of Nurses Aotearoa News Update.
No. 356 12 July 2017

NATIONAL NEWS
SmartHealth highlights the benefits of being mobile
When tropical Cyclone Cook loomed in April 2017, schools and roads were closed and the Coromandel Peninsula was declared to be in a state of emergency. Community mental health nurse Dana Nash hunkered down at home with her family and got to work on her iPad.
Read more here
CANCER ISSUES
Language and cultural differences bar women from cancer screening
The music was loud, the jug boiled and nibbles provided as the women chatted and quilted in the clinic.It's not a traditional setting for a medical centre but Porirua Union and Community Health Service (PUCHS) staff were trying something different.
Read more here
HEALTH FUNDING AND RESEARCH
Union claims Southern DHB faces $7 million shortfall this year
A New Zealand Council of Trade Unions (CTU) report claims the Southern District Health Board (SDHB) is underfunded by more than $7 million this year.
Read more here
Canterbury health board gets 'please explain' over forecast $61m deficit
Canterbury's health board has forecast a $61 million deficit blow out and the Ministry of Health is demanding an explanation.
Read more here
MENTAL HEALTH
Prime Minister Bill English opens up on NZ's suicide problem
Warning: This article is about youth suicide and may be distressing for some readers.
Prime Minister Bill English says delivering mental health counselling and support via the internet can help address New Zealand's high suicide rate.
Read more here
PHARMACY
Serious pain coming as NZ's prescription opioid use soars
Kiwis are taking prescription opioid painkillers in record quantities, risking dangerous addictions.Since 2011, the number of prescriptions for pain medication increased from 6.15 million to 7.18 million in 2016, Pharmac figures obtained under the Official Information Act show.
Read more here
TOBACCO, DRUGS AND ALCOHOL
Law needed to curb children's exposure to smoking in cars, says study
The number of children exposed to cigarette smoke in cars remains stubbornly high, as the Government continues to argue a ban is not necessary.
Read more here
Gambling related community harm exceeds that of drug use
Study finds gambling related community harm exceeds that of drug use disorders and common physical health problems
Read more here
INTERNATIONAL NEWS
MOH launches new scholarship for community nursing to build manpower pool
It is targeted at O- and A-Level students, nursing students, and nurses who are already in service.
Read more here
Nevada State College emphasizes caring in revamped nursing curriculum
Nevada State College is hitting refresh on an online program that provides advanced training for nurses.The school has rolled out a revised curriculum — rooted in Dr. Jean Watson's theory of human caring — for the Registered Nurse to Bachelor of Science in Nursing online degree program.
Read more here
Bendigo Regional Training Hub to support young doctors, allied health students
One of 26 Regional Training Hubs will be based in Bendigo.
The hubs will create more opportunities for young doctors to stay, study, work and live in rural and regional Australia.
Read more here
ARTICLES OF INTEREST
A paediatric nurses' journal club: developing the critical appraisal skills to turn research into practice
THE AUSTRALIAN JOURNAL OF ADVANCED NURSING
VOLUME 34 ISSUE 4
The aim of this study was to determine if implementation of a regular journal club improves critical appraisal confidence and facilitates integrating research literature into nursing practice.
Download Article
FROM THE MINISTRY OF HEALTH
Measuring the Burden of Gambling Harm in New Zealand
The Ministry of Health engaged Central Queensland University's (CQU) Experimental Gambling Research Laboratory and Auckland University of Technology's (AUT) Gambling and Addictions Research Centre to develop a framework and a methodology for understanding and measuring gambling-related harm in the New Zealand population.

The aim of the project was to systematically investigate gambling-related harm in New Zealand, and assess the aggregate 'Burden of Harm' caused by gambling with reference to different levels of problem gambling, and other comparable conditions. This improved understanding of the quality and quantity of harm will help to better target efforts to prevent or reduce the potential negative consequences of problematic gambling.
Read more here
RESOURCES ONLINE
Nurseclick – journal of the Australian College of Nursing
June was a very busy month for the Australian College of Nursing. Have a look at our June edition of NurseClick to find out what we have been up to and read articles featuring the latest in nursing practice, policy developments and professional issues.
Download a PDF version here
NEW PUBLICATIONS
Mentoring guidelines for researchers
Royal Society Te Apārangi has this week released new guidelines on mentoring researchers in Aotearoa New Zealand, He waka eke noa: Mentoring in the Aotearoa New Zealand research community. This project was led by members of the Society's Early Career Researcher Forum, as well as drawing on more senior researchers. The guidelines draw on the richness of Māori and Pasifika perspectives, and are designed to be of practical use in a variety of research contexts.

The mentoring guidelines are freely available on the Royal Society Te Apārangi website to be used by anyone or any group who find them helpful but do not constitute formal advice of Royal Society Te Apārangi.
The above information has been collated for the College of Nurses Aotearoa (NZ) Inc by Linda Stopforth, SNIPS and is provided on a weekly basis. It is current as at Tuesday 11 July 2017
If you have any feedback about content - what parts are most useful or what you would like added - please email admin@nurse.org.nz
For more up to date news and information follow SNIPS at:
Facebook: Snips Info
twitter: @SnipsInfo