News bulletin 21 November
on 22 November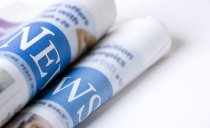 Welcome to the College of Nurses Aotearoa News Update.
No. 375
Wednesday 22 November 2017

NATIONAL NEWS
More than $1m investment in new nursing positions for Hawke's Bay
More than $1million will be invested to create nearly 17 new full-time equivalent nursing roles at Hawke's Bay Hospital, the district health board has announced.
Read more here
Joining an elite group of nurses
AFTER a decade of balancing work, family and study, Three Rivers Medical nurse Kylie Morresey has joined the highest echelon of nurses in the country.
The achievement means Ms Morresey, who works in aged care, can now prescribe drugs.
Read more here
Five years of cyber-bullying an example of abuse nurses face
A nurse continuously cyber bullied for more than five years by anonymous blog posts, some of which falsely accused her of being a sex worker, is just one example of the abuse those in the profession now have to face, a researcher says.
Read more here
Urology super-clinic 'a turning point'
The head of urology at Dunedin Hospital says it took time for his bosses to admit there was a problem but he is confident they will not ignore a similar situation in future.Speaking yesterday during a break in a special super-clinic, urology clinical leader Dr Al Hepburn said he was grateful to patients and staff for making it happen.
Read more here
Rethinking how NZ deals with meningococcal disease
Paediatrician Professor Andrew Pollard is a world expert on vaccination; he advises the World Health Organisation and is the Chair of the United Kingdom's Joint Committee on Vaccination and Immunisation. He is the NZ as the University of Otago's Margaret Black Fellow. Professor Pollard has studied meningococcal vaccines and chaired the committee in the UK which recommended introduction of the UK programme in 2015 which has halved the rates of MenB disease in children. He discusses with Kathryn whether NZ needs to review how it protects the population against meningitis.
Read more here
EMERGENCY MEDICINE AND SERVICES
Ruling out heart attacks faster
A new study has found that protocols implemented across New Zealand's emergency departments are helping rule out a heart attack in patients, a lot sooner.
The study funded by the Health Research Council of New Zealand (HRC) has been published in the journal Circulation, and co-author Dr Martin Than was invited to present the findings as late-breaking news at the American Heart Association's annual Scientific Sessions in California last week.
Read more here
MENTAL HEALTH
Health Minister David Clark says mental health inquiry will include addiction services
Health Minister David Clark says it's disappointing a man had to travel overseas to receive drug and alcohol treatment.
The Government would be looking at addiction services as part of a mental health inquiry.
Read more here
Rising depression and anxiety among Kiwi youths
Ministry of Health figures have revealed that a growing number of young New Zealanders are battling psychological distress.
Psychological distress was defined in the survey as having "high or very high probability of anxiety or depressive disorder".
Read more here
Children admitted to adult mental health wards
Mentally unwell children - including an 8-year-old - have been admitted as inpatients to adult mental health wards more than 1300 times during the last five years as the health system struggles to keep up with the number of children in crisis.
Read more here
Newly-funded research targets mental health needs of Māori youth
A study will explore if an e-screening tool can increase the rate of mental health assessments in youth, and make it easier to disclose sensitive information.
Read more here
OBESITY / SUGAR TAX
'Life-changing' obesity courses offer children and families hope for change
The jury's still out on how effective intervention programmes are in helping turn around New Zealand's high obesity rates, but families signing up to help their children say the support has been life-changing.
Christchurch school girl Harmony Tamou this week joined her classmates for the season's first trip to the school pool.
Read more here
PATIENT SAFETY
New patient safety initiative at Waitemata DHB
That's the message behind a newly-launched Waitemata DHB initiative designed to help make sure patients know how to use their medication safely.
Easy-to read information cards are now being used in the Waitakere and North Shore hospitals, encouraging patients to ask more questions if they are feeling confused or uncertain about what they've been prescribed.
Read more here
PUBLIC HEALTH
Northland Māori need effective strategies to treat acute rheumatic fever
Research by the University of Auckland has found a lack of throat swabbing and inappropriate prescription of antibiotics in primary care is preventing the diagnoses and treatment of acute rheumatic fever and group A streptococcus bacteria in Northland Māori.
Read more here
WORKFORCE
Hundreds of jobs still being filled at Middlemore Hospital
At least 100 more nurses are needed at one of the country's biggest hospitals.Figures released under the Official Information Act show that Counties Manukau Health was recruiting for more than 100 full-time nursing staff as of October 10.
Read more here
Māori successes to motivate future Māori health leaders
Te Rau Matatini is proud to be launching 100 Māori Leaderswebsite to contribute to the capacity building of the Māori health workforce. Māori leadership can be defined in various ways, in this resource Māori have identified whom they believe are leaders.
Read more here
INTERNATIONAL NEWS
Managing nurses well can help patient outcomes, report says
Nurse managers directly and indirectly influence nurse and patient outcomes, according to a new study from Press Ganey.
Understanding the relationship between nurse manager ratings and work environments most likely to affect outcomes are critical, the research showed.
Such insights can provide a roadmap for quality improvement efforts and best practice implementation, the report concluded.
Read more here
New role to combat theory-practice gap
Victoria's La Trobe University has developed a ground-breaking new role, designed to enable advanced nursing clinicians to move seamlessly between a health care provider and an educational provider, in order to eliminate the theory practice gap.
Read more here
Nurses Say AMA Launching 'Turf War' Over Direct Patient Access
Nurses across the U.S. are upset at new American Medical Association policy opposing efforts to allow advanced practice registered nurses to practice independently of a physician's supervision.
Read more here
ARTICLES OF INTEREST
Influenza vaccination policies, masking protocols
Haynes, Shanna Ramsey DNP, APRN, ACNS-BC, RN-BC
Nursing Management: November 2017 - Volume 48 - Issue 11 - p 30–36
Influenza is the most common cause of vaccine-preventable deaths, with associated mortality contributing to approximately 24,000 deaths annually nationwide.1 The annual economic burden of influenza-attributable illness in the United States is estimated to be $87.1 billion, which includes $10.4 billion in direct medical costs for hospitalizations, primary care provider visits, and medications; lost productivity from work absences and death comprise the bulk of the economic burden.2 In 2010, the CDC expanded its influenza vaccination recommendation to include all persons age 6 months and older who don't have contraindications to the vaccine; the previous recommendation for adults had only been for those individuals at high risk and those older than age 50.3
Read more here

Advanced nurse practitioners in municipal healthcare as a way to meet the growing healthcare needs of the frail elderly: a qualitative interview study with managers, doctors and specialist nurses
Birgitta Ljungbeck and Katarina Sjögren Forss
BMC NursingBMC series – open, inclusive and trusted201716:63
Background
The number of frail elderly people with complex nursing and medical care needs is increasing, and consequently, the healthcare burden. The implementation of Advanced Nurse Practitioners globally has been shown to make healthcare more effective and increase patient safety, continuity of care and access to care. In Sweden, research about Advanced Nurse Practitioners is limited. Thus, this study aimed to investigate the opinions of managers, doctors and nurses in primary care and municipal healthcare about the role of ANPs in municipal healthcare as a way to meet the increasing healthcare needs of the frail elderly.
Read more here
FROM THE MINISTRY OF HEALTH
Tier 1 statistics 2016/17: New Zealand Health Survey
These tables cover the most important statistics (Tier 1) from the 2016/17 New Zealand Health Survey. The statistics included are:

self-rated health
smoking (current)
past-year drinking
hazardous drinking
obesity
mental health status (psychological distress)
unmet need for GP due to cost
unfilled prescription due to cost.
These statistics will be covered in detail in the New Zealand Health Survey Annual Data Explorer which will be released in December 2017 and the New Zealand Health Survey Regional Data Explorer which will be released in 2018. These tables will provide information about the health of New Zealanders through the publication of over 200 key indicators on health behaviours, health status and access to health care for both adults and children
You can view the online data tables for the Tier 1 statistics. Results are available by sex, age group, ethnic group and neighbourhood deprivation.
If you have any queries please email hdi@moh.govt.nz
Read more here
NEW PUBLICATIONS
Competences: an education and training competence framework for administering medicines intravenously to children and young people (RCN – UK)
This education and training competence framework for administering medicines intravenously to children and young people was first published in 2005. It has been revised in 2017 to reflect a number of current political and professional issues and initiatives. The framework describes the theoretical and practical competences and overall indicative content for education and training programmes for administering medicines intravenously to children and young people.
Read more here
The above information has been collated for the College of Nurses Aotearoa (NZ) Inc by Linda Stopforth, SNIPS and is provided on a weekly basis. It is current as at Tuesday 21 November 2017
If you have any feedback about content - what parts are most useful or what you would like added - please email admin@nurse.org.nz
For more up to date news and information follow SNIPS at:
Facebook: Snips Info
twitter: @SnipsInfo