News bulletin 30 May
on 30 May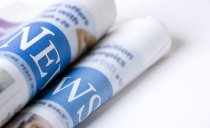 Welcome to the College of Nurses Aotearoa News Update.
No. 399, Wednesday 30 May 2018
Weekly news round-up of nursing and health information in New Zealand and internationally
NATIONAL NEWS
Nurse Practitioners can now issue cremation certificates
The Ministry of Health's acting Chief Nursing Officer says the move to allow Nurse Practitioners to sign cremation certificates shows how important these professionals are to our health system.
Read more here
Post grad programme for Samoan nurses launched
Samoa's School of Nursing is about to launch a post graduate programme to address the shortage of qualified lecturers in nursing.
Read more here
Independent Panel makes recommendations on MECA agreement
The Independent Panel, which was set up to help reach a Multi-Employer Collective Agreement (MECA) between the New Zealand Nurses' Organisation and the 20 District Health Boards, has made a series of recommendations to address issues impacting settlement.
Read more here
Nurses say independent panel 'falls short' - cautiously awaiting new DHB offer
A Government-formed panel, designed to break an impasse between nurses and District Health Boards over tense pay negotiations, may have failed in its objective.
Read more here
PM Jacinda Ardern comments on nurses' pay rise issues (video)
PM Jacinda Ardern talks about the panel for nurses surrounding issues regarding their pay rise.
Read more here
DHBs nearly double their offer to nurses in a bid to avert planned strikes
District health boards (DHBs) have almost doubled their offer to nurses in a package worth more than $500 million over two years - but it remains to be seen if the offer is enough.
Read more here
NZNO team reviewing DHB offer now
Industrial Services Manage Cee Payne has today announced that the NZNO team received a revised offer from district health boards (DHBs) this afternoon.
Read more here
Nurses accuse district health boards of dirty tactics over $93,000 claim
Nurses planning to strike over pay have accused district health boards (DHBs) of misleading the public by saying nurses could earn $93,000 a year under the revised pay deal. A nurse would need to work fulltime, plus weekends, nights and do overtime to earn that much, their union says.
Read more here
Why and when our nurses are preparing to go on strike
On Monday, the New Zealand Nurses Organisation (NZNO) revealed its 27,000 members had voted for two days of strikes.
The District Health Boards (DHBs) then offered to almost double their mediation offer.
Read more here
New global Indigenous health working group launching this week
Tomorrow as the World Health Assembly meeting in Geneva, Switzerland takes place, an historic moment for global Indigenous health will occur when the Indigenous Working Group (IWG)of the World Federation of Public Health Associations (WFPHA) is launched.
Read more here
Health officials encouraged to speak out over financial mismanagement
The Government's top financial watchdog has assured health sector whistle-blowers their identities will be protected. Deputy Auditor-General Greg Schollum made the comments in a letter sent to DHB chief executives and board chairs on May 25.
Read more here
Federation to invite consumer representation
The Establishment Board setting up the Federation of Primary Health Aotearoa New Zealand met for the third time on Friday 25 May 2018 under the chairmanship of Dame Annette King.
"We are on track to shortly be inviting membership applications as well as expressions of interest for the consumer representative(s) on our substantive governance board. I am delighted with the Establishment Board's continued progress and that really bodes well for the Federation to support delivery of the priorities for primary health." says Dame Annette King.
Read more here
AGED CARE
Report shows govts still too slow at tackling the dementia epidemic
Greater progress is needed by countries to implement national plans to respond to dementia, a new report by Alzheimer's Disease International (ADI) has revealed. Around the world, dementia is the 7th leading cause of death. Every 3 seconds someone develops dementia.
Read more here
More elderly with mental health issues
As New Zealand's population gets older, the number of people with dementia will rise, but also the number of older people with other mental health issues and addiction problems, a Dunedin geriatrician says.
Read more here
Otago University study highlights 'giant' issue of poor oral health for ageing Kiwis
Decaying teeth and poor oral hygiene among older people, especially those in residential care, is a major public health problem that's only going to worsen, a leading researcher says.
Read more here
DENTAL
New Zealanders accepting of receiving dental care from dental and oral health therapists to "fill" gaps in their Oral Health
In late 2017, former Prime Minister, Helen Clark 'tweeted' that it was "time for a major government initiative on the right to dental care." In other words, New Zealand needs to look at an affordable and accessible model of care so that all New Zealanders are able to achieve good oral health.
Read more here
Dental care bites wallets: Kiwis leaving teeth to rot
We get subsidised doctors' visits and free hospital care. But turn 18, and most of us spend the rest of our lives either paying through the mouth for dentists or suffering the consequences.
Bruce Munro uncovers a national oral health crisis and no ready way to fix it.
Read more here
DHBs
Counties Manukau DHB tell of stretched resources at Middlemore in letter to Health Minister David Clark
One of the country's busiest hospitals is so stretched that cancers are being discovered too late, poorer patients are being overlooked and there are fears it won't cope with an expected spike in winter flu cases.
Read more here
Nurses share concerns raised by Middlemore letter
The Nurses Organisation says it is shocked by the letter written by clinicians at Middlemore Hospital about delays to cancer treatment
Read more here
No disciplinary action in half of bullying, harassment cases at DHBs
Just half of 20 cases of bullying, harassment and sexual misconduct reported at several DHBs in one year led to formal disciplinary action and none resulted in dismissal, a Herald on Sunday investigation has found.
Read more here
Manukau hours extended to deal with Middlemore crisis
The Counties Manukau DHB will extend hours in some departments as part of its response to a staffing crisis at Middlemore hospital.
Read more here
HEALTH SYSTEM REVIEW
Major review of health system launched - Clark
Health Minister Dr David Clark has announced a wide-ranging review designed to future-proof our health and disability services.
"New Zealanders are generally well served by our health services, particularly when they are seriously unwell or injured. Overall we are living longer and healthier lives - but we also face major challenges," says David Clark.
Read more here
DHBs in for shakeup as public health system goes under the microscope in major review
A wide-sweeping review of New Zealand's public health system will consider new funding arrangements and whether the District Health Board system "helps or hinders" the provision of healthcare.
Health Minister David Clark announced the review and the appointment of long-time Labour operative and former Helen Clark confidant, Helen Simpson, to spearhead it.
Read more here
Crucial that 'Māori are central' to health review
Health workers want a review into the state of the health sector to be quick and inclusive to curb the suffering of vulnerable communities.
Read more here
HOUSING AND HOMELESSNESS
Meth-testing in homes - don't bother, says Chief Science Adviser Sir Peter Gluckman
The Prime Minister's Chief Science Adviser says he cannot see the point in testing homes for methamphetamine because the risk to health is so low in most cases.
Read more here
MENTAL HEALTH
Will the inquiry really be the saviour of the mental health system?
ANALYSIS: The shortfalls of our mental health system were a constant topic of discussion at the dinner table, in the House, and in the media last year. After the new Government announced a national mental health and addiction inquiry, the subject disappeared from headlines.
Read more here
MIDWIFERY / MATERNITY
Some midwives aren't giving mothers the full, unbiased and accurate information they need
Mothers and babies are being put at risk by some midwives who fail to give unbiased information, the Health and Disability Commissioner (HDC) has warned.
Read more here
OBESITY / SUGAR TAX
Obesity now linked to 12 different cancers
Losing weight can not only reduce your risks of Type 2 diabetes and heart disease, it could also prevent you from getting 12 different cancers.
Read more here
STROKE
Stroke service 'Telestroke' rolled out to help people in the regions
Well-known Waikanae doctor Beven Telfer was in a holiday home when he had an early-morning stroke last year. An extremely fit and healthy non-smoker, Telfer had never had a blood pressure problem.
Read more here
TELEHEALTH AND E-HEALTH
Waikato DHB releases damning findings into SmartHealth
Waikato health bosses didn't listen to its doctors or seek to collaborate with other health boards before launching its failed virtual health project, SmartHealth.
Read more here
A new computer system is replacing nine current systems across the five South Island DHBs.
The joint project, known as the South Island Patient Information Care System (SI PICS), is the single biggest health IT investment in New Zealand of the last decade.
Read more here
Celo the safe-snapping app
Medical staff can't just use Snapchat or WhatsApp when they want to send private information to another professional, so what can they do when they need to get a second opinion in a hurry?
Read more here
TOBACCO, DRUGS AND ALCOHOL
Cannabis: What's the harm?
A researcher of the effects of cannabis says any law change to free up the drug's availability needs to take account of scientifically-robust data showing regular use in young people is associated with a higher risk of mental health issues, use of other substances, and lower levels of achievement.
Read more here
INTERNATIONAL NEWS
Nurse bullying: How hospital leaders can curb conflicts among staff
In addition to physicians and nurses feeling burned out from long hours and tedious administrative duties, a far more subtle but pervasive issue is plaguing hospital staffs — nurse bullying.
At Becker's Hospital Review Health IT + Clinical Leadership conference May 10 in Chicago, a panel of nursing and healthcare leaders explored where and how nurse bullying occurs and prevention in their organizations.
Read more here
How a change in culture turned Fairfield Hospital around
A SYSTEM-wide culture change at Fairfield Hospital is responsible for its recent improvement.
A culture of challenging each other and leaders to improve standards and generate ideas is behind Fairfield's leap forward said its director of nursing.
Tyrone Roberts, director of nursing at Bury and Rochdale Care Organisation gave a presentation about the turnaround to Bury Clinical Commissioning Group (CCG).
He described the 'shock' staff had when he showed up to work shifts with them.
Read more here
200 new nurse practitioners
British Columbia is creating 200 new nurse practitioner positions in an effort to connect more residents to a primary care provider.
Read more here
Hiring more nurses will reduce number of preventable deaths in hospitals, research shows
HIRING more nurses is key to reducing the number of preventable deaths in hospitals, a Territory academic has found.
Read more here
PNG Nurses Association says health overhaul needed
The president of Papua New Guinea's Nurses Association says a complete overhaul of the health system is needed.
Read more here
'Handmaidens no more': what is the future for nursing?
Nurses were once seen as bedside helpers – now, they perform a complex variety of medical roles vital to the NHS
Read more here
WORKPLACE
How to make mentoring work and why your workplace will benefit
Shared wisdom can make for brilliant careers - take a look at some of the world's most accomplished people like Sheryl Sandberg or Oprah Winfrey. Whether you're a mentee or a mentor, here is how to make it work.
Read more here
WELLBEING
New study aims to understand workplace wellbeing
Massey University's Healthy Work Group has launched a new research project to comprehensively measure the relationship between working conditions and stress-related illness in New Zealand.
Read more here
5 ways to discuss mental health in the workplace
Mental health is too important to ignore, but often hard to discuss. Here are five strategies to get the conversation started in your work organisation.
Read more here
ARTICLES OF INTEREST
This article is not freely available but may be accessed through databases and libraries to which readers have access.
"We're at a watershed": The positioning of PhD nurses in clinical practice
Journal of advanced nursing, early view April 2018
Aim
The aim of this study was to explore different perspectives on the positioning (i.e. the perceived rights and duties) of PhD nurses and how they contribute to clinical nursing practice.
Background
The number of PhD nurses is growing worldwide, but we only have little knowledge of what is expected of PhD nurses and what their actual impact is in the clinic.
The above information has been collated for the College of Nurses Aotearoa (NZ) Inc by Linda Stopforth, SNIPS and is provided on a weekly basis. It is current as at Tuesday 29 May 2018
If you have any feedback about content - what parts are most useful or what you would like added - please email admin@nurse.org.nz
For more up to date news and information follow SNIPS at:
Facebook: Snips Info
twitter: @SnipsInfo