News bulletin 27 June
on 27 June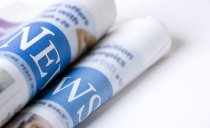 Welcome to the College of Nurses Aotearoa News Update.
No. 403 Wednesday 27 June 2018

Weekly news round-up of nursing and health information in New Zealand and internationally
NATIONAL NEWS
Young Nurse of the Year nominations sought
Outstanding young nurses are being sought for the fifth NZ Young Nurse of the Year awards with past winners including rural nurses, a Plunket nurse, an NP and a nursing lecturer.
Read more here
New online hub for school nurses
School nurses and health professionals have welcomed a new 'one-stop-shop' website where they can get all the resources they need to run their clinics and support student health and wellbeing.
Read more here
Prominent Masterton health leader dies after fall
A well-known leader in the Wairarapa health community died in Wellington at the weekend after a fall.Masterton woman Helen Darlene Kjestrup, 61, died suddenly early on Sunday morning after she fell at a private residence in Thorndon.
Read more here
Three nurses honoured in 2018 Minister of Health Volunteer Awards
A nurse who has championed Māori health for decades has taken out Health Volunteer of the Year, with other award winners including a Pacific nurse and a wound care nurse specialist.
Read more here
Nurses issue first strike notice for July
Nurses have issued their first strike notice after not agreeing with the outcome of salary negotiations.
But a District Health Board spokeswoman says emergency medical services will be available when nurses strike for 24 hours next month.
Read more here
Strike 'last resort' but necessary to be heard, nurses say
One of the 27,000 nurses gearing up to strike next month says she's cried for five out of the past eight days from frustration and fear over her working conditions.
Read more here
Employment Relations Authority to help try avoid nurses' strikes
The country's district health boards are trying to avoid nurse strikes despite pay negotiations breaking down.
Read more here
Opinion: Mark Jones: Nurses' strike about more than just the money?
Dr Mark Jones, was the country's Chief Nurse back in 2006 when safe staffing recommendations for public hospital nurses were first released. He argues that the current nursing discontent, can be traced back to those safe staffing recommendations still not being implemented more than a decade later.
Read more here
Calls for equal recognition of rongoā Māori in healthcare
A terminally ill woman is calling for greater access to Māori healing methods saying they've helped to keep her alive for years longer than doctors expected.
Read more here
The Taranaki hospital patient who never dies
A patient lies quietly and uncomplaining in a dark room at Taranaki's Base Hospital. His heart rate machine is beeping, he's breathing, blinking, has intravenous therapy lines in his arms and although his pulse has been known to stop, he never dies.
Read more here
Multimorbidity impacts on employment and financial wellbeing, Otago report shows
Multimorbidity has a substantial impact on sufferers who report not only poorer health but also adverse impacts on their employment and financial wellbeing compared to the general population, new University of Otago research reveals.
Read more here
Government called on to support Kiwis' healthy attitude
The government and its agencies have been called on by Exercise NZ to work collaboratively with the exercise community to support Kiwis getting into exercise which effectively reduces the burgeoning health bill.
Read more here
AGED CARE
Report calls for hip fracture surgery within 48 hours
Offering surgery to people with hip fractures within 48 hours could lead to fewer deaths, a report by the Perioperative Mortality Review Committee (POMRC) has found.
http://www.scoop.co.nz/stories/GE1806/S00084/report-calls-for-hip-fracture-surgery-within-48-hours.htm

CANCER ISSUES
Study of breast cancer 'highlights inequities'
The extensive three-year study looking at how to improve outcomes for women with breast cancer has been carried out by researchers at the University of Waikato and the Waikato District Health Board. They have used data from over 12,000 women from Auckland and Waikato, reflecting the wider New Zealand population.
Read more here
Faces of bowel cancer: Survival worst for Māori and Pacific people
Don't be afraid to talk about poos and bums – it just might save your life, bowel cancer survivors say.For 3000 Kiwis each year the topic is literally about life and death. But the future would have been brighter for many had they shrugged off the embarrassment sooner.
Read more here
CHILD AND MATERNAL HEALTH
Maternity deaths drop but newborn deaths unchanged
Maternity deaths have dropped dramatically for the first time since 2006 but the newborn baby death rate remains unchanged.
Read more here
Early recognition and response to sepsis in pregnancy key - MMWG
Severe sepsis in pregnant women could be reduced with earlier recognition and response, says a report by the Maternal Morbidity Working Group (MMWG).
The MMWG is a sub-group of the Perinatal and Maternal Mortality Review Committee (PMMRC). It is notified whenever a woman is admitted to a high dependency unit (HDU) or intensive care unit (ICU) while pregnant, or within 42 days of the end of the pregnancy. By reviewing these cases the MMWG aims to reduce the frequency and severity of serious illness in pregnant women.
Read more here
DHBs
How's your DHB doing? Govt does away with National Health Targets
Public reporting of District Health Boards' (DHB) performance of procedures including elective surgeries, cancer treatment times and Emergency Department wait times, has been axed.
Read more here
National warns of more deaths with no public health targets
National has warned that there will be more preventable deaths in the health system now that the Government has dropped national health targets.
Read more here
Labour-led government introduced health targets in 2007
The health targets dropped by the Government because they were creating "perverse outcomes" for patients were introduced by the Labour-led government in 2007.
Read more here
Board member calls to scrap DHB elections ahead of review - 'No' says Health Minister
Taxpayers will fork out millions to elect hundreds of health board bosses just four months before a major review of the health system is due.
Read more here
EMERGENCY MEDICINE AND SERVICES
Study to investigate the safety of New Zealand's emergency departments
The safety of New Zealand's emergency departments is to come under the microscope.The Health Research Council of New Zealand has granted $1.19 million for a University of Auckland three-year study that will track more than 6000 patients going to EDs across the country.
Read more here
HEALTH FUNDING AND RESEARCH
Great minds come together to help set New Zealand's health research priorities
Some of New Zealand's leading health researchers, innovators, advisors and health delivery experts have been brought together to help establish New Zealand's first set of national health research priorities.
Read more here
HEALTH SYSTEM
Dramatic rise in acute hospital patients 'a legacy of years of under-funding'
"Years of under-funding the public health system and other social services have resulted in a dramatic increase in acute hospital admissions," says Lyndon Keene, Director of Policy and Research at the Association of Salaried Medical Specialists (ASMS).
Read more here
Health minister grilled over $8b promise
Health Minister David Clark says the $8 billion extra for health Labour promised during the election campaign will still materialise in future budgets during this term of government.
Read more here
OBESITY / SUGAR TAX
Rise in obesity rates in school children reverses promising preschool trend
Auckland's level of obesity in under-fives has continued to fall for the third year in a row but new data indicates children are putting on excess weight in their school years.
Read more here
PHARMACY
University of Otago researchers call for re-think on prescription charges
Researchers are calling for a re-think on Government prescription charges after being surprised by their own survey findings on how many chronically ill people struggle to pay.
Read more here
PRIMARY HEALTH CARE
Major research grant awarded to assess effectiveness of primary health care
A Victoria University of Wellington-led team of researchers has received a $4.78 million Health Research Council grant to assess the effectiveness of New Zealand's primary health care system.
Read more here
PUBLIC HEALTH
There has been a significant reduction in the number of people diagnosed with HIV in New Zealand over the past year.
In 2017, 197 people were diagnosed – a decrease from the 243 reported in 2016, figures released today by the AIDS Epidemiology Group, University of Otago, show.
Read more here
Gonorrhoea resistant to more medicines, New Zealand doctors warned
While gonorrhoea rates are on the up, the number of medicines available to treat the sexually transmitted infection are quickly dwindling.
Read more here
Rheumatic screening for children in Auckland's north and west
Waitematā District Health Board is introducing a new programme to screen children for rheumatic fever as the disease persists despite government efforts.
In 2012, the Government set a goal to reduce the rheumatic fever rate from 4 cases per 100,000 people to 1.4 cases per 100,000 people by mid-2017. However, national data shows the cases remained fairly steady over that time, with 3.4 cases per 100,000 people in the year to July 1, 2017.
Read more here
SOCIAL HEALTH
Dental Association says low-cost prevention measures the answer
The recent Healthy Auckland Together monitoring report shows poorer oral health outcomes for children in the poorest neighbourhoods, being 12 times more likely to have worse oral health compared to children from affluent areas.
Read more here
STROKE
'Wake-up call' study shows strokes could increase 40 per cent by 2028
Stroke numbers are on track to increase by 40 per cent over the next decade unless urgent action is taken to reduce the looming healthcare burden, a new study has found.
Read more here
TOBACCO, DRUGS AND ALCOHOL
Quitline launches text support service
It's now even easier to get help and support from Quitline via text anytime, anywhere.
Read more here
Doctor: Booze industry needs mandatory warnings for pregnant women
New Zealand Medical Association (NZMA) chair Dr Kate Baddock is calling for mandatory labelling on alcoholic drinks packaging to warn of the dangers of drinking during pregnancy, which can lead to foetal alcohol spectrum disorder (FASD).
Read more here
INTERNATIONAL NEWS
Nurses attitudes are key to better compliance with infection control practices
A study in the United States has shown that attitudes among community nurses are important for their compliance with infection control practices.The study, by researchers at The University of Manchester, Columbia University, the Visiting Nurse Service of New York and Appalachian State University in the US, is published in the American Journal of Infection Control.
Read more here
The nurses tackling mental illness in police custody
An estimated third of those arrested by police in England are experiencing mental health problems.
Read more here
Elite certification 'validates' Option Care nurses
Option Care recently recognized 19 of its nurses for passing the Certified Registered Nurse Infusion (CRNI) examination this spring. The credential, offered by the Infusion Nurses Certification Corporation, puts those nurses in an elite group of only 3,000 active certified clinicians in the world, saysBrenda Wright, senior vice president of clinical services at the Bannockburn, Ill.-based Option Care. Wright spoke with HME News recently about why this credential is rewarding for both nurses and the provider.
Read more here
ARTICLES OF INTEREST
New Zealand nursing students' experience of bullying/harassment while on clinical placement: A cross-sectional survey
Collegian (Article in press)
BackgroundBullying in nursing is a global problem that has been explored and reported within the literature. There is however, limited literature that deals directly with bullying of nursing students in the clinical setting in New Zealand.
Aim
This prospective cross-sectional survey investigated New Zealand undergraduate nursing students' experiences of bullying and/or harassment during clinical placement. An electronic survey was conducted between August and October 2017.
Read more here
Estimating the economic costs of ethnic health inequities: protocol for a prevalence-based cost-of-illness study in New Zealand (2003–2014)
BMJ Open 2018;8:e020763. doi: 10.1136/bmjopen-2017-020763
Introduction There is significant international interest in the economic impacts of persistent inequities in morbidity and mortality. However, very few studies have quantified the costs associated with unfair and preventable ethnic/racial inequities in health. The proposed study will investigate inequities in health between the indigenous Māori and non-Māori adult population in New Zealand (15 years and older) and estimate the economic costs associated with these differences.
http://bmjopen.bmj.com/content/8/6/e020763
MINISTRY OF HEALTH
SNOMED CT Subset Development for National Patient Flow: general paediatrics and child developmental services
Draft SNOMED subsets (subsets) have been developed for general paediatrics and child developmental services to support enhanced reporting within National Patient Flow and are now available for wider comment. You are invited to comment on the content included in these subsets. Feedback from paediatric specialists and child development professionals would be particularly welcome.
Read more here
Report on the biological monitoring of selected chemicals of concern
Results of the New Zealand biological monitoring programme, 2014-2016
This report presents the results of the first comprehensive national biological monitoring programme for selected chemicals of concern in New Zealand.
Read more here
Top Tips for Improving Your Acute Demand Management
Acute care is urgent or unplanned health care that a person receives for an illness or injury. Acute care is time sensitive and can result in death or long-term disability if the person does not quickly receive the care they need.
As in other developed countries, the demands on New Zealand's acute care services are increasing due to our growing and ageing population, and long-term conditions like cardiovascular disease and diabetes. In addition, our workforce will continue to be stretched as many GPs and nurses retire over the next 10 years.
It is important that acute care services identify new ways of working to manage these greater demands effectively. We need to strengthen our ability to manage acute demand and deliver more planned care in the community, rather than unplanned care in hospitals.
Read more here
Molecular Testing of Colorectal Cancers in New Zealand: Minimum standards for molecular testing of newly diagnosed colorectal cancers
Summary
The molecular testing standards set out the expected level of testing for patients who have received a new diagnosis of colorectal cancer. The standards relate to Mismatch Repair, BRAF and RAS Mutation testing.
The standards have been developed by the National Bowel Cancer Working Group with feedback received from the health sector in September 2017
Read more here
PROFESSIONAL DEVELOPMENT
Eighth biennial Australian and New Zealand falls prevention conference
Event start: 18 Nov 2018 12:00am
Event end: 20 Nov 2018 12:00am
Location: Hotel Grand Chancellor, Hobart, Tasmania
The eighth biennial Australian and New Zealand falls prevention conference is being held on 18–20 November 2018 in Hobart, Tasmania.
The programme includes plenary lectures by speakers from the UK, USA, Australia and New Zealand. Topics are related to falls prevention in the community, hospital and aged care settings (and much more).
For more information download the conference brochure or visit the conference website
NZ Respiratory Conference
'A Wave of Knowledge in the Respiratory Space'
NZ Respiratory Conference 2018 - registrations NOW OPEN! Book now and save $100!
The New Zealand Respiratory Conference is the largest gathering of respiratory professionals in New Zealand. Last year over 200 delegates attended including GP's, nurses, specialists, educators and health professionals all with an interest in respiratory health.
The theme for 2018 'A Wave of Knowledge in the Respiratory Space' will focus on increasing knowledge in evidence based best practice; showcasing how this can be implemented into the everyday working lives of our health professionals. This will ultimately improve patient outcomes
In 2018 we are pleased to announce that we are launching the first 'Respiratory Health Update for General Practitioners' supported by The Thoracic Society of Australia and New Zealand (TSANZ). This full day session will encourage more information and knowledge to be shared regarding the update of both the Adult and the Child and Adolescent Asthma Guidelines, along with the latest respiratory updates and information. This is specifically designed for our GPs.
If you're a health professional don't miss out!
Book now and save $100.
Pullman Hotel, Auckland
Thursday 22 and Friday 23 November 2018
https://www.nzrc2018.org/
The above information has been collated for the College of Nurses Aotearoa (NZ) Inc by Linda Stopforth, SNIPS and is provided on a weekly basis. It is current as at Tuesday 26 June 2018
If you have any feedback about content - what parts are most useful or what you would like added - please email admin@nurse.org.nz
For more up to date news and information follow SNIPS at:
Facebook: Snips Info
twitter: @SnipsInfo