News bulletin 4 July 2018
on 4 July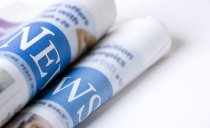 Welcome to the College of Nurses Aotearoa News Update.
No. 404 Wednesday 4 July 2018

Weekly news round-up of nursing and health information in New Zealand and internationally
NATIONAL NEWS
Nurses' union recommends offer that will put nursing 'back on its feet'
The total value of the offer is believed to be about the same as the $520 million package "strongly rejected" by NZNO members two weeks ago. However, the offer has been restructured.
Read more here
Staff flu jab uptake still below target at Auckland health boards
Nearly half the midwife workforce at one of the country's biggest hospitals isn't immunised against the flu, according to new figures.
Read more here
Tapuhi Kaitiaki Awards for Māori Nurses launched
PHARMAC and Te Pōari o Te Rūnanga o Aotearoa/Tōpūtanga Tapuhi Kaitiaki o Aotearoa/New Zealand Nursing Organisation (NZNO) are pleased to announce the launch of the Tapuhi Kaitiaki Awards (Māori Nurses Awards).
Read more here
Nurses at Christchurch's Hillmorton Hospital worried safety problems putting off potential staff
Nurses at Christchurch's Hillmorton Hospital say they are worried that safety problems are putting off new-entrant nurses from working at the facility.
Read more here
Nurse's registration cancelled after 'relentless harassment'
A nurse has had his registration cancelled and been ordered to pay $9000 after "relentless harassment" of nurses and caregivers
Read more here
Big data cohort study pinpointing personalised healthcare for New Zealanders
New University of Auckland research is helping to unpack the debate as to whether taking aspirin should be recommended for the prevention of heart attack and stroke.
Read more here
Kiwis Failing to Follow to Doctors' Advice – Research
Patients are set to benefit with the launch of a new direct-to-patient prescription delivery service that aims to address the high levels of medicine non-adherence in New Zealand.
Read more here
Nurses' strike called off after district health boards improve offer
Acting Prime Minister Winston Peters is congratulating the nurses' union and district health boards for "constructive" talks that prevented a planned strike.
Read more here
As the nurses' strike goes down to the wire, a staff survey reveals key concerns
There's been heated discussion of fair pay for nurses ahead of looming strike action that looks likely across the country next week, after nurses rejected an offer from their DHB employers. But less attention has been given to nurses' calls for so-called "safe" staffing, which some say is more important to them than money.
Read more here
Middlemore Hospital was at 100pc capacity or more for a third of last year
Middlemore Hospital did not have a single bed free for a third of the year in 2017.

Figures released to Stuff under the Official Information Act highlighted how stretched Middlemore Hospital's resources are.
Read more here
AGED CARE
Pacific-style elderly care could be under threat in NZ
It's thought traditional Pacific-style ways of caring for the elderly could be under threat in New Zealand and a new study plans to examine the issue.
Read more here
ASTHMA AND ALLERGIES
Breathe Better September 2018 - national respiratory awareness campaign launches
Breathe Better September is back and encouraging all Kiwis to take the challenge
Read more here
CHILD AND MATERNAL HEALTH
Final farewell to Roxburgh children's residential village
Beds were made, bikes lined up and soft toys stared out blankly into an empty playroom.A sad quiet hung over the Roxburgh Children's Village on Monday when community members were invited to farewell the facility.
After 70 years of operation, the last wave of children to go through the village left on Friday, along with 27 staff.
Read more here
DHBs
Middlemore Hospital to open 30 new hospital beds to tackle winter demand
Middlemore Hospital is opening a new ward to help deal with increased demand during the winter months. The renovated 30-bed ward, on level five of the Galbraith Building, will open on July 9 for four months as a general medicine ward.
Wellington Hospital generators given one-in-four chance of failure
Wellington Hospital is satisfied it can maintain power after a big quake even as new information shows its generators are routinely failing.
A Victoria University engineering professor believes the generators – meant to run the hospital after a quake or other outage – have a one-in-four chance of not running at all and a 50-50 chance of having a complete start-up.
Buildings vs equipment: Middlemore Hospital weighs up its capital spend
Counties Manukau DHB will have to juggle a tight budget along with demands to upgrade its buildings and hospital equipment.

A June report to the DHB's board reveals it will prioritise only its most urgent spends for 2018/19, while hoping to maintain a $10 million deficit.
Patients, staff face quake risks at Christchurch Hospital
Construction delays and cost over-runs are prolonging the earthquake risks facing patients and staff at Christchurch Hospital.
Read more here
Big private surgery bill after hospital delays
A building delay linked to Christchurch's new acute services building forced dozens of surgeries to be farmed out to private providers at a cost of nearly $2 million.
Read more here
ETHICAL ISSUES
Calls for an Independent Bioethics Council to be Reestablished
The Royal Society of New Zealand (RSNZ) - Te Apārangi is encouraging New Zealanders to submit their views on the uses of gene editing in the area of Health, Human embryos, and Pest control [1]
Read more here
MENTAL HEALTH
More than 1200 people seek support on sexual harm helpline in its first month
New Zealand's first nationwide sexual harm helpline received more than 1770 contacts in its first month of operation. Safe to Talk (He pai ki te korerō) was launched on June 1, offering 24-hour free, confidential counselling via phone, text, email and web chat for people affected by sexual harm.
Read more here
MIDWIFERY / MATERNITY
National stillbirth prevention campaign launches to advise pregnant women to sleep safely during their last trimester
From today, pregnant women in New Zealand will benefit from a public health campaign providing vital information that could reduce the number of stillborn babies during late stages of pregnancy.
Read more here
PRIMARY HEALTH CARE
At the helm of her own health management
A new healthcare model tailored to New Zealand is empowering Kiwis to take greater control of their own needs, often saving them money, time, and stress.
Take Sheila Mottram for example; a Kilbirnie Retirement Village resident whose doctor is based at the Johnsonville Medical Centre.
Read more here
Rising fuel costs put pressure on primary healthcare in rural Marlborough
A rapid rise in fuel prices has pushed people in remote rural areas to rely on help closer to home when they fall ill.
Read more here
Free clinic highlights tyranny of distance
Ten kilometres might as well be a light year if you are sick and have no vehicle.When the bus route from Waitahanui to Taupō was chopped by the Waikato Regional Council in 2013, an important link was lost for anyone without a vehicle, a licence or a wad of cash to hand over to the cab driver.
PUBLIC HEALTH
No such thing as a 'free love era' as Hep C treatment soars
Baby boomers who came of age during the "free love era" are being encouraged to take new Hepatitis C tests.About 50,000 people in New Zealand have chronic Hepatitis C, yet only half of those know about it.
TOBACCO, DRUGS AND ALCOHOL
First women's rehab service to address urgent need
The South Island's only women's intensive residential addiction service will be launched in a bid to curb the growing number of women in prisons.
Read more here
INTERNATIONAL NEWS
Nurses seen as key to reducing cutting violence
The UN agency dealing with reproductive health and rights says midwives and nurses can play a big role in reducing violence against women.
Read more here
More nurses would help fill healthcare gaps: report
A new report by the Canadian Federation of Nurses released on Friday concludes that an increase of nurses in the country could help fill the gaps in the healthcare system.
Read more here
Nurse Practitioners can be Canada's solution to health care gaps: new study
Friday June 29, 2018 (WINNIPEG, MB) – Canada's health ministers and nurses union leaders gathered today in Winnipeg for the unveiling of a landmark report from the Canadian Federation of Nurses Unions (CFNU), entitled Fulfilling Nurse Practitioners' Untapped Potential in Canada's Health Care System. The report includes the results of the largest-ever national survey of Nurse Practitioners (NPs), shared with policy makers at the Fort Garry Hotel during the annual Federal, Provincial and Territorial Health Ministers Summit.
Read more here
Nurses union targets NSW govt on ratios
The NSW Nurses and Midwives' Association says nurse-to-patient ratios are a matter of life or death
Read more here
Nurses Can Help Improve Patient-Physician Communication About End-of-Life Care
Patient and physician goals in end-of-life care are sometimes at odds with one another. But nurses may be able to help facilitate discussions between patients and physicians to give both parties a better understanding of each other's goals and ultimately lead to better care.
Read more here
WELLBEING
Working Well Guide and Resources
These Working Well workshops and resources help workplaces prioritise mental health to ensure employees have improved wellbeing, greater morale and higher job satisfaction.
Read more here
ARTICLES OF INTEREST
Boulton MG, Beer S. Factors affecting recruitment and retention of nurses who deliver clinical research: A qualitative study. Nursing Open. 2018;00:1–12
To provide a better understanding of the factors affecting recruitment and retention of clinical research nurses.
Read more here
The above information has been collated for the College of Nurses Aotearoa (NZ) Inc by Linda Stopforth, SNIPS and is provided on a weekly basis. It is current as at Tuesday 3 July 2018
If you have any feedback about content - what parts are most useful or what you would like added - please email admin@nurse.org.nz
For more up to date news and information follow SNIPS at:
Facebook: Snips Info
twitter: @SnipsInfo