News bulletin 10 October
on 10 October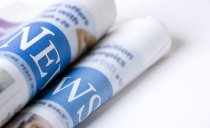 Welcome to the College of Nurses Aotearoa News Update.
No. 417, Wednesday 10 October 2018

Weekly news round-up of nursing and health information in New Zealand and internationally
NATIONAL NEWS
Profile: Paediatric nurse Anneke Slager
Retiring paediatric nurse Anneke Slager is profiled by the Rotorua Post and shares her tale of coming from the Netherlands, discovering her passion for nursing children and her retirement trip to volunteer in India.
Read more here
Young Nurse of the Year sets sights on doctor's degree
Ruha-Hiraka currently works as a practice nurse at Kawerau Medical Centre but hopes to continue study towards a medical doctor's degree.
For three years she has successfully combined full-time study, part-time work and being a mother to her now two-year-old daughter in order to become a nurse.
Read more here
Waikato DHB enrolled nurse Leonie Metcalfe wins NZNO award
Waikato DHB enrolled nurse Leonie Metcalfe was among four nurses honoured at the annual NZNO Awards on 19 September.
The annual awards recognise the work of NZNO nurses and midwives who have made a positive difference to nursing or midwifery practice or practice environment.
Read more here
New approach brings different health professions together to learn
OPINION: An ageing population, growing numbers of people with chronic conditions, and an ageing, pressured health workforce. These are some of the hurdles facing health systems in New Zealand, and around the world. Advances in technology are providing some solutions, but those training and supporting health professionals are also looking at an innovative new approach to improve staff wellbeing and patients' experience of healthcare.
Read more here
Is accepting free samples sustainable?
Giving health professionals free samples of goods and supplies bearing company logos is not a new marketing strategy, and midwives, like other health professionals, walk a fine line when accepting these freebies.
Read more here
CANCER
Research reveals risk populations for bowel cancer in NZ
There are often delays in diagnosis for New Zealanders with bowel cancer with people aged under 60, Māori and those with less formal education most at risk, new research reveals.
Read more here
New Zealand women with advanced breast cancer are dying faster than in other countries
As Wiki Mulholland's Givealittle page grows she sees it not as money, but time. Time to spend with her three children. Extra time to go on family holidays. Birthdays to celebrate.
Read more here
CHILD AND MATERNAL HEALTH
Free plasters = fewer skin infections
Too many children turning up in hospital with serious skin infections prompted a public health response in Bay of Plenty to make a difference. FIONA CASSIE reports
Read more here
ETHICAL ISSUES
Poll: 68% want binding referendum on medical aid in dying
New Zealanders want a binding referendum on proposed End of Life Choice law.A HorizonPoll finds 68% say yes to having a binding referendum, 33% say no.
The result overwhelmingly supports a New Zealand First proposal to hold a referendum, which will determine if its MPs support the End of Life Choice Bill. The referendum would be held if the bill passes in Parliament but before it is given Royal assent to become law.
Read more here
HEALTH ECONOMICS
Outdated public funding model failing NZ patients
Publicly funded modern medicines are out of reach for many patients in New Zealand according to a new report. The COMPARE 4 report shows New Zealand ranking the lowest out of 20 OECD countries for its market access to modern medicines.
Read more here
HEALTH FUNDING AND RESEARCH
Treatment shown to reduce fractures in older women
Researchers from the University of Auckland have shown that a treatment known to reduce fractures in women with osteoporosis is equally effective in reducing fractures in women over the age of 65 who have only mild bone loss.
Read more here
INJURY PREVENTION
Non-fatal injury rates rise for Māori
Government injury information manager James Clarke says, "Examining serious injuries using different breakdowns helps identify high-risk areas and inform injury prevention strategies in New Zealand."
Read more here
MENTAL HEALTH
Communities connect with Mātauranga Māori this Mental Health Awareness Week to strengthen wellbeing
From waka ama to māra kai and Māori movement, Māori workshops are being held this Mental Health Awareness Week to promote positive community wellbeing.
Read more here
Government rejects cross-party co-operation on mental health, for now
The Government has said thanks but no thanks to a call by National for a cross-party group to be set up on mental health, at least until a major inquiry reports back.
Read more here
Alcohol industry funding for charity mental health scheme disingenuous
Lifeline Aotearoa has gotten into bed with New Zealand's largest alcohol company to spread the word about mental wellness.
Read more here
More than half of mental disorders begin in teenage years
Youth mental health has been recognised as a priority in New Zealand, but more needs to be done to enhance the wellbeing of young people and reverse escalating suicide rates, according to Professor Max Abbott at Auckland University of Technology (AUT).
Read more here
MIDWIFERY / MATERNITY
'Antenatal scans save heart disease babies' lives'
Babies with life-threatening but treatable heart disease are more likely to survive if the disease is picked up before birth a new study shows - but researchers say too few pregnant women in Aotearoa New Zealand receive an antenatal diagnosis.
Read more here
PHARMACY
Medical profession lobbies against advertising prescription drugs in New Zealand
Time-poor doctors are pleading for the Government to crack down on ads spruiking prescription drugs.
Read more here
PRIMARY HEALTH CARE
After-hours doctors' fees for children skyrocket at two Auckland clinics after DHBs cut funding
Parents who received free after-hours medical care for their children are now having to pay up to $61 at two Auckland clinics following funding cuts from district health boards.
Read more here
Health care homes early evidence in Wellington - Productivity Commission
Early evidence suggests that a team-based primary health care practice model can reduce emergency department admissions to hospitals.
Read more here
RURAL HEALTH
Rural dwellers less likely to talk to health professionals
A recent survey has found that 70 percent of rural New Zealanders have felt more stress over the last five years.The State of the Rural Nation Survey, conducted by Bayer New Zealand and Country TV, asked participants several questions regarding their views on critical topics impacting rural New Zealand today, including a series of questions around mental health.
Read more here
TOBACCO, DRUGS AND ALCOHOL
Health minister wants synthetic cannabis reclassified after Christchurch death
Health Minister Dr David Clark wants synthetic cannabis reclassified to a Class A drug, alongside heroin and cocaine, so police can "go after the peddlers [and] interrupt the supply of them into the community".
Read more here
Alcohol law changes fail to make dent in ED admissions, study finds
New laws introduced to curb alcohol harm have failed to make a dent on ED admissions, new research has found.
Read more here
Stay-at-home drinkers outnumber pub-goers at ED
It's a familiar stereotype: the partygoer who heads into town, gets drunk, comes a cropper and ends up in an emergency department as an entirely avoidable health statistic.
Read more here
YOUTH HEALTH
Call for sanitary bins in primary schools across New Zealand
One in 16 Kiwi girls – some as young as eight-years-old – will get their period while at primary school, according to first-of-its-kind national data.
Read more here
INTERNATIONAL NEWS
How Every NICU Encounter Counts
In honor of National Neonatal Nurses Day, Nurse Elizabeth (Liz) Drake, RNC-NIC, MN, NNP, CNS, CHOC, of Children's at Mission Hospital in Mission Viejo, California, shares her experiences in spreading the word on NICU encounters across the United States, and why her work is important.
Read more here
Nurses Ballot Initiative Could Cost Over $900 Million A Year, State Panel Estimates
The state ballot initiative on nurse staffing ratios would cost hundreds of millions of dollars a year, according to an estimate issued Wednesday by the Massachusetts Health Policy Commission (HPC), an independent watchdog that keeps an eye on health costs.
Read more here
Complexity of work environment limits nurses from achieving a healthy lifestyle
Changing multiple behaviors is difficult in high stress occupations with demanding schedules such as nursing, according to a new study published in the Journal of Nutrition Education and Behavior
Read more here
WELLBEING
Nurse Burnout Is Real: 7 Risk Factors And The Top 3 Symptoms
After burning out twice in my own career and fighting burnout on a weekly basis, I felt others could benefit from my own life experiences and knowledge of burnout research
Read more here
Lack of exercise putting pressure on Kiwis' health
Lack of exercise is putting pressure on the health of many Kiwis, a leading New Zealand exercise expert says.
Read more here
ARTICLES OF INTEREST
A Day in the Life of a Nurse Educator: Thoughts from Deborah Dolan Hun
Nurse educators work in many different settings with various roles and responsibilities. The academic nurse educator's role is perhaps the most unique; each day is quite different. Nurse educators participate in teaching, service, and scholarly activities. The amount of time spent in each of these areas relates to the academic setting and the type of appointment. Some faculty appointments include a dedicated program of research; however, teaching is often the mainstay of the faculty role. Faculty must be well-versed in the various teaching and learning theories, and theories of the adult learner.
Read more here
This article is not freely available but may be accessed through databases and libraries to which readers have access.
Williamsson, A. , Dellve, L. and Karltun, A. (2018), Nurses' use of visual management in hospitals‐ a longitudinal, quantitative study on its implications on systems performance and working conditions. J Adv Nurs. Accepted Author Manuscript. . doi:10.1111/jan.13855
To examine potential benefits provided by daily visual management tool use and explore its association to systems performance and working conditions among hospital nurses.
Background
Visual management tools used in everyday work as well as improvement work in healthcare theoretically contributes to shared understanding of complex work systems and provide certain user benefits. Cognitive load, miscommunication within and between professional groups and pressure to engage in care process redesign adds to nurses' strained working conditions
Cabral A, Oram C, Allum S. Developing nursing leadership talent—Views from the NHS nursing leadership for south‐east England. J Nurs Manag. 2018;00:1–9. https://doi.org/10.1111/jonm.12650
This article explores the views of current nursing leaders in the National Health Service on the actions and resources that are required to develop and maintain nursing leadership talent.
Background
Although there is considerable talent and expertise within the nursing leadership community, numerous unfilled vacancies and gaps have been identified in competence and capability, with a national analysis indicating that nearly a third of National Health Service director posts are filled by interim appointments or are vacant. Nursing director posts are amongst those vacant for the longest periods.
The above information has been collated for the College of Nurses Aotearoa (NZ) Inc by Linda Stopforth, SNIPS and is provided on a weekly basis. It is current as at Tuesday 9 October 2018
If you have any feedback about content - what parts are most useful or what you would like added - please email admin@nurse.org.nz
For more up to date news and information follow SNIPS at:
Facebook: Snips Info
twitter: @SnipsInfo