News bulletin 30 January 2019
on 30 January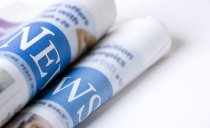 Welcome to the College of Nurses Aotearoa News Update.
No. 430, Wednesday 30 January 2019
Weekly news round-up of nursing and health information in New Zealand and internationally
NATIONAL NEWS
Graduate nurses start at DHB, but more are still needed
The Taranaki District Health Board has welcomed an intake of graduate nurses - but still needs to recruit more.

DENTAL
From grin to grimace: The pain of paying for adult dental care
The cost of visiting the dentist is enough to swipe the smile off many people's faces, yet the implications of deferring treatment can be long-lasting.

HEALTH TECHNOLOGIES
New mobile app to assist with clinical decisions
New mobile app to assist with clinical decisions
A new mobile app is helping ensure patients receive the antibiotics that will best meet their needs.
Online Health Needs Assessment tool live in Northland
Northland DHB has launched a web-based interactive version of the Health Needs Assessment.
The 2018 HNA site went live at the end of last year and is attracting at least 2-3 new users every day, with little promotion so far.
Innovative technology lifting spirits of Starship children
The Starship Foundation has introduced new technology which helps children and their families, who are unable to leave the hospital, enjoy some wonderful New Zea-land experiences.
INJURY PREVENTION
Emergency rooms the destination for many electric scooter users
(HealthDay)—Rented electric scooters have become all the rage in getting around cities, but they are also accidents waiting to happen, a new study reveals.
OBESITY / SUGAR TAX
The Ministry of Health is exploring the feasibility of a sugar tax but Govt says it won't implement one this term
The Ministry of Health is looking into a sugar tax but the Government continues to rule one out for the time being.
PHARMACY
Rotorua pharmacists are concerned over people forgoing prescriptions because of the costs
The cost of prescriptions is stopping some people from getting vital medication and one pharmacist says if something doesn't change, somebody could die.
PUBLIC HEALTH
A global influenza pandemic high on the WHO's agenda
Another influenza pandemic is on the third spot of the list of 10 health threats collated by the World Health Organization for 2019
RURAL HEALTH
Tourist demands mean rural practices left without GP for hours
The pressure of having to look after an influx of tourists is leaving some rural doctor's practices without a GP for hours on end.
Survival mode: Why some rural emergency services are under threat
Rural GPs and nurses are thin on the ground and the pressure on those trying to provide life saving emergency help is even more evident over the summer. RNZ's Otago/Southland reporter, Tess Brunton explores if they can continue as demand rises.
STROKE
New Zealanders among the most at-risk of strokes
A new study shows more than one in four New Zealanders over the age of 25 are at risk of developing a stroke during their lifetimes - the second-highest rate among developed countries.
TOBACCO, DRUGS AND ALCOHOL
Cannabis cons ignored in legalisation debate - experts
The debate on whether we should legalise cannabis has focused far too much on the pros and not enough on the cons, public health researchers say.
WORKFORCE
MoH committed to developing plan addressing health workforce wellbeing
This commitment to developing a plan is the key result of a medical workforce workshop convened by the Director-General of Health late in 2018 with representatives from DHBs, DHB National CMOs, Medical Council of NZ, NZ Medical Association, Royal NZ College of GPS, Specialist Trainees of NZ and the Ministry of Health. The discussions were intended to directly inform the work of the Ministry as it assumes a more prominent national leadership role in health workforce strategy, planning, commissioning and monitoring.
INTERNATIONAL NEWS
How Bournemouth's 'streaming' nurses ease A&E pressure (UK)
Senior A&E doctors are warning that hospitals are teetering on the edge of safety. The Royal College of Emergency Medicine says that after a quieter start to the year, the pressure has intensified this month.

Rest breaks between shifts set to increase to 10 hours (Aust)
Nurses working under the profession's modern award will see their minimum rest break between ordinary shifts increase from eight to 10 hours after the ANMF made a successful claim to improve the current interval as part of the Fair Work Commission's compulsory 4 yearly review of the Nurses Award 2010(Nurses Award) undertaken recently.

ARTICLES OF INTEREST

Schneider A, Bak M, Mahoney C, et al. Health‐related behaviours of nurses and other healthcare professionals: A cross‐sectional study using the Scottish Health Survey. J Adv Nurs. 2019;00:1–13. https://doi.org/10.1111/jan.13926
To estimate the prevalence and co‐occurrence of health‐related behaviours among nurses in Scotland relative to other healthcare workers and those in non‐healthcare occupations.
MINISTRY OF HEALTH
Methodology Report 2017/18: New Zealand Health Survey
This methodology report details the procedures and protocols followed to ensure the New Zealand Health Survey produces the high-quality and robust data expected of official statistics.
Heat Health Plans
Guidelines and key information
There is conclusive evidence that extreme heat and heatwaves have negative impacts on health. Even modest increases above average temperatures can have negative impacts on those most vulnerable to heat, but effective planning can reduce the effects of heat on health.
These guidelines are intended to raise awareness of the risks of hot weather to health, and to encourage and support the development of Heat Health Plans. …
A summary of key information relating to Heat Health Plans is also available.


Review of the Psychoactive Substances Act 2013
The Psychoactive Substances Act commenced in July 2013 and was amended in May 2014. The Act makes products containing psychoactive substances, which are proven to have no more than a low risk of harm, available through a regulated market.

The purpose of this Act is to regulate the availability of psychoactive substances in New Zealand to protect the health of, and minimise harm to, individuals who use psychoactive substances.
This review has considered the effectiveness of the Act against its stated purpose.
The above information has been collated for the College of Nurses Aotearoa (NZ) Inc by Linda Stopforth, SNIPS and is provided on a weekly basis. It is current as at Tuesday 29 January 2019
If you have any feedback about content - what parts are most useful or what you would like added - please email admin@nurse.org.nz
For more up to date news and information follow SNIPS at:
Facebook: Snips Info
twitter: @SnipsInfo