News bulletin 13 February
on 13 February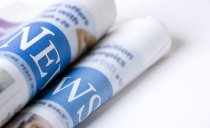 Welcome to the College of Nurses Aotearoa News Update.
No. 432, Wednesday 13 February 2019
Weekly news round-up of nursing and health information in New Zealand and internationally
NATIONAL NEWS
More support needed to reach 2025 Pacific and Maori nursing targets
The government needs to offer more support for Māori and Pacific student nurses to reach its 2025 goal of having the same proportion of Māori and Pacific nurses in the workforce as there is in the general population, according to Whitireia Head of School Health Carmel Haggerty.
District nursing service to drop overnight shift
The MidCentral District Health Board has decided to scrap its overnight district nursing shift from the end of April, despite the board's chief medical officer warning against the move.
AGED CARE
Simon Wallace: Rest homes need to keep up with pay
Vast majority of our aged-care providers are unable to compete with the extra money paid to DHB nurses.
CANCER
How we can overcome cancer inequality in New Zealand
Māori are 20% more likely than non-Māori to get cancer, and nearly twice as likely to die from it, and addressing disparities in incidence and care will be a key focus of cancer strategy into the future.
Home test cancer kits not used by those at risk
Thousands of patients at risk of bowel cancer have failed to use free do-it yourself kits that could potentially save their lives.
The National Bowel Screening Programme launched across Nelson and Marlborough five months ago.
Why cancer treatment runs the risk of becoming unaffordable
As new treatments become ever-more expensive and the population ages, experts are warning that the "train of affordable cancer care" is about to crash off the tracks.
New Zealand melanoma rates no longer worst in world
New Zealand has lost its notorious title as the country with the world's worst rates of deadly melanoma skin cancer to Australia, according to a new study.
DHBs
ADHB achieves the Rainbow Tick and the Accessibility Tick
Auckland DHB has achieved Rainbow Tick accreditation for inclusivity and diversity, making it the first District Health Board in New Zealand to reach this milestone.
Last December, Auckland DHB also became the first DHB to receive the Accessibility Tick for their efforts to make the work place more accessible and inclusive for people with disabilities.
DIABETES
The Significant Benefits of Physical Activity for Diabetes
There are over 240,000 people in New Zealand who have been diagnosed with diabetes.
Most of these have type 2 diabetes, with cases of obesity-related type 2 diabetes on the rise. It is suggested that there are another 100,000 people with diabetes but undiagnosed.
Internationally, the statistics are no better, with one in 11 adults worldwide with diabetes, and with up to 90% of those being type 2 diabetes.
EMERGENCY MEDICINE AND SERVICES
NZ authority on resuscitation pushing for schools to teach life-saving skills
The Government is being urged to follow its British counterpart and make CPR tring part of the school curriculum.
MENTAL HEALTH
Rise in meth admissions strains mental health service in Waikato
Methamphetamine-related admissions to mental health services in Waikato have more than doubled in the last five years.
Mental health working group replacement criticised
The 21-member working group set up to advise the government's response to the mental health inquiry has been replaced with several more working groups.
High suicide rate among elderly NZ men, targeted treatment needed – expert
For men, suicide rates spike around ages 15-25 and then slowly decline to age 65, when they start climbing again, peaking at 32 per 100,000 in men aged 85+.
Pilot programme for young people with poor mental health
Young people with mild to moderate mental health issues are set to benefit from a new government pilot programme, 'Piki.'
Bipolar disorder treatment in New Zealand, the vision and the reality
About 2.2 per cent of the population has bipolar disorder, a life-long mental health illness marked by depressive and manic episodes. A Christchurch-based research team has proven some talking therapy has huge benefits, but for many it remains elusive. CATE BROUGHTON reports.
MIDWIFERY / MATERNITY
'Urgent action is needed': A third of severe illnesses in pregnant women were potentially preventable
About a third of pregnant women admitted to intensive care units and high dependency units in New Zealand had potentially preventable severe illnesses.
Another 29.5 per cent were not preventable but better care was needed.
TOBACCO, DRUGS AND ALCOHOL
Govt to ban smoking in cars carrying children
The government has announced it will ban smoking in cars carrying children under 18 years of age.
Car smoking ban: '10,000 less asthma episodes'
Health authorities say banning smoking in cars where there are children could dramatically cut the number of hospital visits every year in New Zealand.
Ban of smoking in cars with children 'short sighted', says head of police union
A law change which will give police the power to fine people caught smoking in cars carrying children is a "little bit short sighted", the head of the police union says.
Vaping and traditional cigarettes: both damaging to the lungs, research says
Vaping of high concentration causes the same toxic damage to lung cells as traditional cigarettes, a new study has found.
INTERNATIONAL NEWS
Here's how Canada's largest psychiatric hospital flags potentially violent patients
The country's largest mental health hospital frequently re-evaluates patients who might be aggressive or violent to ensure doctors and nurses have the most up-to-date assessment possible, says one of its top directors.
Experienced nurses leaving Solomons for better working conditions
Solomon Islands is losing a lot of experienced nurses to neighbouring Pacific countries because of low pay and poor working conditions.
WORKPLACE
Age is only a number: All generations of nurses have plenty to contribute
With multiple generations in the nursing workforce, unique opportunities exist for growth, learning and development.
Millennials, baby boomers, Gen Xers and the latest up-and-coming generation
Generation Z — all are part of the modern nursing workforce. Discover more about how these generations of nurses are transforming healthcare in their own ways in our digital edition "Generations of Nurses Can Thrive Together."
ARTICLES OF INTEREST
Kirkman Amber, Wilkinson Jill, Scahill Shane (2018) Thinking about health care differently: nurse practitioners in primary health care as social entrepreneurs. Journal of Primary Health Care 10, 331-337.
INTRODUCTION: Challenges facing the primary health-care sector mean that policymakers and clinicians need to think and act differently to move forward. The principles of social entrepreneurship have been implemented successfully for improved health outcomes in other developed nations. There is a knowledge gap around whether nurse practitioners (NPs) in New Zealand primary health care (PHC) align with these principles.
AIM: To explore whether and how the innovative activities of primary care NPs can be described as socially entrepreneurial.
REPORTS ONLINE
Every 4 minutes: A discussion paper on preventing family violence in New Zealand
"This is a discussion paper on what New Zealand can do to prevent family violence. It takes the position that family violence is a solvable problem. Family violence can be seen as largely a "symptom" of underlying social and psychological issues, that are indeed multiple and complex, but are associated with many of the drivers of other social concerns. In the end, there is a lot to be gained for New Zealand by the unleashing of the social and economic wellbeing of children, families, communities, businesses, and services that would follow the reduction or elimination of emotional, physical, sexual, and psychological violence that tangle and restrain our homes and our relationships." Source: Office of the Prime Minister's Chief Science Advisor
The above information has been collated for the College of Nurses Aotearoa (NZ) Inc by Linda Stopforth, SNIPS and is provided on a weekly basis. It is current as at Tuesday 12 February 2019
If you have any feedback about content - what parts are most useful or what you would like added - please email admin@nurse.org.nz
For more up to date news and information follow SNIPS at:
Facebook: Snips Info
twitter: @SnipsInfo