News bulletin 20 February 2019
on 20 February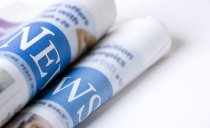 Welcome to the College of Nurses Aotearoa News Update.
No. 433, Wednesday 20 February 2019
NATIONAL NEWS
Community health, education and care is key to Maori nursing graduates
Two South Canterbury Maori nursing graduates hope to give back to the community through education.
Oamaru Hospital staff feel 'worthless
A former nurse says staff at Oamaru Hospital have been left feeling ''worthless'' after they were informed of an organisational restructure proposed by Waitaki District Health Services on Monday.
DHBs
DHBs still waiting for annual plans to be signed off
With only four months left in the current financial year, just 12 of the country's 20 district health boards have had their financial plans signed off by Health Minister David Clark.
Counties Manukau DHB reveals projected deficit of $53.5 million
The embattled Counties Manukau District Health Board has revealed it's facing a projected deficit of $53.5 million for the current financial year.
EDUCATION
'NZ Institute of Skills and Technology': 16 polytechs to merge under government proposal
The government has proposed merging all 16 polytechnics into a single national institute and radically reforming industry training organisations.
ETHICAL ISSUES
Ethically Speaking: The Nurse's Role in Advanced Directives
When it comes to addressing ethical dilemmas, proactive communication can be a valuable asset in various ways.
HEALTH RESEARCH
New Zealand leads global effort to control rheumatic fever
A three-year project aimed at pinpointing the most effective ways to prevent and control rheumatic fever and associated heart disease in New Zealand is being launched tomorrow (Tuesday 12 February) at the University of Otago, Wellington.
HEALTH TECHNOLOGIES
New computer system gives patients smoother hospital journey
A new computer system that allows staff to quickly and easily check patient flow from anywhere in the hospital is set to minimise wait times and make for a smoother patient journey at Palmerston North Hospital.
INJURY PREVENTION
Fractures, head injuries common in e-scooter collisions
UCLA researchers have found that people involved in electric scooter accidents are sometimes injured badly enough -- from fractures, dislocated joints and head injuries -- to require treatment in an emergency department.
PATIENT SAFETY
Hawke's Bay Hospital used inadequately sterilised surgical equipment
Officials at Hawke's Bay District Health Board say 55 patients may be affected by equipment that was not properly sterilised.
55 Hawke's Bay patients at risk of infection
Hawke's Bay district health board chair Kevin Atkinson says patients should be able to feel they're safe when undergoing surgical procedures in the region.
Surgical sterilisation – Expert Reaction
The processes of sterilisation of equipment that is used in surgery usually involves manual inspection and hand washing of the instruments to remove any obvious adherent body fluids, such as small blood clots, followed by further cleaning in an automated machine. The final process when the equipment has hopefully had almost all adherent matter washed off, is for the equipment to be autoclaved, or processed in some other sterilising machinery. Sterilisation can fail if the equipment has not been adequately cleaned prior to sterilisation.
Hospital sterilisation units are not audited by the Health Ministry but may be after Hawke's Bay incident
Sterilisation units in the nation's hospitals are not audited by the Health Ministry in the way other high-risk parts of DHB operations are, but this may change under a review that will take into account the incident in Hawke's Bay which saw non-sterilised equipment used on up to 55 patients.
TOBACCO, DRUGS AND ALCOHOL
Indoor smoking bans may not fully protect children, study finds
The harmful effects of exposure to tobacco smoke have been known for many years. Cigarette and cigar smokers are at significantly higher risk of contracting all sorts of respiratory maladies, and research linking secondhand smoke to cancer goes back nearly three decades.
Smoking cannabis as a teen increases risk of depression and suicide as a young adult, says study
Smoking cannabis as a teenager increases the risk of depression and suicide during young adulthood, according to a new study.
INTERNATIONAL NEWS
Misinformation is causing measles cases to rise worldwide
Misinformation and anti-vaccination groups have caused a rise in cases of vaccine-preventable viral disease measles around the world, according to the World Health Organisation (WHO).
Depressed nurses are more likely to make medical errors, research shows
Research has shown that registered nurses suffer from depression at nearly twice the rate of folks in other professions.
'Year of the Nurse' in 2020
Nursing Now, the three-year global campaign aiming to improve health and lift the profile of nursing, has welcomed backing by the World Health Organization (WHO) to designate 2020 the 'Year of the Nurse'.

Nurse navigators linked to fewer readmissions, deaths among heart attack patients
A program in which nurse navigators help heart attack patients transition from hospital to outpatient care can help lower readmission and mortality rates, according to research presented at the American College of Cardiology's Cardiovascular Summit in Orlando.
ARTICLES OF INTEREST
Interventions to reduce patient identification errors in the hospital setting
a systematic review protocol
De Rezende, Helena Aparecida; Melleiro, Marta Maria; Shimoda, Gilceria Tochika
JBI Database of Systematic Reviews and Implementation Reports: January 2019 - Volume 17 - Issue 1 - p 37–42
Patient identification is considered as an important initial part of the care process in health institutions, as well as an essential safety resource and, if correctly performed and used, it assists in the prevention of errors and serious harm to patients.1,2 Failures in patient identification have been recognized as the root cause of many problems. Moreover, misidentification can seriously affect the provision of health services, hence, additional efforts should be concentrated on reducing this significant source of preventable medical errors.3 The Joint Commission on Accreditation of Healthcare Organisations (JCAHO)4 has listed improved patient identity accuracy as the first of its national patient safetyobjectives, introduced in 2003, to ensure patient safety, quality of services and accreditation of the health unit.
The above information has been collated for the College of Nurses Aotearoa (NZ) Inc by Linda Stopforth, SNIPS and is provided on a weekly basis. It is current as at Tuesday 12 February 2019
If you have any feedback about content - what parts are most useful or what you would like added - please email admin@nurse.org.nz
For more up to date news and information follow SNIPS at:
Facebook: Snips Info
twitter: @SnipsInfo