News bulletin 17 April
on 17 April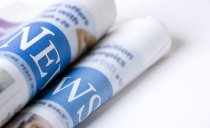 Welcome to the College of Nurses Aotearoa News Update.
No. 441, Wednesday 17 April 2019
Weekly news round-up of nursing and health information in New Zealand and internationally
NATIONAL NEWS
Health Central partners with College of Nurses
Health Central is delighted to announce a special new partnership with College of Nurses Aotearoa New Zealand.
Parents, nurses and PM celebrate PlunketLine's 25th birthday
The parents of a newborn who fell ill with potentially lethal meningitis say they are incredibly grateful for PlunketLine.
Nurse badly injured by dog while making a home visit in Hastings
A nurse attacked by a dog while making a home visit in Hastings last month was so badly injured and traumatised she has not been able to return to work.
Nurse Practitioner workforce growth "not fast enough" for Minister's liking
Health Minister Dr David Clark sees Nurse Practitioners as playing an important role in helping Government meet its health targets.
Who is Louisa Akavi, the New Zealand nurse kidnapped by Islamic State?
A New Zealand nurse kidnapped by Islamic State devoted her life to looking after people in desperate and far-flung corners of the world.
AGING AND AGED CARE
Government strategy aimed at dealing with an ageing New Zealand
New Zealanders are getting older and living longer, prompting the Government to reassess how it thinks about old age and retirement.
DENTAL
Preschoolers admitted to hospital with injuries should be checked for dental decay
It means hospital doctors and nurses have the opportunity to check injured children are enrolled in dental care while they are being treated for the ...
DHBs
Waikato DHB board may go, replaced by Commissioner
Health Minister Dr David Clark has given Waikato DHB Board two weeks to come up with a reason why he shouldn't fire its members and replace them with with a commissioner.
Aneurysm surgery performed in Taranaki for the first time
A retired nurse has become the first person to undergo a life-saving surgery in Taranaki thanks to the $3.6 million state-of-the-art angiography suite at the region's main hospital.
ETHICAL ISSUES
Blowing the whistle: what drives nurses and midwives to turn whistleblower
What drives nurses and midwives to turn whistleblower and report wrongdoing outside their organisation? What ramifications surface personally and professionally in the aftermath? Robert Fedele investigates.
HEALTH INEQUALITY
Bariatric surgery a postcode lottery, research shows
A "postcode lottery" is preventing some obese New Zealanders accessing publicly funded weight loss surgery, a study shows.
MIDWIFERY / MATERNITY
Midwives and NZ district health boards finally reach settlement
The midwives union and District Health Boards have finally reached a settlement after month of negotiations.
New Report on Maternity finds drop in teenage pregnancies
The latest Report on Maternity has been released, showing the rate of teenage pregnancies has halved in the past decade.
RURAL HEALTH
Government support for rural medical training hubs puts Waikato medical school proposal on backburner
The Waikato Med School idea is out for the count as the Government moves on rural training hubs for doctors and other health professionals.
INTERNATIONAL NEWS
Australia must invest more in nurse practitioners
Australia should be investing more in increasing the number of nurse practitioners (NPs) within its health workforce to reap the improved outcomes that the advanced role can bring, a leading academic has argued.
Nurses urged to lead the way on planetary health
A leading primary healthcare academic has challenged nurses to think big and take the lead in making a difference to the health of the planet as the United Nations' 2030 deadline for achieving its Sustainability Development Goals approaches.
ARTICLES OF INTEREST
Leary A, Punshon G
Determining acute nurse staffing: a hermeneutic review of an evolving science
BMJ Open 2019;9:e025654. doi:10.1136/bmjopen-2018-025654
Background Calculating nurse staffing in the acute hospital has become a key issue but solutions appear distant. Community, mental health and areas such as learning disability nursing have attracted less attention and remain intractable. This review aims to examine current approaches to the issue across many disciplines.
A study of macro-, meso- and micro-barriers and enablers affecting extended scopes of practice: the case of rural nurse practitioners in Australia
Tony Smith … et al
BMC Nursing201918:14
https://doi.org/10.1186/s12912-019-0337-z
Shortages of skills needed to deliver optimal health care in rural and remote locations raises questions about using extended scopes of practice or advanced practice models in a range of health professions. The nurse practitioner (NP) model was introduced to address health service gaps; however, its sustainability has been questioned, while other extended scope of practice roles have not progressed in Australia. This study aimed to explore the experiences and perceptions of NPs and their colleagues about barriers to and enablers of extended scope of practice and consider the relevance of the findings to other health professions.
HC18053Thinking about health care differently: nurse practitioners in primary health care as social entrepreneurs
Amber Kirkman, Jill Wilkinson and Shane Scahill
331-337
HC18053Abstract
INTRODUCTION: Challenges facing the primary health-care sector mean that policymakers and clinicians need to think and act differently to move forward. The principles of social entrepreneurship have been implemented successfully for improved health outcomes in other developed nations. There is a knowledge gap around whether nurse practitioners (NPs) in New Zealand primary health care (PHC) align with these principles.
AIM: To explore whether and how the innovative activities of primary care NPs can be described as socially entrepreneurial.
The above information has been collated for the College of Nurses Aotearoa (NZ) Inc by Linda Stopforth, SNIPS and is provided on a weekly basis. It is current as at Tuesday 16 April 2019
If you have any feedback about content - what parts are most useful or what you would like added - please email admin@nurse.org.nz
For more up to date news and information follow SNIPS at:
Facebook: Snips Info
twitter: @SnipsInfo