News bulletin 1 May
on 1 May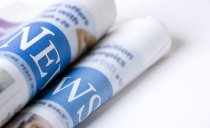 Welcome to the College of Nurses Aotearoa News Update

No. 443
Wednesday 1 May 2019
Weekly news round-up of nursing and health information in New Zealand and internationally
NATIONAL NEWS
Experts say mental health patients not to blame for a rise in violence in hospitals
Helen Garrick​ is the Chair of the Mental Health Nurses Section at the New Zealand Nurses Organisation. She is quick to point out her section is not ...
Minister calls for DHBs to support NP pathways
Health Minister Dr David Clark made no budget commitments after hearing nurse practitioners calls for more training support but said he would be asking DHBs to take a more 'strategic approach' to NP employment.
Bullying within the nursing sector
Nurses experience some of the highest rates of bullying within the healthcare sector. Now Massey University researchers have identified key skills and attributes that help managers deal with workplace bullying. REBEKAH FRASER spoke to Dr Kate Blackwood, who was involved in the study.
2000 procedures postponed due to doctors' strike
Early estimates are that more than 2000 elective and other procedures have not happened this week because of the junior doctors strik
DISABILITY
CDHB warns funding gap makes secure mental disability service 'unsustainable'
The Ministry of Health is not increasing funding for a secure unit catering for people with intellectual disabilities, despite claims the unit is $1 million short
HEALTH TECHNOLOGIES
Free access to digital health sites trialled
Tuesday, 30 April 2019, 11:31 am | Health Promotion Agency
New Zealanders will be able to visit some digital health websites for free as part of a three-month trial run by the Ministry of Health, Health Promotion Agency and WellSouth.
Health apps come with warnings after private data given to Facebook, Google
New Zealand doctors and patients are being warned to be cautious when using digital apps to help with things such as depression or quitting s
MENTAL HEALTH
Māori voices 'missing' from Mental Health and Addictions Inquiry
A top Māori health researcher says a report on submissions to the long-awaited mental health inquiry was rewritten, renamed and cut down to half the length of the original report
PHARMACY
Tuesday, 30 April 2019, 9:34 am | Health Quality and Safety Commission
New data shows 49 percent of those who visited their GP in 2017 were dispensed at least one antibiot
STROKE
New research shows meth users more at risk of stroke
One in six stroke patients under the age of 60 have used meth in the six hours leading up to their stroke, new research shows
INTERNATIONAL NEWS
Nurse Practitioners Key to Strengthening Louisiana Primary Health Care Access
PRNewswire (press release)
AANP CEO David Hebert, JD, led the discussion with health, government, business, civic and faith-based organizations focused on the shifting health ...
Concern over 'alarming' stats showing 300 suicides by NHS nurses in past seven years
Express.co.uk
Data from the Office for National Statistics shows that more than 300 nurses killed themselves over the seven-year period from 2011 to 2017.
Nursing, dental, and medical students train together to improve kids' oral health
Nursing, medical, and dental students can work as a team to improve their knowledge of pediatric oral health—and how to work with their fellow health professionals, finds new research led by NYU Rory Meyers College of Nursing. The study appears in the Journal of Dental Education
ARTICLES OF INTEREST

Telehealth nursing : More than just a phone call
Mataxen, Patti A., MSN, MHA, RN-BC; Webb, L. Denise, RN-BC
Nursing2019: April 2019 - Volume 49 - Issue 4 - p 11–13
ANSWERING HEALTHCARE questions over the phone is not a new concept. Dating back to the 1970s, office nurses have communicated via telephone to discuss various healthcare issues with patients, including lab results, medication refill needs, and advice on how to manage minor illnesses at home. Labor and delivery nurses often receive phone calls from expectant mothers about possible labor symptoms and fetal well-being. Similarly, ED nurses field calls about illnesses and injuries.
The above information has been collated for the College of Nurses Aotearoa (NZ) Inc by Linda Stopforth, SNIPS and is provided on a weekly basis. It is current as at Tuesday 30 April 2019
If you have any feedback about content - what parts are most useful or what you would like added - please email admin@nurse.org.nz
For more up to date news and information follow SNIPS at:
Facebook: Snips Info
twitter: @SnipsInfo