News bulletin 15 May
on 15 May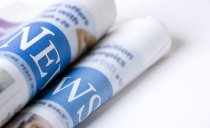 Welcome to the College of Nurses Aotearoa News Update.
No. 444, Wednesday 15 May 2019
Weekly news round-up of nursing and health information in New Zealand and internationally
NATIONAL NEWS
Bay of Plenty nurses encouraging people to go out and get their flu jab

Bay of Plenty doctors and nurses are encouraging residents to get their flu jab as the winter peak in demand draws closer. The Ministry of Health has ...
Wintec nursing students at heart of exhibition in Hamilton's CBD
Last month, Brave Hearts - The New Zealand Cardiac Story, was on display in Garden Place in Hamilton. Twenty-one Wintec nursing students were there too, running education sessions in the exhibition.
Otago Polytechnic Nursing graduate bound for WHO Assembly
Otago Polytechnic Bachelor of Nursing graduate Hayley Lotter is one of only 30 nurses worldwide to be selected to attend the World Health ...
Nursing workforce the largest it's ever been
It's International Nurses Day tomorrow and the Ministry of Health's Chief Nursing Office is celebrating New Zealand's largest ever nursing workforce.
Lakes DHB announces Nurse of the Year 2019
The 2019 Lakes DHB Registered Nurse of the Year is Joanna Price, from the ... and expansion of programmes for nursing across New Zealand.
Following in Florence's footsteps: Experts with passion and commitment
The five registered nurses employed by Whakawhiti Ora Pai do not need International Nurses' Day to be reminded that they are appreciated, or that ...
New Zealand Nurses Organisation Wairarapa delegate Lucy McLaren said nurses had "huge support", from the DHB around physical, verbal and ...
Otago nursing excellence recognised
Dunedin Hospital nurse Jen Gow has received the inaugural Chief Nursing and Midwifery Officer Award for outstanding contribution at the Otago ...
New clinical manager for Kerikeri Retirement Village
She will oversee the 23 registered nurses, more than 50 healthcare ... Renner previously worked for BUPA NZ in the clinical management of its ...
Managers crucial to stamping out bullying in nursing
In-depth interviews were conducted with nurses and direct line managers of ... The full report is available here: http://www.massey.ac.nz/massey/fms/ ...
CHILD AND MATERNAL HEALTH
New safe sleep device guidelines to reduce SUDI
New Ministry of Health resources will help infants have quality sleep, while also protecting them from SUDI (sudden unexpected death in infancy).
DHBs
Commissioner appointed for Waikato DHB
The Health Minister has today informed Waikato DHB Board of his decision to appoint a Commissioner to replace the Board.
Dr David Clark has announced that former Director General of Health Dr Karen Poutasi will take up the Commissioner's role, starting on Wednesday 8 May.
EMERGENCY MEDICINE AND SERVICES
Emergency medical staff to get te reo, tikanga training
The country's leading body for emergency medicine will give all senior staff and trainees education in te reo Māori and the Treaty of Waitangi.
MENTAL HEALTH
Abuse rife at mental health facility
An SDHB report updated in January by a director of nursing outlined ... The New Zealand Nurses Organisation has members working in ward 10A.
Suicide prevention and mental health
NZ Maori Council releases its recommendations into suicide prevention and mental health: Its time the Government got on with it ….
PUBLIC HEALTH
The Ministry of Health's Director of Public Health, Dr Caroline McElnay, encourages all Kiwis to join FluTracking, an innovative and simple online initiative that's helping monitor flu activity in Aotearoa New Zealand.
One million doses of influenza vaccine distributed
More than one million doses of seasonal influenza vaccine have now been distributed and The Ministry of Health is encouraging even more New Zealanders to get vaccinated.
86 per cent of New Zealand's 132 measles patients unvaccinated
The number of measles cases in New Zealand has now reached 132 and the vast majority of those who have contracted the illness were not vaccinated.
RURAL HEALTH
New Zealand needs a rural health commissioner to oversee health training hubs: NZ Rural GP Network
Health training hubs in far-flung towns could stop rural communities struggling to get local healthcare, a rural doctors' organisation says.
Training hubs critical as rural health workforce declines
Health training hubs critical as rural health workforce declines
Government commitment to establishing a network of rural health training hubs is now critically important to reversing a continued decline in the rural health workforce, according to the organisation representing almost every rural medical practice in the country.
WORKFORCE
Regional focus for new immigration skill shortage lists
Aged care nurses, teachers and builders are among the occupations added to the updated skills shortage list, which has been regionalised.
Rest homes say immigration decision will recruit vital overseas nurses
TVNZ
"Rest homes in New Zealand have lost in the order of five or six hundred nurses - so its about 10 per cent of our nurse workforce - to public hospitals ...
INTERNATIONAL NEWS
For Nurses, Trauma Can Come With the Job
The New York Times
A recent study in the Journal of Heart and Lung Transplantation found as many as 48 percent of nurses working in a critical care transplant unit met the ...
NHS looks abroad for thousands of nurses
The Times
In an interim report seen by this newspaper, she sets a target of recruiting 5,000 foreign nurses every year until 2024 to fill a 40,000 shortfall.
Nurses a voice to lead health for all
Cook Islands News
Nurses in the Cook Islands will mark International Nurses Day this week byb celebrating their achievements, remembering their pioneers, and ...
Mi'kmaw nurse explains how Indigenous pain often misunderstood
It's a question repeatedly asked in hospitals and medical clinics: rate your pain on a scale from one to 10.
For registered nurse Athanasius Sylliboy, he wants his peers to know that if they're asking a Mi'kmaw patient that, they won't get an accurate answer.
Nearly 1 in 4 of us aren't native English speakers. In a health-care setting, interpreters are essential
Almost one quarter of the Australian population speaks a language other than English at home. But health services in Australia are largely delivered in English only.
PTSD: A mental health issue among nurses, too
Post-traumatic stress disorder is a silent scourge being experienced by nurses everywhere, whether they are serving in the military or in civilian facilities, and mental health experts now acknowledge that PTSD does affect nurses. "We know PTSD is present, and it drives nurses away from the bedside," said Cheryl Peterson, ANA's vice president of nursing programs.
The New York Times (tiered subscription model) (5/7)
ARTICLES OF INTEREST
Identifying the cultural heritage of patients during clinical handover and in hospital medical records
David JR Morgan, Tania Harris, Ron Gidgup and Martin Whitely
Med J Aust 2019; 210 (5): 220-226. || doi: 10.5694/mja2.12107
Objective: To examine the frequency of and rationale for hospital doctors mentioning a patient's cultural heritage (ethnicity, national heritage, religion) during medical handovers and in medical records.
Design: Four‐phase observational study, including the covert observation of clinical handovers in an acute care unit (ACU) and analysis of electronic medical records (EMRs) of ACU patients after their discharge to ward‐based care.
MINISTRY OF HEALTH
Medication Guidelines for the Home and Community Support Services Sector
The Medication Guidelines for the Home and Community Support Services Sector aim to guide HCSS providers in providing medication support for people at home. The Guidelines reflect the Home and Community Support Sector Standard (NZS 8158:2012), and are based on current evidence of best practice and relevant legislation. They should serve as a reference tool for HCSS providers, to support safe medication practice, policies and processes.
The Guidelines align with the recommendations of a literature review commissioned by the Home and Community Health Association on the role of home support workers (HSWs) in medication support (Roy and McKechnie 2016). The Ministry of Health's Medicines Care Guides for Residential Aged Care (Ministry of Health 2011) guided the structure, to provide consistency; however, the content of these Guidelines is specific to the HCSS sector. The Guidelines do not replace sound clinical judgement.
The above information has been collated for the College of Nurses Aotearoa (NZ) Inc by Linda Stopforth, SNIPS and is provided on a weekly basis. It is current as at Tuesday 14 May 2019
If you have any feedback about content - what parts are most useful or what you would like added - please email admin@nurse.org.nz
For more up to date news and information follow SNIPS at:
Facebook: Snips Info
twitter: @SnipsInfo