News bulletin 29 May
on 29 May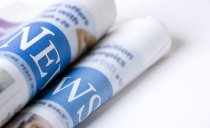 Welcome to the College of Nurses Aotearoa News Update.
No. 446, Wednesday 29 May 2019
Weekly news round-up of nursing and health information in New Zealand and internationally
NATIONAL NEWS
Nursing not just a nice and caring girls' career
EIT School of Nursing staff answer questions about what they love about the nursing profession.
A strong voice for Pasifika people in nursing
Despite a growing Pasifika population, Pasifika are underrepresented in New Zealand's health system. Recipients of Ministry of Health Pasifika Scholarships hope to build the capability of Pasifika people to become health professionals.
New nursing service for Porirua's Pacific families
A new nursing service is strengthening the support available for Porirua's Pacific families and ensuring they can ...
Wintec embeds introductory te reo Māori and tikanga Māori in programmes
The Waikato Institute of Technology's centre for Health and Social Practice has embedded introductory te reo Māori and tikanga Māori lessons through all of its programmes.
Prison's medical staff fail to detect inmate's advanced gastric cancer
In 2016 a woman was sent to the Auckland Region Women's Corrections Facility in ... She was scheduled for a review by nurses the following day.
CHILD AND MATERNAL HEALTH
Developmental Surveillance Program for early identification of Autism:
The SACS involves training of child health nurses to monitor children for ... seminar on the early detection of autism using the SACS in New Zealand.
CLIMATE CHANGE
New Zealand nurses warn of disease risk from climate change
The nation's nurses are warning a failure to combat climate change may enable ... Auckland Council said yesterday it was
DENTAL
More than $20 million spent extracting rotten teeth, fresh petition to tax sugary drinks
"I've finished pulling teeth today, my right hand's actually sore I pulled out so many."
Those are the harrowing words of New Zealand dentist Dr Rob Beaglehole who is urging the Government to take action and tax sugary drinks.
Dentists fed up with treating 'third world' conditions call for more funding for dental care
Dentists fed up with seeing patients suffering unnecessarily from "third world" tooth conditions are pushing for urgent action to make dental care more affordable.
DHBs
Inside Chch Hospital's $483m Acute Services Building
Media were welcomed inside Christchurch Hospital's new $483 million Acute Services Building yesterday, for a glimpse inside the country's largest and most expensive hospital project to date.
Auckland DHB tracking $13 million over budget as end of financial year looms
Winter pressures, staff shortages and ongoing strike action have led to a $13 million overspend at Auckland District Health Board.
MENTAL HEALTH
Unhelpful and harmful: long waits for mental health care in NZ EDs
New Zealand's health system is struggling to meet the needs of people who present to emergency departments with a mental health crisis, according to new Australasian College for Emergency Medicine (ACEM) analysis released today.
Emergency Departments inundated with mental health patients
Distressed mental health patients are waiting up to three days for assessments in New Zealand Emergency Departments (ED).
'Waiting with bated breath': mental health and addiction sector awaits Government response
The Government will respond on Wednesday to the Mental Health and Addiction Inquiry report, a sweeping document that includes 40 recommendations intended to transform the sector, including an ambitious target to drastically increase access to services.
MIDWIFERY / MATERNITY
New degree to prepare for the future of midwifery
Victoria University of Wellington has launched a new Bachelor of Midwifery to help meet the nationwide demand for new midwives and is offering scholarships to new midwifery students.
PHARMACY
Guyon Espiner investigates: Pharmac switches epilepsy drug against Medsafe advice
Pharmac is making 10,000 people with epilepsy change medication even though Medsafe opposed the move. Guyon Espiner asks why the drug-buying agency carries out up to 60 drug switches a year.
PUBLIC HEALTH
Public warned as Auckland faces a syphilis outbreak
The Auckland District Health Board is warning people of the increased danger of the transmission syphilis amid an outbreak of the disease.
Influenza kills two people in Auckland
Two people have died in Auckland as a result of influenza, one a 12-year-old child.
A Counties Manukau DHB spokesperson confirmed two people had died this season from influenza, one aged 12 and another a 62 year old.
SOCIAL HEALTH
Government sets official targets to help break cycle of child poverty
The first set of official targets to reduce child poverty in New Zealand have been set by the Government.
WORKFORCE
Māori employed by DHBs must double in the next 15 years - report
The number of Māori employed by DHBs must double in the next 15 years if it's going to meet the needs of the country's most vulnerable people, according to a recent report by health workforce development agency Kia Ora Hauora.
Better health outcomes for Maori start with culturally aware and responsive workforce - Wintec
Creating educational programmes that ensure all graduates possess the knowledge and skills expected to engage effectively with whÄnau and MÄori communities, is an important step towards reducing barriers and inequities for MÄori in the health system.
INTERNATIONAL NEWS
Nurses: the hidden healthcare professionals
Yet read, listen or watch news stories on Australian health care and you would be forgiven for thinking nurses either don't exist or at the very least ...
Nurses say too many patients are being subjected to 'do not resuscitate' orders without families ...
The Royal College of Nursing yesterday heard repeated warnings that "failures to communicate" meant families were left shocked to discover such ...
Emergency department nurses have negative attitudes towards patients who self-harm
SELF-harm is a major public health challenge, but nursing staff often ... who self‐harm, which appears in theInternational Journal of Mental Health.
Global burden of serious health-related suffering due to almost double by 2060
New research findings show that the number of people dying with palliative care needs is set to almost double over the next four decades. By 2060, an estimated 48 million people each year (47% of all deaths globally) will die with serious health-related suffering, an 87% increase compared to 2016. 83% of these people will be in low and middle-income countries.
WORKPLACE
A lot of us grew up with the idea that if you just do good work, it will speak for itself. That's not true in large organizations full of busy people all focused on their own agendas. If you're a leader in that kind of place, the work doesn't speak for itself; you have to speak for the work.
Workplace violence: Don't risk it, de-escalate it
May 2019 Vol. 14 No. 5
WHETHER you're a certified nursing assistant, licensed practical nurse, registered nurse, or nurse practitioner, you'll likely deal with patients who are feeling pain, have lost their independence, or are experiencing stress and anxiety—and they will sometimes lose control of their emotions. These angry and upset patients or family members can test your compassion, communication skills, and patience. They even may resort to violence.
ARTICLES OF INTEREST
Health professional beliefs, knowledge, and concerns surrounding medicinal cannabis – A systematic review
Kyle M. Gardiner, …et al

https://doi.org/10.1371/journal.pone.0216556
The number of jurisdictions allowing access to medicinal cannabis has been steadily increasing since the state of California introduced legislation in 1996. Although there is a high degree of legislative heterogeneity across jurisdictions, the involvement of a health professional is common among all. This places health professionals at the forefront of therapy, yet no systematic review of literature has offered insight into the beliefs, knowledge, and concerns of health professionals regarding medicinal cannabis.
Rutherford DE, Gillespie GL, Smith CR. Interventions against bullying of prelicensure students and nursing professionals: An integrative review. Nurs Forum. 2019;54:84‐90. https://doi.org/10.1111/nuf.12301
The problem of bullying is of such significance, health care accreditation agencies such as The Joint Commission have reiterated that these behaviors compromise on patient safety. Researchers demonstrate that much is known about the existence of bullying behaviors in health care and its detrimental effects on the profession of nursing. Leaders in health care and nursing education are beginning to tackle this issue. Guided by the methodology of Whittemore and Knafl, the purpose of this integrative review was to analyze literature discussing the interventions against bullying directed towards prelicensure nursing students and professionals.
How Great Nursing Improves Doctors' Performance
Leadership & Managing people Digital Article
Christina Dempsey
Thomas H. Lee
Hospitals with better nursing programs perform better overall.
The above information has been collated for the College of Nurses Aotearoa (NZ) Inc by Linda Stopforth, SNIPS and is provided on a weekly basis. It is current as at Tuesday 21 May 2019
If you have any feedback about content - what parts are most useful or what you would like added - please email admin@nurse.org.nz
For more up to date news and information follow SNIPS at:
Facebook: Snips Info
twitter: @SnipsInfo