News bulletin 3 July
on 3 July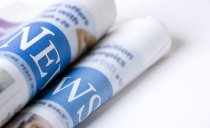 Welcome to the College of Nurses Aotearoa News Update.
No. 451, Wednesday 3 July 2019
NATIONAL NEWS
New degree puts nursing in reach for more people - Wintec

This makes Wintec the only ITP in New Zealand to be approved and accredited to deliver the full range of nursing programmes for enrolled nursing, ...
Million-dollar funding for nurse's teen mum programme
Ten years ago Nicky Skerman completed her Master of Nursing degree at EIT. Little did she know that her research thesis would become nationally recognised and make it into Prime Minister Jacinda Ardern's Wellbeing Budget 2019.
Nurses face 'endemic' level of violence at work
It was Boxing Day, and Lily Smyth waited drunk and angry in the whānau room at Hutt Hospital.
The mental health crisis team was not on hand. An agitated Smyth, 28, picked up a child-sized table and emerged from the room, throwing it at a nurse before landing punches on three others.
Waitangi Tribunal recommends new independent Māori health authority
Waitangi Tribunal claimant Tureiti Lady Moxon wants the Government to apologise for failing Māori in the health system.
Racist health system no cure for sick Māori
ANALYSIS: The health system is very sick. It's riddled with institutional racism and individual racists.
DHB breaking its own protocol for recording patient observations
Waitematā DHB says there are gaps in patient records in its mental health unit He Puna Wāiora that contravene its own protocols.
NZNO wins international membership award
The New Zealand Nurses Organisation (NZNO) has today received the Gold Membership Inclusiveness/Representativeness Award given annually by the International Council of Nurses (ICN).
CANCER
Clinical trial now open in five centres
A clinical trial that's now recruiting patients in Waikato, Tauranga, Rotorua, Palmerston North and Wellington will test the ability of a cheap, widely available drug to prevent two of chemotherapy's most unpleasant side-effects.
Health Minister David Clark 'taking time' to consider draft national cancer plan after long-fought campaign
A long-awaited and much-campaigned-for national cancer action plan is set to soon be released for public consultation.
Many women do not know alcohol is breast cancer risk factor
A UK survey conducted at a breast cancer screening program and symptomatic breast clinics found 19.5% of patients and 48.5% of staff identified alcohol as a breast cancer risk, researchers reported in BMJ Open. Patients said an intervention focused on preventing breast cancer would not make it less likely they would attend screening mammograms or breast clinics, but both patients and staff were concerned about talking about alcohol and risk factors for breast cancer in a nonstigmatizing way.
CLIMATE CHANGE
Supporting mental health of Pacific climate change migrants
Dr Jemaima Tiatia-Seath, co-head of the School of Māori Studies and Pacific Studies at the University of Auckland, has received a Pacific Project grant from the Health Research Council of New Zealand (HRC) to explore how New Zealand could ready its health system to best support the mental health needs of Pacific 'climate change migrants'. Her study will involve research sites in New Zealand, Niue and the Cook Islands.
ETHICAL ISSUES
Various Pressures Faced by Practitioners in Dealing With Euthanasia Requests
According to a study recently published in the Journal of Medical Ethics, the decision of whether to perform euthanasia or physician-assisted suicide (EAS) puts pressure on physicians due to the patient-physician relationship, the relationship between the physician and the patient's relatives, and the circumstances and difficulty of the decision.
HEALTH FUNDING AND RESEARCH
$81m for new research projects and programmes
Finding new way to control blood pressure receives $5m funding boost
Half the New Zealanders being treated for blood pressure don't have it under control, according to a University of Auckland researcher who has been awarded nearly $5 million from the Health Research Council of New Zealand (HRC) to look at the problem from a completely different angle.
INFECTION CONTROL
Waikato DHB recognised for Sepsis Ready programme
Waikato DHB's Sepsis Ready programme has received a Continuous Improvement rating- from independent auditors and Ministry of Health recognising the work done at the DHB's hospitals to dramatically improve early recognition and response of patients with sepsis.
MENTAL HEALTH
Study of sexual orientation and mental health
Gay, lesbian and bisexual New Zealanders are on average more than twice as likely to experience depression, anxiety and suicidal thoughts as heterosexuals, new research shows.
Grassroots group giving young Kiwis with dementia an alternative to rest home care
Faced with few options, young Kiwis with dementia are having to seek respite care at aged-care facilities.
While the vast majority of those with some form of dementia in New Zealand are over the age of 65, there are currently an estimated 5600 people under the age of 65.
Climate refugees pose challenges to mental health services
A wave of migrants driven from the Pacific by climate change could pose even greater challenges for New Zealand's mental health services
MIDWIFERY / MATERNITY
More Midwives Than Ever Before In New Zealand
The number of midwives holding an Annual Practicing Certificate (APC) is at the highest level ever.
PHARMACY
Royal College endorses cannabis masterclass
A New Zealand masterclass in medicinal cannabis has been formally endorsed by The Royal New Zealand College of General Practitioners (RNZCGP) – marking a significant first for the country.
PUBLIC HEALTH
Action plan released to curb rise in syphilis cases
New national action plan released to curb rise in syphilis cases
The Ministry of Health has released its new national syphilis action plan in an important step in reversing a growing number of cases of the infection.
Data shows increased syphilis and gonorrhoea in New Zealand
Sexually transmitted infections data show increased syphilis and gonorrhoea in New Zealand
Three Waitematā DHB staff have contracted measles during Auckland's outbreak
Three staff members at Waitematā DHB contracted measles this year, potentially exposing their colleagues and patients to the illness.
Babies who travel may need a measles shot at six months, not 12
This year, we've seen a resurgence of measles around the globe. The World Health Organisation (WHO) recorded more than 230,000 cases in the first five months of 2019, compared to 160,000 in a similar period in 2018.
Northland rheumatic fever rise: Doctors 'not doing the job properly', Lance O'Sullivan says
Doctors need to do more to prevent an outbreak of rheumatic fever in Northland, Dr Lance O'Sullivan says.
TOBACCO, DRUGS AND ALCOHOL
How 'wine mum' culture is harmful to both mothers and children
Attitudes to daily drinking are changing as more evidence emerges that the ideal level of consumption is probably none at all.
When staff at a Countdown supermarket in Northcote, Auckland, refused to sell a bottle of wine to a woman who was shopping with her children in tow, the news was greeted with mock horror on social media by middle-class mums. "Don't they know our children are why we drink?" posted one. "I'd throw my toys out if I couldn't get my weekend wine," wrote another. And a third said, "I only need wine if my children are with me!"
WORKFORCE
Medical migration risk to poor countries' health services Wealthy countries have a responsibility to consider the impact of hiring doctors from poorer countries and try to minimise the practice, says Dr Otmar Kloiber, Secretary General of the World Medical Association
INTERNATIONAL NEWS
Vanuatu recruits nurses from the Solomons
Vanuatu's Ministry of Health is to recruit its first batch of Solomon Islands nurses next month, if their contracts are approved by the Public Service ...
Edmonton police, nurses team up to discourage teens from vaping
A recent study published in the British Medical Journal found a 74-per-cent increase in vaping among youth aged 16 to 19 in Canada from 2017 to ...
Nurses demand laws ensuring safe staffing levels - 'we're at a tipping point'
Members of the Royal College of Nursing delivered a letter yesterday to Health Secretary Matt Hancock warning "patient care is suffering" as the NHS ...
App helping nurses break language barrier gets a boost
Changi General Hospital (CGH) has launched an enhanced version of a mobile app developed by its nurses to help them communicate with patients ...
ARTICLES OF INTEREST
Unlearning outdated practices
using the evidence to deliver better patient care
Clark, Robyn A.
JBI Database of Systematic Reviews and Implementation Reports: June 2019 - Volume 17 - Issue 6 - p 1016–1017
Recently, while attending the EuroHeartCare conference in Milan, Italy (May 2-4, 2019), I was very impressed by a poster from my colleagues van der Wal and Jaarsma.1 The poster presented a survey of 168 nurses in the Netherlands who cared for patients with heart failure (HF) and asked about the practice of fluid and sodium restriction.1 Although a widespread and well-established practice, there is little evidence for fluid and sodium restriction in patients with stable HF. Recent guidelines (2016) from the European Society of Cardiology recommend that patients with HF should avoid excessive fluid and salt intake, but that fluid restriction of 1500–2000 mL per day should be considered only in patients with severe HF to relieve symptoms and congestion.2
Thériault, M, Dubois, C‐A, Borgès da Silva, R, Prud'homme, A. Nurse staffing models in acute care: A descriptive study. Nursing Open. 2019; 00: 1– 12. https://doi.org/10.1002/nop2.321
Aims
To identify nurse staffing groups in acute care facilities.
Design
This retrospective descriptive study used a configurational approach.


Compassion Fatigue and the Hardship of Caring
Kimberly Shea, PhD, RN, still remembers the last patient she saw as a hospice nurse — a young woman with pancreatic cancer who died while Shea was helping her off the toilet.
MINISTRY OF HEALTH
Summary
Syphilis has been increasing in New Zealand every year since 2012. We are now also seeing cases of congenital syphilis in New Zealand - a condition that was very rare previously. The Ministry has developed a national syphilis action plan (the action plan) to guide a systematic and coordinated health sector response to stop the increase in syphilis.
The action plan was developed in consultation with the wider sexual health community and takes a comprehensive approach to addressing the increase in syphilis, focussing on both prevention and treatment. Four priority areas have been identified:
prevention and health promotion
testing and management
antenatal care
surveillance and monitoring.
Each priority area has a number of actions to be delivered at either a national or regional level within a short-, medium- or long-term timeframe.
CONSULTATION
Public submissions are now being invited on this Bill
REPORTS ONLINE
The nature of patient needs and ward activity is changing. Inpatients tend to be more ill than they used to be, many with complex needs often arising from multiple long-term conditions. At the same time, hospitals face the challenges of a shortage and high turnover of registered nurses. This review presents recent evidence from National Institute for Health Research (NIHR)-funded research, including studies on the number of staff needed, the support workforce and the organisation of care on the wards. While few research studies have explored the similar pressures that occur in community and social care, the learning from hospitals may be useful to decision makers in these areas. Source: National Institute for Health Research (UK)
RESOURCES ONLINE
TUIA TE AO MARAMA: MĀORI MENTAL HEALTH NURSING
There are a few Māori Registered Nurses employed at Te Rau Ora who are members of Māori Caucus – Te Ao Maramatanga (New Zealand College of Mental Health Nurses). As a rōpū, we were fortunate to be part of a kaupapa capturing the stories of Māori mental health Nurses in an oral history programme called Tuia Te Ao Marama.
It's a rich resource of Māori who share their various experiences when they practised as mental health nurses between 1950-1990. The timeframe was chosen for its significant changes in mental health care delivery in Aotearoa, such as Kaupapa Māori mental health service development, and health service reforms.
Earlier this year, we completed two new interviews with Māori mental health nurses, which will be added to the oral history website. We will also be seeking others to join this kaupapa in due time.
If you are keen to learn about the experiences or to hear the reflections of Māori mental health nurses during this time, please do visit http://www.Māori nursinghistory.com/. You will see familiar faces of Māori leaders who continue to contribute to the wellbeing of Māori.
The above information has been collated for the College of Nurses Aotearoa (NZ) Inc by Linda Stopforth, SNIPS and is provided on a weekly basis. It is current as at Tuesday 26 June 2019
If you have any feedback about content - what parts are most useful or what you would like added - please email admin@nurse.org.nz
For more up to date news and information follow SNIPS at:
Facebook: Snips Info
twitter: @SnipsInfo