News bulletin 17 July
on 17 July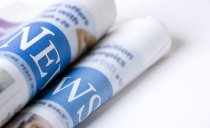 Welcome to the College of Nurses Aotearoa News Update.
No. 453, Wednesday 17 July 2019
NATIONAL NEWS
Nursing behind bars: life as a nurse in one of the country's biggest prisons
For some Kiwis, the first time they have seen a doctor or nurse is in prison.
For Waikeria prison nurse Albert Ocay, that was one of the most difficult things to comes to terms with when he first started.
Return to nursing programme hoped to address Northland's nurse shortage
Here she worked as a theatre nurse at what is now known as MercyAscot, a private hospital in Auckland. She left in 2008 for a variety of reasons and ...
Education the answer to complexity of nursing says new school head

She is a registered nurse with a PhD and Master in Public Health from the University of Auckland, and holds occupational health and tertiary teaching ...
Registered nurse prescribing in community health
The Associate Health Minister Hon Jenny Salesa has announced today a managed roll out of limited nurse prescribing of contraceptives and some short-term
Māori working with and for Māori in health research
Māori working with and for Māori in health research, and for better vision
Researchers at the University of Auckland have successfully led a trial that could improve participation rates in health research among Māori and other communities who could most benefit from it.
How to improve health outcomes for Indigenous peoples by making space forself-determination
Indigenous public policy fails consistently. The research evidence is compelling. Across post-settler colonial societies like New Zealand, Australia and Canada, schooling is not as effective for Indigenous citizens, employment and housing outcomes are not as good, and health outcomes are worse
AGING AND AGED CARE
There's no excuse for the way we undervalue aged-care nurses

There's no excuse for the way we undervalue aged-care nurses .... Simon Wallace, chief executive of the NZ Aged Care Association: "Aged care is a ...
DHBs
The Government has approved a $14.6m laboratory expansion for Middlemore Hospital
Health Minister David Clark has approved Counties Manukau DHB's self-funded $14.6 million dialysis and cardiac laboratory expansion at Middlemore Hospital.
Health Minister Clark says Southern DHB to 'lift its performance'
Health Minister David Clark says the Ministry of Health is working closely with the Southern District Health Board to support it to "lift its performance".
New Waikato health service breaks new grounds
A groundbreaking new holistic health care initiative in Hamilton is causing ripples nationwide and beyond, with its unique and innovative approach to setting new physical rehabilitation standards. Opening its doors for one-one-one services last week, Tū Tonu fearlessly provides a high quality model of practice where a community of both clinicians and traditional Māori healers work in collaboration, alongside exercise rehabilitation coaches.
INJURY PREVENTION
Not the safe option: Hot water bottle injuries at a 5-year high
Boiling the kettle to fill your hottie might seem like a safe, cheap way to warm your bed on cold winter nights, but Accident Compensation Corporation (ACC) figures suggest otherwise.
MENTAL HEALTH
Rise in Māori suicides pushes overall national figure to highest in at least a decade
A rise in the number of Māori males taking their own lives is a key factor behind an increase in overall suicide numbers to the highest level in at least a decade, a new Ministry of Health report shows.
ORGAN DONATION / TRANSPLANTS
Transplant tool a NZ first - HB DHB
Live donor kidney transplants are lifesaving but research shows a great number of New Zealanders needing a kidney find it hard to approach friends and family.
Just why that is and how to help patients through the process has occupied the mind of Hawke's Bay District Health Board Clinical Nurse Specialist Transplant Coordinator Merryn Jones for the five years she has worked in the field. Her work is achieving recognition; the latest the winning of the Birgit Munroe Memorial Scholarship
PHARMACY
Medicinal cannabis expert calls on New Zealand doctors to upskill
A medicinal cannabis expert is calling on New Zealand doctors to "better inform themselves" about cannabis products and how to prescribe them.
Government not proposing THC limit for medicinal cannabis products
The Government does not plan to set limits on the amount of THC – the main psychoactive ingredient – in medicinal cannabis products.
PUBLIC HEALTH
Rheumatic fever rates among Northland Māori higher than reported - research
Rates of acute rheumatic fever are higher in Northland than the Ministry of Health has reported, new research shows.
Auckland measles outbreak: number of confirmed cases jump to 200
The number of measles cases in Auckland this year has hit 200, with 11 new cases confirmed over the weekend.
Ministry ignored advice to boost measles immunisation of teens, young adults
As measles cases continue to skyrocket in New Zealand, documents show the Ministry of Health failed to act on expert advice to prevent outbreaks.
The 'Victorian' illnesses you can still get in New Zealand
Syphilis and tuberculosis might sound like the stuff of history books, but they're among a number of 'Victorian'-era illnesses still in New Zealand.
TOBACCO, DRUGS AND ALCOHOL
Big Tobacco targeting Māori with e-cigarettes
Tobacco company Philip Morris is visiting marae and sports clubs to offer free trials and discounts on its e-cigarette as it targets Māori. In the first story in the Smoke and Mirrors series, Guyon Espiner asks if vaping and e-cigarettes offer smokers a less dangerous habit or give them a new, damaging problem.
INTERNATIONAL NEWS
WHO prepares first-ever State of the World's Nursing report
In April 2020, the World Health Organization will launch the world's first State of the World's Nursing Report to ensure that policy decisions around where and how to invest in the health workforce are based on evidence and data. This will be a landmark resource which will help to provide a 'snapshot' of the nursing workforce in member states, as well as recommendations for countries to drive progress towards Universal Health Coverage and the Sustainable Development Goals
Adults with HIV who have compassionate care providers start and remain in treatment longer
Adults with HIV are more likely to continue life-saving treatments if their primary health care providers show respect, unconditional empathy without judgement and demonstrate an ability to partner with patients in decision making to address their goals, a Rutgers study finds.
ARTICLES OF INTEREST
Allen, D, Purkis, ME, Rafferty, AM, Obstfelder, A. Integrating preparation for care trajectory management into nurse education: Competencies and pedagogical strategies. Nurs Inq. 2019; 26:e12289. https://doi.org/10.1111/nin.12289
Nurses make an important contribution to the organisation and coordination of patient care but receive little formal educational preparation for this work. This paper builds on Allen's care trajectory management framework to specify evidence‐based and theoretically informed competencies for this component of the nursing role and proposes how these might be incorporated into nursing curricula. This is necessary so that at the point of registration nurses have the expertise to realise their potential as both providers and organisers of patient care and are better able to articulate and develop this aspect of nursing practice
Pesut, B, Thorne, S, Greig, M. Shades of gray: Conscientious objection in medical assistance in dying. Nurs Inq. 2019; 00:e12308. https://doi.org/10.1111/nin.12308
With the advent of legalized medical assistance in dying [MAiD] in Canada in 2016, nursing is facing intriguing new ethical and theoretical challenges. Among them is the concept of conscientious objection, which was built into the legislation as a safeguard to protect the rights of healthcare workers who feel they cannot participate in something that feels morally or ethically wrong. In this paper, we consider the ethical complexity that characterizes nurses' participation in MAiD and propose strategies to support nurses' moral reflection and imagination as they seek to make sense of their decision to participate or not. Deconstructing the multiple and sometimes conflicting ethical and professional obligations inherent in nursing in such a context, we consider ways in which nurses can sustain their role as critically reflective moral agents within a context of a relational practice, serving the diverse needs of patients, families, and communities, as Canadian society continues to evolve within this new way of engaging with matters of living and dying.
MINISTRY OF HEALTH
Suicide Facts: 2016 data (provisional)
This page provides high level suicide information for 2016.
This 2016 data is provisional. In New Zealand, a death is only officially classified as suicide by the coroner on completion of the coroner's inquiry. Only those deaths determined as 'intentionally self-inflicted' after the inquiry will receive a final verdict of suicide. At the time of data extraction (28 March 2019), there were 26 deaths registered in 2016 that were still subject to coroners' findings and where the cause of death had not yet been determined. Although these deaths are not included in the following data, some may later be classified as suicide.
https://www.health.govt.nz/publication/suicide-facts-2016-data-provisional
CONSULTATION
Medicinal Cannabis Scheme consultation
Submissions close 5.00 pm, Wednesday 7 August 2019.
The Ministry of Health has opened public consultation on the proposals for the medicinal cannabis regulations needed to support the Medicinal Cannabis Scheme. Consultation closes Wednesday 7 August 2019 at 5 pm.
The Government has committed to establishing a Medicinal Cannabis Scheme to improve access to quality medicinal cannabis products. The Scheme will do this through:
enabling the commercial cultivation of medicinal cannabis and the manufacture of medicinal cannabis products in New Zealand
setting standards for medicinal cannabis products so that medical practitioners can prescribe them with more confidence.
A regulatory system, with controls on the cultivation of cannabis and the manufacture and supply of medicinal cannabis products, is needed to support the Scheme. The regulations are being developed to establish the regulatory system.
REPORTS ONLINE
New Report Recognizes Importance of Safe Nurse Staffing to Patient Safety
A new report from the 4th Global Ministerial Summit on patient safety presents the highlights of the two-day summit and includes specific recommendations for patient safety. The summit was held in March 2018 in Jeddah, Saudi Arabia and concluded with the presentation of the Jeddah Declaration on Patient Safety, "Which sets out 11 actionable statements for international standards and guidelines that aim to address patient safety issues of global significance."
The above information has been collated for the College of Nurses Aotearoa (NZ) Inc by Linda Stopforth, SNIPS and is provided on a weekly basis. It is current as at Tuesday 9 July 2019
If you have any feedback about content - what parts are most useful or what you would like added - please email admin@nurse.org.nz
For more up to date news and information follow SNIPS at:
Facebook: Snips Info
twitter: @SnipsInfo