News bulletin 24 July
on 24 July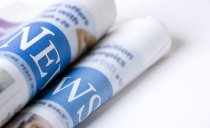 Welcome to the College of Nurses Aotearoa News Update.
No. 454, Wednesday 24 July 2019
Weekly news round-up of nursing and health information in New Zealand and internationally
NATIONAL NEWS
Removal of mental health nurses from Auckland police cells 'increases risk' to prisoners
The removal of mental health nurses from the Counties Manukau police cells will significantly impact the safety of detainees, a leading barrister is warning.
New palliative care nurse for Upper Clutha
Strong population growth in the Upper Clutha district has led to the provision of a new part-time district nurse to focus on palliative-care services in the ...
Aged-care workers in New Zealand face same brutal conditions as described by Aussie worker
A Kiwi aged-care worker has said conditions are no better here, after an Australian worker described the brutal daily workload she and her colleagues face.
A brand new crop of registered nurses are ready to go
NorthTec's Te Puna o Te Mātauranga Marae hosted a celebration last week, as 31 nursing graduates formally completed their studies, the day after ...
Hospital guard assault: more training and buddy system at Waikato Hospital
As a Waikato Hospital security guard recovered from repeated blows with an oxygen cylinder, her employer and the DHB were talking training.
Groundbreaking Maori health practitioners bring their expertise to Wintec
There's a growing practice of recounting Māori indigenous stories or pÅ«rākau as therapy and it is making meaningful change in Aotearoa, New Zealand.
Health and social practitioners, and educators are increasingly seeking ways to incorporate pūrākau, whakapapa kōrero (history) and pakiwaitara (legends and stories) in their practice.
DHBs
$1.7M Dunedin Hospital Catheter Suite Refurbishing
A $1.7 million refurbishment has provided Dunedin Hospital's Cardiology Catheter Suite with technology to enhance patient safety, and staff decision making.
Hutt Valley DHB has launched an ambitious goal for Māori health.
Te Pae Amorangi, the DHB's Māori Health Strategy 2018-2027 has set nine years to achieve health equity for Māori.
Christchurch mosque shooting: Cost tops $6m for Canterbury DHB
The cost of the Christchurch mosque shootings has topped $6 million for the Canterbury District Health Board.
MidCentral and Capital and Coast DHBs to sign Memorandum
Ōtaki and Te Horo residents' access to services at Capital and Coast DHB will become clearer this week with the signing of a Memorandum of Understanding (MoU) between MidCentral DHB and Capital and Coast DHB. The MoU formalises the exisiting working arrangements between the neighbouring district health boards.
ETHICAL ISSUES
Abortion law reform is coming to New Zealand, here's what happens next
New Zealanders will discover how far the Government plans to liberalise abortion laws in weeks, not months, according to Justice Minister Andrew Little.
Party leaders firmed their positions on abortion on Tuesday with Prime Minister Jacinda Ardern saying she supported decriminalisation, while National leader Simon Bridges would not say whether he would back the bill.
MENTAL HEALTH
People with mental illness experience poorer physical health, and the gap may be getting worse, experts say
People with severe mental illness die up to 20 years earlier than those without — a gap researchers say is only getting worse.
Design of 'groundbreaking' mental health and addiction services underway
Transformation of mental health and addiction services for people with mild to moderate need takes an important step forward today, says Health Minister Dr David Clark.
MIDWIFERY / MATERNITY
Waikato University survey to further help understand postnatal depression
Immigrants are nearly twice as likely to get postnatal depression than New Zealand-born parents and a Waikato University student wants to know how to get those rates down.
PM Jacinda Ardern on strained Middlemore maternity services: 'consistent underfunding'
Jacinda Ardern has pointed to "consistent underfunding" under the last Government after baby deaths at Middlemore were linked to problems like not enough staff.
PHARMACY
Visiting cannabis expert warns against specialist sign-off
"The prospect of a specialist recommendation being required before a GP can prescribe medicinal cannabis would be a huge error for New Zealand," says British neurologist and Europe's pre-eminent medicinal cannabis expert, Professor Mike Barnes.
PUBLIC HEALTH
Forty percent of measles cases end up in hospital
Just over 40 percent of people who have contracted measles this year have ended up in hospital.
NZMA alarmed at lack of clinical training in diagnosis of sore throats
Patient diagnoses are not a simple matter. What may present as a straightforward sore throat and upper respiratory tract infection, and approximately 80% are, can be a symptom of a more serious illness such as flu, bronchitis, pneumonia and glandular fever which require a full history and examination. Pharmacists are not medically trained and do not have the clinical expertise and training in diagnosis, which can put patients at risk.
New Zealanders in their teens to 30s least protected against measles
Nearly half a million New Zealanders in their teens to mid-30s are likely to be unvaccinated against measles.
TOBACCO, DRUGS AND ALCOHOL
Northland's methamphetamine demand reduction programme could go nationwide
Northland's unique methamphetamine demand reduction programme, Te Ara Oranga, could be rolled out to other parts of the country following its success.
INTERNATIONAL NEWS
Nurses to get more professional development opportunities
SINGAPORE - There will be more avenues for nurses here to expand their skills and knowledge with two new courses launched on Wednesday (July ...
Suicide risk among nurses higher than in other occupations
Both male and female nurses face higher suicide risk than their counterparts in other occupations, according to a study published in Archives of Psychiatric Nursing.
ARTICLES OF INTEREST
'Thinking outside the box': advanced geriatric nursing in primary health care in Scandinavia
Erika Boman, Ann-Louise Glasberg, Rika Levy-Malmberg and Lisbeth Fagerström
BMC Nursing 2019, 18:25 | Published on: 2 July 2019
Older people are frequent users of primary health care (PHC) services. PHC services have been critiqued, mainly regarding limited accessibility and continuity of care. In many countries, investment in nurse practitioners (NPs) has been one strategy to improve PHC services. In the North of Europe, the NP role is still in its infancy. The aim of this study was to explore the feasibility of introducing geriatric nurse practitioners (GNPs) in PHC in Scandinavia, from multiprofessional and older persons' perspectives.
Cardwell, R. , Gray, R. , Davis, J. and McKenna, L. (2019), The illusion of clinical credibility and its importance to nurse education, practice and science. J Clin Nurs. Accepted Author Manuscript. doi:10.1111/jocn.14961
Opinions on how, what, where and who is best to educate, is a topic repeatedly discussed amongst nurses of all levels, qualifications and years of experience.
Whilst visiting a hospital to see students on clinical placement, a tearoom conversation with the nurse manager and staff discussing nurse education, was overheard. "The problem with nurse academics is they have no idea about the realities of the clinical environment, how can they possibly get these students 'work ready', when they haven't even set foot in a hospital for years? They're not clinically competent."
There is unquestionably a perception among nurses in clinical practice that nurses working in academia are distant from the day‐to‐day clinical issues that are faced in 'real life' nursing.
This article is not freely available but may be accessed through databases and libraries to which readers have access. Alternatively SnIPS can provide it on a cost recoverable basis
Choi, MS, Cook, CM, Brunton, MA. Power distance and migrant nurses: The liminality of acculturation. Nurs Inq. 2019; 00:e12311. https://doi.org/10.1111/nin.12311
A dearth of literature focuses on the relationship between acculturation, power distance and liminality for migrant nurses entering foreign workplaces. Expectations are for migrant nurses to be practice‐ready swiftly. However, this aspiration is naïve given the complex shifts that occur in deeply held cultural beliefs and practices and is dependent on an organisational climate of reciprocal willingness to adapt and learn. This exploratory study identified that although a plethora of literature addresses challenges migrant nurses face, there are limited data that link these transitional processes to concepts that might usefully guide transitions. This study draws from the overarching concept of acculturation, together with Hofstede's (2011) notion of power distance and the theory of liminality to explore the experiences of eight migrant nurses. Data highlighted that adjusting to altered hierarchical relationships took many months because negotiating power distance challenged deeply held beliefs and assumptions about professional and organisational hierarchies. Migrant nurses' accounts indicated a paucity of organisational processes to address these difficulties; therefore, they navigated this liminal space of adjustment to power distance differences in an ad hoc manner. Their acculturation experiences, arguably unnecessarily prolonged, indicate the value in workplace commitment to exploring a collaborative, critically reflective approach to optimise transitions.
MINISTRY OF HEALTH
HISO 10049.2:2019 Videoconferencing Endpoint Naming Scheme
This standard defines a naming and addressing scheme for videoconferencing endpoints.
HISO 10049 is the published standard for videoconferencing interoperability, supporting telehealth services and interoffice communication. This second part of the standard, developed by the New Zealand Telehealth Forum's videoconferencing working group, provides a naming and addressing scheme for videoconferencing endpoints. The standard defines how display names and web addresses are constructed, supporting the National Health Videoconference Directory for videoconferencing endpoints.
NEW PUBLICATIONS
Conscientious objection guidance
PUBLICATION CODE : 007 690
In 2013 RCN published its Position Statement on Termination of Pregnancy (Induced Abortion) (RCN 2013), and a part of that publication was providing guidance for nurses and midwives who wish to exercise the legal right to conscientious objection. This new guidance has reviewed our advice and updated the document for ease of use by nurses, midwives and nursing associates on the issue of conscientious objection.
The above information has been collated for the College of Nurses Aotearoa (NZ) Inc by Linda Stopforth, SNIPS and is provided on a weekly basis. It is current as at Tuesday 23 July 2019
If you have any feedback about content - what parts are most useful or what you would like added - please email admin@nurse.org.nz
For more up to date news and information follow SNIPS at:
Facebook: Snips Info
twitter: @SnipsInfo