News bulletin 31 July
on 31 July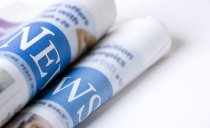 Welcome to the College of Nurses Aotearoa News Update.
No. 455, Wednesday 31 July 2019
Weekly news round-up of nursing and health information in New Zealand and internationally
NATIONAL NEWS
Hospital staff dealing with unsafe workplaces and limited support

Suzanne Rolls is a New Zealand Nurses Organisation Professional nursing adviser. She says there is more support for people assaulted on the street ...
'So regular we are used to it': Rise of violence in hospitals prompts call for harsher penalties
The nurses' union said violence was now so commonplace in New Zealand hospitals that some staff felt it was part of the job and were no longer ...
Hospital crisis in Auckland: Ambulances diverted after 16 nurses call in sick
Counties Manukau District Health Board was forced to divert ambulances to Auckland City Hospital after 16 nurses called in sick just before an ...
Free online course "Introduction to Public Health Nursing in New Zealand"
Wairarapa DHB
(L-R): RPH Team Leader, Tessa-Jane Dennes; Whitireia New Zealand Senior Nursing Lecturer and eLearning developer, Georgina Orsborn; RPH ...
New Nelson Hospital unit aims to improve patient flow
Director of nursing and midwifery Pamela Kiesanowski​ said the purpose of the unit was to ease pressure on the emergency department by improving ...
High-emitting NZ health sector urged to cut back on carbon
Hospitals are being asked to do better environmentally, including by cutting back on meat and dairy.
CANCER
Audit finds major colonoscopy service failures in Otago, Southland
Lengthy delays for patients needing a colonoscopy, a state of inter-service warfare, and stressed clinicians in need of trauma counselling.
DHBs
Staffing 'crisis' at Middlemore Hospital causing delays for patients - union
A staffing "crisis" at Middlemore Hospital has sparked concern life-saving diagnoses may be delayed.
Staffing 'crisis' at Middlemore Hospital: DHB rejects union's claims
Counties Manukau District Health Board has rejected claims by a health professionals union that it is experiencing a staffing "crisis".
DHB introduces training to combat racism
The Auckland District Health Board (ADHB) is putting its managers through training modules as part of a plan to eliminate institutional racism.
End of financial year sees Taranaki District Health Board more than $23 million in the red
The financial year for Taranaki District Health Board has closed with one of its worst deficits in recent history.
EDUCATION
Whitireia documents show enrolments close for 67 courses
Whitireia is ceasing enrolment for 64 programmes and degrees - more than double the number previously announced - according to documents sent to polytech staff.
Research-informed degree preparing for the future of midwifery
Victoria University of Wellington's Bachelor of Midwifery* will equip new midwives for practice in an increasingly complex environment.
HEALTH INEQUALITY
Cost is the main barrier to accessing health services
New data from over 72,000 patients who responded to a survey about their experiences with New Zealand health services shows one in five reported not visiting a GP or nurse due to cost in the last 12 months.
HEALTH RESEARCH
Large number of women with chronic health conditions have unplanned pregnancies - research
A large number of women with chronic health conditions have unplanned pregnancies and are at risk of experiencing adverse events during pregnancy, something a University of Otago researcher says could be prevented if healthcare professionals are prepared.
MENTAL HEALTH
Existing mental health providers will get more funding to increase access
Another 1600 workers will be needed to fulfil a Government plan to increase access to mental health services.
Can New Zealand's mental health crisis be cured?
Mental health services are in line for the biggest shake-up they've had in half a century. It's needed to arrest the country's shameful suicide rates and to deal with growing distress among up to a million New Zealanders. Health Correspondent Karen Brown explores the pressure points and whether real change will happen.
PHARMACY
Over-the-counter codeine sales are booming and a proposed ban has been delayed
Kiwis are chugging back millions of over-the-counter codeine pills, figures obtained by Stuff reveal.
But moves by Medsafe to make the products prescription-only to bring us in line with Australia remain mired in red tape.
PRIMARY HEALTH CARE
Drive-thru doctors to modernise 'out of date' NZ practices
Drive-thru medical care at the same speed as fast food could soon be a reality in New Zealand.
Dr Lance O'Sullivan plans to build two in New Zealand before the end of the year to help modernise a service he says is "out of date".
PUBLIC HEALTH
2000 kiwis benefit from lifesaving new hep C treatment
The Ministry of Health and PHARMAC are pleased to see New Zealanders with hepatitis C and health professionals across the country moving quickly to access the life-saving new treatment Maviret.
SOUND AND VISION
Postcode lottery for New Zealanders seeking publicly funded hearing aids
A Ministry of Health scheme set up to give eligible Kiwis access to funded hearing aids is leaving many wearing costs in the private system, research shows
Used hearing aid programme aims to bridge gap for low income earners
What price can you put on your hearing?
While some people have the luxury of being able to spend thousands of dollars on a new set of hearing aids, there are others who go without.
TOBACCO, DRUGS AND ALCOHOL
Older adults, not young people, behind forecast increase in alcohol consumption - academics
Picture harmful drinking and a teenager with a RTD might come to mind, not a retiree with a glass of wine.
However, the authors of a new editorial in the New Zealand Medical Journal believe it is people aged 50 years and over –not youth – who will drive a forecast increase in alcohol consumption.
INTERNATIONAL NEWS
How to combat nurse burnout with resilience: The Joint Commission reports
Healthcare organizations have a responsibility to address the problem of nurse burnout, and one of the methods of doing so is fostering resilient environments and employees, according to The Joint Commission.
Burnout is a patient safety issue, The Joint Commission says, because it damages the physical and emotional health of staff and increases costs.
Connecting with patients can be crucial for new nurses
For many new nurses, the ability to find a connection with a patients can be crucial to building a sense of accomplishment and satisfaction with their careers, according to Heather Caramanzana, a researcher and nurse manager at Glen Cove Hospital in New York. Little things like taking a moment to ask about patient's photos or families can actually lead to greater job satisfaction as well as nurse retention, Caramanzana said.
HealthLeaders Media (7/19)
WELLBEING
7 wellness activities to promote nurse self-care
Over 80 percent of nurse respondents said they suffered from significant stress, according to an American Nurses Association survey. Nurses often work overtime and skip breaks, in part due to nationwide nursing shortages, and they may forget to take care of themselves in the process.
To combat the problem, some employers are implementing worksite wellness programs, which have been shown to increase nurses' job satisfaction and retention, according to The Atlanta Journal-Constitution.
WORKPLACE
The 5 types of mentors you need in your life
Here's how to assemble your personal dream team, with tips from business expert Anthony Tjan.
ARTICLES OF INTEREST
Ng Chok, H. , Mannix, J. , Dickson, C. and Wilkes, L. (2019), Shining a light on refugee nurses. J Clin Nurs, 28: 1363-1364. doi:10.1111/jocn.14815
Conflict and war in countries across the world has driven the worst migration crises since WWII, with the number of refugees exceeding 25 million (Rother et al., 2016; United Nations High Commissioner for Refugees, 2016). Unlike "migrants" who are able to freely travel and return home, "refugees" are people who have "a well‐founded fear of persecution for reasons of race, religion, nationality, political opinion or membership in a particular social group" (UNHCR, 2017). Designation as a refugee is granted by the United Nations High Commissioner for Refugees (UNHCR) and some government authorities to individuals who meet certain assessment criteria. Internationally, under the UNHCR resettlement programme, only a few countries have agreed to resettle refugees worldwide (UNHCR, 2017)
One-year trial of 12-hour shifts in a non-intensive care unit and an intensive care unit in a public hospital: a qualitative study of 24 nurses' experiences
BMJ Open 2019;9:e024292. doi: 10.1136/bmjopen-2018-024292
Objectives The aim of this study was to provide recommendations to hospital owners and employee unions about developing efficient, sustainable and safe work-hour agreements. Employees at two clinics of a hospital, one a non-intensive care and the other a newborn intensive care unit (ICU), trialled 12-hour shifts on weekends for 1 year.
Establishing the nurse practitioner workforce in rural New Zealand: barriers and facilitators
Sue Adams 1 3 , Jenny Carryer 2
Journal of Primary Health Care 11(2) 152-158 https://doi.org/10.1071/HC18089
INTRODUCTION: The health sector is facing considerable challenges to meet the health needs of rural communities. Nurse practitioners (NPs) deliver primary health care (PHC) services similar to general practitioner (GP) services, within a health equity and social justice paradigm. Despite GP workforce deficits, New Zealand has been slow to effectively utilise NPs.
AIM: From a larger study exploring the establishment of NP services, this paper reports on the barriers and facilitators to becoming a NP in rural PHC.
Ryder, M, Jacob, E, Hendricks, J. An inductive qualitative approach to explore Nurse Practitioners views on leadership and research: An international perspective. J Clin Nurs. 2019; 28: 2644– 2658. https://doi.org/10.1111/jocn.14853
To explore the ways in which Irish and Australian Nurse Practitioners (NPs) implement leadership and research in their roles and whether there is a difference in how leadership and research are demonstrated between NPs in Ireland and Australia.
CONSULTATION
The following documents have been published.
Public submissions are now being invited on this Inquiries
The above information has been collated for the College of Nurses Aotearoa (NZ) Inc by Linda Stopforth, SNIPS and is provided on a weekly basis. It is current as at Tuesday 30 July 2019
If you have any feedback about content - what parts are most useful or what you would like added - please email admin@nurse.org.nz
For more up to date news and information follow SNIPS at:
Facebook: Snips Info
twitter: @SnipsInfo