News bulletin 4 September
on 4 September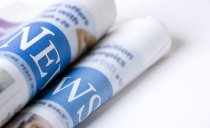 Welcome to the College of Nurses Aotearoa News Update.
No. 460, Wednesday 4 September 2019
Weekly news round-up of nursing and health information in New Zealand and internationally
NATIONAL NEWS
Southland Hospital nurses search for missing home care equipment
Southland Hospital palliative care clinical nurse specialist Leah Cavanagh said they discovered that the hospital was missing 28 of its 29 NIKI T34 ...
New Zealand's original Karitane nurses: our knowledge is too precious to lose
Even though they've hit retirement age, Heather, Stephanie and Adrienne are still on the job as demand for their specialist nursing skyrockets.
Red Cross nurse Felicity Gapes a true Florence Nightingale
The scenario might sound like something out of a B-grade movie; detained on suspicion of spying by a trigger-happy commander with post-traumatic stress disorder.
Felicity Gapes, a nurse with the International Committee of the Red Cross (ICRC), can laugh about it now from the safety of the Wellington HQ, but in the heat and dust of Sudan in the midst of a bloody civil war, her predicament was deadly serious.
Nurse's cancer experience inspires volunteer driving role
John Torres remembers what it was like to grapple with a cancer diagnosis, and with getting to appointments.
All roads lead to nursing career for Lower Hutt mum
The 34-year-old from Lower Hutt decided she wanted to be a nurse after spending a week with the New Zealand Army when she was in her final year ...
Southern DHB Nursing Director wins top mental health award
Southern DHB Nursing Director Heather Casey has won a top Australasian award in mental health for her outstanding contribution to mental health service delivery.


More nurses for measles outbreak as confirmed number of cases hits 963
The Government has rolled out 25 additional nurses to administer measles vaccines in 34 schools in Auckland, as the number infected grows.
CANCER
Kiwi prostate cancer sufferers facing delays, inconsistent advice - study
Inconsistent, "inequitable" access to information and healthcare services mean "the odds are stacked" against Kiwi men with prostate cancer, experts say.
Men face increasing wait times for prostate cancer treatment
Men are experiencing longer wait times for prostate cancer treatment and a lobby group wants the disparity between District Health Boards to stop.
The link between hormone treatment and breast cancer
Hormone treatments could have caused breast cancer in one million women since 1990, a study indicates.
Government unveils national cancer agency and $60 million injection into Pharmac
Key announcements:
Cancer Control Agency to abolish postcode lottery.
World-leading public health physician and cancer epidemiologist Professor Diana Sarfati has been appointed as the Ministry of Health's interim National Director of the cancer control agency.
A $60 million funding boost to Pharmac, $20 million this year and $40 million in 2020/21.
Partnership is the key to better cancer outcomes for MÄori
Hei Ähuru MÅwai, the MÄori Cancer Leadership Board, says achieving equitable cancer care for MÄori is an urgent priority. Chair, Dr Nina Scott says that while the new National Cancer Plan is promising, the group believes that accelerated Maori partnership is critical to ensure the plan can be translated into action.
Government cancer plan 'not sufficient', warn advocates
Cancer patients and treatment advocates are crying out for much more radical change, saying the government's new plan does not go far enough and the funding boost is just a drop in the ocean.
CHILD AND MATERNAL HEALTH
Extra $7m for parenting services as Health Minister brands child poverty an "abomination"
Whakatane Hospital is set to be the location for a new Pregnancy and Parenting Service Hub, one of two new hubs to be launched with $7 million of Government funding.
CLIMATE CHANGE
Fighting climate change vital to protect Kiwis' health - doctor
Newshub
"Health workers in New Zealand are really worried about climate change - nurses, doctors - because it has huge impacts on health and wellbeing of ...
CULTURAL SAFETY
Diabetes, Ramadan, and Driving: Ensuring Patient Safety While Respecting Religious Autonomy
Ramadan takes place during the ninth month of the Islamic calendar. It is the holiest month for Muslims and is marked by fasting from food and drink during daylight hours.1 While an estimated 93% of Muslims fast during Ramadan,1 those who experience difficulty fasting — including the elderly or people with chronic illnesses — may be exempt.2
Understanding the Pacific's alternative genders
Over the past few years, there has been greater recognition of gender diversity in mainstream Western popular culture
DHBs
Code red: Parents and newborn babies at risk on maternity wards
Wellington Hospital's maternity ward has escalated to "code red" multiple times in the past year, with newborn babies and mothers considered to be in danger by its own staff.
Taranaki among five DHBs failing to meet national hand washing standards
A new report shows Taranaki District Health Board staff are the worst in the country at washing their hands
Midland Clinical Portal data proving valuable to Waikato DHB clinical staff
Data accessible through the Midland Clinical Portal (MCP) is proving valuable to clinical staff across Waikato District Health Board.
Waikato DHB hatches plan to avoid need for 440 more hospital beds by 2030
Waikato DHB will need to add more than half a hospital worth of beds within a decade unless it makes some big changes.
"Our projections tell us we will need another 440 hospital beds by the year 2030, which is neither sustainable or desirable," the DHB's Waikato Health System Plan, Te Korowai Waiora said.
HEALTH FUNDING AND RESEARCH
Asthma foundation, CanTeen struggling due to lack of Government funding
Charities supporting young people with chronic health conditions say they're struggling to keep up with demand due to a lack of Government funding.
HEALTH INEQUALITY
Provinces missing out on neurological services - MS sufferer
A Stratford woman, who as a teenager was the youngest person in the country diagnosed with multiple sclerosis, is getting behind the message that the provinces are missing out on neurology services.
HEALTH SYSTEM
Report: Health sector too complicated and lacking leadership
The Health and Disability System Review Panel's interim report says the current structure is overly complicated, lacking leadership, and people using the services need be placed at the heart of the system.
Health boards should be scrapped, says academic
They are the people who can decide whether or not you get a new hip or access cancer treatment quickly enough to save your life.
District health board (DHB) elections are important, but all too often they are a sideshow to higher profile council elections.
HEART DISEASE
$2 Million to tackle heart health inequities
The Heart Foundation and the Healthier Lives National Science Challenge have joined forces to tackle inequities in health outcomes from cardiovascular disease among Māori and Pacific people.
INFECTION CONTROL
Tuvaluan community drives message to improve skin infection rates - HQSC
A community-driven approach has played a vital role in a project that has reduced the rate of skin and soft tissue infections among under 25-year-olds in West Auckland's Tuvaluan community by more than 40 percent.
INJURY PREVENTION
Written off: The true cost of road deaths
The total cost of crashes on New Zealand's roads was about $6 billion last year, when 377 people died and thousands more were injured. Why is the price so high, and what is being done about it? Ben Strang investigates.
Doctors call for law debate as unrestrained children die on roads
A top trauma surgeon is calling for urgent action on car seats after dozens of children were either killed or injured on our roads.
E-scooter injuries as severe as car crashes - study
A new study shows people hurt riding an e-scooter sustain injuries like those from a car crash or falling from a substantial height, and need costly surgery.
MENTAL HEALTH
More staff and time needed to build mental health services: PM Jacinda Ardern
The government's plan to put mental health at the fore is progressing, but more time and hands are needed, Prime Minister Jacinda Ardern says.
Zinc deficiencies in school children 'may contribute to mental health issues'
A recent University of Otago trial showed that children taking micronutrient supplements such as vitamins and minerals could be a safe therapy for children with ADHD.
Technology the 'new frontier' in mental health care
Artificial intelligence and e-therapy options could be part of the next frontier in terms of addressing the mental health needs of Kiwis.
OBESITY / SUGAR
Northern district health boards pay out more than $16m on weight loss surgery in five years
Some Auckland hospitals are performing nearly four times as many weight loss surgeries as they were five years ago.
PRIMARY HEALTH CARE
Entries open for inaugural New Zealand Primary Healthcare Awards
The inaugural New Zealand Primary Healthcare Awards | He Tohu Mauri Ora are open!
It's time for GPs, nurses, practice managers, pharmacists and friends of the primary healthcare industry to step up and be counted as heroes in our healthcare system.
GP crisis: How the shortage of family doctors is revolutionising healthcare
Predicted critical shortages of family doctors are forcing big changes in primary healthcare. Is general practice terminally ill or can it be saved? Donna Chisholm reports
PUBLIC HEALTH
Measles outbreak: Prime Minister Jacinda Ardern urges people to get immunised
She said the Government had acted to make more nurses available to provide communities with easier access to immunisation.
Vaccinations to take place in schools as the battle to curb measles outbreak continues
School nurses are being trained for a vaccination programme in South Auckland and extra staff have been called in at Middlemore Hospital and ...
Mandatory vaccinations not the best way to encourage participation, study finds
Making vaccines mandatory could punish those already experiencing hardship and worsen vaccine hesitancy, new research has found.
Global measles prevalence increasing; US may lose elimination status
The World Health Organization says close to 365,000 measles cases have been reported around the world this year, and the total from January to July is almost three times the number of cases reported during the same time in 2018, fueled by vaccine misinformation and weak health systems. The biggest outbreaks are occurring in the Democratic Republic of Congo, Madagascar and Ukraine, but the US is in danger of having its measles elimination status revoked, undermining US efforts to promote vaccination around the world.
Anti-vaxxers target new parents, while others nurse their critically ill kids
In a central Auckland suburb, anti-vaccination proponents are targeting new parents. Just down the motorway, parents are caring for their critically ill children with measles. How can this be happening in the same country, let alone the same city? Michelle Duff reports.
WOMEN'S HEALTH
Counties Manukau DHB's care delays for women labelled 'calculated neglect'
Delays to care for South Auckland women have been labelled "deplorable" and "calculated neglect" by critics in the health system.
YOUTH HEALTH
Young cancer, asthma patients traumatised by failing health system: study
A very ill young person was denied a sickness benefit and struggled to pay their mortgage while having treatment, research has revealed.
INTERNATIONAL NEWS
Nurse-midwives are instrumental in educating parents about vaccination
With measles cases on the rise, polls from the CDC have shown that health care providers are the most influential factor in helping parents decide to vaccinate their children. "There is a tremendous amount of fake information about vaccines on social media and other websites, and it's important for nurses to stay up to date about the safety and efficacy of any vaccine they are giving," said Carol Hayes, a certified nurse-midwife and immunization adviser to the American College of Nurse-Midwives.
ARTICLES OF INTEREST
Association of Nurse Engagement and Nurse Staffing on Patient Safety
Brooks Carthon … et al
Journal of Nursing Care Quality: January/March 2019 - Volume 34 - Issue 1 - p 40–46
Background: Nurse engagement is a modifiable element of the work environment and has shown promise as a potential safety intervention.
Purpose: Our study examined the relationship between the level of engagement, staffing, and assessments of patient safety among nurses working in hospital settings.
Lever, I. , Dyball, D. , Greenberg, N. and Stevelink, S. A. (2019), Health Consequences of Bullying in the Healthcare Workplace: A Systematic Review. J Adv Nurs. Accepted Author Manuscript. doi:10.1111/jan.13986
Aims
To review both mental and physical health consequences of bullying for healthcare employees.
Design
Systematic literature review.
Data sources
EMBASE, MEDLINE, PsycINFO, PUBMED and Web of Science Core Collection were searched for articles published between 2005 ‐ January 2017.
Conclusion
Bullying occurs frequently amongst healthcare staff and is deleterious to health and occupational functionality.
CONSULTATION
The following documents matching your alert criteria have been published.
Public submissions are now being invited on this Bill
Public submissions are now being invited on this Consideration of Standing Orders and Procedures
NEW PUBLICATIONS
Nurse specialist in menopause
PUBLICATION CODE : 007732
The menopause happens to all women, however the degree of its impact on a woman's quality of life and the symptoms experienced are very individual. The role of a specialist in menopause was included in the 2015 NICE guidelines on managing menopause, however the detail of how this role might be implemented in practice was less clear and subsequently the British Menopause Society (BMS) produced a guide for all health care professionals.
The above information has been collated for the College of Nurses Aotearoa (NZ) Inc by Linda Stopforth, SNIPS and is provided on a weekly basis. It is current as at Tuesday 3 August 2019
If you have any feedback about content - what parts are most useful or what you would like added - please email admin@nurse.org.nz
For more up to date news and information follow SNIPS at:
Facebook: Snips Info
twitter: @SnipsInfo