News bulletin 25 September
on 25 September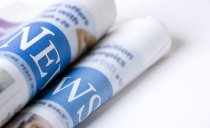 Welcome to the College of Nurses Aotearoa News Update.
No. 463, Wednesday 25 September 2019
Weekly news round-up of nursing and health information in New Zealand and internationally
NATIONAL NEWS
Porirua Pacific mental health nurse wins Award of Honour

Ms Kupa is a New Zealand-trained registered nurse of Tokelau, Cook Island and Tuvalu descent. She has worked mostly in Wellington at Capital ...
Marlborough Sounds' pioneer nurse deserves more recognition
Marlborough Sounds' pioneer nurse deserves more recognition ... Not only was she expected to be a superb nurse, experienced midwife too, but she had ... swept up in the whirl of American and New Zealand troops stationed there
Long-serving Rotorua nurse recognised at national awards
She has advocated for gerontology nurses and aged care throughout her work. The recipients came from Auckland, Wairoa, Hamilton, Rotorua, and ...
Swapping Auckland for Wairoa: Nurses couldn't be happier
"It probably sounds too good to be true; but it really is that good," says nurse Kelli Wallace, who would not choose to nurse anywhere else.
She and Wairoa Hospital nurses Sam McKeown and Lisa Zielstra are keen to see more nurses make the move to "this amazing little community". The three are at completely different ages and stages of their careers, but they all agree that Wairoa is the place to be.

Government budgets $9.5m for sweeping health and disability system review
The Government has set aside about $9.5 million for a wide-ranging review of the health system.
The budget for the health and disability system review, released to Stufffollowing an Official Information Act (OIA) request, comprises $639,000 for chair and panel member costs, more than $5.5m for secretariat and consultant/contractor costs, $1m for travel and accommodation and $2.3m for general costs.
Wellington Regional Hospital among 'many' hospitals 'too small for population'
Wellington Regional Hospital is one of "many hospitals" which are too small for the population they service, the Association of Salaried Medical Specialists (ASMS) says.
Future lies in expanded primary and community care and fewer hospitals
OPINION: The interim report of the health and disability review panel confirms much of what we already know: while the New Zealand system performs adequately by international comparison, it is overly complex and lacks national coherence, its performance is not well monitored and enhanced, primary care and population health lag, digital technologies are underdeveloped and at odds with each other and there is a lack of responsiveness to Māori and Pasifika. And, overall, the system needs "future proofing".
CANCER
New Zealand is top of the world for bowel cancer
New Zealand has the sad honour of having the highest rate of bowel (colorectal) cancer in the world. Thousands of people are affected annually and even more are affected indirectly - family members and loved ones dealing with the heartbreak and often loss of sufferers. The real travesty is that with the right diet, a high proportion of these can be prevented, maybe 50% or more.
CLIMATE CHANGE
Climate change a 'health emergency' for New Zealanders, says medical association
New Zealand's leading medical organisation has joined others around the world in declaring climate change a health emergency.
DHBs
Motels frequently used as Wellington Hospital deals with high patient demand
Motels are being used frequently to house out-of-town surgical patients, as dozens have their operations rescheduled because of a lack of intensive care beds.
HEALTH INEQUALITY
Trans and non-binary health and wellbeing report reveals severe inequities
Warning: This story discusses suicide, self-harm and sexual violence.
Researchers say the first comprehensive study on the health and wellbeing of trans and non-binary New Zealanders reveals serious health inequities. Digital journalist Murphy reports.
INFECTION CONTROL
The H-bug: Lessons from the past as NZ faces looming superbug threat
Sixty years ago an epidemic of penicillin-resistant bacteria in hospitals killed newborn babies and left hundreds of mothers infected.
Handwashing beats sanitizer for killing flu virus on hands
(Reuters Health) - Health workers who use hand sanitizer between patients may be more likely to spread flu germs than those who take the time to wash their hands, a recent experiment suggests
MEASLES
Auckland measles outbreak: At least three cases of measles encephalitis
There have been at least three cases of measles encephalitis during Auckland's measles outbreak, health officials have confirmed.
MENTAL HEALTH
GPs to move 'towards wellness' as Marlborough looks to tackle mental health
A new model of primary health care that puts wellbeing at its centre could soon come to Marlborough.
The Ministry of Health last week released a request for proposals from health boards and organisations for funding in primary health and addiction services.
MIDWIFERY / MATERNITY
A plea from midwives: 'It's not rocket science; improve the pay and conditions and we'll come back to work'
For those who help bring new life into the world, stress is high and money low but they "do it for the love of it" – however, the reality for community-based midwives is that the love is beginning to wear thin.
Neonatal units under pressure for years, but crucial report still not released
Babies' lives could be at risk due to delays acting on a yet-to-be released review of neonatal intensive care units (NICU), National's health spokesman says.
INTERNATIONAL NEWS
Nurses from the Cook Islands and overseas are being encouraged to apply for jobs in a bid to address on ongoing shortage of nurses at Rarotonga ...
ARTICLES OF INTEREST
Leadership styles that promote innovation
American nurse today
July 2019 Vol. 14 No. 7
Supporting innovation requires commitment and thoughtful actions.
Takeaways:
The healthcare systems operate between past models and the need to evolve.
Innovation leadership skills are about adaptive problem solving, building a culture of improvement, facilitating a growth mindset, supporting proactive thinking not reaction, and preparing organizations to stay relevant in the face of changing market factors.
MINISTRY OF HEALTH
Healthy Homes Initiative Outcomes Evaluation Service: Initial Analysis of Health Outcomes (Interim Report)
The purpose of the Healthy Homes Initiative Outcomes Evaluation is to determine whether the Healthy Homes Initiative (HHI) programme has improved health and social outcomes for families who have taken part, and if it offers value for money. This report details an interim analysis that includes an overview of health outcomes and indicative savings to the health sector in the first year after HHI service for the referred child only.
Improving New Zealand's childhood immunisation rates
This report was commissioned by the Ministry in May 2019 to explore the factors leading to declining immunisation rates and to inform the development of interventions and policy solutions to counter it.
The above information has been collated for the College of Nurses Aotearoa (NZ) Inc by Linda Stopforth, SNIPS and is provided on a weekly basis. It is current as at Tuesday 24 September 2019
If you have any feedback about content - what parts are most useful or what you would like added - please email admin@nurse.org.nz
For more up to date news and information follow SNIPS at:
Facebook: Snips Info
Twitter: @SnipsInfo