News bulletin 2 October
on 2 October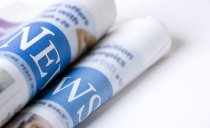 Welcome to the College of Nurses Aotearoa News Update.
No. 464, Wednesday 2 October 2019
Weekly news round-up of nursing and health information in New Zealand and internationally
NATIONAL NEWS
New Waikato nursing school could have first batch of students in 2021

Hamilton is getting a second nursing school.
The local university and health board have joined forces to create a course to help address a nationwide shortage of nurses.
How to improve the NZ healthcare system

The New Zealand health system has come under fire in recent times for failing to meet the standards of welfare for patients and nurses. The last year ...
CANCER
New Breast Cancer Foundation app
New Breast Cancer Foundation app puts power in Kiwi women's hands
This October, your breast health is in your own hands – literally.
DHBs
'Business as usual' a long way off: the challenges awaiting new Canterbury District Health Board
The next three years will be crucial for the Canterbury District Health Board (CDHB). From infrastructure to mental health, OLIVER LEWIS reports on the challenges which will face the new board.
Southlanders waiting months to see specialists
Southlanders are having to wait more than 120 days for specialists appointments in general surgery, which is breaching Ministry of Health guidelines.
DIABETES
Nick Wareham- how to tackle New Zealand's diabetes epidemic
Professor Nicholas Wareham is a British epidemiologist from the University of Cambridge who researches obesity, diabetes, and other metabolic disorders.
He's here in New Zealand to speak at a University of Otago symposium in Wellington called From Evidence to Everyday: translating nutrition research for a healthy Aotearoa. He's particularly interested in public health measures targeted at tackling the country's obesity and diabetes epidemic.
And he's been weighing up the benefits of UK policies like screening and testing for type 2 diabetes, investments in cycling infrastructure, restrictions on the number of takeaways allowed in disadvantaged areas, and a sugar levy. At issue? The fact that about 10 percent of the National Health Service's total budget is spent on caring for people with diabetes.
HEALTH FUNDING AND RESEARCH
Should hospices have to rely on sausages sizzles for funding?
One in three New Zealanders who die in 2019 will get some form of help from a hospice.
What many will not realise is that much of that care will be paid for by sausages sizzles, cake stalls and hospice shops
MEASLES
'Shameful' measles outbreak predicted
Scientists think the current outbreak of measles could have been avoided if the Ministry of Health had acted on recommendations for a catch-up campaign.
Two unborn babies die after mothers catch measles
Two pregnant women with measles have lost their babies in the latest Auckland outbreak.
Hospital worker diagnosed with measles in Christchurch
A Canterbury woman working at Burwood Hospital has been confirmed as having measles.
The Canterbury District Health Board (CDHB) said in a statement on Tuesday that its Community and Public Health team had been working to identify all of the woman's close contacts – both at work and in her private life – determining their immunisation status and offering advice about what further action they should take.
Northland measles cases jump 60 per cent in month, vaccination programme widens
The numbers of measles cases in Northland have jumped 60 per cent in less than a month, as the highly infectious disease tightens its hold in the region.
OBESITY / SUGAR
Calls for law changes as Auckland's obesity rates triple in one generation
The number of obese Aucklanders has tripled in the space of one generation, prompting calls to "overhaul" the way junk food is marketed to children
PAIN
Paracetamol best for pain relief in bone, muscle injuries
If you need to tame the pain of a broken bone, sprain or bruising, a new study suggests you're best to reach for the humble paracetamol.
PHARMACY
Seizures, driving stand-downs as Pharmac pulls epilepsy drug funding
Warning: This story contains a graphic image of a head injury
People with epilepsy say their lives are being turned upside down by seizures after the government drug buying agency, Pharmac, pulled funding for their medicines in a cost savings drive.
PRIMARY HEALTH CARE
Your next GP visit could be with a group of other patients
Going to the GP isn't necessarily a one-to-one thing any more.
You could be in a group of patients who share a health issue, and listen as a single doctor sees each person one after the other.
Pharmacists call for immunisation "Catch-Up Plan"
The Pharmaceutical Society of New Zealand is calling for a formal Ministry of Health led "Catch-Up Plan" to increase the populations immunisation levels.
SOCIAL HEALTH
How can homelessness be harmful to health
The average life expectancy of someone experiencing chronic homelessness is 55 years. That's over 20 years younger than the average New Zealander.
Every year across the world, World Homeless Day aims to shine a light on this global symptom of inequality.
The impact of childhood poverty: Working together to raise awareness and find solutions
This article by Michelle Adams explores childhood poverty – how it is measured, its sequalae, and initiatives for its management – and identifies ways that nurses can address child poverty in their practice.
INTERNATIONAL NEWS
Nurse practitioners are often the key contact point for rural patients. Do they get enough credit?
In many small rural towns there are no doctors to visit when you get sick, no GP to know your history, and no friendly receptionist to stock you up with magazines while you await your turn.
Instead, nurse practitioners run the show — upskilling themselves to a point where they can operate not only as practice managers, but write and give prescriptions, bill through Medicare, and refer to specialists.
52% of nurses not familiar with term 'antimicrobial stewardship'
More than half of registered nurses are not familiar with efforts to curb antibiotic overuse, according to a study published in the American Journal of Infection Control.
Nurse-led care to reduce cardiovascular disease risk
An Australian study is aiming to develop a nurse-led evidence-based model of care to reduce the heightened risk of developing cardiovascular disease currently experienced by breast cancer survivors.​
ARTICLES OF INTEREST
The association between nurse staffing levels and the timeliness of vital signs monitoring: a retrospective observational study in the UK. Redfern OC, Griffiths P, Maruotti A, et al. BMJ Open 2019;9:e032157. doi:10.1136/ bmjopen-2019-032157
Omissions and delays in delivering nursing care are widely reported consequences of staffing shortages, with potentially serious impacts on patients. However, studies so far have relied almost exclusively on nurse self-reporting. Monitoring vital signs is a key part of nursing work and electronic recording provides an opportunity to objectively measure delays in care. This study aimed to determine the association between registered nurse (RN) and nursing assistant (NA) staffing levels and adherence to a vital signs monitoring protocol.

This article is not freely available but may be accessed through databases and libraries to which readers have access.
Perceived Importance and Performance of Clinical Leadership in Practice: a cross‐sectional study of Nurses and Midwives of all grades. Mc Carthy, V. , … et al. (2019), J Nurs Manag. Accepted Author Manuscript. doi:10.1111/jonm.12867
To explore the differences in perceived importance and actual performance of clinical leadership for all grades of nurses and midwives engaged in clinical practice
The above information has been collated for the College of Nurses Aotearoa (NZ) Inc by Linda Stopforth, SNIPS and is provided on a weekly basis. It is current as at Tuesday 1 October 2019
If you have any feedback about content - what parts are most useful or what you would like added - please email admin@nurse.org.nz
For more up to date news and information follow SNIPS at:
Facebook: Snips Info
Twitter: @SnipsInfo