News bulletin 16 October
on 16 October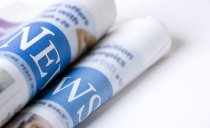 Welcome to the College of Nurses Aotearoa News Update.
No. 466, Wednesday 16 October 2019
Weekly news round-up of nursing and health information in New Zealand and internationally
NATIONAL NEWS
Anna Elders: Equipping nurses with better tools to support mental health: 1
Anna Elders shares how she first learned about a powerful form of talk therapy called Cognitive Behavioural Therapy (CBT). Elders ...
Whangārei health professionals to help at world's largest refugee settlement in Bangladesh
For Walter Nasarek, it will be his second time to Bangladesh on medical duties but the sheer scale of providing palliative care to community health field workers in the world's largest refugee settlement isn't lost on him.
Almost half of CCDHB's shifts insufficiently staffed as nurses cope with 'stressful' job
Patient safety was at risk as tired nurses worked extra hours without breaks, warned the New Zealand Nurses Organisation (NZNO). A sick person ...
NZNO critical of proposed nurse staffing changes
The New Zealand Nurses Organisation (NZNO) says changes proposed to staffing for the CREST service proposed by Canterbury District Health ...
New Greymouth hospital opening already more than a year late
Delays finishing Greymouth's new hospital will cost West Coast health authorities about $4 million, according to an estimate provided to Stuff.
A new hospital for Queenstown is expected to be open by late 2021.
Long-awaited details of the independent surgical hospital, to be constructed at Queenstown Country Club, have been released by joint venture partners Southern Cross Hospitals and the Central Lakes Trust.
New Taranaki hospital wing will provide lifeline in a disaster
A new $300 million wing at Taranaki Base Hospital will allow it to transfer crucial services out of earthquake-prone buildings and into state-of-the-art facilities, its chief executive says.
CANCER
More 'inclusive' breast cancer screening service needed for minority groups, advocates say
A more inclusive, sensitive service is needed for women from ethnic, cultural or religious minorities who are less likely to screen for breast cancer.
DHBs
SDHB deficit balloons to $85.8 million
One-off costs have caused the Southern District Health Board's deficit to blow out to $85.8million - almost four times over budget.
EDUCATION
Language skills – a critical component of patient care
A new whitepaper from Cambridge Boxhill Language Assessment (CBLA) highlights the increasing demand for better English language skills among healthcare professionals.
END OF LIFE CARE
CANADA: Medically assisted dying is about so much more than the act itself, nurses say
Canada is the first country to permit nurse practitioners to assess for medically assisted dying eligibility and to provide it. The precise meaning and ...
INJURY PREVENTION
Dog safety classes for HB DHB staff
Practical ways to avoid being bitten by dogs are being taught to Hawke's Bay District Health Board staff.
"It is unavoidable that many of the DHB staff, including district nurses, renal dialysis staff, physios, occupational therapists, and elderly support providers are visiting home where dogs live," said HBDHB executive director people and quality Kate Coley.
MENTAL HEALTH
Manawatū coroner Carla na Nagara to lead Suicide Prevention Office
A Manawatū coroner who has unravelled the mysteries of hundreds of suspected suicides will now act to prevent them
Lack of policy over increasing suicide rates for Asians
A new report shows the number of suicides in the Asian population is growing, but no specific policies exist to try to reduce it.
OBESITY / SUGAR
Jacinda Ardern 'rules out' introduction of sugar tax despite rising numbers of diabetes
Prime Minister Jacinda Ardern has ruled out the introduction of a sugar tax, even though her Associate Health Minister is publicly backing the idea.
INTERNATIONAL NEWS
Many Critical Care Nurses Unprepared to Provide Palliative Care
Critical care nurses say they feel unprepared to provide palliative care or ... their goals of care or what the future may hold," Wolf told Hospice News
Nursing shortage: 40 more nurses arrive in Vanuatu
More than 40 nurses from Solomon Islands have arrived in Vanuatu to fill the growing gap in nursing services in hospitals and clinics throughout the ...
WORKPLACE
Nurses Share Successful Strategies They've Tried to Stop Workplace Bullying
Bullying between nurses, especially of those who are just starting out on the job, is incredibly common. Research shows that up to 85 percent of nurses have been verbally harassed at some point during the careers, and 1 in 3 bullied nurses has considered leaving the profession as a result.
5 tips to a good clinical handover
Handover is one of the most essential tools in updating colleagues of a patient's current health status and treatment plan.
ARTICLES OF INTEREST
Social media in healthcare: A 360-degree view
Takeaways:
Misuse of social media occurs when users (patients or nurses) post information that isn't their own, is derogatory, or invades another's privacy.
When patients post information about nurses, the result can be embarrassment, employee retention challenges, unwanted legal actions, and direct and indirect nurse safety concerns.
Nurses should be aware of their organization's social media policies for patients and employees and how to communicate that information to patients.
Experience of nurses measuring preschool body mass index for the Health target: Raising Healthy Kids
Journal of Primary health care, Sept 2019
Chris Moir and Virginia Jones
275-282
INTRODUCTION: Childhood obesity is a major health concern in New Zealand. Primary care nurses have been charged with body mass index (BMI) screening and initiating education or referral of 4-year-old children during the Before School Check (B4SC). Asking nurses about their BMI screening experiences when reporting is mandated by the Ministry of Health reveals valuable knowledge to inform the work of health professionals in this area.
AIM: To explore the experience of nurses performing the B4SC since the inclusion of the Raising Healthy Kids targets into the wellchild check.
NEW PUBLICATIONS
Caring for People with Liver Disease including Liver Transplantation: a Competence Framework for Nursing
Liver disease is now the fifth most common cause of death in the UK and nurses are integral to making an impact on liver disease. This updated framework describes the professional standards expected of practitioners when caring for people with liver disease including liver transplantation. It is designed to support practitioners in a clear, consistent and evidence-based format to reflect their specialist knowledge and skills. This edition includes competencies for liver transplantation. This publication is supported Norgine Pharmaceuticals Ltd.
The above information has been collated for the College of Nurses Aotearoa (NZ) Inc by Linda Stopforth, SNIPS and is provided on a weekly basis. It is current as at Tuesday 15 October 2019
If you have any feedback about content - what parts are most useful or what you would like added - please email admin@nurse.org.nz
For more up to date news and information follow SNIPS at:
Facebook: Snips Info
Twitter: @SnipsInfo