News bulletin 6 November
on 6 November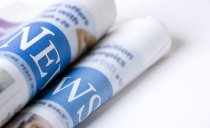 Welcome to the College of Nurses Aotearoa News Update.
No. 469, Wednesday 6 November 2019
Weekly news round-up of nursing and health information in New Zealand and internationally
NATIONAL NEWS
Northland mum's struggles inspire study to raise Māori nurse numbers
Whangarei mental health nurse and nursing educator Phillipa (Pipi) Barton (Ngāti Hikairo/Te Rohe Pōtae) knows only too well the challenges Māori may face when entering the nursing profession.
Lack of staff and lack of beds in hospitals resulting in delays and 'extremely overworked' staff
Suzanne Rolls, professional nursing advisor for New Zealand Nurses' Organisation, was speaking after a patient in Taranaki Base Hospital spent 26 ...
'We're committed to safe staffing levels' - TDHB
Earlier this week Suzanne Rolls, professional nursing advisor for New Zealand Nurses' Organisation, said emergency department nurses across the ...
Tears, hugs, and serious injuries in a day's work for a trauma nurse
Damning headlines kept coming from the top, but Waikato DHB staffers carried on helping the sick. Stuff's Hard Yakka series shares their stories.
Jenny Dorrian got a lot of hugs in her years as a trauma nurse.
"I always say, you can have a free hug any time," she said.
'I've been there': Addict turns mental health and addictions nurse
Steven (Yi) Shen was hooked on cigarettes for 15 years.
He used to puff his way through ten or more a day, but he hasn't smoked for the past two years
WHEN you instigate an awards night for your profession, you don't expect to be honoured yourself.
So Teresa Fisher, one of three nurses who started Nurses and Midwives of Tairawhiti, was taken by surprise when told she had been nominated for a NAMOT award.
'We're told to walk with scissors in our pocket' - Christchurch nurses fear for safety
This story was originally published on RNZ.co.nz and is republished with permission. Nurses at Christchurch Hospital say their safety is under threat ...
CGFNS Launches Credentials Verification Service for the Nursing Council of New Zealand
PHILADELPHIA, Oct. 29, 2019 /PRNewswire/ -- CGFNS International, Inc. has expanded its Credentials Verification Service to support the Nursing ...
Why fully vaxed hospital workers are getting measles
Counties Manukau DHB has confirmed that four of its front-line staff have had measles, including two students. Meanwhile immunisation experts have explained why some hospital staff are getting measles, despite being vaccinated.
Fat chance of health help: Middlemore Hospital patients too obese for MRI machines, needles
Patients at a major Auckland hospital were so obese they couldn't fit inside MRI machines.
Anaesthetists are also struggling to guide needles through layers of body fat, ultrasounds can be clouded by excess weight, and staff risk injury trying to move patients, with up to six people sometimes needed.
Māori & Pasifika patients get quicker access to MRI reports under pilot project
Māori and Pasifika patients have received quicker access to MRI reports under a successful pilot project set to be rolled out across the country, according to a recent study published in the Journal of Primary Care.
AGING AND AGED CARE
Experts propose new healthcare framework to help ageing populations stay healthier longer
An international team of researchers have put forward a position statement, published in Science, which lays out a new healthcare framework to help aging populations stay healthier for longer.
CANCER
Tech will soon reduce deaths from breast cancer
More than 600 women die from breast cancer each year in New Zealand. With an AI augmented screening programme, many of these deaths might be preventable according to the AI Forum of New Zealand's latest research report.
EMERGENCY MEDICINE AND SERVICES
Paramedics face new professional rules with bigger workforce and double crewing
Paramedics will soon be regulated like nurses and doctors, the Government has announced. Health Minister David Clark has revealed the 1000
MEASLES
Pharmacies step in to offer measles vaccinations
New Zealanders will soon be able to get measles vaccines from about 450 pharmacies around the country.
Auckland measles outbreak: Most at DHB vaccination clinics not high-risk groups
Vaccination clinics held by Counties Manukau DHB at the peak of the measles outbreak were largely attended by non-priority groups, data shows.
Measles infection wipes our immune system's memory leaving us vulnerable to other diseases
Scientists have shown how measles causes long-term damage to the immune system, leaving people vulnerable to other infections. Researchers from the Wellcome Sanger Institute, University of Amsterdam and their collaborators revealed that the measles virus deletes part of the immune system's memory, removing previously existing immunity to other infections, in both humans and ferrets. Importantly, the team showed for the first time that measles resets the human immune system back to an immature baby-like state with only limited ability to respond to new infections
MENTAL HEALTH
More focus needed on people's wellbeing to reduce risk of mental illness
People with low levels of wellbeing are eight times more likely to develop a mental illness according to experts presenting at the 7th Australasian Mental Health Outcomes and Information Conference (AMHOIC) starting in Auckland today.
'Losing precious time': Parents watch children struggle as they wait for autism assessments
Prudence Williams says she is losing precious time waiting for her young daughter to be assessed for suspected autism spectrum disorder (ASD).
Calls for more mental health resources in NZ's Korean communities
Korean mental health workers are calling for more resources in their communities in New Zealand, especially when the cultural norm is to turn to alcohol instead of counselling.
MIDWIFERY / MATERNITY
Two birthing centres to close over Christmas due to 'shameful' lack of support from DHBs
Birthing centres in Lower Hutt and Mangere are closing over the busy Christmas period, throwing the birth pans of many women into disarray.
OBESITY / SUGAR
Study aims to reduce drop-out rate for weight loss patients
New study aims to reduce high drop-out rate for Pacific patients awaiting weight loss surgery
PHARMACY
New leukaemia medicine means three new cancer drugs funded this year
Pharmac will fund a new leukaemia medicine, which will improve the quality of life for roughly 150 patients in the next year, and roughly 200 the following year.
RURAL HEALTH
Calls for new Rural Health Commissioner to address rural healthcare failings
Mounting concerns around the diminishing healthcare services for rural communities causing women to give birth on the side of the road and an alarming number of farmers taking their own lives are prompting calls for the Government to appoint a rural health commissioner.
WORKFORCE
Immigration move a 'game-changer' for aged care workers
Immigration lawyers are scrambling to let clients know that changes to a trans-Tasman job classification system could make a big difference to their lives, explains Dileepa Fonseka.
INTERNATIONAL NEWS
Study Explores Professional Nursing Disciplinary Decisions in Canada
A study in the Journal of Nursing Regulation explores regulatory decisions concerning disciplined professional nurses by describing the prevalence, violations, licensure restrictions, sanctions and license conditions detailed in professional nursing disciplinary decisions in a western Canadian province. Researchers examined 521 publicly published disciplinary summaries reported by a western Canadian provincial regulator between 2007 and 2017. Researchers found that, "a small proportion of nurses are disciplined in a given year (less than 0.5%) and that more than 60% of all disciplinary investigations fell into the broad categories of negligence/professional incompetence and unprofessional conduct."
Unauthorized photos, recordings are privacy concerns for nurses
A poll of 614 health care providers on privacy concerns found about a quarter of advanced practice registered nurses and nurses were worried the taking and posting of unauthorized photos by patients and families. More than a third of clinicians polled said they often experience privacy violations in professional settings.
WORKPLACE
What nurses need to practice effectively
A study from Sigma examines what nurses need to practice more effectively in a hospital environment.
The study's goal was to understand what nurses report as their most critical needs to practice efficiently in acute care hospital settings. These needs are especially important as the quality and efficacy of the nurses' care directly affects the patients they care for.
What are Gen Z nurses seeking?
A new study examines the work values of Generation Z nurses.
These nurses, 25 and under, are now entering the workforce, bringing innovative ideas and expectations about what it means to work with them in the healthcare field. The researchers behind the study aim to understand what these values are.
ARTICLES OF INTEREST
Registered nurses' perceptions and experiences of autonomy: a descriptive phenomenological study
Titilayo Olufunke Oshodi … et al
BMC Nursing volume 18, Article number: 51 (2019)
Professional autonomy is a key concept in understanding nurses' roles in delivering patient care. Recent research exploring the role of autonomy in the nursing work environment indicated that English and American nurses had differing perceptions of autonomy. This qualitative study aimed to explore the understanding and experiences of autonomy of nurses working in England.
CONSULTATION
Have your say on NZ's first National Dementia Action Plan
The dementia sector has joined together to work on NZ's first National Dementia Action Plan, in order to provide Ministers with a clear sector-wide view of our priorities for improving the provision of services and support. We are really keen to hear your thoughts, so please take a moment to read the draft plan and complete our survey, which closes on 30th November.
PROFESSIONAL DEVELOPMENT
2020 Public Health Summer School
When: 10 -28 February 2020
Course length: 1-2 days
Where: University of Otago, Wellington campus in Newtown
There are 32 courses on offer including 14 great new topics.
To see a summary of all courses available, please view our Summer School flyer.
To register or to view more information on each course, please visit our Summer School website.
Remember to act quickly to receive a 25% early bird discount. Many courses have limited numbers so don't miss out…register now.
The above information has been collated for the College of Nurses Aotearoa (NZ) Inc by Linda Stopforth, SNIPS and is provided on a weekly basis. It is current as at Tuesday 5 November 2019
If you have any feedback about content - what parts are most useful or what you would like added - please email admin@nurse.org.nz
For more up to date news and information follow SNIPS at:
Facebook: Snips Info
Twitter: @SnipsInfo