News bulletin 20 November
on 20 November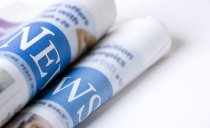 Welcome to the College of Nurses Aotearoa News Update.
No. 471, Wednesday 20 November 2019
Weekly news round-up of nursing and health information in New Zealand and internationally
NATIONAL NEWS
New agreement between WITT and Taranaki DHB gives locally trained nurses priority for employment
Nursing students trained in Taranaki will now have priority for placements within the region's District Health Board (DHB).
A memorandum of understanding (MoU) between Western Institute of Technology (WITT) and Taranaki DHB was signed at Taranaki Base Hospital on Tuesday morning.
Nurse educators in dialogue in Dunedin
Nurses are no longer handmaidens, as the focus of the profession shifts to ... Keynote speaker and New Zealand public health advocate Dr Lance ...
Nurses hit out after DHB announces Wairoa health centre closure
The New Zealand Nurses Organisation has accused Hawke's Bay District Health Board of being socially irresponsible by closing a Wairoa health ...
Practice nurse advises vaccination for students
As families across New Zealand mark the end of the school year and begin preparations for sending their young adults to university, health experts are urging them to consider an extra health safeguard — vaccination against meningococcal disease.
AGING AND AGED CARE
More patients being admitted to die in rest homes - research
Increasing pressure on both public hospitals and hospices is resulting in more patients being "admitted-to-die" into aged residential care facilities (rest homes), which are not typically set up to provide specialist palliative care services.
CANCER
Māori Women 3 Times More Likely to Die of Cervical Cancer
"Depth of Inequity is Unacceptable & Unethical"
The death rates of Māori women to cancer is a national disgrace – Māori.are three times likely to die than non-Māori.
DHBs
Waikato DHB's $29.1m Government bailout one of many for cash-strapped health boards
A $29.1 million Government bailout helped keep Waikato DHB going last financial year - but it wasn't the only one.
Canterbury health board has the country's highest rate of staff taking sick leave
On any given day, more than 400 workers in the Canterbury health system are off work sick.
The past decade has been marked by earthquakes, loss of facilities, constant repairs and rebuilds, unrelenting demand on services, and recent tragedies like the March 15 terrorist attack
DISABILITY
Government urged to deliver solution to fix funding crisis facing disability sector
Annual funding shortfall of $574 million revealed
An estimated 15,000 additional disabled people missing out on services
ETHICAL ISSUES
Euthanasia bill passes final reading in Parliament
The third and final reading of the End of Life Choice Bill has been passed in Parliament by 69 votes to 51.
End of Life Choice Bill passes: What it means
Parliament has passed a fiercely debated bill legalising assisted dying, with the public to now make the final decision on the legislation next year.
Is there tikanga around euthanasia?
Debate has emerged as to whether euthanasia has a place in te ao Māori, with some saying it doesn't sit with the Māori worldview of death, and others saying whānau should have the choice.
Providing support to patients who are exploring voluntary assisted dying
Victoria has recently enacted legislation that permits people who are at the end of life and meet strict eligibility criteria can request access to voluntary assisted dying (VAD).
HEALTH TECHNOLOGIES
Launch of new self-management support website
A much-needed New Zealand website providing healthcare professionals with information and resources about self-management support (SMS) is now live.
MEASLES
Seven suspected measles deaths in Samoa - health authority
Health authorities in Samoa say they have registered seven deaths suspected to have been caused by the measles virus.
Samoa declares state of emergency over measles epidemic as child deaths mount
Meawhile, New Zealand is sending 3000 MMR vaccines and 12 nurses to help administer them. Nurses will start arriving on Wednesday and will work ...
'Hoping we can hold': Small Pacific states brace for measles spread
A hospital out of vaccines. Families resisting quarantine. Boatloads of visitors screened for disease.
Tonga to re-vaccinate thousands for measles
Tongan health authorities could re-vaccinate up to 20,000 people against the measles after it was discovered some historical vaccinations might not be effective.
NZ medical staff and measles vaccines going to Samoa
Foreign Minister Winston Peters has announced that at the request of the Samoan Government, New Zealand will be providing further support to Samoa as it faces a worsening measles outbreak.
MENTAL HEALTH
New framework for e-mental health services
The Ministry of Health has announced a new framework to better support New Zealand's rapidly expanding e-mental health services. Read more
MIDWIFERY / MATERNITY
Hutt Valley midwives' staffing, equipment shortages an 'ongoing emergency'
Midwives in the Hutt Valley, north of Wellington, are at breaking point. They laid bare their concerns at an emotionally raw public meeting last night over what they see as chronic staffing and equipment shortages.
OBESITY / SUGAR
Expert rips into anti-obesity efforts: 'It's just negligence'
New anti-obesity efforts are window-dressing and underline the Government's "astonishing negligence", the country's former chief education health and nutrition adviser says.
Junk food ads to be banned from around schools in anti-obesity actions agreed with industry
Junk food advertising will be removed from around schools in anti-obesity measures also likely to change what's promoted in your supermarket aisle.
ORGAN DONATION / TRANSPLANTS
Opt-out organ donation system not a cure-all for donor rates
Countries around the world have implemented an "opt-out" organ donation system, where people are presumed to have consented to organ donation on their death.
PHARMACY
Hospital superbugs increasing, NZers told: 'Not every infection requires antibiotics'
New Zealanders should avoid using antibiotics unless absolutely necessary, as antibiotic-resistant superbugs are on the rise, doctors say.
NZ antibiotic use among the highest in the world as we rely on last resort options
New Zealand has among the highest rates of antibiotic use in the OECD, prompting health experts to say we need to change the way we think about the drugs.
PRIMARY HEALTH CARE
Why more people are taking their health problems to the pharmacist
Instead of waiting in line to see a doctor, more of us are heading to the pharmacy, a move that could be a solution to the growing shortage of medical workers.
PUBLIC HEALTH
PHARMAC widening access to the meningococcal ACWY vaccine
The meningococcal ACWY vaccine will be available free from next month for young people in close living situations. The vaccination will be funded for an estimated 35,000 people, aged between 13 and 25, who live in boarding school hostels, tertiary education halls of residence, military barracks and prisons. After the first year of funding, free vaccinations will only be available to people entering their first year of living in such institutions, which PHARMAC estimates is about 8,000 young people per year.
The rise of syphilis in NZ: The worst STI hot-spots as disease make a comeback
A crowd of clinicians gathered in a darkened room taking turns to peer into a microscope.
It was years ago, but Suzanne Werder remembers it well. The nurse practitioner and her colleagues were curiously looking at the bacteria that causes syphilis after a primary case of the STI had come to New Zealand after being picked-up overseas.
TOBACCO, DRUGS AND ALCOHOL
New drinking stats show extra cause for concern
Alcohol Healthwatch warns that data released from New Zealand's largest annual health survey show that our drinking culture is continuing to move in the wrong direction. More New Zealanders are drinking and more are drinking heavily and frequently.
WORKPLACE VIOLENCE
Number of people trespassed from Auckland's hospitals not enough, union says
The number of people trespassed from Auckland's hospitals doesn't accurately reflect the violence staff deal with daily, a doctors' union says.
Violence against hospital staff 'out of control' - Doctors' union
The union representing doctors says violence against hospital staff is "out of control".
Data released to Newshub under the Official Information Act from DHBs nationwide details hundreds of alarming cases of staff receiving death threats, being punched and abused by intoxicated patients and visitors.
INTERNATIONAL NEWS
Nursing and Midwifery Council (NMC) Launches Fitness to Practice Support Service in U.K.
The NMC launched a 12-month pilot project, Careline, a free and confidential support service for nurses, midwives and nursing associates involved in the fitness to practice process in the U.K. Careline, staffed with trained counselors experienced in handling sensitive topics, provides emotional and practical support via phone, chat or email. Careline counselors can offer advice on general concerns and refer professionals to other appropriate health or well-being services for their individual needs. The NMC notes that while Careline is operated by an independent provider, NMC staff will remain the direct point of contact for all case specific inquiries.
New York hospital suspends nurses for declining flu shots
Albany (N.Y.) Medical Center suspended nine nurses who refused to get their flu shots under a new hospital policy, reports CBS 6 Albany.
The suspended nurses have seven days to get vaccinated or face potential termination. These nurses account for less than 1 percent of the more than 2,000 nurses who work at the hospital, a spokesperson for Albany Medical Center, told Becker's via email.
Limited English proficiency may worsen chronic disease outcome
(HealthDay)—In predominantly English-speaking settings, patients with limited English proficiency (LEP) and chronic conditions have higher rates of emergency department revisits and hospital readmissions than patients with English proficiency (EP), according to a research letter published in the Oct. 22/29 issue of the Journal of the American Medical Association.
Donors pledge $2.6 billion for 'last mile' of polio eradication
LONDON (Reuters) - Donor governments and philanthropists pledged $2.6 billion on Tuesday to help fund a worldwide polio eradication plan that has taken decades to reach what global health specialists say is now the "last mile".
MINISTRY OF HEALTH
Independent Assurance Review for the National Bowel Screening Programme
On 8 August 2018, the Ministry of Health published an independent review endorsing the continued roll-out of National Bowel Screening Programme, with some improvements.
The above information has been collated for the College of Nurses Aotearoa (NZ) Inc by Linda Stopforth, SNIPS and is provided on a weekly basis. It is current as at Tuesday 19 November 2019
If you have any feedback about content - what parts are most useful or what you would like added - please email admin@nurse.org.nz
For more up to date news and information follow SNIPS at:
Facebook: Snips Info
Twitter: @SnipsInfo