News bulletin 4 December
on 4 December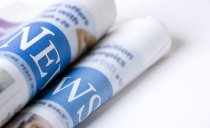 Welcome to the College of Nurses Aotearoa News Update.
No. 473, Wednesday 3 December 2019
Weekly news round-up of nursing and health information in New Zealand and internationally
NATIONAL NEWS
Three decades behind bars: Life as a nurse in New Zealand's prisons
On Tuesday, the 67-year-old hung up her stethoscope after retiring from nursing thousands of inmates in New Zealand prisons over the past 31 years.
Nathan Tuuta (Ngāti Mutunga) 44, is an emergency department nurse. He lives in Bell Block, New Plymouth.
Join us this week as a diverse group of New Zealanders share what makes them happy.
Nurses at Nelson Hospital 'burnt out'; hospital reacts to claims of unsafe workplace
Stressed emergency nurses at a key provincial hospital claim short-staffing makes the ED unsafe for nurses and patients • Tired, burnt-out nurses fear ...
'Egregious breach of trust': Nurse struck off after indecently assaulting pregnant patient
A nurse who indecently assaulted an "incredibly vulnerable" pregnant patient has had his registration cancelled and has been censured by medical authorities.
What's happened since the damning Waitangi Tribunal report on Māori health?
When the Waitangi Tribunal released its comprehensive Māori health report in July, the claimants involved were initially pleased.
Patients deserve to know about waiting times - DHB boss
Patients are having their hopes dashed by being put on waiting lists for elective surgery when there is no chance they will be seen within the four month threshold
Doctors warn if working conditions unchanged 'suffering of New Zealanders will worsen'
He said New Zealand was at a critical point in its healthcare history. ... full-time nurses, 105 midwives, 677 doctors and 594 Allied Health Workers.
CANCER
Fewer Kiwis will die of bowel cancer if new screening tool introduced - study
Introducing flexible sigmoidoscopy screening into the national bowel screening programme would significantly reduce both the incidence and mortality of bowel cancer in New Zealand, new University of Otago research reveals.
Cancer Control Agency to drive improved care
The new independent Cancer Control Agency has formally opened today, delivering on the Government's plan to improve cancer care in New Zealand.
Prime Minister Jacinda Ardern and Minister of Health David Clark marked the occasion by announcing the membership of the Advisory Council that will be supporting the Agency.
Drop bowel cancer screening age for Māori and Pacific New Zealanders, Cancer Society urges
The Cancer Society is calling for Māori and Pacific New Zealanders to get free bowel cancer screening from the age of 50 - a step it says will save lives.
CHILD AND MATERNAL HEALTH
Pre-schoolers told they're fat when they're not, calls for Govt to scrap BMI testing from Before School Checks
A dietician says New Zealand should dump a children's health check tool that can lead to preschoolers being labelled fat and unhealthy when they might not be.
DISABILITY
Accessing healthcare is challenging for Deaf people – but the best solution isn't 'one-size-fits-all'
For many of us, a visit to the doctor's office can be wrought with anxiety. A persistent cough that won't go away or an ailment we hope is nothing serious can make GP visits emotionally difficult. Now imagine that you can't phone the doctor to make an appointment, you don't understand what your doctor just said, or you don't know what the medication you've been prescribed is for. These are all situations that many Deaf people face when accessing healthcare services.
HEALTH RESEARCH
New framework to drive health research
The Government has taken a major step towards ensuring health research in New Zealand brings maximum benefit to all New Zealanders.
MEASLES
Kiwi nurses respond to devastating measles outbreak in Pacific
Seven New Zealand Red Cross health delegates are in Samoa supporting measles treatment and prevention activities, as the number of people
Samoan Government to close down private sector in bid vaccinate masses
As the death toll due to measles rises the Samoan Government has announced further measures to combat the disease.
The Detail: Why Samoa is being devastated by measles
Samoa is throwing everything it has into the battle against measles, but the relentless spread of the disease and rising death toll prove the fight is far from over
MENTAL HEALTH
Government opens New Zealand's first Suicide Prevention Office
New Zealand's first Suicide Prevention Office which aims to cut New Zealand's high suicide rate was officially opened on Wednesday by Prime Minister Jacinda Ardern and Health Minister David Clark.
First ever NZ qual for peer support
Whitireia, in collaboration with Kites Trust, will offer the first national qualification in New Zealand for Peer Support.
MIDWIFERY / MATERNITY
Maternity diaries: 'We can't magic up midwives', DHB chief executive says
Hutt Valley District Health Board chief executive Fionnagh Dougan has told outgoing board members: "We can't magic up midwives."
PRIMARY HEALTH CARE
GP shortage predicted as graduate doctors eye other specialties
New Zealand could be heading for a shortage of GPs as a wave of retirements approach.
That's one finding from a study which compared plans of graduating medical students with what the Kiwi medical workforce needs.
TOBACCO, DRUGS AND ALCOHOL
Don't Get Sucked In - New campaign to tackle teen vaping
Asthma and Respiratory Foundation NZ (ARFNZ) has announced its plans today to launch a nationwide, youth focussed vaping education campaign, at the beginning of Term One 2020.
Cannabis referendum: Legal edibles, age restrictions and purchasing limits
Edible cannabis products will be legal under new legislation that the public will decide on at a referendum next year.
INTERNATIONAL NEWS
Kenney government signals that hundreds of Alberta nurses will be laid off
November 29 2019 8:57pm. 01:51. Global News Hour at 6 Edmonton. Kenney government signals that hundreds of Alberta nurses will be laid off ...
Healthcare Environments that Care for Doctors Increase Care for Patients
A recent report from the General Medical Council in the UK states that a working environment that supports clinicians is conducive to their well-being and this in turn flows on to that of their patients.
'We try our best as nurses, but it's not enough'
A study in the British Medical Journal this week showed there were 9.3 nurses, on average, for every 1,000 people in rich nations. In the UK there are ...
ARTICLES OF INTEREST
Patients' and nurses' experiences of fundamental nursing care: A systematic review and qualitative synthesis. Pentecost, C, Frost, J, Sugg, HVR, Hilli, A, Goodwin, VA, Richards, DA. J Clin Nurs. 2019; 00: 1– 25. https://doi.org/10.1111/jocn.15082
Aims and objectives
To systematically identify, appraise and synthesise patients', residents' and nurses' experiences of fundamental nursing care for nutrition, elimination, mobility and hygiene.
Background
The evidence base for effective nursing behaviours to assist people with their fundamental care needs is sparse, hampering the development of effective interventions. Synthesising data on patients' and nurses' experiences of fundamentals of nursing care could contribute to the development of such an intervention.
MINISTRY OF HEALTH
Methodology Report 2018/19: New Zealand Health Survey
This methodology report details the procedures and protocols followed to ensure the New Zealand Health Survey produces the high-quality and robust data expected of official statistics.
REPORTS ONLINE
Te ako I ngā pāpono kōaro
21 NOV 2019
Health Quality & Safety Commission (NZ)
The report covers adverse events reported by New Zealand's 20 district health boards (DHBs) and other providers. Adverse events (previously referred to as serious and sentinel events) are events which have generally resulted in harm to patients. This report details adverse events in DHBs in the year 1 July 2018 to 30 June 2019. It also provides suggestions for reducing the number of adverse events over the coming years.
A new horizon for health services: optimising advanced practice nursing - a white paper 3 DEC 2019
Australian College of Nursing
Australia has a world class health system, a system that is indiscriminate. This system offers a high standard of nursing, medical and allied health services, which makes Australia the envy of many countries.
At the same time, there are elements of the health system that are failing for some consumer groups …
This White Paper is about timely care, relevant systems and best practice health service contexts.
This document provides an overview of the service gaps and challenges that are faced by diverse population groups. It examines the barriers to authentic team-based care and the obstacles to optimum use of advanced practice nursing.
The above information has been collated for the College of Nurses Aotearoa (NZ) Inc by Linda Stopforth, SNIPS and is provided on a weekly basis. It is current as at Tuesday 26 November 2019
If you have any feedback about content - what parts are most useful or what you would like added - please email admin@nurse.org.nz
For more up to date news and information follow SNIPS at:
Facebook: Snips Info
Twitter: @SnipsInfo