News bulletin 22 January
on 22 January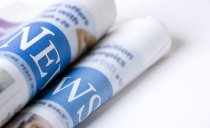 Welcome to the College of Nurses Aotearoa News Update.
No. 478 Wednesday 22 January 2020
Weekly news round-up of nursing and health information in New Zealand and internationally
NATIONAL NEWS
Nursing graduates flock to Timaru Hospital
Of the 19 applicants for the one year working entry 2020 programme, New Zealand Nurse Entry to Practice Programme (NETP), 10 were accepted.
Holiday pay delayed for more than 1500 Christchurch nurses
The New Zealand Nurses Organisation (NZNO) has written a letter to the CDHB with concerns over the late processing of pay to at least 1500 nurses ...
Health board to release 'summary report' on nurse attack
A summarised report into the assault of four nurses will be released by the Hutt Valley District Health Board following strong criticism from its own staff.
AGING AND AGED CARE
No time to care: Is there a crisis in caring for the elderly?
Mary Singleton is 82. The former pianist and teacher has outlived her family and many of her friends. She can go weeks without seeing anyone, apart from her home-care workers, for whom she has great affection
Christchurch rest home residents not eating enough, risking malnutrition, study finds
New research has found that more than half of aged care residents are not eating enough food and are at risk of malnutrition.
CANCER
HPV vaccine reduces rates of cervical abnormalities - research
The HPV vaccine has led to a significant reduction in the rate of cervical abnormalities in young New Zealand women, which is likely to result in reduced rates of cervical cancer in future, new University of Otago research reveals.
Untimely access to diagnosis not main reason why Maori are dying of cancer - research
MÄori have poorer access to early diagnosis for some key cancers including breast and colorectal cancers though, this is not the case for all cancers and is not necessarily why more MÄori are dying of cancer, new University of Otago research shows.
CHILD AND MATERNAL HEALTH
Hundreds of babies with heart defects could be picked up earlier if screened
Baby experts are calling on the Government to fund a "quick, cheap and safe" screening tool which could pick up hundreds of newborns with potentially deadly heart defects each year.
DHBs
'Sheer incompetence': District Health Boards continue financial nosedive into deficit
The financial situation for New Zealand's District Health Boards is continuing to deteriorate, with newly released data showing all but one are in the red.
Our sick hospitals: Cramped, leaky, outdated buildings and equipment on the brink of breakdown
"Risk register" documents obtained by the Weekend Herald reveal serious hospital infrastructure issues across the country, including cramped, leaky and outdated buildings, old wiring that poses a fire hazard, not enough theatre space and a lack of equipment to help transfer vulnerable newborns. Nicholas Jones reports on how that hurts patients.
Chch Hospital leaders say poor buildings are 'drastically impacting patient care'
Infected dialysis patients lying side-by-side.
Patients in cardiac arrest in toilet cubicles so narrow they can't be easily extracted.
Old x-ray gear on the edge as Coast waits for new hospital
Staff and patients at Grey Base Hospital are facing increased health risks from old and outdated x-ray machines.
HEALTH INEQUITY
Ministry of Health stands by funding of 'hocus pocus' traditional Māori system
An ancient system that aligns daily activities with the natural world, moon, sun, stars and planets could help improve Māori health inequities. Carmen Parahi explores how maramataka is being revived across Aotearoa, and why the Ministry of Health is helping pay for it
OBESITY / SUGAR
South Auckland obesity: Health officials want beefed up advertising rules
"Urgent" changes to junk food advertising rules are needed, health officials say, as figures continue to paint a grim picture of childhood obesity in fast food-saturated south Auckland
PHARMACY
Medicinal cannabis prescriptions limited by cost, barriers, lack of evidence - survey
Kiwis are asking their doctors for access to medicinal cannabis, but few GPs have written prescriptions for it, though many say they would be open to it with funding and good evidence.
Sudden unexpected deaths in epilepsy 'nothing new', more investigation needed
More investigation is needed into sudden unexpected deaths in epilepsy (Sudep), including the possible effects of Pharmac's funded medication brand change, an Auckland doctor says.
Free Meds? Counting the cost of prescriptions
A new study into prescription charges will ascertain the extent to which $5 prescription charges are stopping New Zealanders from undergoing treatment. University of Otago Professor Pauline Norris is leading the study. Also joining Lynn to discuss any potential barriers to healthcare are Professor of Paediatrics at the University of Auckland, and health spokesperson for the Child Action Poverty Group Innes Asher, and GP of thirty-four years and Head of the Department of General Practice at the University of Otago, Professor Les Toop.
PUBLIC HEALTH
Bay leptospirosis cases for national study - Hawkes Bay DHB
Leptospirosis is a serious illness, as anyone who has suffered from it will tell you. Hawke's Bay has one of the highest rates of the disease in New Zealand.
Massey University is leading a study into the disease: 'Emerging sources and pathways for leptospirosis', and will be asking newly-infected patients in Hawke's Bay to join the study. It is also putting together a control group of people living and/or working in similar situations as those who contract the disease.
RESPIRATORY
New Wuhan virus cases emerge in China, but no plans for screening at New Zealand airports
A professor in public health says New Zealand should be wary of a mystery viral pneumonia spreading from China.
New China virus: Cases triple as infection spreads to Beijing and Shanghai
The number of people infected with a new virus in China tripled over the weekend, with the outbreak spreading from Wuhan to other major cities.
RURAL HEALTH
Rural emergency service running on altruism, PRIME responders say
Medics who respond to remote emergencies say their service needs a shot in the arm.
Doctors and nurses in the PRIME programme might be called to a late-night car crash or required to down tools to help with chest pains.
SOCIAL HEALTH
Why poverty in New Zealand is everyone's concern
A consultant paediatrician based in Auckland, with a special research interest in child health and development, Renee Liang is a named investigator with Growing Up in New Zealand. This longitudinal study is tracking 7000 children from birth to young adulthood, to provide information about what shapes early development and how interventions might be targeted to give every child the best start in life.
New Zealand's growing underclass: What happens when you're stranded on the wrong side of the digital divide
In New Zealand's race to become a fully digital country, there is a growing divide between the tech haves and have-nots, writes Mazz Scannell.
On a chilly Wednesday morning, 10 people are waiting outside the the Work and Income office on Wellington's Willis St. Gripping a walking frame, trying to avoid being bustled by the office workers streaming past, stands an elderly woman.
YOUTH HEALTH
Action needed to improve poor health and disadvantage in youth justice system
Children and adolescents detained in the youth justice system experience poor health across a range of complex physical and mental health disorders, according to new research.
INTERNATIONAL NEWS
NHS will still need to rely on migrants after Brexit - until we train more UK nurses
More than 40,000 nursing roles are currently unfilled amid a sector-wide crisis. Experts warn three things need to happen simultaneously to begin to ...
Safety fears as hospitals redeploy nurses to care for patients in corridors
Hospitals are having to redeploy nurses from wards to look after queues of ... Nurses, doctors and hospital bosses have all voiced unease about the ... Rampant disinformation, partisan news sources and social media's tsunami of ...
WORKPLACE
How nurses can maintain professionalism on social media
Social media can offer a means of networking and gaining more education for professional nurses, but one wrong move can damage a career that took years to build. Nurses who become familiar with their employer's social media policy, avoid posting at work, refrain from talking about patients or colleagues online and follow other best practices can make social media work for them instead of against them.
Tips for nurses on how to deal with bullying in the workplace
Bullying can be a commonplace occurrence for nurses. Author and nurse Maggie Ciocco suggests countering bullying with pro-social responses and direct collegiality, ignoring the behavior, remaining calm and maintaining control.
The above information has been collated for the College of Nurses Aotearoa (NZ) Inc by Linda Stopforth, SNIPS and is provided on a weekly basis. It is current as at Tuesday 21 January 2019
If you have any feedback about content - what parts are most useful or what you would like added - please email admin@nurse.org.nz
For more up to date news and information follow SNIPS at:
Facebook: Snips Info
Twitter: @SnipsInfo