News bulletin 29 January
on 29 January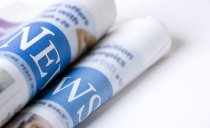 Welcome to the College of Nurses Aotearoa News Update.
No. 479 Wednesday 29 January 2020
Weekly news round-up of nursing and health information in New Zealand and internationally
NATIONAL NEWS
Nurse staffing crisis looming for primary health
The New Zealand Nurses Organisation (NZNO) says a crisis is looming in the Primary Health Care Sector (general practices and accident and ...
New Māori nurses enter Bay of Plenty workforce
Twelve new Māori nurses walked the stage last week to complete their graduation from the Toi Ohomai Kia Ora Hauora programme. And nearly all of ...
It's here, Year of the Nurse and Midwife - HBDHB
This year has been chosen as it is also the 200th anniversary of Florence Nightingale's birthday (May 12 - International Nurses Day). Florence (aka Lady with the Lamp) was in charge of nursing British and allied soldiers in Turkey during the Crimean War in the 1850s and is regarded as the founder of modern nursing. In 1860 she established the first scientifically-based nursing school in London and went on to set up training for nurses and midwives in workhouse infirmaries.
Six-month suspension for nurse who shared DHB's taxi chits with family, friends
A nurse who took taxi vouchers meant for mental health patients has been suspended for six months.
CORONAVIRUS
Wuhan coronavirus: New Zealand officials give update on deadly virus outbreak
Health officials are giving an update on New Zealand's response to the new coronavirus.
Coronavirus: Everything you need to know
New Zealand officials say it's highly likely a new coronavirus called 2019-nCoV will arrive in the country, as its spread around the world continues. What is it? And what might it mean for New Zealand if it arrives here? Science reporter Jamie Morton explains.
NZ has a pandemic plan. How does it work?
Mounting worry over the spread of a new coronavirus from China has prompted New Zealand to activate its pandemic plan - but how does it work?
China coronavirus checks: 'Looking for a needle in a haystack'
No passengers on flights from China to Auckland this morning volunteered to be checked by medical staff - and health authorities have no powers to quarantine anyone suspected of having the new coronavirus.
Wuhan coronavirus: face masks 'do nothing' - virologist
One of the abiding images of any virus outbreak is people in surgical masks. Using them to prevent infection is popular in many countries around the world, most notably China during the current coronavirus outbreak where they are also worn to protect against high pollution levels.
DHBs
Waitematā DHB seeks national guidance on consent for procedures
Complaints by the Nurses Organisation (NZNO) are being looked into by the ... But nurses have told the union that too often the policy is being flouted ... the New Zealand Medical Council and Health and Disability Commissioner, the ...
HEALTH AND SAFETY
Auckland e-scooters: Injuries cost $40K a week, despite Lime's departure
E-scooter-related injuries in Auckland continue to cost taxpayers more than $40,000 per week, despite the withdrawal of two major operators.
MENTAL HEALTH
More than a third of Kiwis don't get enough sleep
More than a third of Kiwis aren't getting enough sleep – something that may be an overlooked factor in New Zealand's poor rates of mental health.
The '1X' attempted suicide callout police are getting 67 times a day
Police are responding to suicide attempts and threats 67 times a day but new cadets enter the force with just eight hours of mental health training.
Nurse warns of more post-natal depression after maternity centre closure
A nurse predicts more women will suffer from post-natal depression after the closure of a maternity centre in northern Southland.
Helena Morton, an enrolled nurse who spent 15 years working at the Lumsden Maternity Centre, said she had helped six women in the northern Southland community establish breast feeding since the Lumsden Maternity Centre became a maternal and child hub in April 2019.
MIDWIFERY / MATERNITY
Hutt Valley DHB failures contributed to baby's death - commissioner
Hutt Valley District Health Board (HVDHB) failed to care adequately for two women during labour, contributing to the death of one baby and leaving another with a brain injury.
PHARMACY
PHARMAC seeking views on new cystic fibrosis medicine
PHARMAC has reached a provisional agreement with medicine supplier Vertex to fund ivacaftor (marketed as Kalydeco) for people with cystic fibrosis.
Bipolar disorder patients suffer 'terrible' side effects after Pharmac drug brand switch
A woman with bipolar disorder says she was "crying everyday" and having thoughts of suicide after a medication switch.
INTERNATIONAL NEWS
Calling The Shots In The Year Of The Nurse And Midwife
The beginning of 2020 also marks the beginning of the Year of the Nurse and Midwife. The worldwide effort is meant to highlight challenges these healthcare professionals face, including long hours and a lack of public understanding about their professions.
2020 was chosen by the World Health Organization (WHO) and the World Health Assembly (WHA) as the year to honor nurses and midwives to mark the bicentenary of the birth of Florence Nightingale who is considered the founder of modern nursing.
Ernest Grant, the president of the American Nurses Association, and Pamela Cipriano, the dean of the University of Virginia School of Nursing join us to debunk some of the myths surrounding nurses and midwives and to discuss the challenges the industry is facing in 2020.
ARTICLES OF INTEREST
The impact of heavy nurse workload and patient/family complaints on workplace violence: An application of human factors framework. Havaei, F, MacPhee, M. Nursing Open. 2020; 00: 1– 11. https://doi.org/10.1002/nop2.444
Aim
To examine the relationships between workload factors at different systems levels (unit level, job level and task level), patients/family complaints and nurse reports of patient violence towards them using a human factors framework.
This article is not freely available but may be accessed through databases and libraries to which readers have access.
Empirical model of clinical learning environment and mentoring of culturally and linguistically diverse nursing students. Mikkonen, K. , Merilainen, M. and Tomietto, M. (2019), J Clin Nurs. Accepted Author Manuscript. doi:10.1111/jocn.15112
Aims and Objectives
This study aimed to develop and test an empirical model of clinical learning environment and mentoring of culturally and linguistically diverse nursing students.
Background
Clinical learning is an essential part of nursing education; nursing students are required to master clinical competences and build a professional identity during their education. The global mobility of nurses requires high proficiency in cultural adaptability as well as the successful integration of cultural diversity into the healthcare system on a national level.
The above information has been collated for the College of Nurses Aotearoa (NZ) Inc by Linda Stopforth, SNIPS and is provided on a weekly basis. It is current as at Tuesday 28 January 2019
If you have any feedback about content - what parts are most useful or what you would like added - please email admin@nurse.org.nz
For more up to date news and information follow SNIPS at:
Facebook: Snips Info
Twitter: @SnipsInfo