News bulletin 5 February
on 5 February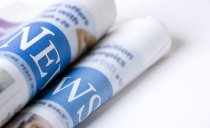 Welcome to the College of Nurses Aotearoa News Update.
No. 480 Wednesday 5 February 2020
Weekly news round-up of nursing and health information in New Zealand and internationally
NATIONAL NEWS
New generation of nurses needed as staffing crisis threatens
One in five New Zealand nurses will be looking to retire in the next five years, threatening a potential staffing crisis for health services. The latest ...
Nurse says Coronavirus misinformation leads to racial misgivings
A registered nurse of Asian descent, who has lived more than half her life in Auckland, has said that the misinformation surrounding Coronavirus has led to racial misgivings about her ethnic community.
2020 - A key year for midwives and midwifery in New Zealand
The College has today released the second in the series of #backmidwives campaign videos; the first video released late last year attracted more than 50,000 views. Ms Eddy says releasing the video today, it's timely to also remind New Zealanders that this year is International Year of the Midwife.
Up to 400 affected as Healthcare NZ announce sudden slash of jobs
Up to 400 staff could be affected in a shock restructure proposal at one of the country's largest healthcare providers.
Last cohort of Australian nurses to head home
In total, 11 nurses (10 from Australia and one from New Zealand - Southland) offered their services to help their Whakatāne nursing colleagues ...
Bupa urges more emphasis on nursing as shortage looms
Bupa Managing Director and Lead Nurse, Carolyn Cooper is urging the ... As one of the largest aged care providers in New Zealand, Bupa has ...
DAISY Awards come to MidCentral DHB and THINK Hauora
Recognising nurses and midwives who go above and beyond for their patients is the premise behind the DAISY Awards, an international program that had recently launched across MidCentral DHB and THINK Hauora.
Nurse kicked out of profession after serving jail term for possessing child sex images
A Dannevirke man jailed last year for possessing hundreds of child sex abuse images has been stripped of his nursing registration and kicked out of the profession.
CORONAVIRUS
Coronavirus: All travellers entering NZ to be manually processed through customs
New Zealand Customs has announced all travellers entering New Zealand will now be manually processed through Customs due to the novel coronavirus outbreak.
Fears bogus health posts may hinder battle against Wuhan coronavirus
Health experts are warning web-disseminated bogus health advice on ways to avoid the Wuhan coronavirus could compound the current outbreak in Australasia if not put in check.
Coronavirus latest: 'We're expecting we will get a case'
New Zealand health authorities say there has not been anyone who has met the definition of a suspected case of coronavirus in this country, but they are expecting a case and are prepared for it.
Coronavirus explained: How it differs from a regular flu
The spread of coronavirus continues to raise fears around the world, but is the threat as serious as it seems?
DHBs
DHBs increase use of telehealth for clinical care
A "promising" new telehealth report shows a significant increase in the number of providers and services using telehealth for the delivery of clinical care.
Starship Children's Hospital ICU gets new beds to help 'real struggle' with capacity
The expansion of Starship Children's Hospital's intensive care unit has been described as "urgent" by senior hospital staff, coming after years of "unprecedented" capacity issues.
National neonatal review finds more resources urgently needed
Overrun units caring for New Zealand's sickest newborns urgently need more resources to make them safer, a review has found. Read more
Govt's $12b infrastructure spend: Rail, roads and DHBs the big winners
The Prime Minister has revealed a huge spend-up on roads, to come out of the $12 billion Infrastructure Fund.
DISABILITY
Disabled, injured patients 'hugely disappointed' to be moved from Laura Fergusson rehab centre
Rehabilitation and respite centres across the North Island are "transitioning" hundreds of patients out of their care because it can no longer afford to run services.
MEASLES
Government to unveil new plans to avoid another measles outbreak
New measures to avoid a repeat of the 2019 measles outbreak are set to be unveiled by the government.
MENTAL HEALTH
Culture gap exists in traumatic brain injury assessments for Māori inmates, expert says
Māori inmates who suffer from a traumatic brain injury need Māori-specific assessments, or will risk making the same poor decisions that led them to prison in the first place, according to a neuropsychologist.
OBESITY / SUGAR
Plain packaging on chips and snacks proposed to combat obesity
Advocating for plain packaging on chips, lollies and snacks is one step a district health board is taking to help combat the high prevalence of obesity
RESPIRATORY
Don't Get Sucked In; vaping education campaign launches
Asthma and Respiratory Foundation NZ (ARFNZ) has launched a new education campaign today, aiming to educate young people about the adverse health effects of e-cigarettes and vaping.
Lung tube procedure less effective than painkillers - 'game changing' NZ study
New research from New Zealand doctors could save people all over the world from painful and unnecessary treatment for collapsed lungs. Read more
SOCIAL HEALTH
'It's time for New Zealand to wake up to its poverty problem'
Multiple siblings sharing a single school uniform, school kids living with their families in cars.
INTERNATIONAL NEWS
Nurses shouldn't call women 'ladies' or old people 'pensioners' in case they cause offence, says ...
Nurses should avoid referring to old people as 'pensioners' and calling women 'ladies' to avoid causing unwitting offence, according to a new official ...
Paramedics, nurses and pharmacists will be able to train as doctors in just three years under post ...
Paramedics, nurses and pharmacists will be allowed to train-up as doctors in three years under drastic plans to tackle the NHS's staffing crisis
Australia launches new program to equip nurses and midwives with digital health skills
The Australian Digital Health Agency (AHDA) today announced the launch of a new professional development program to identify the necessary ...
ARTICLES OF INTEREST
Shades of gray: Conscientious objection in medical assistance in dying. Pesut, B, Thorne, S, Greig, M. Nurs Inq. 2020; 27:e12308. https://doi.org/10.1111/nin.12308
With the advent of legalized medical assistance in dying [MAiD] in Canada in 2016, nursing is facing intriguing new ethical and theoretical challenges. Among them is the concept of conscientious objection, which was built into the legislation as a safeguard to protect the rights of healthcare workers who feel they cannot participate in something that feels morally or ethically wrong. In this paper, we consider the ethical complexity that characterizes nurses' participation in MAiD and propose strategies to support nurses' moral reflection and imagination as they seek to make sense of their decision to participate or not. Deconstructing the multiple and sometimes conflicting ethical and professional obligations inherent in nursing in such a context, we consider ways in which nurses can sustain their role as critically reflective moral agents within a context of a relational practice, serving the diverse needs of patients, families, and communities, as Canadian society continues to evolve within this new way of engaging with matters of living and dying.
Palliative sedation and medical assistance in dying: Distinctly different or simply semantics? Booker, R, Bruce, A. Nurs Inq. 2020; 27:e12321. https://doi.org/10.1111/nin.12321
Medical assistance in dying (MAiD) and palliative sedation (PS) are both legal options in Canada that may be considered by patients experiencing intolerable and unmanageable suffering. A contentious, lively debate has been ongoing in the literature regarding the similarities and differences between MAiD and PS. The aim of this paper is to explore the propositions that MAiD and PS are essentially similar and conversely that MAiD and PS are distinctly different. The relevance of such a debate is apparent for clinicians and patients alike. Understanding the complex and multi‐faceted nuances between PS and MAiD allows patients and caregivers to make more informed decisions pertaining to end‐of‐life care. It is hoped that this paper will also serve to foster further debate and consideration of the issues associated with PS and MAiD with a view to improve patient care and the quality of both living and dying in Canada.
The above information has been collated for the College of Nurses Aotearoa (NZ) Inc by Linda Stopforth, SNIPS and is provided on a weekly basis. It is current as at Tuesday 4 February 2019
If you have any feedback about content - what parts are most useful or what you would like added - please email admin@nurse.org.nz
For more up to date news and information follow SNIPS at:
Facebook: Snips Info
Twitter: @SnipsInfo