News bulletin 12 February
on 12 February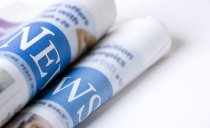 Welcome to the College of Nurses Aotearoa News Update.
No. 481 Wednesday 12 February 2020
NATIONAL NEWS
Woman dies after 'sub-optimal' care following blood test - Commissioner
A young woman died after Auckland District Health Board provided her sub-par care following an intravenous blood test, the Health and Disability Commissioner has found.
CORONAVIRUS
Coronavirus latest: No cases suspected or confirmed in NZ, more staff for Healthline
There are still no cases of suspected or confirmed novel coronavirus in New Zealand, the Director General of Health says.
Health Navigator counters false online coronavirus advice
The New Zealand-based health literacy website Health Navigator provides accurate and up-to-date information for consumers about the 2019-CoV coronavirus.
DISABILITY
Evidence Mounts Of The Need For Urgent Funding Of Providers
The looming closure of the Laura Fergusson Trust homes appears to be another symptom of the chronic underfunding of providers, the New Zealand Disability Support Network said today.
MEASLES
Government announces $23 million injection into tackling measles
The Government has announced hundreds of thousands of young people who are not fully protected against measles will be offered vaccinations against the deadly disease for free.
Government inaction left door open to measles outbreak: Ministry of Health report
Measles outbreaks that put New Zealand children in intensive care before likely spreading to Samoa where children died could have been avoided if the Government heeded expert advice and closed immunity gaps fuelled by a racist health system.
MENTAL HEALTH
What's driving the deterioration in youth mental health?
Ministry of Health figures show a growing number of our 15 to 24-year-olds are struggling with their mental health.
Unique Māori mental health approach recognised for award
Counties Manukau DHB are being applauded for a new approach in supporting whānau Māori affected by mental health, with their Wellness Support model announced as a finalist in the NZ Healthcare Awards.
PHARMACY
Medical cannabis linked to reduced pain and anxiety, improved quality of life - study
Medical cannabis may ease anxiety, depression and chronic pain, a study of the first 400 New Zealand patients to be prescribed cannabidiol (CBD) has found
PUBLIC HEALTH
How NZ would fare during a world catastrophe
Insight - The current coronavirus outbreak is serving as a real time test of New Zealand's emergency plans. But public health experts warn there are even bigger threats out there that we should also be preparing for. John Gerritsen investigates if we could cope in a global catastrophe.
INTERNATIONAL NEWS
Hospitals must be innovative with RN workforce amid boom in nurse practitioners, study suggests
As the number of nurse practitioners continues to grow in the U.S., hospitals and health systems must adapt to the changing registered nurse workforce that comes as a result, according to a new study published in Health Affairs.
Recommendation to replace higher-educated nurses with cheaper staff could backfire, nurses warn
Nursing experts say some cost-saving recommendations put forward in an external review of Alberta Health Services released Monday could lead to ...
High nursing turnover occurs with compassion fatigue
A study in the Clinical Journal of Oncology Nursing looked at compassion fatigue in nurses, a growing concern for health care organizations. Compassion fatigue was found to be an indicator of nurse turnover, and study investigator Diana Wells-English said "it's crucial that we advocate for nurse well-being so that nurses may continue to deliver optimal care for patients."
WORKPLACE
5 Responses Guaranteed to Shut Down Nurse Bullying as Soon as You See it
Even if you're not part of the 85 percent of nurses who've been abused by a fellow nurse, you're still probably aware that bullying among healthcare workers is a pervasive problem. Perhaps you've heard that 1 in 3 nurses has considered quitting a job due to bullying — or you've seen it at your own workplace.
Bully Manager? Learn How to Stop Her
I overheard the bully manager berating an employee in the back room. Apparently she didn't hear me enter the bookstore, or then again, maybe she did.
The bully manager emerged a few minutes later. She stepped up and onto the large raised podium in the center of the store. It served as a check out register, information booth and throne from which the bully manager had oversight of everyone in the store. She loomed large over those who approached, which is exactly what I did.
ARTICLES OF INTEREST
Nursing workload, nurse staffing methodologies and tools: A systematic scoping review and discussion
Peter Griffith… et al. International Journal of Nursing Studies
Volume 103, March 2020, 103487
The importance of nurse staffing levels in acute hospital wards is widely recognised but evidence for tools to determine staffing requirements although extensive, has been reported to be weak. Building on a review of reviews undertaken in 2014, we set out to give an overview of the major approaches to assessing nurse staffing requirements and identify recent evidence in order to address unanswered questions including the accuracy and effectiveness of tools.
REPORTS ONLINE
Review of Innovative Models of Aged Care. (2019) Flinders University, Adelaide, Australia.
To assist the Royal Commission into Aged Care Quality and Safety (established in October 2018), a review of international models of aged care has been undertaken, identifying key innovative models of care from Australia and around the world.
Review of International Systems for Long-Term Care of Older People. Dyer SM, Valeri M, Arora N, Ross T, Winsall M, Tilden D, Crotty M (2019). Flinders University, Adelaide, Australia.
The quality of life of older people is significantly affected by the way in which long-term care (LTC) is provided. This presents a challenge to governments to find ways to finance and regulate LTC to provide accessible and high-quality services. This review of international approaches to the provision of LTC has been conducted by Flinders University for the Royal Commission into Aged Care Quality and Safety. The aim of this review is to provide learnings for the aged care system in Australia and to situate the Australian aged care system within the appropriate global context.
NEW PUBLICATIONS
Pae tū, pae ora: Pathways to pae ora
Nāu te rourou nāku te rourou, ka ora ai te iwi.
With my basket and your basket, the people will live.
This publication features diverse case studies of activity and innovation happening in our public health sector.
The stories of Pae tū, pae ora highlight leadership, innovation and local solutions which together will help drive better outcomes for health and disability across Aotearoa New Zealand.
Feature articles include the fight against hepatitis C; the skilled work of pharmacists and nurse practitioners; the mahi of local communities and the reclaiming of traditional Māori birthing practices.
Issue 83
This month we discover the positive impact the national public health campaign has had on improving awareness of stroke symptoms and the need to take immediate action.
Other highlights include:
Tackling inequities in advanced breast cancer
Sleep duration and psychological well-being
Racial discrimination and hazardous alcohol use among Māori.
The above information has been collated for the College of Nurses Aotearoa (NZ) Inc by Linda Stopforth, SNIPS and is provided on a weekly basis. It is current as at Tuesday 11 February 2020
If you have any feedback about content - what parts are most useful or what you would like added - please email admin@nurse.org.nz
For more up to date news and information follow SNIPS at:
Facebook: Snips Info
Twitter: @SnipsInfo