News bulletin 11 March
on 11 March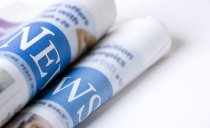 Welcome to the College of Nurses Aotearoa News Update.
No. 485 Wednesday 11 March 2020
Weekly news round-up of nursing and health information in New Zealand and internationally
NATIONAL NEWS
UCOL Manawatū Names Honours Award Recipients
Margaret Woodbridge was a Nursing Lecturer at UCOL for 27 years after working as a Plunket Nurse. Woodbridge established the New Zealand ...
Acute care nurse practitioners, twice as good for HDU - Waikato DHB
This enabled them to provide evidence to the Nursing Council NZ that demonstrated current and proficient practice within their chosen specialty ...
NZMA calls for Govt to prioritise support for healthcare workers
The New Zealand Medical Association is calling for the Government to prioritise support for healthcare workers in the front line against Coronavirus.

Report into assaults on nurses at Hutt Hospital reveals multiple DHB failings
A long-delayed report into an attack on four nurses at Hutt Hospital emergency department has blamed under-staffing, no security and poor training.

AGING AND AGED CARE
Dementia death spike not surprising, Alzheimer's chief executive says
The number of deaths from dementia has spiked as New Zealand's aging population grows.
In 2017, the latest figures published by the Ministry of Health, 2137 people died where the cause of death was mental and behavioural issues – a 22 per cent increase from the previous year.
Frequently misunderstood and debilitating condition put under the spotlight - BOP DHB
Delirium is a debilitating condition affecting thousands of New Zealanders annually but is often missed and frequently misunderstood says a healthcare expert. But taking some simple measures can help those affected.
CORONAVIRUS
Meet the PITAG experts advising the NZ Government on Covid-19
It's called the PITAG – and it's playing a central role in New Zealand's response to the Covid-19 crisis.
The Ministry of Health's Pandemic Influenza Technical Advisory Group brings together 11 of the country's foremost experts on public health and infectious disease.
Coronavirus: Paracetamol restrictions imposed as global drug shortage looms
Customers will face limits on the amount of Government-funded paracetamol they can get as a global drug shortage looms in the wake of the coronavirus crisis.
Retired doctors and nurses may be called on during coronavirus outbreak
Health officials are looking at options to bolster the workforce in the face of Covid-19, including bringing in recently-retired doctors and nurses.
Coronavirus: NZ hospitals 'stretched to breaking point' as dozens of staff self-isolate
Hospitals are being stretched to breaking point by the worsening coronavirus outbreak and will need extra support, union bosses say.
The Ministry of Health confirmed New Zealand's fifth case of the virus on Saturday.
Coronavirus: Staff from Auckland's DHBs hit with travel restrictions
Auckland medical workers who travel overseas will have to take annual or unpaid leave if they need to self-isolate due to coronavirus fears.
Coronavirus: Nurses raise concerns about their safety, availability of protective gear
Nurses are raising concerns about the availability and adequacy of protective equipment in hospitals, as the number of confirmed coronavirus cases grows.
Coronavirus: Pandemic plan sets out how the Government will keep Kiwis safe
Protecting the vulnerable and rationing essential goods and services are among measures called for by New Zealand's virus pandemic plan.

Coronavirus: Community outbreak a matter of time, expert says
A community outbreak of coronavirus is a matter of time, an infectious disease expert says.
But if everyone follows guidance on hand washing and hygiene, and stays away from others if feeling sick, the rate of transmission can be slowed.
The threat of a coronavirus pandemic is very real - but controllable, WHO says
With more than 100,000 people infected by coronavirus worldwide, authorities say there's a real risk of a pandemic.
Coronavirus: Experts stress importance of community effort to help slow spread
Everyone needs to play a part in the battle against the coronavirus outbreak, which has so-far infected more than 100,000 people worldwide and spooked financial markets.
Which Groups Are Most at Risk from the Coronavirus?
Being elderly, having an underlying illness and possibly being male all increase the risk of dying from an infection with the virus
ETHICAL ISSUES
Last minute mistake changes abortion law as Parliament accidentally passes amendment
A cross-party attempt to reform New Zealand's abortion laws looked like it would emerge intact from a debate on proposed amendments until a dramatic last minute mistake axed one of its key provisions
MENTAL HEALTH
Overcrowded Waikato mental health inpatient unit 'degrading', Ombudsman warns
Degrading treatment and conditions in a Waikato mental health ward have been criticised by the Chief Ombudsman.
One in five referrals to southern mental health services is now at least partly due to methamphetamine use, up from 5% just three years ago.
MIDWIFERY / MATERNITY
A report on Thursday, commissioned by the New Zealand College of ... There are current pay equity claims for nurses, hospital administration staff, ...

PATIENT SAFETY
Baby deaths among 11 adverse events at Taranaki District Health Board
Three baby deaths are among the serious adverse events reported by the Taranaki District Health Board.
Eleven serious and adverse events took place in the TDHB area between July 1, 2018 and June 30, 2019. The previous year there were nine.
Rest Home Care Provided To Elderly Woman
Deputy Health and Disability Commissioner Rose Wall today released a report finding a rest home in breach of the Code of Health and Disability Services Consumers' Rights (the Code) for failing to provide appropriate care and services to one of its residents.
WorkSafe Accepts Enforceable Undertaking From Hawke's Bay District Health Board
WorkSafe has accepted an Enforceable Undertaking (EU) from Hawke's Bay District Health Board (HBDHB) following a May 2018 incident in which a patient fell from a patient lifter while being transferred from an air ambulance to a road ambulance.

PRIMARY HEALTH CARE
Stratford residents promised three permanent GPs by October
Nurses say gynaecology patients' rights were breached ... Afterwards, Hannah Pratt, union manager of the New Zealand Nurses Organisation, said ...

TOBACCO, DRUGS AND ALCOHOL
Quit Group charity still paying board members five years after shutting down
Five years after the charity Quit Group ceased to function, it continues to pay board members tens of thousands of dollar a year from funds that were not invested in smokefree services.

Quit Group vows to spend remaining funds on anti-smoking initiatives
Under-fire charity Quit Group will wind up in June once it has spent the $2.7 million it has squirrelled away, it says.

INTERNATIONAL NEWS
Nurses on the front line against coronavirus
The International Council of Nurses (ICN) is ramping up its efforts to support nurses around the world responding to the deadly coronavirus outbreak and has welcomed new mental health and psychosocial support guidelines set to be issued by the World Health Organization (WHO) for people affected by the virus and staff caring for them.
U.K. Nursing and Midwifery Council Considers Use of Personal Experience Statements in Fitness to Practice Proceedings
The Nursing and Midwifery Council (NMC) is considering the use of personal experience statements during fitness to practice proceedings. In 2019, the NMC commissioned a research report into how the use of personal experience statements could be heard and valued during the regulator's fitness to practice proceedings. The recently published report indicated a number of regulatory benefits from the use of personal experience statements, including achieving best evidence, improving decision making, early resolution of a case, clarity to the individual concerned and increased openness and transparency. The NMC will consider the report findings and recommendations – in collaboration with nursing and midwifery professionals, health and care service clients and key partner organizations across the U.K. – to ensure that any action taken is fair and for the benefit of everyone involved.
ARTICLES OF INTEREST
Critical thinking skills of nursing students: Observations of classroom instructional activities. Boso, CM, van der Merwe, AS, Gross, J. Nursing Open. 2020; 7: 581– 588. https://doi.org/10.1002/nop2.426
Critical thinking (CT) is vital for nursing practice. Nursing schools should provide learning experiences that enable nursing students to acquire CT skills. Yet, these authors are not aware of any study that has directly observed instructional activities related to CT skills acquisition in the classroom environment. The aim of this study was to explore instructional activities in the classroom environment in relation to acquisition of CT skills of students.
This article is not freely available but may be accessed through databases and libraries to which readers have access.
Optimising compassionate nursing care at the end of life in hospital settings. Robinson, J, Moeke‐Maxell, T, Parr, J, Slark, J, Black, S, Williams, L, Gott, M. J Clin Nurs. 2019; 00: 1– 9. https://doi.org/10.1111/jocn.15050
Background
An urgent need to improve palliative care in hospital has been identified. Moreover, service users consistently report care delivered by nurses in hospital as lacking compassion. Compassion is a fundamental component of nursing care, and promoting compassionate care has been identified as a policy priority in many countries. To help address this within the hospital context, we recently completed research exploring bereaved family experiences of good end of life care in hospital. We found that family accounts of good care aligned with Nolan and Dewar's compassionate care framework and subsequently extended the framework to the bi‐cultural context of Aotearoa, New Zealand.
Aims and objectives
In this discussion paper, we explore synergies between our newly developed Kapakapa Manawa Framework: a bi‐cultural approach to providing compassionate care at the end of life and the Fundamentals of Care. We argue that our framework can be used to support the implementation of the relational component of the Fundamentals of Care and the delivery of compassionate nursing practice in hospitals in Aotearoa, New Zealand.
Balancing the scales—Nurses' attempts at meeting family and employer needs in a work‐intensified environment.
Harvey, C, Baldwin, A, Thompson, S, et al. J Nurs Manag. 2019; 00: 1– 8. https://doi.org/10.1111/jonm.12913
This paper describes findings from a survey conducted in New Zealand exploring nurses' decision‐making about when to delay care, delegate care, hand care over or leave care undone. Unanticipated findings identified processes that nurses go through when deciding to take planned/unplanned leave when wards are constrained through budget limitations.
Background
Missed/rationed care is increasingly the focus of attention in international studies, identifying a complex interplay of organisational, professional and personal factors affecting nurses' decision‐making when faced with limited organisational time, human and material resources to provide care.
MINISTRY OF HEALTH
New Zealand Cardiac Surgery National Report: 2017
Cardiac surgery in public hospitals 2017
The New Zealand National Cardiac Surgery Registry (NZCSR) has been established by the New Zealand cardiac surgical community as a quality assurance tool that will enable us to audit our practice, review surgical outcomes and to compare these between units in New Zealand and also to benchmark against internationally reported standards.
This report is the analysis of the year 2017 of patient enrolment in all 5 cardiac surgical units in New Zealand (Auckland, Waikato, Capital and Coast, Canterbury, Southern).

MISCELLANEOUS
PODCAST
Nursing Standard podcast: is Florence Nightingale a nursing icon?
Is Florence Nightingale a nursing icon?
This question is discussed by King's College London professor of nursing policy Anne Marie Rafferty, and Nursing Standard senior nurse editor Richard Hatchett, in the latest episode of our podcast.
The above information has been collated for the College of Nurses Aotearoa (NZ) Inc by Linda Stopforth, SNIPS and is provided on a weekly basis. It is current as at Tuesday 10 March 2020
If you have any feedback about content - what parts are most useful or what you would like added - please email admin@nurse.org.nz
For more up to date news and information follow SNIPS at:
Facebook: Snips Info
Twitter: @SnipsInfo