News bulletin 25 March
on 25 March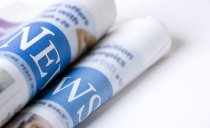 Welcome to the College of Nurses Aotearoa News Update.
No. 487 Wednesday 25 March 2020
Weekly news round-up of nursing and health information in New Zealand and internationally
NATIONAL NEWS
Ara One Of Only Two New Zealand Institutions To Gain Chinese Joint Programme Approval
During the latest Chinese Ministry of Education round of approvals, Ara Institute of Canterbury was endorsed to jointly deliver a Bachelor of Nursing ...
Making New Zealand Home: Roxie Mohebbi
Roxie Mohebbi trained to be a nurse partly to fulfil the dreams of her mother who wasn't able to continue nursing here after their family arrived from Iran. Roxie later became an actor, but at the moment she's using medical skills again with the Healthline group.
Health boss full of praise for Dunedin nurses
The Ministry of Health's Director-General of Health Dr Ashley Bloomfield has hailed the quick response of Dunedin nurses in getting close to 150 Logan Park High School pupils and staff quickly tested.
Coronavirus: Christchurch nursing students volunteer to help at medical wards
Middlemore Hospital, in south Auckland, is restricting the number of visitors to two per patient, and has barred all children under the age of 15 from ...
A National 'Call To Arms' For Doctors And Nurses – Your Country Needs You!
Dr Hazledine says the search is on for extra doctors and nurses to fill ... the Medical Council of New Zealand and the Nursing Council of New Zealand.
Nurses 'must be supported as frontline' against COVID-19
The New Zealand Nurses Organisation (NZNO) is calling for measures to improve support for nurses in the Government's next round of pandemic ...
Covid-19 coronavirus: Auckland nurse opens up about Covid-19 reality for healthcare workers
An Auckland nurse has opened up about the realities of being a healthcare worker in New Zealand during the Covid-19 pandemic. In a Facebook post ...
Covid-19 coronavirus: Hospital staff seek accommodation away from family
Hospital staff, including anaesthetists, are considering living away from their families for the foreseeable future after being called up to resuscitate Covid-19 patients when an expected surge of cases hits frontline services.
Covid-19 coronavirus: Worry over burnt-out and understaffed Intensive Care Units
The Ministry of Health has surveyed intensive care units and says it can more than triple their capacity immediately.
153 intensive care beds in country - survey
An official survey in response to Covid-19 shows there are 153 intensive care beds nationwide.
Covid-19 coronavirus: Top intensive care doctor admits he is scared
One of the country's most experienced intensive care doctors admits he has never been more afraid than he is right now, in light of Covid-19.
Covid-19 coronavirus: Software to help doctors decide who gets an ICU bed
Doctors are planning to use special software to score coronavirus patients and help decide who gets an intensive-care bed if there aren't enough.
Calling Aotearoa's Healthcare Workers To Join The Home Guard
As the COVID-19 pandemic enters New Zealand and we grade up to Level 4 alert, we will need to preserve our frontline medical staff while also continuing to look after the sick and vulnerable. Extraordinary times call for extraordinary measures. Home Guard is one such extraordinary response.
Hospital staff accuse cops of dumping violent patients at hospital
Dr Sandra Richardson, chairwoman of New Zealand Nurses Organisation's College of Emergency Nurses, said the union's members and other ...
AGING AND AGED CARE
Elderly people's double pandemic risk
The elderly are not only more likely to die from Covid-19, but in an overstretched pandemic situation, younger people can be prioritised for care. Farah Hancock reports.
Coronavirus: How do we keep older Kiwis safe during Covid-19 pandemic?
New Zealanders are being urged to pick up the phone and call their elderly loved ones amid the Covid-19 pandemic as concerns loom for the mental impact of isolation.


CORONAVIRUS/COVID-19
Coronavirus: Strict health and safety procedures for frontline emergency services staff
Frontline emergency services personnel are working under strict protocols to ensure they can keep working in the community but be as protected as possible from the Covid-19 virus.
What if Two COVID-19 Victims Need Ventilators and Just One Is Available?
Health care providers need a well-organized response grounded in science and ethics as the U.S. responds to the pandemic
Coronavirus: Private hospitals to help Covid-19 patient overflow
Private hospitals across the country have been asked by health authorities for intensive care bed and staffing capacity - and are ready to take patients should the public system hit capacity.
Coronavirus: NZ must ramp up contact-tracing capability
There were different ways to bolster this workforce – such as training people, possibly nursing and medical students, in as little as one to two days. "We ...
Coronavirus: Ministry of Health to set up contact tracing centre - Bloomfield
Director-General of Health Ashley Bloomfield has no doubt there will be more cases of the Covid-19 coronavirus announced and says the ministry is setting up a specialised centre to handle tracing of close contacts.
Coronavirus: Series of managed peaks NZ's best bet for Covid-19 spread
Spread of Covid-19 in New Zealand would best be managed through a series of small and controllable peaks to ease pressure on hospitals, the country's top health official says.
Coronavirus: What is New Zealand's plan if mass deaths occur?
The Government's general pandemic plan prepares for 38,000 deaths over an eight-week period with 10,000 of those deaths happening within seven days during an outbreak's peak.
Coronavirus: Control measures for Covid-19 needed 'until we've got a vaccine'
Measures to control the spread of Covid-19 need to stay in place - on and off - for 12 to 18 months, a professor who studies modelling data on coronavirus says
NZNO Calls For Decisiveness And Unity In COVID-19 Response
The New Zealand Nurses Organisation (NZNO) is calling for decisiveness in response to the COVID-19 pandemic and says people in Aotearoa New ...
Professor Gary McLean: 'No age group is immune from Covid-19'
New Zealander Gary McLean is a professor in molecular immunology and infectious diseases specialist at London Metropolitan University. He thinks things are being done well in New Zealand in relation to the spread of Covid-19, but offers a stark warning that it is not only the elderly who are at risk of contracting the virus.
Coronavirus: NZ must 'work very hard to eradicate this infection now' - epidemiologist
Taking drastic action and locking down the country now could keep the Covid-19 coronavirus from spreading, and get New Zealand back to business sooner, epidemiologists say.
Homeless particularly vulnerable during Covid-19 pandemic
As more cases of Covid-19 arise, people are being cautioned to work from home or stay home if sick ... but what if you don't have a home?
Coronavirus: NZ hospitals could treble ICU capacity to meet Covid-19 surge
"We'll have three of the current intensive care doctors in each one, and then three of our anaesthetist colleagues, and a quarter of the ICU nurses, along ...
Coronavirus: Where can you get tested for the virus?
New Zealand has the ability to test up to 1500 samples a day for the novel coronavirus, but where can you get tested?
Community testing facilities are being set up all around the country.
Coronavirus: WHO warns pandemic is accelerating
The pandemic of disease caused by the coronavirus is accelerating, the World Health Organisation (WHO) says, with more than 300,000 cases now recorded and infections reported from nearly every country worldwide.
NZ must build contract tracing for COVID19 to make lockdown worthwhile - Expert
New Zealand must urgently build its capacity for COVID-19 case identification and contract tracing capacity, as the country goes into 'lockdown', Dr Ayesha Verrall, an infectious diseases doctor and epidemiologist at the University of Otago, Wellington, says.
Covid-19 coronavirus: NZ may have been spared worst-case disaster in 'nick of time' - expert
A top epidemiologist says New Zealand may have spared itself a worst-case coronavirus disaster "in a nick of time" through its dramatic shut-down.
Four cases of community transmission of Covid-19 in NZ
There have been four cases of community transmission in New Zealand, as the Health Ministry reveals there has now been 155 confirmed and probable cases in this country.
Covid-19 symptoms: What they are and how they make you feel
If you're in lockdown - or preparing for it - we've put together details of the Covid-19 coronavirus symptoms in one place so you know what to look out for.
Covid-19 coronavirus: Loss of smell, taste, might signal infection
A loss of smell or taste might be an early sign of infection with the pandemic virus, say medical experts who cite reports from several countries.
It might even serve as a useful screening tool, they say.
Covid-19 coronavirus: Most deaths would not need to be reported to coroner
New Zealand's Chief Coroner says she hopes the country doesn't record a single death from Covid-19 but should the worst happen the Coroners Court is prepared.
DHBs
Cramped, rotting and risky - the scale of the hospital fix-up revealed
Insight - The government has put $500m towards boosting health capabilities to tackle the Covid-19 crisis. But the hospitals delivering critical care are themselves in need of urgent assistance. Phil Pennington investigates.

HEALTH TECHNOLOGIES
Resources available to help patients move to using telehealth
Resources available to help patients move to using telehealth NZ Telehealth Resources Centre and Health Navigator NZ have today released online information to help people begin to use telehealth more to access health services, ie, secure email, phone, text, video and patient portals. NZ Telehealth Leadership Group (NZTLG) chair and emergency doctor Waikato DHB Clinical Director Information Services and Virtual Healthcare Ruth Large says New Zealand has many good examples of using telehealth already, and now we need to scale this up.
MENTAL HEALTH
Mental Health Foundation develops resource for wellbeing during Covid-19
The Mental Health Foundation is aware that the Covid-19 outbreak is causing significant anxiety and stress for many New Zealanders.
From nurse to mental health watchdog: Hayden Wano
Hayden Wano is the chair of the Mental Health and Wellbeing Commission - established last year as part of the government's response to the comprehensive mental health inquiry.
Covid-19 - Skylight Offers Free Support Information Packs To Help Mental Wellbeing
Skylight is already receiving requests to its offer of free 'Covid-19 support information e-packs' that have been put together to help with anxiety and stress.
MIDWIFERY / MATERNITY
Coronavirus in NZ: Hospital birth 'only option' for pregnant women with Covid-19
Pregnant women with coronavirus or with symptoms of the virus must give birth in
a hospital, it has been announced.
PRIMARY HEALTH CARE
Coronavirus: GPs asked to do 70 per cent of consults online to protect against Covid-19
GPs have been asked to move towards having 70 per cent of their consults done virtually - a step designed to drastically reduce in-person contact and guard against Covid-19.
Covid 19 coronavirus: New Zealand rolls out drive-through hubs for testing Covid-19
Drive-through hubs set up especially for testing coronavirus are beginning to roll out in New Zealand.
Shorecare Northcross, on Auckland's North Shore, was selected to become an assessment centre, swabbing from today, according to its website
PUBLIC HEALTH
Coronavirus: Government launches major influenza vaccine campaign as Covid-19 looms
Nearly half a million additional influenza vaccinations will be rolled out two weeks early by the Government in hope of keeping hospital beds free for coronavirus.
Government adds 400,000 more flu vaccines this year
The government is starting this year's flu vaccination programme about two weeks early to improve the ability to manage higher demand at hospitals due to the coronavirus.
Coronavirus: Health professionals and elderly first in queue for flu vaccine this year
The Government is urging people to get vaccinated against the common flu to avoid taking up hospital resources that could be used to treat Covid-19

RURAL HEALTH
Otago experts warn pandemic risks accentuating rural-urban health inequities
The current pandemic risks further accentuating the rural - urban health inequities that exist in New Zealand, University of Otago rural health specialists warn.
INTERNATIONAL NEWS
Coronavirus pandemic straining medical supplies, forcing nurses to reuse masks with "no protection"
She told CBS News that one of the group's main concerns is a shortage of N-95 masks, which filter out 95% of airborne particles. Last week, the CDC ...
Work restrictions on 20-thousand student nurses have been lifted
Work restrictions on 20-thousand student nurses have been lifted, so that they can help with the health response to Coronavirus. Source: ABC News ...
'Truly heroes': Tributes pour in for doctors, nurses fighting coronavirus pandemic
"The need is there," Ottawa nurse Nanda Bradshaw recently told Global News. "As long as I'm healthy and able to offer it, I will do it."
Doctors and nurses are already feeling the psychic shock of treating the coronavirus
Doctors and nurses see news from our colleagues in China, South Korea and Italy, letting us know in no uncertain terms what is coming. The result is ...
What steps hospitals can take if coronavirus leads to a shortage of beds
The number of COVID-19 cases in Australian continues to grow with new cases confirmed each day
3 steps hospitals need to take now to prepare for a surge of COVID-19 cases
The large outbreak of COVID-19 has already started to overwhelm hospitals in Washington state and New York.
And experts say other hospitals need to get ready, now.
White paper outlines ways to promote nursing certification
The Board of Certification for Emergency Nursing released a white paper outlining how to create a working environment that promotes nursing excellence by helping nurses achieve and maintain board certification, said BCEN Executive Director Janie Schumaker. The white paper calls on nurse leaders who want their staff to be certified to first attain certification themselves.
WELLBEING
Coronavirus: Nutritious foods help control our moods
You're mostly stuck inside, your children might be home from school, and the coronavirus pandemic is making the future seem less certain by the day. You might be seeking comfort in a familiar place: the fridge.
12 ways to stay connected during social distancing
Staying physically apart is the right thing to do during the COVID-19 pandemic, but our physical and mental health and the success of our organizations depend on seeking out emotional and relational connections during this time, write Michael Lee Stallard and Katharine P. Stallard. They offer 12 steps to avoid loneliness while social distancing, including creative group activities, learning something and seeking to serve other
Covid 19 coronavirus: 10 tips to help your wellbeing during lockdown
New Zealand is set to go into lockdown for at least four weeks starting midnight tomorrow. One mental health expert says the toll this is already taking on people's wellbeing is significant. Auckland clinical arts psychotherapist Ingrid Ying Wang offers 10 tips to help you manage your wellbeing.
WORKPLACE
Get dressed and set goals: some routines not to break if coronavirus means you have to work from home
The precautions taken by some employers over the coronavirus mean you may find yourself working from home, some for the first time
The above information has been collated for the College of Nurses Aotearoa (NZ) Inc by Linda Stopforth, SNIPS and is provided on a weekly basis. It is current as at Tuesday 24 March 2020
If you have any feedback about content - what parts are most useful or what you would like added - please email admin@nurse.org.nz
For more up to date news and information follow SNIPS at:
Facebook: Snips Info
Twitter: @SnipsInfo