News bulletin 1 April
on 1 April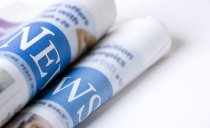 Welcome to the College of Nurses Aotearoa News Update.
No. 488 Wednesday 1 April 2020
Weekly news round-up of nursing and health information in New Zealand and internationally
NATIONAL NEWS
Coronavirus: Queenstown Lakes District Hospital under extreme pressure after two nurses test ...
Queenstown Lakes' District Hospital is closed to inpatients with two nurses now testing positive for coronavirus COVID-19. The hospital has been ...
Nurse case shuts down hospital
Lakes District Hospital was cleaned from top to bottom last night and 36 staff were tested for Covid-19 after a nurse at the Queenstown facility tested positive to the disease driving lockdowns around the world.
You're scared, I'm scared too: A nurse on life on the Covid-19 frontline
I was working at an urgent care clinic in East Auckland when the first reports of Covid-19 came out of Wuhan. A couple of coworkers and I did some basic ...
Coronavirus: New supply chains to be set up for PPE demand
The Government says New Zealand has enough of the gear, but the New Zealand Nurses Organisation (NZNO) has warned nurses are having to deal ...
Covid 19 coronavirus: Thousands of doctors and nurses rally for more effective protective gear
Thousands of doctors and nurses from across the country are rallying the Government for more effective personal protective equipment (PPE) in the fight against Covid-19.
Covid-19: Calls to allow front-line health workers to test patients themselves
Front-line health workers say they are pleased people displaying symptoms of Covid-19, regardless of their travel history, can now be tested for the virus.
Māori health provider nurses praised for care of whānau Māori - Covid-19
Māori health provider nurses are being praised for their work to care for Māori families during the Covid-19 pandemic. But the NZ Nurses Organisation is concerned about the hazards they face as frontline workers.
Coronavirus: Prime Minister Jacinda Ardern thanks New Zealand's 'new frontline' workers
Speaking to the media in her daily COVID-19 update, the Prime Minister gave a "special mention" to New Zealand's frontline workers, including nurses ...
Emergency services and medical staff will be able to skip queues at Pak'n Save, New World
Foodstuffs stores are giving uniformed emergency services and medical personnel priority at the checkout and external queues in any store, at any time nationwide.
The change takes effect on Friday at New World, Pak'n Save and Four Square shops around the country.
Ministry seeks expressions of interest from health and care professionals for COVID-19 response
The Ministry of Health is seeking expressions of interest from health and care professionals who are able and willing to work for a limited amount of time as part of the national strategic approach to managing COVID-19.
Are retired doctors and nurses returning to work?
The Medical Council and Nursing Council are the organisations charged with accelerating re-certification and re-registration of doctors and nurses offering to return to the frontline. Kathryn talks with CEO of the Nursing Council Cath Byrne and Chair of the Medical Council, Dr Curtis Walker.
Covid-19: Does NZ have enough ICU beds, ventilators?
What happens if New Zealand's intensive care units are swamped with Covid-19 cases? Who or what will decide which patients get priority?
Covid 19 coronavirus lockdown: Entire hospitals could be used to treat the sick
Entire hospitals could be dedicated to Covid-19 patients if the virus spreads in New Zealand, leaving nearby facilities clear for other medical care.
AGING AND AGED CARE
Rest-home staff at risk, using up leave
Dunedin rest-home staff at high risk of Covid-19 are having to choose between risking their health at work, or potentially going without pay.
Covid-19 cluster fears at rest homes
With a cluster is of Covid-19 cases confirmed at a Hamilton rest home and a possible cluster of cases at a rest home in Hawkes Bay what is the aged care sector doing to keep this under control?
CANCER
Pharmac eases restrictions on cancer drugs during Covid-19 pandemic
Pharmac will ease restrictions on at least nine cancer drugs, including keytruda for the treatment of advanced melanoma, to reduce hospital visits and cut the risk of highly vulnerable patients catching Covid-19.

BowelScreening.co.nz Offers At Home Bowel Screening Tests For Everyone
Cancer is never a comfortable topic to talk about, but it is one that statistically will affect the vast majority of New Zealanders in some form. Whether that being personally diagnosed, or know a family member, friend or loved one being affected by it.
CORONAVIRUS/COVID-19
Coronavirus: Southern region overtakes Auckland case numbers
The Southern District Health Board announced Monday that 36 nurses from Lakes District Hospital in Queenstown were undergoing testing after a nurse ...
Covid 19 coronavirus: NZ case clusters double, seven more investigated
The number of significant Covid-19 "clusters" in New Zealand has jumped by seven in just 24 hours, putting further pressure on the health system.
Coronavirus: Government confirms its goal is full eradication of deadly virus
After criticism from a top academic the Government has clarified the Government's goal for coronavirus: Full eradication.
Coronavirus: A glimpse inside a busy Canterbury testing centre
So far, more than 12,000 tests have been processed as New Zealand ... Assessment Centre in Ashburton, said for the doctors and nurses screening ...
Covid-19: Elderly and young less likely to have it, so far
More New Zealanders in their 20s have Covid-19 than any other age group, Ministry of Health figures show, and it's likely because most cases are connected to overseas travel.
'Normality' may take some time
Prof Michael Plank, of Canterbury University, has, along with other researchers, been working long hours helping model how Covid-19 might spread in New Zealand. He answers questions from Otago Daily Times online editor Vaughan Elder.
Covid 19 coronavirus: Four week lockdown could be longer if more cases arise
Just how long the country stays under complete lockdown depends on whether or not more coronavirus cases arise still.
Expect community transmission cases to increase - Bloomfield
The Director-General of Health has no doubt the cases of community transmission of Covid-19 are on the rise.
Why New Zealand's coronavirus cases will keep rising for weeks, even in level 4 lockdown
The number of New Zealanders testing positive for COVID-19 will continue to rise despite the strict conditions of the four-week lockdown that began this week.
Covid-19 coronavirus: What is New Zealand's Plan B?
Researchers have offered the Government some "Plan B" options – such as trying to delay a peak in Covid-19 cases until next year – if New Zealand's promising elimination strategy fails.
How are the most serious coronavirus cases treated, and does the coronavirus cause lasting damage?
As the number of Covid-19 cases around the world continues to climb, hospitals are under increased pressure to provide emergency care for the most severely ill patients. What does this involve, and how does the coronavirus damage the respiratory system?
Coronavirus: Plausible worst-case scenario in Government modelling shows 27,600 deaths, 146,000 hospitalised
Over 27,000 New Zealanders could die in a worst-case scenario if efforts to stamp out coronavirus fail, modelling provided to the Government last week shows.
Coronavirus: Understanding New Zealand's Covid-19 curve
ANALYSIS: On the face of it, New Zealand's epidemic curve is going exponential. But are case numbers really rising for the same reasons as overseas?

Coronavirus: What happens after New Zealand has been locked down?
New Zealanders are locked down in their homes, for the most part, for the next four weeks to slow the spread of coronavirus, but what happens when those four weeks are up?

DHBs
Medical workers from Canterbury redeployed to fill gaps in Greymouth
Medical workers from Canterbury are being sent to work at Greymouth's hospital, which has 21 staff in self-isolation because of the Covid-19 coronavirus.
Covid 19 coronavirus: Photo shows triage tents in North Shore Hospital
Tents have been set-up in the grounds of North Shore Hospital to triage an expected influx of Covid-19 patients.
Covid-19: Middlemore Hospital on standby in case of mass outbreak
South Auckland health authorities say they are preparing for a coronavirus outbreak on par with those seen in Italy and New York City.
Coronavirus: 36 new intensive care beds fast-tracked at Christchurch Hospital
Dozens of new intensive care beds are being fast-tracked at Christchurch Hospital's new Hagley building, so they are available to treat Covid-19 patients.
Coronavirus: Hospital staff uncomfortable with washing work clothes at home
Hospital workers are concerned they could be delivering harmful bacteria to their doorstep by washing potentially contaminated uniforms at home.
Northland DHB Introduces Intra-hospital E-referrals
Referrals between hospital departments in Northland DHB can now be made electronically, saving precious time and improving patient safety.
EDUCATION
Mega polytechnic establishment goes ahead despite lockdown
The new national mega polytechnic will come into being on Wednesday, but the name and location of its headquarters is still to be decided.
PALLIATIVE CARE
Hospice in financial uncertainty
Otago Community Hospice services, vital in the middle of a pandemic, are continuing, but the financial viability of the service is uncertain, chief executive Ginny Green says.
PRIMARY HEALTH CARE
Amazing Switch To NZ Virtual Healthcare During Covid-19 Work Lockdown
Into the second week of coronavirus lockdown, New Zealand's primary care doctors, nurses and staff are putting in an amazing effort to switch to ...
Covid 19 coronavirus: 'Desperate' GPs fear they can't stay open due to spiralling costs
... the New Zealand Nurses Organisation, the Royal New Zealand College of General Practitioners (RNZCGP), Primary Health Alliance and the Rural ...
PUBLIC HEALTH
Have Flu Vaccination Distribution Problems Been Fixed?
Some medical centres nationwide have been commenting about having trouble getting supplies of the vaccine, despite there being large stocks in the country. For an update on the distribution problem, the Chair of the NZ Medical Association and a GP in Warkworth, Kate Baddock.
RURAL HEALTH
Coronavirus: Why rural communities may be at more risk from covid-19
As the West Coast community grieves the country's first coronavirus death, an expert has warned rural areas can expect to be hit the hardest.
INTERNATIONAL NEWS
DC hospital nurse resigns over lack of PPE
A nurse at Sibley Memorial Hospital in Washington, D.C., recently resigned, citing concerns over the hospital's lack of personal protective equipment, reports KTOP News.
Strict isolation helped cut death rates during 1918 flu pandemic, research shows
Cities that adopted broad isolation and prevention measures early, including banning mass gatherings, experienced lower disease and death rates during the 1918 influenza pandemic, according to new research.
'If you think too much, you cry': Nurse shares what it's like to care for the sickest coronavirus patients
They are people. Arlene Van Dyk is a critical care nurse at Holy Name Medicaid Center in Teaneck. They are people with a virus that ...
Industry Voices—How individuals and hospitals can think like a nurse to reduce the spread of COVID-19
My kids know they have to be half-dead before I'll take them to the emergency room.
Thanks to training and experience from my 25-year career as an emergency department and intensive care nurse, when one of my children tells me they're sick I immediately go through a series of questions to assess how serious the situation is: What's your temperature? Are you drinking enough fluids? What color is your urine?
Nurse practitioner clinical settings key to delivery of patient-centered care
It's long been understood that care that respects and integrates the wants, needs, and preferences of patients results in higher ratings of satisfaction and improved health outcomes. Yet, several barriers still often impede the delivery of patient-centered care. A new study from the University of Pennsylvania School of Nursing (Penn Nursing) shows that organizational supports for nurse practitioners (NPs) can enhance their ability to deliver patient-centered care.
MINISTRY OF HEALTH
HISO 10082:2020 COVID-19 Community Based Assessment Data Standard
This is a standard for the patient assessment data set that Community Based Assessment Centres (CBACs) should collect and be able to report during the COVID-19 pandemic.
This standard has been produced in direct response to the COVID-19 pandemic. The standard is designed to ensure that all patient assessments for COVID-19 are consistently and completely recorded to enable properly informed health service response, tracing, tracking, surveillance and analytics.
This standard sets out the minimum data set needed to record administrative, demographic and clinical information for patients assessed for COVID-19. The standard is consistent with WHO pandemic reporting guidelines and forms the pandemic minimum data set for COVID-19 in New Zealand.
The requirements are for structured and coded data wherever possible, because this has the maximum utility for data analysis. The standard is limited to clinical assessment and does not extend to a complete set of data requirements for contact tracing, laboratory reporting or patient management.
This document is published as a draft standard that will be updated to reflect new requirements as they emerge.
The above information has been collated for the College of Nurses Aotearoa (NZ) Inc by Linda Stopforth, SNIPS and is provided on a weekly basis. It is current as at Tuesday 1 April 2020
If you have any feedback about content - what parts are most useful or what you would like added - please email admin@nurse.org.nz
For more up to date news and information follow SNIPS at:
Facebook: Snips Info
Twitter: @SnipsInfo