News bulletin 8 April
on 8 April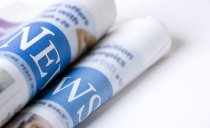 Welcome to the College of Nurses Aotearoa News Update.
No. 489 Wednesday 8 April 2020
Weekly news round-up of nursing and health information in New Zealand and internationally
NATIONAL NEWS
Covid-19: What it's like for health staff in the ICU
Clinical nurse manager Susan Cartmell explains there is a very specific order for putting on PPE (personal protective equipment) and taking it off again, a process known as "donning and doffing".


Turanga Health nurses carried out 350 influenza vaccinations for whanau ... "We did the last vaccination three hours before New Zealand went into ...
Covid 19 coronavirus: Hospice Whanganui manager 'humbled' by staff efforts
"If one of our nurses needs to enter the home, they will be kitted out in full personal protective equipment.
Nurse Maude cuts down home visits during lockdown
The Ministry of Health has also said Nurse Maude needs to cease non-essential tasks. As a result, any nursing assessments or palliative support will ...
Sacrificing for our health - Toi Ohomai Institute of Technology
Rotorua nurse Gavin Wallace has had to make a few more sacrifices than most of us since New Zealand went into lockdown last month, but he knows it will be all worth it.
Coronavirus: More than 50 healthcare workers diagnosed with the virus across NZ
And in Queenstown, Lakes District Hospital was closed to inpatients last week after two nurses tested positive for the illness. covid-virus. Essential ...
Surgery patient didn't mention Covid-19 symptoms and later tested positive
Eleven Southland Hospital staff and two patients are in self-isolation after a patient came in for surgery and did not say they had Covid-19 symptoms, only to later test positive for the virus.
Surgical masks essential when dealing with all hospital patients, staff told
Frontline emergency hospital staff are being told they should wear surgical masks at all times, in a protocol change prompted by overseas evidence.
Covid-19: Prepare to reuse goggles, frontline health workers told
Frontline health care workers are being asked to reuse a part of their personal protective equipment (PPE).
Coronavirus: Auckland DHBs seek doctors, nurses with expired practicing certificates to bolster ranks
It has options for doctors and nurses who do not have current practicing certificates, as well as medical and nursing students. As well as asking ...


Plunket launches prioritised virtual service
Plunket has launched a prioritised virtual service to ensure it can continue to support whÄnau following the Government's move to raise the COVID-19 Alert level to Level 4 which has meant the suspension of all Plunket's face-to-face services.


AGING AND AGED CARE
Rest homes will not admit residents without a negative Covid-19 test
From today, no new or returning residents will be admitted into rest homes without a negative test for Covid-19, and those who test negative can be admitted, but will be isolated for 14 days.
Coronavirus Covid-19: NZ's Plan B could mean 'safe havens' for elderly
New Zealand could create cordoned-off "safe havens" to protect our elderly and vulnerable if the country fails to stamp out Covid-19, experts say.
Health staff working to deal with dementia care facility Covid-19 cluster
A dementia care facility in Christchurch has been identified as one of 12 key clusters of Covid-19 cases, and it's prompted a scramble for experienced aged care staff.
CORONAVIRUS/COVID-19
Coronavirus: A path out of lockdown is being charted, but experts say New Zealand is not ready
"Test, test, test," Prime Minister Jacinda Ardern said a week ago. And since then more than 20,000 tests have been run and the number coronavirus cases have almost doubled.
Ministry of Health have plans to stop Māori COVID-19 outbreak
Currently there are 38 confirmed COVID-19 cases among Māori with a growing fear of a potential outbreak in Māori and Pacific communities.
Coronavirus: The Government wants to eliminate the virus completely. Here's how
The Government has released details of its strategy to eliminate coronavirus.
There has been criticism that it was unclear whether the Government was trying to manage the outbreak and "flatten the curve" or trying to eliminate the virus completely.
Covid-19: Hospital staff report increase in being spat on
Health staff and other essential workers are increasingly reporting being spat at by angry members of the public while trying to work during the lockdown.
Coronavirus: Prime Minister Jacinda Ardern says essential workers vulnerable to the virus will receive leave payments
Prime Minister Jacinda Ardern says the Government will pay the leave of essential workers vulnerable to coronavirus.
Covid-19: How volunteers are helping refugees in NZ lockdown
There are concerns for refugee families who might not be able to keep up with the rapidly evolving information coming out everyday about Covid-19.
Coronavirus: Government says it has no plan B if lockdown fails to stamp out Covid-19
Health Director-General Ashley Bloomfield says the Government will keep the country or parts of it in lockdown for as long as possible to "stamp out" coronavirus.
This isn't about Millennials saving Boomers, it's about the country banding together to save itself, experts say
Data shows older people and those with underlying medical conditions are more likely to be affected by Covid-19. But as more of the world's population succumbs to the disease, young people are falling ill and even dying. New Zealand's lockdown isn't just about saving the vulnerable, experts say. If we muck this up, we're all at risk.
Contact tracing at forefront of fight against COVID-19
The Ministry of Health says a significant increase in New Zealand's ability to carry out contact tracing is proving vital at the forefront of the fight against COVID-19, with hundreds of staff mobilised to carry out the work and 5 thousand close contacts tracked so far.
The Māori Language Commission has released a list of words to support translators and others who are fighting COVID-19 and communicating in te reo Māori.
Why COVID-19 is hitting us now — and how to prepare for the next outbreak
Where did the new coronavirus originate, how did it spread so fast -- and what's next? Sharing insights from the outbreak, global health expert and TED Fellow Alanna Shaikh traces the spread of COVID-19, discusses why travel restrictions aren't effective and highlights the medical changes needed worldwide to prepare for the next pandemic. "We need to make sure that every country in the world has the capacity to identify new diseases and treat them," she says. (Recorded March 5, 2020)
COVID-19 : Don't bring it home
Nurses and healthcare workers are doing what they can to protect themselves from COVID-19 while on the job but what measures can they take to protect the families and their home environments after work?
The ANMJ has compiled a list of tips to keep your home virus free.
Individuals taking class of steroid medications at high risk for COVID-19
Individuals taking a class of steroid hormones called glucocorticoids for conditions such as asthma, allergies and arthritis on a routine basis may be unable to mount a normal stress response and are at high risk if they are infected with the virus causing COVID-19, according to a new article. Read more
COVID-19: Guidance to support healthcare staff having difficult conversations about end of life
A Loughborough University academic is providing guidance to clinicians who are likely to be having - and training people who will have - difficult conversations with patients suffering from COVID-19 or those closest to them.
HEALTH TECHNOLOGIES
New charitable initiative to fund remote monitoring for at-risk patients
Patients with serious health conditions, who are at greatest risk if exposed to COVID-19, will benefit from a new charitable initiative which will provide them with remote monitoring technology - reducing their need to visit hospital.
Government app helps share COVID-19 information
A Government WhatsApp channel has been launched to help make information more easily accessible and shareable in the fight against COVID-19.
INFECTION CONTROL
Many hand sanitisers are ineffective against coronavirus, experts warn
Many Australians are unaware they are using hand sanitiser that is ineffective, particularly in preventing transmission of coronavirus, experts fear.
PRIMARY HEALTH CARE
Covid 19 coronavirus: Struggling general practices handed financial lifeline by Ministry of Health
General practices fearful they may have to shut up shop as the coronavirus lockdown dries up their cashflow have been granted extra funding by the Ministry of Health.
INTERNATIONAL NEWS
Coronavirus: Kiwi nurse in New York describes harrowing job of caring for dying patients
A Kiwi ICU nurse based in New York City has described the harrowing moment she had to relay a message from a person who couldn't say goodbye ...
Nursing has Moved into the Global Spotlight during the COVID-19 Pandemic
The International Council of Nurses (ICN) Chief Executive, Howard Catton, remarked that "Arguably, nursing has moved into a global spotlight in a way that calling it 'year of the nurse' never would have." The contribution of nurses and nurse leaders has influenced care all over the world, but not without risk to the nursing population.
Policy Brief: U.S. Nursing Leadership Supports Practice/Academic Partnerships to Assist the Nursing Workforce during the COVID-19 Crisis
In a new policy brief, nursing leaders, "propose and support academic-practice partnerships between health care facilities and pre-licensure registered nursing and practical/vocational nursing programs across the country during the COVID-19 crisis." The policy brief states, "This is one potential model to consider," and that, "It is not mandated, rather an innovative approach to meeting academic and workforce needs."
Covid 19 coronavirus: European hospitals running out of ICU medicine
The European University Hospital Alliance said that without countries cooperating to ensure a steady supply of these drugs, doctors and nurses might ...
Nurses use baby monitors to interact with COVID-19 patients
Nurses nationwide are turning to two-way baby monitors to interact with suspected or confirmed COVID-19 patients in isolation, reports ABC News.
Nurse deaths 'inevitable' from coronavirus
"I do believe, sadly, it is inevitable we will see more nurses and other healthcare professionals die." During Friday's government briefing, nursing chief ...
WORKPLACE
7 nurses share advice on dealing with bullying from co-workers
Question: How do I deal with bullying behavior with other staff members?
Trish Celano, RN. Senior Vice President, Associate Chief Clinical Officer and Chief Nursing Executive at AdventHealth (Altamonte Springs, Fla.): A culture of support and empowerment is key to an effective nursing team. As nursing leaders, it is important to empower our nurse managers to recognize bullying and address it — even if it may be uncomfortable.
ARTICLES OF INTEREST
Liability and collaborative arrangements for nurse practitioner practice in Australia
Mary Chiarella, Jane Currie and Tim Wand
Australian Health Review 44(2) 172-177 https://doi.org/10.1071/AH19072
The purpose of this paper is to clarify the relationship between medical practitioners (MPs) and nurse practitioners (NPs) in general, and privately practising NPs (PPNPs) in particular, in relation to collaboration, control and supervision in Australia, as well as to explore the difficulties reported by PPNPs in establishing mandated collaborative arrangements with MPs in Australia. In order for the PPNPs to have access to the Medicare Benefit Schedule (MBS) and Pharmaceutical Benefits Scheme (PBS) in Australia, they are required, by law, to establish a collaborative arrangement with an MP or an entity that employs MPs. This paper begins by describing the history of and requirements for collaborative arrangements, then outlines the nature of successful collaboration and the reported difficulties. It goes on to address some of the commonly held misconceptions in order to allay medical concerns and enable less restrictive access to the MBS and PBS for PPNPs. This, in turn, would improve patient access to highly specialised and expert PPNP care.
Read more
NEW PUBLICATIONS
Issue 171
Welcome to Issue 171 of Respiratory Research Review - a COVID-19 Special Edition
With this pandemic moving at lightning speed, we have produced a special edition of Respiratory Research Review to help you keep up to date with the latest research from around the world during this extraordinary time in New Zealand
The above information has been collated for the College of Nurses Aotearoa (NZ) Inc by Linda Stopforth, SNIPS and is provided on a weekly basis. It is current as at Tuesday 7 April 2020
If you have any feedback about content - what parts are most useful or what you would like added - please email admin@nurse.org.nz
For more up to date news and information follow SNIPS at:
Facebook: Snips Info
Twitter: @SnipsInfo