News bulletin 22 April
on 22 April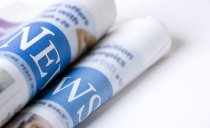 Welcome to the College of Nurses Aotearoa News Update.
No. 491 Wednesday 22 April 2020
Weekly news round-up of nursing and health information in New Zealand and internationally
NATIONAL NEWS
Doctors and nurses relieved at govt's cautious approach
Intensive care specialist Andrew Stapleton spent much of last month preparing for the worst case scenario - hospitals overwhelmed by critically ill patients.
Covid 19 coronavirus: Health Ministry's supply and distribution of PPE to come under scrutiny
The issues surrounding frontline workers' access to personal protective equipment including masks will be independently reviewed.
Coronavirus: Government funds $276m for PPE, Pharmac and residential aged care
The Government will spend almost $300m of its Covid-19 relief fund to buy more PPE, fund medicines and support residential aged care.
Coronavirus: Wellington nurse tests positive for Covid-19
A nurse in Wellington has tested positive for coronavirus.
On Friday, Capital & Coast District Health Board chief executive Fionnagh Dougan said Regional Public Health was working with the nurse to trace any community contacts.
Coronavirus: Tauranga Hospital mental health nurse tests positive for Covid-19
A staff member at Tauranga Hospital's mental health unit has tested positive for coronavirus.
Bay of Plenty District Health Board acting chief executive Simon Everitt said the staff member became symptomatic mid-week and was tested at a community based assessment centre on Thursday. A positive test result was returned Friday night.
Coronavirus: Damp, unchanged PPE likely behind Christchurch nurses getting Covid-19
Moist, unchanged personal protective equipment (PPE) likely led to three Christchurch health workers being exposed to coronavirus, an investigation has found.
Coronavirus: 41 Canterbury DHB staff isolating after contact with confirmed cases
Dozens of Canterbury District Health Board (CDHB) staff have gone into isolation after coming into contact with colleagues infected with coronavirus.
Nursing staff not to blame - NZNO
The New Zealand Nurses Organisation (NZNO) is disappointed that nursing and other health care staff are being blamed for bringing COVID-19 into ...
Coronavirus: Why aren't we giving health workers more Covid-19 protection?
(That includes nurses, doctors, support and care workers and medical ... shocking reports that Auckland nurses have been asked to recycle masks.
Coronavirus: Only one call away - at the other end of New Zealand's Covid-19 hotline
Sheryl Fife is a close confidant to many, but few have ever seen her face.
The self-confessed "gypsy" is the real-life characterisation of an old adage that exists in the medical fraternity - nursing isn't a job. It's a calling. And she's been answering the call on and off for more than a decade.
Two nurses go out of their way to protect kaumātua from flu
A pair of nurses have been praised for their dedication and leaving the safety of their own medical practices, to administer flu vaccines for senior citizens in Rotorua.
Covid 19 coronavirus: Former WHO worker hopes pandemic response will bring more healthcare ...
A former World Health Organisation (WHO) nurse who has worked through disasters and pandemics hopes New Zealand's response to the pandemic ...
Covid 19 coronavirus: Up to 30,000 surgeries called off during lockdown
Hospitals deferred thousands of operations as they prepared for a possible wave of Covid-19 cases - and to minimise contact under alert level 4.
AGING AND AGED CARE
Residential aged care sector understaffed - union
A union representing residential aged care workers says there has been no consultation from the Ministry of Health on what an extra $26 million in funding is for.
Why rest homes will get millions from taxpayers
A taxpayer top-up for residential care homes to be announced today should spark a broader conversation. David Williams reports
Aged care funding 'inadequate and lacks accountability'
Yesterday's aged care funding boost announced to deal with COVID-19 will be a band aid solution unless safe staffing and comprehensive regulation are a part of the solution.
CANCER
Covid 19 Coronavirus: Bowel cancer screening remains on hold during alert level 3
Bowel cancer screening will remain on hold when New Zealand enters alert level 3 on Tuesday, sparking fears some patients could be falling through the cracks.
CORONAVIRUS/COVID-19
Health inequalities among Māori, Pasifika factor in lockdown extension - PM
The vulnerable health of an urbanised Māori and Pasifika population was among reasons for extending the country's alert level 4 lockdown, the prime minister says.
Major study out on effects of Covid-19 lockdown
New Zealanders are proving resilient during the current lockdown but there has been a rise in levels of mental distress, according to the New Zealand Attitudes and Values Study (NZAVS).
Covid 19 coronavirus: Contact tracing audit finds system 'beyond capacity'
Regional public health units were overrun and unable to trace enough people likely exposed to Covid-19, even when there were fewer than 100 suspected cases of the virus a day.
Asymptomatic Covid-19 cases ring alarm bells overseas but is it a problem in New Zealand?
Limited data from overseas is raising the possibility large numbers of people are carrying the Sars-CoV-2 coronavirus without any symptoms, but community testing in New Zealand in recent days has turned up no similar asymptomatic cases here.
NZ cannot afford to wait for Covid-19 vaccine, scientists say
Some of the country's top scientists are calling on the government to urgently invest millions into research and development of Covid-19 vaccines.
Covid-19 deadlier for Māori, Pasifika - modelling predicts
Covid-19 could be twice as deadly for Māori communities if the virus spreads in New Zealand - and the risk is even higher for older Māori and Pasifika, new research has found.
Coronavirus: Concern Covid-19 will thrive in New Zealand's cold, damp homes
New Zealanders are staying at home to stop the spread of coronavirus – but for some people, their homes could put them at greater risk of infection.
FDA Approves New Way to Decontaminate N95 Face Masks
HealthDay News — The second emergency use authorization to decontaminate N95 face masks and equivalents for reuse by hospital health care workers has been issued by the U.S. Food and Drug Administration.
Covid 19 coronavirus: WHO says no evidence virus survivors are immune
There is currently no evidence to support the belief that people who have recovered from coronavirus then have immunity, the World Health Organisation says.
Coronavirus: Social distancing likely to be in place until vaccine is ready - virologist
It will be very difficult to eliminate Covid-19 completely from circulation in New Zealand when so many cases are believed to be asymptomatic, a leading UK virologist says.
UK Study Links Covid Deaths To Poor Diet; AUT Dietitian Comments
Obesity, type 2 diabetes and risk factors linked to poor diet, is the root cause behind increased death rates from coronavirus according to UK study
Modelling COVID-19 In New Zealand - Expert Reaction
Mathematical models are being used by governments around the world to predict and respond to the spread of COVID-19.
Lack of health literacy undermines COVID-19 prevention
The public has had to acquire and process health information and change their behavior quickly as COVID-19 has spread, and those with low health literacy are less likely than those with a greater understanding of health terms to comply with prevention guidelines, write Leena Paakkari and Orkan Okan. Ethical viewpoints, behavioral choices and the propensity to spread misinformation are components of health literacy that contribute to the success or failure of prevention efforts, they write.
CULTURAL SAFETY
COVID 19: Ramadan 2020 – Effects On NZ Muslim Faith
Those exempt include young children, anyone who is sick, travellers, women who are pregnant, nursing or menstruating. Ramadan is regarded as the ...
EDUCATION
MySkill Partners With MSD For Free Health Courses
This initiative aims to provide free access to higher education for all New Zealanders, and a pathway for more people into a health job, and boost the sector especially during the battle against COVID-19.
Witt to offer course upskilling healthcare workers for trauma
In an emailed statement, Witt School of Nursing, Health and Wellness director ... for the mental health, addiction and disability sectors in New Zealand.
HEALTH TECHNOLOGIES
Health Forum NZ Launched In Response To Covid-19
Health Forum NZ is a platform for connecting up all health professionals in New Zealand, says its founder Nathan Kershaw.
MENTAL HEALTH
As the first Pasefika person to become a mental health nurse practitioner, Makoni Havea is determined to make a difference for her community. Read more
Long-term mental health effects foreseen
Mental health services could be under pressure for years due to the effects of Covid-19, a situation akin to the aftermath of the Christchurch earthquakes, according to a mental health expert.
Asian Family Services (AFS) provides professional, confidential, nationwide face-to-face or telephone support to Asians living in New Zealand.

These services are offered in English, Mandarin, Cantonese, Korean, Vietnamese, Japanese, Thai and Hindi. An interpreter can be arranged for other languages.

Based in Auckland, AFS has 15 staff, including Chinese, Korean, Indian, Vietnamese and Thai.
PRIMARY HEALTH CARE
Covid 19 coronavirus: GPs have funding pulled just as they're bracing for the 'tsunami' after the lockdown
Funding to desperate general practices for the second half of lockdown has been blocked by the Government.
PUBLIC HEALTH
Coronavirus: Rates of flu-like illness drop to 'almost zero' during lockdown
Despite being in a global pandemic, New Zealanders are "probably as healthy as we've ever been" in terms of respiratory illness heading into winter, the Director-General of Health says.
WORKPLACE
5 nurses on motivating teams during the pandemic
Question: What are your best leadership tips for motivating your nursing teams?
Connie Gonzales, RN. Nurse Manager, Critical Care at Covenant Medical Center (Lubbock, Texas): It is certainly tough to motivate everyone all the time, but you have to be willing to do whatever you ask each caregiver to do, first and foremost. I also like to ensure nurses have what they need to do their job and then let them do their job while giving them good quality feedback and helping them if they are drowning. I like to give a lot of positive feedback and then give feedback for improvements with kindness and love and keep the patient at the center of all discussions. It is also helpful to celebrate big and small accomplishments as much as possible.
ARTICLES OF INTEREST
COVID‐19 and student nurses: a view from England
Jackson et al (2020) have recently described the extraordinary times we face as a result of the Covid‐19 pandemic. As we write, the number of cases and the associated mortality continues to rise. In the United Kingdom (UK) a number of 'Nightingale Hospitals' have been constructed within large arenas. Clinical staff who have recently left National Health Service (NHS) are being asked to return to practice to support the rapidly escalating numbers of patients, and nursing students from year two of their degree programme onwards are being asked to opt‐in to an extended placement working to further bolster the numbers of care staff available.
This article is not freely available but may be accessed through databases and libraries to which readers have access.
Aspinall, C., Parr, J.M., Slark, J. and Wilson, D. (2020), The culture conversation: Report from the 2nd Australasian ILC meeting: Auckland 2019. J Clin Nurs. Accepted Author Manuscript. doi:10.1111/jocn.15281
In December 2019, over a hundred people attended the second Australasian International Learning Collaborative (ILC) conference and summit. This was the first to be held in Aotearoa Zealand, the land where cultural safety was developed, its origins being in nursing education. Perhaps not surprisingly, culture, cultural safety and the context of care featured highly in the presentations and workshops. Nurses were reminded to use their humanity to create a climate and culture in which patients and staff feel valued, safe and trusted.
A key outcome of the conference proceedings and workshops was the call for nurses and the ILC to work in partnership with indigenous groups to iterate the importance of the Fundamentals of Care framework and evaluate the impact of that on heath equity. Other important messages were to value establishing relationships, continue to talk about the fundamentals of care, to research and to own them. This report describes how ILC members and conference attendees learned, listened and worked on meeting the challenges of consistently implementing and applying the fundamentals of care in practice and its importance to education, research and policy. The takeaway message being, when this does not happen, nurses must speak up.
The above information has been collated for the College of Nurses Aotearoa (NZ) Inc by Linda Stopforth, SNIPS and is provided on a weekly basis. It is current as at Tuesday 21 April 2020
If you have any feedback about content - what parts are most useful or what you would like added - please email admin@nurse.org.nz
For more up to date news and information follow SNIPS at:
Facebook: Snips Info
Twitter: @SnipsInfo