News bulletin 29 April
on 29 April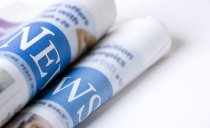 Welcome to the College of Nurses Aotearoa News Update.
No. 492 Wednesday 29 April 2020
Weekly news round-up of nursing and health information in New Zealand and internationally
NATIONAL NEWS
Toi Ohomai Health Centre staff volunteer to battle Covid-19
Nursing staff at Toi Ohomai Institute of Technology have been volunteering at health centres in Tauranga and Rotorua to help in the battle against COVID-19.
Coronavirus: What it's like to be a Covid-19 tester
She's making grown men cry every day but a Covid-19 tester says the long shifts in sweltering PPE are making a difference.
Covid 19 coronavirus: NorthTec nursing tutors prepared to work on frontline
"If the need arose, that is where I would want to be - supporting my nursing family to care for the people of Northland," she said.
Nurses complain of lack of consistency in Covid approach
Nurses warn conflicting approaches to dealing with Covid-19 between district health boards and even within hospitals are putting health workers' safety at risk.
Call for national Covid-19 response framework - NZ Nurses Organisation
Sandy Richardson from the College of Emergency Nurses and Steve Kirby from The College of Critical Care Nurses say health care workers and kai ...
Plunket home visits go online for lockdown, and could stay that way
Plunket nurse Carolyn Wood says the transition is taking some getting used to. "Nothing's quite the same as face-to-face but I think this is a really good ...
Coronavirus: Retired nurses, doctors sign up to help if Covid-19 pandemic worsens
Nearly 9000 retired or out-of-work medical workers have registered to bolster staff numbers if the coronavirus pandemic worsens, 54 of which have been deployed.
Nursing students use online avatar to help practical learning during lockdown
Nursing students are being given a taste of practical learning while stuck at home, using online virtual reality.
New Zealand Nurses Organisation president resigns after feud with executive team
He referred to an editorial published in the October edition of Kai Tiaki Nursing New Zealand, the organisation's monthly journal, which said the division ...
Pasifika health official stresses importance of medical appointments
A Pasifika health boss in New Zealand is warning of the importance of keeping on top of the medical requirements of older family members.
Concerns Māori are missing vital appointments due to Covid-19
Māori health services are concerned fewer patients suffering chronic health conditions are getting in contact with their GPs.
Waiting in pain: Coronavirus pandemic will add months to knee, hip surgery backlog
Some elective surgeries will be possible in alert level 3, but it may take months to catch up on the operations cancelled during the lockdown.


Covid 19 coronavirus: Health watchdog warns ordinary patients slipping through Covid-19 cracks
Patients referred to hospital with cancer and other potentially urgent conditions are being sent back to their GPs because of the Covid-19 pandemic.
Government Urged To Prioritise Access To COVID Supplies And Vaccine Ahead Of Trade Rules
... Association of Salaried Medical Specialists, New Zealand Nurses Organisation, called on WTO Members to stop trying to negotiate new agreements ...

AGING AND AGED CARE
Coronavirus: Ministry's refusal to allow testing of asymptomatic aged care residents criticised
Elderly patients eager to recover at rest homes across the country are spending unnecessary, extended spells in hospital because district health boards (DHBs) won't test them for Covid-19.
Coronavirus: $26m aged care top-up doesn't go far enough, industry leader says
The $26 million promised to the residential aged care sector to cover early coronavirus efforts doesn't go far enough, with 'tens of millions' more needed, an industry leader says.

The reality on the rest home floor
Frontline staff say it's just luck there hasn't been another catastrophe like at Rosewood rest home. David Williams reports


What is the worldwide impact of Covid-19 on nursing homes?
There have been nine deaths in New Zealand which went into lockdown on 25 March, but six of those deaths were residents of one rest home.

CANCER
Covid and cancer, treatment & diagnosis
Screening for some cancers can resume under a level 3 lockdown, but others will remain on pause, the Cancer Control Agency said.


Pharmac back-tracks on plan to fund lung cancer drug Keytruda
Pharmac has frozen plans to fund a lung cancer drug that would have helped at least 1400 patients a year, saying it can no longer afford to make the investment. Read more
CHILD AND MATERNAL HEALTH
'Get your tamariki and rangatahi checked by a health professional'
All tamariki/children and rangatahi/young people with a sore throat should be checked right away by a health professional because sore throats may be caused by COVID-19 or Strep A. Read more

CORONAVIRUS/COVID-19
'School is as safe as it's ever been' - infectious disease expert
Teachers are preparing for the return of some students this week. Only students up to year 10 whose parents have to resume work in level 3 ot those that really need to be in school can attend. Others must continue distance learning.

Covid 19 coronavirus: Why virus emerges in clusters, and how NZ plans to eliminate outbreaks after lockdown
After four weeks of some of the world's strictest lockdown conditions, New Zealand now records much higher numbers of people who have recovered from Covid-19 than new infections.
Coronavirus: Waikato Hospital's Covid-19 cliff never came
Pandemic plans at Waikato Hospital feature 20 extra intensive care spaces, but so far existing ICU beds haven't been full.
Almost Every Hospitalized Coronavirus Patient Has Another Underlying Health Issue, According to a Study of New York Patients
A new study of people in the New York City area who have been hospitalized with COVID-19 reveals that most of them have more than one underlying illness, some of which seem to increase their risk for bad outcomes. Read more
Why coronavirus emerges in clusters, and how New Zealand plans to eliminate outbreaks after lockdown
After four weeks of some of the world's strictest lockdown conditions, New Zealand now records much higher numbers of people who have recovered from COVID-19 than new infections.
'Only approved point of care test kits for Covid-19 will be imported and sold'
From today only approved point of care test kits for COVID-19 will be able to be imported and sold in New Zealand.
Medsafe is today banning the importation and sale of all point of care COVID-19 test kits, unless they gain approval. No point of care test for COVID-19 has so far been approved.
Coronovirus: Health expert says second Covid-19 wave possible
New Zealand could see a second wave of Covid-19 after Level 4, but another lock down is not the solution according to an Auckland Epidemiologist.
Covid-19: Reusable masks to add extra layer of protection for workers
New Zealand researchers have designed a reusable face shield for medical staff to wear while treating Covid-19 positive patients.
Why do some people with coronavirus get symptoms while others don't?
SARS-CoV-2, the coronavirus which causes COVID-19, has infected almost 2.5 million people around the world and claimed 170,000 lives.
Coronavirus: Amid Covid-19 restrictions, what happens if a natural disaster hits?
Under alert levels 4 and 3 for Covid-19 we should stay home in our bubbles as much as possible.
But there are exceptions - and they include emergency evacuation orders in a natural disaster such as a major quake, flooding or a tsunami.
Britain issues alert as possible new coronavirus syndrome emerges in children
Health officials in Britain are warning of a potential new coronavirus-related syndrome emerging in children, with a rise in cases prompting an urgent alert to doctors across the country.
COVID-19 vaccine likely 12 to 18 months away - expert
Development of a COVID-19 vaccine is at best 12 to 18 months away, according to University of Otago infectious disease specialist Professor David Murdoch.
CULTURAL SAFETY
Waitematā DHB staff open to rongoā Māori traditional medicine
About a third of Waitematā DHB staff support Rongoā Māori being made available to patients, a survey has found.

DHBs
'Canterbury DHB digitises Covid-19 workflows'
Canterbury DHB has accelerated the roll-out of its Cortex care coordination platform and developed new Covid-19 digital workflows.

EMERGENCY MEDICINE AND SERVICES
Covid 19 Coronavirus: Study shows significant drop in trauma admissions during lockdown
Despite a significant drop in ED injury-related admissions during lockdown, medical experts say hospitals should continue to offer full services until resource restrictions become "unavoidable".
FLU
Flu vaccine 2020: Record number of Kiwis get jabs, twice as many as 2019
Over half a million Kiwis have had their flu jabs this year – while more than 700,000 doses remain around the country.
HEALTH SYSTEM
Coronavirus: The health system is in crisis. Can Covid-19 help?
With a chronic illness, Lisa Childs frequently requires medical treatment. But her experiences in the hospital system have left her scarred: both physically and mentally.
Covid 19 coronavirus: 'Decades of neglect' of the health system have caused Covid-19 breakdown issues
Some of those on the health frontline say they are near breaking point as representatives laid bare their frustrations with the response to the Covid-19 crisis before the Epidemic Response Committee.
HEALTH TECHNOLOGIES
DHBs take outpatient appointments online
District health boards say that by using digital technology, they have processed thousands of outpatient appointments that would have been cancelled during the lockdown.
Virtual Appointments Ensure Continuity Of Care During COVID-19 Pandemic
Thousands of outpatient appointments that would normally have been cancelled during the COVID-19 lockdown have been able to go ahead due to the use of digital technology.
HOUSING AND HOMELESSNESS
Forty percent of Pasifika people in crowded housing
Nearly four in 10 (38.5 percent) of Pacific people are living in over crowded houses, according to data just released from the 2018 census by Stats NZ.
Government announces $100m for housing homeless
The government has announced an extra $107.6 million to help vulnerable people in need of housing.
MENTAL HEALTH
Calls and txts to mental health line almost doubles
Calls and texts to the government's free national mental health helpline have risen sharply since the start of alert level 4.
PRIMARY HEALTH CARE
GPs fear for jobs, midwives feel ignored from government support
Community healthcare providers say they are being shortchanged during the Covid-19 crisis, and it'll be services that suffer.
PUBLIC HEALTH
Meningococal disease: Young adults now 'high risk', need to be vaccinated again
People aged 13 to 29 who were immunised during the last meningococcal disease epidemic are entering a "high risk" age group and need to be re-vaccinated to maintain protection, a health expert says.

RURAL HEALTH
Rural GP Network secures more support for rural general practice
The New Zealand Rural General Practice Network has brokered an agreement with the Ministry of Health to extend locum support to keep vulnerable rural general practices operating as they come under mounting pressure as a result of Covid-19.
SOCIAL HEALTH
Coronavirus: New 'underclass' caused by Covid-19, Salvation Army says
The loss of income, housing and jobs as a result of Covid-19 will create a whole new "underclass of social need", according to a new report.

INTERNATIONAL NEWS
Is a 'culture of keeping quiet and working hard' costing Filipino nurses their lives?
Social factors that may be putting Filipino nurses at greater risk from COVID-19


WELLBEING
Nurse burnout, stress from COVID-19 pandemic pose challenge for leaders
Leading during a crisis requires strength, perseverance and calm. The COVID-19 pandemic created a demand on healthcare professionals that led to nurse burnout, feelings of conflict, guilt and overwhelming stress and anxiety
8 Ways Successful People Master Resilience
Giving up is the most common form of failure.
Resilience is an amazing skill that helps us recover quickly from difficulties. If you are resilient, you have an innate ability to keep getting up when life knocks you down. You have learned how to bounce back and keep going.
Nursing Standard podcast: how nurses can protect their own well-being – even in a crisis
In this special podcast, RCNi senior nurse editor Richard Hatchett and guests Daniel Madigan, Caroline Barratt and Dan Martin, discuss burnout, mindfulness and how to stay fit
WORKPLACE
Now more than ever, leadership is critical for the nursing community. Listen to Jeff Doucette, SVP & CNO of Thomas Jefferson University Hospitals speak on leadership qualities for the future.
Transformational leadership: Florence Nightingale's legacy
The details of Florence Nightingale's work that earned her global veneration are well known. Her pioneering work in the Crimea War catapulted her to a demigod status. The most often heard eulogy is how her efforts led to legendary improvement in infection rates among the war wounded. Read more
ARTICLES OF INTEREST
Post-pandemic clinical nursing education: The value of academic-practice partnerships
On March 26, 2020, a group of major nursing organizations in the United States endorsed a policy brief to encourage academic-practice partnerships during the COVID-19 pandemic. The brief noted that these models can be both innovative and valuable at this time in history and emphasized the need for safety and alignment of student and nurse skills and competencies.
Experiences of Māori of Aotearoa New Zealand's public health system: a systematic review of two decades of published qualitative research.
Graham, R. and Masters‐Awatere, B. (2020),
Australian and New Zealand Journal of Public Health. doi:10.1111/1753-6405.12971
Objective: This paper aims to synthesise the broader perspectives of Māori patients and their whānau (extended family, family group) of their treatment within the public health system. Our research question was 'What are the experiences of Māori in the public health and/or hospital system in Aotearoa New Zealand?'
REPORTS ONLINE
The psychological needs of healthcare staff as a result of the Coronavirus pandemic
British Psychological Society Covid19 Staff Wellbeing Group
This guide is for leaders and managers of health care services who need to consider the wellbeing needs of all health care staff (clinical and non-clinical) as a result of the Covid-19 outbreak. It offers practical recommendations for how to respond at individual, management and organisational level by using the expertise of practitioner psychologist and mental health professionals; anticipating the psychological reactions over time; and considering what people may need to recovery psychologically from this.
The above information has been collated for the College of Nurses Aotearoa (NZ) Inc by Linda Stopforth, SNIPS and is provided on a weekly basis. It is current as at Tuesday 28 April 2020
If you have any feedback about content - what parts are most useful or what you would like added - please email admin@nurse.org.nz
For more up to date news and information follow SNIPS at:
Facebook: Snips Info
Twitter: @SnipsInfo