News bulletin 6 May
on 6 May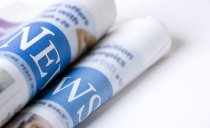 Welcome to the College of Nurses Aotearoa News Update.
No. 493 Wednesday 6 May 2020
Weekly news round-up of nursing and health information in New Zealand and internationally
NATIONAL NEWS
Keep on keeping on - Northland DHB
Ward 14 clinical nurse manager Joanne Leslie said initially her team felt quite a bit of angst around COVID-19 as they prepared for the unknown and she spent quite some time reassuring them they would be safe.
Covid-19 coronavirus: Whangārei nurses share pandemic challenges
While many Kiwis have been living and working from home during lockdown, Whangārei Hospital's medical ward staff did their best to stick to business as usual while facing the Covid-19 pandemic.
Covid 19 coronavirus: 'No distancing' at Waitakere Hospital where nurses infected says visitor
NZ Nurses Organisation kaiwhakahaere Kerri Nuku said hospital staff should keep a distance between themselves as much as possible, but there ...
Waitematā DHB creates work 'bubbles' to curb spread of Covid-19
Waitematā District Health Board (DHB) is creating work 'bubbles' to limit staff movements at hospitals dealing with Covid-19 patients.
Hawke's Bay public health nurse appointed to national committee
Liz Read, a DHB public health nurse and manager leading the public health operations response for COVID-19 in Hawke's Bay, has been appointed to the national Contact Tracing Assurance Committee (CTAC).
Ara Health Practice Department Gives Back To Its Community
... New Zealand's response to COVID-19. Research has firmly established the links between quality nursing, health care and positive patient outcomes ...
Coronavirus: Healthcare workers make up 1 in 10 of New Zealand's Covid-19 cases
More than one in every 10 cases of coronavirus in New Zealand have been in healthcare workers.
Three more resignations at New Zealand Nurses Organisation
Three board members from the nurses union have resigned, following ex-president Grant Brookes who quit last week.
AGING AND AGED CARE
Inside Rosewood: The rest home with over half of NZ's Covid-19 deaths
New Zealand's Covid-19 mortality rate is the envy of the world. But it would be much better if it wasn't for one Christchurch rest home. MARTIN VAN BEYNEN reports.
Fridays figure strongly in the grim numbers coming from the Rosewood Rest Home and Hospitals in Christchurch. The first confirmed case of Covid-19 came on Friday, April 3. The first death was on Good Friday, April 10. The 10th death was on Friday, April 24.
CORONAVIRUS/COVID-19
Coronavirus: New Zealand wasn't ready for a pandemic
ANALYSIS: New Zealand scored just 54 out of 100 on an international assessment of pandemic preparedness in October. Marc Daalder investigates how we've nonetheless managed to weather the storm so far.
Coronavirus: Covid-19 is much more lethal than flu, antibody tests show
Results from novel coronavirus antibody tests have started to trickle in, and they bolster the consensus among disease experts that the disease it causes, Covid-19, is significantly more lethal than seasonal flu and has seeded the most disruptive pandemic in the past century.
Human Rights Commission makes 30 recommendations in report on Covid-19 response
The Human Rights Commission has strongly commended the government's response to Covid-19 but says more could be done to ensure the Treaty of Waitangi and human rights is at the centre of decision and policy making.
Covid-19 vaccine strategy needed, scientists say
There are urgent calls for the government to develop a national vaccine strategy, and someone to lead it, amid fears New Zealand could be at the back of the queue for any potential Covid-19 vaccine.
END OF LIFE CARE
Hospice and palliative care nurses focus on comfort, family support
Hospice and palliative care nurses, who can be found in many settings, keep the patients and their family units at the center of everything.
FLU
Ensure there's enough supply before getting flu vaccine if not high-risk - GP
There will be a shortage of the flu vaccine next week if practices don't get more stock, says chair of the NZ Medical Association.
Covid 19 coronavirus: DHBs 'need to take responsibility' for flu jab distribution, PM says
District health boards need to take some responsibility for getting 700,000 flu jabs to the places that need them, Prime Minister Jacinda Ardern says.
HEALTH TECHNOLOGIES
Coronavirus: New telehealth technology opens up access to care
Dr George Laking has become more aware of the tone of his voice when he speaks to cancer patients.
He is doing so via telemedicine — the new way of working adopted across the health sector
MENTAL HEALTH
Coronavirus: Mental Health Foundation and police push back on suicide spike rumour, says there is 'no evidence' rate has increased
Warning: This story deals with the topic of suicide.
Police and the Mental Health Foundation say there is no evidence to back a claim that suicides have increased during the coronavirus lockdown.
MIDWIFERY / MATERNITY
Coronavirus: Morale, sustainability issues plaguing midwifery sector 'exacerbated' by Covid-19 pandemic
Community midwives have been forced to pay for their own personal protective equipment (PPE) during the Covid-19 pandemic, the New Zealand College of Midwives says.
NURSE PRACTITIONERS
Why NPs are Especially Suited to Address Social Determinants of Health
A new report from national nonprofit The Root Cause Coalition finds important gaps when it comes to addressing the economic and social conditions that cause healthcare disparities in the United States — and notes that nurse practitioners in particular are ideally suited to take up the challenge
SOCIAL HEALTH
The shadow family violence pandemic - and the link to animal abuse
Analysis - Covid-19 presents additional risks to already-vulnerable people and to their pets, which may be the only source of trusted companionship and love in an abusive relationship.
WELLBEING
Dealing with stress in a resilient way
No two people respond to adversity the same way.
Some folks embrace the challenge and figure things out for themselves. Others, the majority of us, need to help from experts to help us navigate the problems we are facing related to stress and fear. One expert I have turned to is Sharon Melnick, Ph.D., a leading authority on stress resilience who did a decade's worth of research work at Harvard Medical School.
WORKPLACE
How to Persuade People to Change Their Behavior
Government and public health organizations have been tasked with the challenge of changing behavior — getting people to not only practice social distancing and shelter in place but do it for weeks and potentially months. Not surprisingly, almost everyone is relying on the standard approach to drive change: Tell people what to do. Issue demands like: "Don't go out," "Stay six feet apart," Wash your hands," and "Wear face masks."
Too much work and not enough time: Suggestions for the harried professional
Nurses are typically busy people, and the COVID-19 pandemic has added to our burdens. In many cases, we are home schooling children, and our significant others may be laid off from work, which creates financial constraints. Nurses may need to work extra shifts to care for higher numbers of patients. All of this often adds up to too much work and not enough time.
ARTICLES OF INTEREST
Who speaks for nursing? COVID‐19 highlighting gaps in leadership.
Daly, J., Jackson, D., Anders, R. and Davidson, P.M. (2020),
J Clin Nurs. Accepted Author Manuscript. doi:10.1111/jocn.15305
In many areas of the world, the discipline and profession of nursing has been strengthened through the efforts of strong and effective leaders in education, research and clinical practice. The Seventy‐second World Health Assembly designated 2020 as the International Year of the Nurse and the Midwife; not only to honour the 200th anniversary of the birth of Florence Nightingale, but also to recognize the contributions of nurses and midwives to the health and well‐being of the world's population. Recently, on World Health Day, the World Health Organisation (WHO) released the State of the World's Nursing 2020 report providing data on nursing globally (WHO 2020). The report also provides a compelling case for development of the global nursing workforce, investment in nursing education, jobs, and leadership. However, operationalizing these recommendations will require investment and support at all levels of government and across all health jurisdictions.
The above information has been collated for the College of Nurses Aotearoa (NZ) Inc by Linda Stopforth, SNIPS and is provided on a weekly basis. It is current as at Tuesday May 5 2020
If you have any feedback about content - what parts are most useful or what you would like added - please email admin@nurse.org.nz
For more up to date news and information follow SNIPS at:
Facebook: Snips Info
Twitter: @SnipsInfo