News bulletin 20 May
on 20 May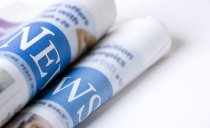 Welcome to the College of Nurses Aotearoa News Update.
No. 495 Wednesday 20 May 2020
Weekly news round-up of nursing and health information in New Zealand and internationally
NATIONAL NEWS
Nursing career a worldly affair
For Wairarapa Hospital Acute Services nurse practitioner Fay Tomlin, nursing ... Coming to New Zealand for a better work/life balance, Tomlin joined ...
Amber Crossan is Waikato's first home-grown nurse endoscopist
Waikato Hospital's Amber Crossan is one of New Zealand's first home-grown nurse endoscopists.
Her qualification means she is a clinical nurse specialist in endoscopy - the medical diagnostic technique where a thin tube with a powerful light and tiny camera at the end is inserted into the human body to get an inside view. It is used to investigate and diagnose diseases in a wide range of body parts, including the gut and colon.
Innovative new post-graduate nursing degree launched - Massey University
Nursing Council of New Zealand data reports there were 54,460 practicing nurses in March 2019, an increase on two years prior. Of that total, only ...
DHB reports violent and aggressive behaviour towards staff
A new report released by the Counties Manukau District Health Board shows violent and aggressive behaviour towards nurses and other health workers remains an ongoing problem.
INTERNATIONAL NEWS
The backbone of healthcare: 3 CNOs on what COVID-19 has taught us about nursing
The COVID-19 pandemic has underscored the crucial role nurses play in the U.S. healthcare system, bringing a spirit of strength, ingenuity and courage to their work.
Coronavirus: Four nurses on four continents tell their story
Nursing day is celebrated on 12 May, the birthday of Florence Nightingale, the founder of modern nursing. Línea. 'Mum told me she feels grateful to have ...
New WHO resource on enhancing competencies of primary care nurses
For International Nurses Day on 12 May, WHO/Europe has published a set of resources to support countries to invest in and strengthen their primary health-care nursing workforce.
BUDGET 2020
District Health Boards to get $3.9b increase over four years in 2020 Budget
District Health Boards are to get an extra $3.92 billion over four years and a one-off $282.5m to catch up on elective surgery after the Covid-19 disruption.
Budget not specific on opportunities
The New Zealand Nurses Organisation (NZNO) says it is pleased to see significant investment into health and disabilities in the 2020 Budget, but wants more detail about how that money will be targeted, lest important opportunities be missed.
CORONAVIRUS/COVID-19
Covid-19: Waitākere review finds PPE usability problems at hospital
Staff at Waitākere Hospital had little time to prepare a ward for Covid-19 patients and there were problems with the usability of the PPE provided to them, an urgent review has found.
Waitematā DHB deputy boss apologises to nurses over Covid-19 outbreak
Three nurses at Waitākere hospital likely contracted Covid-19 on a stressful day when a patient died and others were sick and confused, Waitematā DHB says.
Who knew what when Covid-19 reached Waitakere
One of the nurses, a 26-year-old, is still critically ill in a High Dependency Unit ... DHB covers both Waitakere and North Shore Hospitals in Auckland.
Covid 19 coronavirus: Inside the deadly St Margaret's rest home cluster
NZ Nurses Organisation kaiwhakahaere Kerri Nuku said nurses spoke up because they needed to feel safe. "It certainly was different from the gear our ...
Covid-19: Government to release contact tracing 'digital diary app' on Wednesday
An app to help people record where they have been on any given day will be released on Wednesday, Prime Minister Jacinda Ardern has announced
Covid 19 coronavirus: New Zealand's readiness for a second wave in focus
New Zealand remains on track to stamping out Covid-19 but a second wave of the potentially deadly virus can't be ruled out and health experts fear we may not be ready.
How to respond to a spike in Covid-19
Epidemiologist Simon Thornley says it's likely that there will be a rise in COVID-19 cases in New Zealand, so while there is no need to return to national lockdown, protection of vulnerable people is necessary
NZ Covid Tracer: What our coronavirus contact tracing app looks like
The Government's new coronavirus contact tracing app is now available to download – a day earlier than its official launch date.
FLU
'Massive' demand for flu vaccines, though less flu around due to Covid-19 lockdown
Tighter control needs to be brought in ahead of next year's influenza season to prevent panic buying and stockpiling leading to a vaccine shortage, experts warn.
Ministry of Health says influenza vaccine demand surpasses supply
The Ministry of Health says it does not have enough doses of influenza vaccine to meet increased demand brought about by Covid-19.
MENTAL HEALTH
Covid-19 mental health survey shows Kiwis are 'stressed but resilient' - Waikato Uni
Psychologists at the University of Waikato have released preliminary results of their survey looking into New Zealanders' mental health during the Covid-19 crisis, and the findings show Kiwis are feeling stressed but resilient.
Covid 19 coronavirus: Fewer suicides during lockdown level 4 - Chief Coroner
Warning: This article discusses suicide and may be upsetting for some readers.
The suicide rate dropped during the level 4 lockdown, the Chief Coroner says.
Judge Deborah Marshall is directly contradicting reports that there had been a rise in suicides during the 33 days of level 4, although she said she would not be releasing the actual figures for the period.
SOCIAL HEALTH
Government to invest millions into family violence services
The government is investing an extra $202 million over the next four years to strengthen family and sexual violence services.
Budget 2020: Free school lunches to feed 200,000 kids, as part of $1b Government support package
State-funded school lunches will feed 200,000 children by the middle of next year, as the Government pledges to spend roughly $1 billion on New Zealanders in need.
TOBACCO, DRUGS AND ALCOHOL
Smoking cannabis causes bronchitis and changes to lung function - research
Cannabis is harmful to the lungs, but in a different way to tobacco, causing significant respiratory symptoms such as bronchitis with evidence to suggest it can result in destructive lung disease -sometimes referred to as 'bong lung' - in heavy cannabis users.
CONSULTATION
The following documents matching your alert criteria have been published.
Public submissions are now being invited on this Inquiries
HISTORY
The healing power of data: Florence Nightingale's true legacy
When you're in a medical emergency, you don't typically think of calling a statistician. However, the COVID-19 outbreak has shown just how necessary a clear understanding of data and modelling is to help prevent the spread of disease.
ARTICLES OF INTEREST
The articles below are not freely available but may be accessed through databases and libraries to which readers have access
Learning to lead: A scoping review of undergraduate nurse education.
Scammell, JME, Apostolo, JLA, Bianchi, M, et al.
J Nurs Manag. 2020; 28: 756– 765. https://doi.org/10.1111/jonm.12951
Aim
To explore undergraduate student's preparation for leadership roles upon registration.
Background
Effective leadership is vital when promoting positive workplace cultures and high‐quality care provision. However, newly registered nurses are not always well‐prepared for leadership roles.
Incivility through the continuum of nursing: A concept analysis.
Patel, SE, Chrisman, M.
Nurs Forum. 2020; 1– 8. https://doi.org/10.1111/nuf.12425
The aim of this study is to explore the gap between incivility in the workplace and academia and develop a connection to the psychosocial distress effects on the victims.
Background
While incivility in nursing has reached epidemic proportions in the past decade, the current definitions of incivility are limited to the workplace or academia and lack consideration of the consequences related to the social well‐being of the victim
The above information has been collated for the College of Nurses Aotearoa (NZ) Inc by Linda Stopforth, SNIPS and is provided on a weekly basis. It is current as of Tuesday 19 May 2020
If you have any feedback about content - what parts are most useful or what you would like added - please email admin@nurse.org.nz
For more up to date news and information follow SNIPS at:
Facebook: Snips Info
Twitter: @SnipsInfo