News bulletin 3 June
on 3 June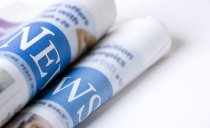 Welcome to the College of Nurses Aotearoa News Update.
No. 497 Wednesday 3 June 2020
Weekly news round-up of nursing and health information in New Zealand and internationally
NATIONAL NEWS
Māori nurses call for immediate intervention
Some Māori nurses are fed up with being racially attacked by their colleagues and are urging the New Zealand Nursing Council to intervene immediately.
Report Reveals Frontline Nurses' Struggles During COVID-19 Pandemic
A recently released report by the New Zealand Nurses Organisation (NZNO) and the McGuinness Institute highlights the challenges faced by NZNO ...
Two Wellington nurses have taken an ordinary campervan and turned it into a mobile clinic all in the name of influenza and COVID-19 research.
Pacific graduate on track to become nurse practitioner - Massey Uni
When Catherine Tu'akalau graduates this week, it will be another study milestone, but not the end of her academic journey. The registered nurse will be conferred with her Postgraduate Diploma in Nursing, but is already partway through her next degree. Her aim is to become New Zealand's first Pacific nurse practitioner focused on child health. And to do that, she needs her master's degree.


Covid 19 coronavirus: Jim Carney Cancer Treatment Centre staff and patients make sacrifices
Patients undergoing chemotherapy without family by their side, nurses sending kids away to live with whānau, and healthcare assistants not being able to give hugs.
These are some of the sacrifices staff and patients at Whangārei's Jim Carney Cancer Treatment Centre have had to make to keep the unit free of Covid-19.
Ministry funds will support extra nurse practitioners in rural services
The ministry is partnering with the New Zealand Rural General Practice ... "If a practice team has a nurse in their team who is ready for a nurse ...
Equity army: nurse prescribing now part of Hawke's Bay iwi health provider's kaupapa
Last year, Mr Munyaradzi graduated from the University of Auckland qualifying as a pharmacist prescriber. Why stop there? Ms Te Ngahue isn't resting ...

CORONAVIRUS/COVID-19
Review highlights need for cohesive national contact tracing system
Stronger links between public health units, the national tracing service, and Healthline are needed to improve rapid contact tracing, an independent review has found.
How were healthcare workers infected with Covid-19 at work? The Ministry of Health doesn't know
Under the Health and Safety at Work Act workers are entitled to work in environments where health risks are properly controlled. Kerri Nuku ...
Unions challenge WorkSafe on Covid-19 infections at Waitākere Hospital
Health unions are furious at WorkSafe's decision not to investigate how seven nurses caught Covid-19 at Waitākere Hospital.
Covid-19: Huge shortfall in public health investment, College of Public Health says
The number of doctors in public health units confronting the pandemic is in crisis, but there is no sign of a plan to fix the situation.

HEALTH INEQUALITIES
Coronavirus: Covid-19 will make health inequality worse, experts say
Māori and Pasifika health inequalities are expected to get worse as a result of the Covid-19 economic fall out and delayed access to healthcare.
MENTAL HEALTH
Asians reluctant to seek help for mental health reach out during pandemic
A charity providing mental health support to Asians says a government grant will help it meet the surging demand amid the Covid-19 pandemic but a long-term strategy is needed.

PUBLIC HEALTH
Health Ministry 'considering options' to increase funding
The Health Ministry says the 2020 Budget has not delivered any "additional sustainable" funding to bolster the country's public health units.
WELLBEING
Prevent Burnout With These Six Self-Care Strategies
What are the key methods that nurses and doctors use to prevent burnout? This question was at the heart of a recent study published in Critical Care Nurse, the clinical practice journal of the American Association of Critical-Care Nurses, "Self-care Strategies to Combat Burnout Among Pediatric Critical Care Nurses and Physicians." This face to face study, conducted among a group of 20 nurses and physicians in pediatric intensive care and intermediate care units, explores six different strategies to help mitigate burnout
WORKPLACE
CTU Launches Petition Calling For Safer Sick Leave In Light Of COVID-19
Everyone at work should be well. The experience of COVID-19 has taught us how important it is that people stay home when they are sick. It's best for them and it's best for everyone else in the workplace to stop bugs spreading.
ARTICLES OF INTEREST
Experiences of compassion fatigue in direct care nurses
a qualitative systematic review
Salmond, Erin …. Et al
JBI Database of Systematic Reviews and Implementation Reports: May 2019 - Volume 17 - Issue 5 - p 682-753
doi: 10.11124/JBISRIR-2017-003818
Objective:
The objective of this review was to describe the experiences of direct care nurses with work-related compassion fatigue.
Revising a clinical ladder program to increase nurse participation
Takeaways:
To recruit and retain a strong, competent nursing workforce, healthcare organizations must provide programs that support new nurses, beginning with onboarding and throughout their careers.
The ideal clinical ladder program should engage nurses, be easy to understand and navigate, and adapt to changing needs.
The purpose of PDAP is to encourage clinical nurses' professional development and advance their individual practice.
The above information has been collated for the College of Nurses Aotearoa (NZ) Inc by Linda Stopforth, SNIPS and is provided on a weekly basis. It is current as of Tuesday 2 June 2020

If you have any feedback about content - what parts are most useful or what you would like added - please email admin@nurse.org.nz
For more up to date news and information follow SNIPS at:
Facebook: Snips Info
Twitter: @SnipsInfo