News bulletin 1 July
on 1 July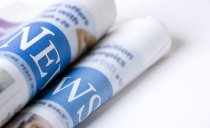 Welcome to the College of Nurses Aotearoa News Update.
No. 501 Wednesday 1 July 2020
Weekly news round-up of nursing and health information in New Zealand and internationally
NATIONAL NEWS
TAIRAWHITI public health nurses combined forces with population health staff to form a public health incident management team to focus on the ...


Pacific nurses continue to step up as Alert Levels step down
It may have decreased in New Zealand but around the world, it's still prevalent." He says the Pacific community has embraced the precautionary ...
Nurse facing misconduct charge for allegedly failing to give children medication
A nurse who allegedly failed to give sick children the medication they needed is being investigated.
Aged care nurses appeal for equity
The New Zealand Aged Care Association (NZACA) launched the ... inviting support for pay parity for aged care nurses by going to www.fairpay.org.nz, ...
Whanganui Hospital chapel's 50th anniversary celebrations postponed
The idea to have a chapel came from the first Nurses Reunion in Whanganui in 1958. Mrs Bennett gave 25 pounds to start a fund and then in 1964 ...
INTERNATIONAL NEWS
Nurses lack representation in media: recognize them for the leaders that they are
You see our raw, mask-reddened faces staring out from newspapers, magazines, and nightly news programs. You see us, shoulders hunched, tired, and ...
Article: Rapid Investment in Nursing to Strengthen the Global COVID-19 Response
An editorial published in the International Journal of Nursing Studies calls for rapid policy reform and investments in nursing to enhance efforts to confront the COVID-19 pandemic. Specifically, the authors, "put forward timely suggestions to improve the current state of health by addressing policy gaps that will more effectively contain and manage the COVID-19 pandemic – as well as future public health and humanitarian crises – by leveraging the skills of the global nursing workforce."

CORONAVIRUS/COVID-19
Covid 19 coronavirus: Ministry of Health raises criteria for testing
Covid-19 testing for every person with a cough or cold symptom has been dropped by the Ministry of Health.

PM Jacinda Ardern reveals $150m PPE purchase for border, isolation workers
Prime Minister Jacinda Ardern has revealed the government is spending $150m on the purchase of PPE, with a focus on supplying frontline border and isolation facility workers.
New Technology Aims To Reduce Risk Of Covid-19 Spreading In Hospitals
AUT researchers have secured funding to produce a prototype of a new humidifier aiming to reduce the spread of viruses like COVID-19 in hospital settings.
Researchers, medical professionals urge widespread mask-wearing
A group of researchers and medical professionals are urging fast action to establish a "mask culture" in New Zealand, so Kiwis are ready to adopt "mass masking" in the event of another Covid-19 outbreak.


Managed isolation: A system in need of fixing, but it ain't broke?
Power Play - The country's isolation and quarantine system isn't broken according to a new review but the litany of failures uncovered at the border shows it's anything but watertight.


Researchers developing ways to disinfect PPE for potential reuse
Lead researcher Dr Yvonne Anderson of the University of Auckland's Medical School says the project has the potential to protect frontline workers against virus transmission in hospitals and the wider community. It may also address what continues to be a 'river' of PPE going to landfill.
DHBs
Grey Hospital to open two years overdue and $54m overbudget
The long-awaited new hospital in Greymouth will open to patients on July 29, two years later and almost $54m more expensive than first expected.
DHB seeks to attract Māori students into health careers
A pilot scheme to attract more young Māori into health careers is being considered for West Coast communities.
Canterbury health staff asked to pitch savings ideas as board grapples with cost-cutting
Canterbury health workers have been asked to share cost saving ideas with their boss as the board grapples with how to trim millions from its budget.
Canterbury health authorities consider cutting staff costs to claw back deficit
Canterbury health authorities are under pressure to cut staff numbers as part of a drive to slash tens of millions of dollars from the budget.
Flood caused damage to new Christchurch hospital building
Experts are checking for mould growth after a flood inside Christchurch's new, and so far unopened, $500 million hospital building.
Huge spending planned to overcome Palmerston North Hospital's poor ratings
Palmerston North Hospital needs huge investment in its buildings and physical networks to raise it above its poor and very poor ratings.
ETHICAL ISSUES
Assisted Dying And The Social Consequences
"If assisted dying is supported in the upcoming election, it is imperative that it be introduced safely, to support those who want to access it and simultaneously protect our vulnerable populations," says Dr Rhona Winnington, a lecturer in nursing at Auckland University of Technology (AUT).


End of life choice comes down to compassion
OPINION: The pro-euthanasia lobby has advanced its marketing strategy for the End of Life Choice Act referendum with its campaign slogan #Yesforcompassion.
New book examines assisted dying ahead of 2020 referendum
The End of Life Choice Act will be put to the vote in a referendum alongside the national election, and has already been a hot subject of debate as it made its way through parliament.
FLU
New H1N1 Influenza Virus Detected - Expert Reaction
A Chinese and British research team has identified a new H1N1 influenza virus in pigs.
HEALTH RESEARCH
Otago scientists secure more than $26m for health research
University of Otago, Wellington infectious diseases expert Professor Michael Baker has received almost $5 million from the Health Research Council for a programme investigating the connection between infectious diseases and long-term conditions, something he was planning well prior to the outbreak of Covid-19.
MENTAL HEALTH
Be part of the world's first treatment app for gambling
A new mobile app named Manaaki is described by Gayl Humphrey, the study lead from the National Institute for Health Innovation (NIHI) at the University of Auckland, as "a support package in your pocket" for people seeking help with gambling harm.
PRIMARY HEALTH CARE
Unemployment rise prevents Māori from accessing health services
The CEO of a Whakatāne health provider says Covid-19 layoffs continue to affect whānau.
GPs' financial strain a function of funding system, researcher says
Some general practitioners were put under so much financial strain during the Covid-19 lockdown that they started to talk about giving up – but one researcher says it's a function of the way the industry had chosen to be funded.
RESPIRATORY
NZ Adolescent and Adult Asthma Guidelines 2020
The purpose of the Asthma and Respiratory Foundation NZ Adolescent and Adult Asthma Guidelines is to provide simple, practical and evidence-based recommendations for the diagnosis, assessment and management of asthma in adults and adolescents (aged 12 and over) in a quick reference format.
TOBACCO, DRUGS AND ALCOHOL
High Alert website launch - Ministry of Health
An early warning system has been launched today to help reduce drug harm in New Zealand communities. Available at www.highalert.org.nz the system helps identify where drug harm is occurring, provides evidence and understanding of outbreaks of harm, and in some cases anticipates potential harm related to drug use.
MINISTRY OF HEALTH REPORTS
PHU Contact Tracing "Deep Dive": Rapid reports
Contact tracing is a vital part of our fight against COVID-19. Effective contact tracing helps to prevent potential onward transmission, raise awareness about the disease and its symptoms and supports early detection of suspected cases. Ensuring robust contact tracing is a priority piece of work for the Ministry.
Guidance for the rehabilitation of people with or recovering from COVID-19 in Aotearoa New Zealand
The purpose of this document is to highlight the complexity and potential long-term needs of people recovering from COVID-19 and to demonstrate the importance of the allied, scientific and technical workforce in reducing the short- and long-term health and wellbeing implications of COVID-19 infection.
ARTICLES OF INTEREST
EUPRON: nurses' practice in interprofessional pharmaceutical care in Europe. A cross-sectional survey in 17 countries
De Baetselier E, Van Rompaey B, Batalha LM, et al
BMJ Open 2020;10:e036269. doi: 10.1136/bmjopen-2019-036269
Objectives Safe pharmaceutical care (PC) requires an interprofessional team approach, involving physicians, nurses and pharmacists. Nurses' roles however, are not always explicit and clear, complicating interprofessional collaboration. The aim of this study is to describe nurses' practice and interprofessional collaboration in PC, from the viewpoint of nurses, physicians and pharmacists.
The above information has been collated for the College of Nurses Aotearoa (NZ) Inc by Linda Stopforth, SNIPS and is provided on a weekly basis. It is current as of Tuesday 30 June 2020
If you have any feedback about content - what parts are most useful or what you would like added - please email admin@nurse.org.nz
For more up to date news and information follow SNIPS at:
Facebook: Snips Info
Twitter: @SnipsInfo