News bulletin 15 July 2020
on 15 July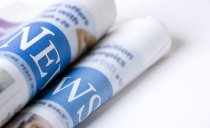 Welcome to the College of Nurses Aotearoa News Update.
No. 503 Wednesday 15 July 2020
Weekly news round-up of nursing and health information in New Zealand and internationally
NATIONAL NEWS
Lead chaplain at Hawke's Bay Hospital now published author
Barbara Walker has a Queen's Service Order (QSO) and is a fellow of the New Zealand College of Nurses Aotearoa. She has spent 20-plus years as an aid worker and missionary nurse and midwife in often appalling conditions in war-torn and disease-ravaged countries and in mission hospitals in Africa. Barbara has a Masters in Medical Anthropology and is now a published author.
International Year of the Nurse and Midwife: Michaela - Hawke's Bay DHB
I just love it here and have already had so many opportunities to expand my knowledge which is fantastic."


Mother of three pursues nursing degree to fix inequities for Māori
Motivated by the Oranga Tamariki uplifts of children and her own personal experience, mother of three Dana Chandler from Ngāti Ranginui is on a mission to fix the inequities Māori face in the healthcare system.
Auckland nurse struck off for failing to give children medication
A nurse who failed to give sick children medicines and fabricated patient records has been struck off.
Whanganui DHB offers infection control sessions to Air Chathams airline and businesses
Both nurses recently flew to Auckland to teach "donning and doffing" and other tips in the Air Chathams hangar for the Covid-19 pandemic and beyond ...
Go Local! Rotorua Blankets with Love spreads warmth this winter
Plunket nurses are going into homes all the time where warm clothing and blankets are needed for children. A lot of families are doing it rough at the ...
Kiwi nurse fighting Covid in conflict zones
The Kiwi nurse working in conflict zones, helping war-wounded, and improving hospital systems was forced to do a major pivot when Covid-19 hit Afghanistan. Gail Corbett tells Laura Walters about living her life in some of the world's most dangerous places, and what keeps her going back.
INTERNATIONAL NEWS
Injections much safer when nurses use revamped guidelines
Injections are two-and-a-half times safer when nurses use revamped guidelines.


Pacific healthcare workers set to benefit from new on-air initiative
Pacific healthcare workers set to benefit from new on-air initiative ... A radio programme supporting frontline healthcare workers will be soon be heard ... the region," New Zealand High Commissioner to Fiji, Jonathan Curr said.
CORONAVIRUS/COVID-19
How COVID tests are becoming a lot less uncomfortable—and safer for nurses
Early COVID-19 tests felt like "getting poked in the brain," and the process also put healthcare workers at serious risk of infection. With new collection methods, that's changing.
Covid-19 testing rates drop: 'People can fall into a bit of complacency'
Doctors are backing government calls to keep doing thousands of Covid-19 tests each day to ensure the community's free of the virus.
Helen Clark to head WHO panel to review handling of Covid-19 pandemic
The World Health Organisation (WHO) said on Thursday it was setting up an independent panel to review its handling of the Covid-19 pandemic and the response by governments worldwide.
National vaccination tracking system too decrepit for Covid-19 vaccine rollout
The national tracking system critical to safe vaccinations is too decrepit to handle a Covid-19 vaccination campaign, worried experts say.
Study: 'Silent' Transmission the Top Driver of COVID Outbreaks
Curbing asymptomatic and presymptomatic cases of COVID-19 is critical to controlling the coronavirus pandemic, a new analysis shows.
Covid 19 coronavirus: What doctors found in 'almost every organ' of Covid victims
Doctors have revealed fresh details on the terrible toll taken on the body by Covid-19, releasing the results of autopsies of those who have died in the pandemic.
Covid 19 coronavirus: Cases are rising globally, yet fewer people are dying
Whether the world is in a second wave of the pandemic or still in the grip of the first is up for debate. But what is for sure is something remarkable has changed with more recent Covid-19 infections: fewer people appear to be dying.
DENTAL CARE
Refined starches linked to tooth decay in children
White bread and noodles are ranked highly alongside cereals and soft-drinks as the main causes of tooth decay in children, a new study has shown.
DHBs
Anti-bullying campaign launched at Taranaki District Health Board
More than 18 months after a staff survey identified bullying as an area of concern, Taranaki District Health Board has launched a campaign to combat it.
Investment coming to to help GPs help SDHB with Covid-19 recovery
Southern GPs would be happy to help the Southern District Health Board catch up on work, but they'll need more investment, WellSouth chairman Doug Hill says.
Leaky South Auckland hospital building reclad work soars to $60m
The cost of recladding the outside of leaky hospital buildings in South Auckland has jumped to more than $60m.
HEALTH SYSTEM
Government appointment 'best way' to get Māori on health boards, reps say
Māori health representatives in Marlborough say government appointed health boards may be the "best way" to get Māori on health boards.
MENTAL HEALTH
Government announces $32m in funding for drug and alcohol addiction services
Services to help those with drug and alcohol addictions are set to get an extra $32 million in funding over the next four years.
$25m boost to mental health services for tertiary students
A $25 million mental health package for tertiary students is on the way in order to give them the support they need to manage Covid-19 related stress.
Coronavirus: Mental health admissions will spike post-lockdown – DHB
An increase in demand for mental health services is expected as people grapple with unemployment and the pressures of the post-coronavirus lockdown environment.
UN Expert Calls For Global Ban On Practices Of So-called 'Conversion Therapy'
Practices known as "conversion therapy" inflict severe pain and suffering on lesbian, gay, bisexual, trans and gender-diverse (LGBT) persons, often resulting in long-lasting psychological and physical damage, a UN expert told the Human Rights Council while calling for a global ban.
The World Must Change The Way Mental Health Challenges Are Addressed, UN Expert Says
A UN human rights expert has urged States, the civil society, psychiatric organisations, and the World Health Organisation to change the way we understand and respond to mental health challenges.


PHARMACY
PHARMAC to remove medicine dispensing restrictions
Most funded medicines will return to all at once dispensing because PHARMAC is removing most of the temporary dispensing restrictions put in place to manage supply during COVID-19. The change will be effective from midnight Friday 31 July 2020.
PUBLIC HEALTH
What must do to tackle our dreadful rheumatic fever record
OPINION: If there's one disease that speaks directly to the state of the New Zealand health system, it's rheumatic fever. It's like a canary in the coal mine of our health system's care of children, and right now things aren't looking good for the canary.
SOCIAL HEALTH
The homeless are most likely to be fed anti-depressants when reaching out for help, new research suggests
Again and again, homeless people tell their story to officials and agencies. The most common thing they get back, new research suggests, is a script for anti-depressants. National Correspondent Florence Kerr reports.
TOBACCO, DRUGS AND ALCOHOL
Pregnancy labels on alcohol to be mandatory, unless blocked by Australia
Mandatory labelling of alcohol outlining the dangers of drinking while pregnant have been pushed for since the 1990s. So, what's been holding it back? Bridie Witton reports.
Smokers support smokefree goals - Otago Uni
Most people who smoke or have recently quit smoking support New Zealand's goal of becoming a smokefree nation by 2025, researchers at the University of Otago, Wellington have found. They also support many of the specific measures that smokefree practitioners and researchers believe are needed to achieve the goal.
WORKPLACE
Think before you send: Professional conduct and online communication
Health practitioners, nurses and midwives are bound by a code of conduct and professional standards. In addition, many workplaces will have policies setting out the standard of behaviour expected with regard to electronic communication with colleagues, patients, clients and residents as well as their families and representatives.
ARTICLES OF INTEREST
Seeing the unseen: evidence of kaupapa Māori health interventions.
Māori in Aotearoa have higher incidence, prevalence and mortality from chronic disease. The dominant narrative in Aotearoa about the reasons for Māori ill health neglects to acknowledge the history of colonisation and failures of the health system, alongside the holistic view of health taken by Māori focusing on collective, whānau-based outcomes. This article, published in AlterNative, reviews health interventions for chronic disease that have a kaupapa Māori philosophical basis
The association between 12-hour shifts and nurses-in-charge's perceptions of missed care and staffing adequacy: a retrospective cross-sectional observational study,
Christina Saville, Chiara Dall'Ora, Peter Griffiths,
International Journal of Nursing Studies, Volume 109, 2020,
103702,
ISSN 0020-7489, https://doi.org/10.1016/j.ijnurstu.2020.103702.
Background
Due to worldwide nursing shortages and difficulty retaining staff, long shifts for nursing staff (both registered nurses and nursing assistants) working in hospitals have been adopted widely. Because long shifts reduce the daily number of shifts from three to two, many assume that long shifts improve productivity by removing one handover and staff overlap. However, it is unclear whether staffing levels are more likely to be perceived as adequate when more long shifts are used.
Objectives
To investigate the association between the proportion of long (≥12‐hour) shifts worked on a ward and nurses-in-charge's perceptions that the staffing level was sufficient to meet patient need. Read more
The article below is not freely available but may be accessed through databases and libraries to which readers have access
Barriers and facilitators to seasonal influenza vaccination uptake among nurses: A mixed methods study.
Flanagan, P, Dowling, M, Gethin, G.
J Adv Nurs. 2020; 76: 1746– 1764. https://doi.org/10.1111/jan.14360
Aim
To identify the barriers and facilitators to seasonal influenza vaccination uptake among nurses.
Background
Seasonal influenza causes significant mortality and morbidity among older people and high‐risk groups. Vaccinating nurses against influenza is an essential public health measure to reduce the burden of disease. Yet despite annual recommendations, nurses' influenza vaccine uptake rates remain low
The above information has been collated for the College of Nurses Aotearoa (NZ) Inc by Linda Stopforth, SNIPS and is provided on a weekly basis. It is current as of Tuesday 14 June 2020
If you have any feedback about content - what parts are most useful or what you would like added - please email admin@nurse.org.nz
For more up to date news and information follow SNIPS at:
Facebook: Snips Info
Twitter: @SnipsInfo