News bulletin 29 July
on 29 July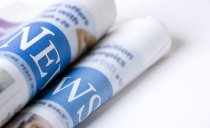 Welcome to the College of Nurses Aotearoa News Update.
No. 505 Wednesday 29 July 2020
Weekly news round-up of nursing and health information in New Zealand and internationally
NATIONAL NEWS
Sister was a hospice movement trailblazer
The principal pioneer of the modern hospice movement in Auckland, Sr Margaret Mary Timms, RSM, CBE, was farewelled in Auckland this month.
Many tributes were paid at a vigil celebration on July 14 and at requiem Mass on July 15 in St Mary's Convent chapel in Ponsonby. Sr Margaret died on July 11, aged 89.
AFTER spending more than 50 years nursing, the past 12 of which have been at Te Wiremu House, registered nurse Terry Rickard has stepped down from her role as the rest home's clinical services manager.
University To Lead National Partnership For Nurse Practitioner Training And Work Placement
The University of Auckland has been awarded a Ministry of Health contract, worth $18.6 million over four years, to lead the training and placement of ...
Taranaki nurse facing misconduct charges for racist Facebook comments and working while ...
The first related to posts she made on a New Zealand Nursing Organisation (NZNO) Facebook page in May 2019 when commenting on a news article ...
Coronavirus: Ministry of Health clamps down as nurses flit between managed isolation facilities ...
And so if someone did contract it and take it to vulnerable patients in another area, that would be disastrous," said Nurses Society of New Zealand ...
Dedicated nurses should be used in managed isolation facilities - union
Nurses should not be working in managed isolation and quarantine facilities as well as hospitals and aged care facilities, the Nurses Society says.
INTERNATIONAL NEWS
Nurses feel 'kicked in the teeth' after finding out doctors are getting a pay rise but they are not
Outraged by the news, one Welsh nurse decided to start a petition which has been signed by more than 37,000 people. Matthew Tovey is a nurse at ...
164 pairs of shoes placed on the lawn of the Capitol, representing nurses who died from coronavirus
Nurses came together in the nation's capital Tuesday to hold a vigil for colleagues who have died from the coronavirus. 164 pairs of nurses' shoes were placed on the lawn of the Capitol – one for every nurse who has died while working in the fight against COVID-19.
ICN releases a song for nurses everywhere to celebrate their incredible contribution to the health of the world
"I am a Nurse" is released as a tribute to the global nursing family and their steadfast commitment to the people they serve, especially in this extraordinary year.
Nurses must be prioritised once COVID-19 vaccine available
The International Council of Nurses (ICN) is calling on governments to acknowledge the essential role of nurses and other healthcare workers by prioritising them once vaccines against COVID-19 become available.
Getting Nurses to Stay: The Retention Challenge
What progress have we made in increasing nurse retention within the nation? This topic has been widely researched for many years globally. "Nurses" can be adult nurses who have been in the profession for many years or new graduate nurses. According to a study by Auerbach, et al (2015), "the number of nurses leaving the workforce each year has been growing steadily from around 40,000 in 2010 to nearly 80,000 by 2020." To tackle this problem, there are several points to consider. We must figure out why nurses leave, what interventions work, and what has changed in the past 10 years in retention efforts.
Data scientists design OR Black Box to monitor operating rooms and streamline surgeries
Two Columbia Data Science Institute (DSI) graduates work for the startup Surgical Safety Technologies (SST), whose data-driven technology is helping hospitals become more efficient, streamlined and safer.
CORONAVIRUS/COVID-19
Covid-19 testing: GPs want clear messaging from government
Doctors want the government to send a strong clear message to the public: if you are sick, have a Covid-19 test.
Auckland's Covid contact tracing capacity only half what it should be
Auckland's Covid contact tracing capacity is about half what it needs to be, with nine days until the deadline to have it up to scratch.
Covid 19 coronavirus: Vulnerable patients in danger - Nurses jump between ED and managed quarantine hotels
Nurses treating vulnerable patients in Auckland EDs have also been working lucrative shifts at managed quarantine hotels - sparking warnings from a nurses' union.
Coronavirus: Mobile data free for key Covid-19 information
Mobile data used for looking at key health information, including essential Covid-19 information, will no longer be charged for, Health Minister Chris Hipkins says.
‌DHBs‌ take‌ ‌over‌ ‌COVID-19‌ ‌health‌ ‌services‌ ‌in‌ ‌managed‌ ‌isolation‌ ‌and‌ ‌quarantine‌ facilities‌ ‌
Newshub
... ‌will‌ ‌be‌ ‌taking‌ ‌over‌ ‌the‌ ‌health‌ ‌services‌ ‌at‌ ‌New‌ ‌Zealand's‌ ‌managed‌ ‌isolation‌ ‌and‌ ... "Questions‌ ‌have‌ ‌been‌ ‌particularly‌ ‌raised‌ ‌about‌ ‌the‌ ‌risk‌ ‌nurses‌ ‌working‌ ‌in‌ ... ‌Nurses‌ ‌and‌ ‌other‌ ‌medical‌ ‌staff‌ ‌are‌ ‌trained‌ ‌professionals‌ ‌well-versed‌ ‌in‌ ...
DENTAL CARE
'Woeful' neglect of kids' teeth: Researchers call for Govt action
Experts have called for an end to the "woeful" neglect of Kiwi kids' dental health, with a major new study revealing one in seven of our 4-year-olds are suffering tooth decay. Read more
EDUCATION
Tertiary sector to feel effects of Covid for years to come
It's still too early to know the full extent of Covid's impact on the tertiary education sector, but universities alone are looking to lose $400m, Laura Walters reports
Waikato's med school hopes hang on election
Waikato has emerged as a front-runner to host the country's third medical school – but only if there's a change of government.
HEALTH FUNDING
National wants to build more infrastructure with less money, while growing economy
National won't commit to fully funding cost pressure increases in the health and education budgets should it win the election.
HEALTH INEQUALITIES
The myth of Māori exceptionalism
Fed up with the tragic statistics and realities that continue to surround her Māori people, Emma Espiner decided to push for change from within the system. At age 30 she began to retrain as a doctor – her motivation and experience is the inspiration for a new podcast Getting Better launching on RNZ tomorrow.
MENTAL HEALTH
Mental health concerns lead Kiwi families to seek professional help - study
More than half of Kiwi families have experienced depression, anxiety or stress in recent months with one in five of those affected seeking professional help according to new research. Read more
PRIMARY HEALTH CARE
Additional $100 Million Workforce And Resources Investment Needed For Future Of General Practice
"Primary Care in NZ is doing a really good job with innovations such as ... nurses in general practice, but overall, the number of nurses was too high. 2.
Family planning clinics across the country unable to keep up with demand
New Zealand's biggest sexual health organisation is failing to meet demand after Covid-19.
Family Planning chief executive Jackie Edmond said they were already struggling pre-covid and lockdown had caused more disruption, with long phone waits and clinics having no available appointments for months
Is Primary Care Locking In The Digital Gains Of Covid-19?
Ninety percent of general practices have returned to seeing the majority of patients in person, a new survey shows.
PUBLIC HEALTH
Health groups call for urgent action on prevention
Tobacco, alcohol and unhealthy food cause about one-third of the annual loss of healthy life-years, yet less than 0.5 percent of the health budget is spent on preventing this damage. What's more, virtually none of the policies for alcohol and unhealthy foods recommended by the World Health Organisation (WHO) and other expert groups have been implemented over the last decade.
REFERENDUM 2020
Cannabis referendum: What are we voting on in the Cannabis legalisation and control referendum?
In September, New Zealand will become the first country to vote in a national referendum on recreational cannabis. Here's what you need to know:
$20 million to help tackle meth addiction in the regions
The government is investing $20 million to reduce the damage methamphetamine use is causing to families and communities in the regions, including Otago.
WORKPLACE
Your team needs an empathetic leader during a crisis
During times of crisis, showing empathy for your staff and the broader world will help you pull together as a team and feel capable of moving through this challenging time together. Empathy helps you relate to one another on a personal level, showing you care deeply about each other as human beings. Thus, successfully navigating a crisis together can dramatically enhance trust and unity. Read more
MINISTRY OF HEALTH REPORTS
Mental health and wellbeing year in review
The Mental Health and Addiction Year in Review outlines the progress made by the Ministry of Health in the first year of delivering to He Ara Oranga: Report of the Government Inquiry into Mental Health and Addiction and the Budget 19's mental health, wellbeing and addiction initiatives.
The document outlines the activities delivered in year one to lay the foundations for change as well as building momentum that will enable new services to get up and running.
Indicator of potentially avoidable hospitalisations for the Child and Youth Wellbeing Strategy: A brief report on methodology
Potentially avoidable hospitalisations (PAH) is an indicator of health-related outcomes under the Child and Youth Wellbeing Strategy (the Strategy), and a Child Poverty Related Indicator (CPRI) required by the Child Poverty Reduction Act 2018. The Ministry of Health is required to provide PAH data as a part of ongoing annual reporting for the Strategy and the CPRI.
GENERAL REPORTS
Beyond the bursary: workforce supply
The current nursing workforce shortage is the result of successive governments' underinvestment in workforce supply. To get more people into the nursing degree and successfully graduating in England, the government must provide appropriate support both on entering and throughout the degree. This report details modelling undertaken by London Economics, which demonstrates the level of funding required to increase the number of applicants to the nursing degree
ARTICLES OF INTEREST
Learning from Florence Nightingale: A slow ethics approach to nursing during the pandemic.
Gallagher, A.
Nurs Inq. 2020; 27:e12369. https://doi.org/10.1111/nin.12369
This year marks the 200th anniversary of the birth of Florence Nightingale. It has also been named The International Year of the Nurse and the Midwife by the World Health Organization. This special year brings into sharp focus the pivotal role played by nurses in health promotion and responses to diverse health needs across the lifespan (World Health Organization [WHO], 2020). Within months of Nightingale's birthday anniversary—on 12 May 2020—and weeks of the WHO special year announcement, the globe was gripped by the COVID‐19 pandemic, and nurses were engaging with some of the most challenging ethical issues of our time.
Medication‐related incidents at 19 hospitals: A retrospective register study using incident reports.
Cottell, M, Wätterbjörk, I, Hälleberg Nyman, M.
Nursing Open. 2020; 00: 1– 10. https://doi.org/10.1002/nop2.534
To examine (a) when medication incidents occur and which type is most frequent; (b) consequences for patients; (c) incident reporters' perceptions of causes; and (d) professional categories reporting the incidents. Read more
The article below is not freely available but may be accessed through databases and libraries to which readers have access
Changing preceptorship to achieve better quality training and less attrition in newly qualified nurses
Renee Barrett
British Journal of Nursing, Vol. 29, No. 12: 706-709
The preceptorship period is of great importance in the career of a nurse, as he or she moves from being a student to a competent, accountable professional. Problems with the current preceptorship system for preceptors include not receiving adequate training—particularly in providing constructive feedback to preceptees. In addition, when a small number of nurses are repeatedly assigned preceptees to mentor, this can lead to burnout. Preceptees can feel overwhelmed by their first months as a newly qualified nurse (NQN) and can feel unsupported if a preceptor's teaching style or personality is unsuited to them. This can lead to attrition in the nursing workforce, a current problem. This article suggests a new way of organising preceptorship, by allowing preceptors to opt in to the scheme, providing a pool of energised and enthusiastic preceptors. In turn, NQNs could initially work with the pool of nurses before being given the choice of which preceptor to work with individually.
The above information has been collated for the College of Nurses Aotearoa (NZ) Inc by Linda Stopforth, SNIPS and is provided on a weekly basis. It is current as of Tuesday 28 July 2020
If you have any feedback about content - what parts are most useful or what you would like added - please email admin@nurse.org.nz
For more up to date news and information follow SNIPS at:
Facebook: Snips Info
Twitter: @SnipsInfo