News bulletin 5 August
on 5 August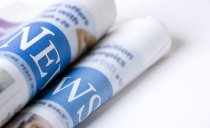 Welcome to the College of Nurses Aotearoa News Update.
No. 506 Wednesday 5 August 2020
Weekly news round-up of nursing and health information in New Zealand and internationally
NATIONAL NEWS
Auckland nurses who cared for the late Andy Haden 'overwhelmed by generosity'
All Black great Andy Haden looks set to leave another lasting legacy, this one for those who cared for him in his final days.
A Givealittle page set up for the nurses who were a "tower of strength" for the Haden family has raised more than $11,000 in five days.
Eradicating hep C one patient at a time | Counties Manukau Health
World Hepatitis Day is celebrated every year, on 28 July, to raise awareness about viral hepatitis.
For over 20 years, then Nurse Specialist and now Nurse Practitioner Jacqui Stone has treated people exposed to the hepatitis C (hep C) virus. Until last year, a cure wasn't possible for everyone and previous treatments had many side effects.


International Year of the Nurse and Midwife: Ange
Some 27 years later, standing in Hawke's Bay Hospital's Emergency Department (ED), where she is also rostered on the flight nursing team to transfer unwell patients between hospitals, Angela's outwardly warm personality and depth of knowledge shines. It's easy to see why her patients and staff place so much trust in her, but there are many layers to this incredibly talented nurse and the reason for her forging a career in emergency medicine lays with a special patient and her parents during a flight-transfer between Tauranga Hospital and Auckland some 15 years ago.
Maori Nurses And Maori Midwives Demand Urgent Legislative Change
New Zealand Nurses Organisation (NZNO) Kaiwhakahaere, Kerri Nuku represents the Maori nurses claim in the Wai 2575 Health Inquiry and well as ...
Nurse gets struck off for racist comments in first hearing of its kind - then walks out during karakia
The first of the charges related to comments Hugill made on a New Zealand Nursing Organisation (NZNO) public Facebook page in May 2019 when ...
Workshops introduce new HCAs to fundamental skills - Waikato DHB
"We built it from there," says Nicola Syrett, a nurse educator in the team. "The support we got was phenomenal - we had a nutritionist, physiotherapist ...
More Kiwis die from heart disease and cancer than Aussies
Kiwis will die earlier than their Aussie mates due to our higher rates of heart disease and cancer, new research shows.
INTERNATIONAL NEWS
Nursing: More than one in 10 posts vacant at end of 2019
More than one in 10 registered nursing posts in Northern Ireland were vacant at the end of 2019, with temporary staffing costing the health service £115m a year.
A virtual nurse practitioner led clinic during COVID-19
Never before have we seen such a rapid change in the way we practice diabetes education and management. This is a perspective from a nurse practitioner led clinic in South Australia.
Why caring for people with intellectual disability and/or autism is every nurse's business
A new $1.2 million national project is aiming to build the capacity of nurses in Australia to provide quality accessible care to people with intellectual disability and/or autism in mainstream health services.
NMC publishes principles of preceptorship
Geraldine Walters, Director of Professional Practice for the Nursing and Midwifery Council (NMC) said:
"We know that the transition from student to professional can be a time of both excitement and challenge, as these new professionals begin to put their skills and knowledge into practise.
COVID-19 opens up opportunities for disabled nurses
The COVID-19 pandemic has opened up opportunities for nurses with disabilities, according to the American Nurses Association's career-focused journal American Nurse. The feature includes accounts from disabled nurses, including Andrea Dalzell, who said: "It took a pandemic to get me on a floor."
Pursuit of 'short-term savings' left Northern Ireland with too few nurses
Key findings in the report compiled by Comptroller and Auditor General Kieran Donnelly include a big increase in nursing and midwifery vacancies from ...
Indian State With First-World Standards to Push Export of Nurses
"There will be demand for Kerala nurses and paramedics all over the globe.".
Innovative e-learning program will empower nurses to improve cancer care
An innovative e-learning programme developed by experts at the University of Huddersfield and University of Stirling will educate and empower nurses to improve cancer care
AGED CARE AND ELDERLY
Action plan to improve care for kuia, kaumātua in aged residential care
The Ministry of Health has released an action plan to address concerns and improve care for people living in aged residential care facilities.
CANCER
Cancer: Breast reconstruction rates much lower for Maori and Pacifika patients
Māori and Pacifika patients are far less likely to get their breast reconstructed after losing them to cancer than European women, a new study has revealed.
CORONAVIRUS/COVID-19
Coronavirus: DHBs don't know if staff moonlighting in managed isolation and returning to hospital ...
A Wellington district health board boss says she is confident none of her staff is moonlighting at Covid-19 isolation facilities, despite reports claiming it is going on.
Mass masking 'key' to planning for new Covid-19 outbreak
Everyone in New Zealand should have a reusable fabric mask and know how to use it in the case of a resurgence of Covid-19, an epidemiologist says.
Public health units now all using National Contact Tracing Solution
All twelve public health units are now using the same contact tracing software, the Ministry of Health says, after half had shunned it.
Covid 19 document release: More homelessness expected
Government agencies are warning we'll see more rough sleeping and overcrowding, emergency and public housing demand - due to Covid-19.
COVID-19 pandemic is "one big wave" says WHO
The COVID-19 pandemic that has gripped the world has to date infected over 16.95 million individuals and taken more than 665,000 lives. Now the World Health Organisation (WHO) has warned that this pandemic could cause a Tsunami of cases, and there is no scope for complacency in regions where numbers have declined
Coronavirus: WHO warns there may never be a 'silver bullet' for Covid-19, and there's still a long road ahead
As coronavirus continues to sweep around the world, bringing second waves of infections to major cities, the World Health Organisation warns that there's still a long road ahead.


Even Mild Obesity Tied to Significantly Worse COVID-19 Outcomes
HealthDay News — Obesity is a strong, independent risk factor for poor outcomes among COVID-19 patients, according to a study published July 1 in the European Journal of Endocrinology.
DENTAL CARE
Revealed: The dental funding proposals the Government wanted to keep secret
The Government has sat on a report outlining ways to improve access to adult dental care for almost two years without taking any action.
DHBs
Canterbury DHB holding 'emergency meeting' over staffing numbers, loses two senior executives
Canterbury health authorities are gathering in secret for an emergency board meeting to discuss staffing numbers.
DHB head's resignation a 'disaster' for public health - union
The chief executive of the Canterbury and West Coast District Health Boards David Meates has resigned.
Prime minister warned Canterbury's health services could implode
Canterbury's senior clinical leaders have pleaded with the prime minister to intervene in the region's health system, saying there is the potential for a catastrophic breakdown of health services.
Faulty Wairarapa hospital costing $1m to repair was built without peer-review and just two site visits
Wairarapa's faulty $30 million hospital was not built in accordance with plans, was not peer-reviewed before being granted a consent and the site was visited by a structural engineer just twice over the 14 months it was built.
Auckland City Hospital to get $262 million upgrade, Health Minister announces
Health Minister Chris Hipkins has announced $262 million will be used to replace 50-year-old infrastructure at Auckland City Hospital
How Auckland Hospital's $262m infrastructure upgrade will be spent
Auckland Hospital's ageing infrastructure has been given a $262 million boost to get it up to scratch.
New West Coast hospital opens after long delay and budget blowout
Greymouth's long-awaited new hospital is finally open to patients.
The new emergency department at Te Nikau Greymouth hospital and health centre on the West Coast opened its doors to the public on Wednesday at 7am.
DHB stands by decision to axe school doctors
Tairawhiti District Health Board will not reinstate free GP appointments at three Gisborne city high schools, board chairperson Kim Ngarimu says. Read more
FLU
Over Half Our Kaumātua Vaccinated Against The Flu
More kaumātua have been vaccinated this year than ever before as the result of a push to get more Māori immunised against influenza, Associate Ministers of Health, Julie Anne Genter and Peeni Henare announced today.
HEALTH RESEARCH
Fears research into exhausted health staff could be stymied
A world-renowned sleep research centre in Wellington has suffered a funding drop that jeopardises its standing.
HEALTH SYSTEM
New Zealand's health sector providing offshore appeal live never before
In a surprising twist, Covid-19 is delivering an unforeseen benefit to our health system; with a surge in skilled applicants wanting to work here
HEALTH TECHNOLOGIES
Healthspace upgrade set to benefit health sector decision-makers
A new online health data tool will make information much more accessible and easy for decision-makers to understand some of New Zealand's most important health information, say the researchers involved.
HEART HEALTH
Heart Foundation calls for cross-party Parliament support in health plan
The Heart Foundation is demanding urgent action to cut the number of people dying from cardiovascular disease.
MENTAL HEALTH
Loneliness spikes among New Zealand youth
Prolonged loneliness has hit high levels in New Zealand, particularly among young people, according to a new report.
Organisations launch website to end loneliness
The New Zealand Coalition to End Loneliness has launched a website in a bid to provide a resource for people who are feeling lonely. Read more
From tangihanga to maramataka: Using Māori astronomy in mental health
Ricky Solomon studied the faces of the young men on his embalming table and wondered what troubles they faced before they took their lives, and whether their deaths were preventable.
He, she or they? A question could save a life, GP says
Simply asking patients about their preferred pronouns can save their lives, an Invercargill GP says.
Gallagher Bassett launches Psychological First Aid Training
Gallagher Bassett (GB) is pleased to introduce Psychological First Aid (PFA) Training, a programme designed to support the emotional, psychological and social wellbeing of businesses and their workforce, at both work and home.
PHARMACY
PHARMAC considering a new way of contracting for medicines
Consultation has gone out today to health professionals and is available on PHARMAC's website for anyone wanting to have their say about our annual tender process and a proposal to modify our contracting arrangements.
PUBLIC HEALTH
10,000 Māori could have liver disease without knowing
A liver specialist is calling for national Hepatitis B screening for adult Māori. Dr Ed Gane says Hepatitis B is the No 1 cause of liver cancer.
Top doctor calls for mass hepatitis B testing for Māori, Asian and Pacific adults
A top doctor has called for mass testing of all adult Māori, Asian and Pacific Island people for hepatitis B, after new research finds rates of the disease are not decreasing.
Measles vaccination campaign set to begin this year
A vaccination campaign to plug a gap that leaves the country vulnerable to a deadly measles outbreak will begin this year, the government says.

Measles vaccine catch-up 'too late', doctor says
Pasifika doctors say a measles vaccination catch-up campaign is years overdue - and would have prevented last year's epidemic if it had been done on time.
REFERENDUM 2020
Euthanasia referendum: How assisted dying laws work around the world
New Zealand's impending referendum on the End of Life Choice Act – which would allow eligible people to end their life through assisted dying – puts us among a small but growing number of countries who have passed or have tried to pass similar laws.
Euthanasia referendum: Why Hospice NZ went to court over law
OPINION: New Zealanders will have to make a life-changing decision when they vote in the referendum on the End of Life Choice Act at the general election in September.
Explainer: Cannabis referendum
There are four big decisions to get ready to make in this year's elections. As well as picking a preferred party and candidate, voters will vote on the End of Life Choice Bill and whether they support a bill which would legalise cannabis. Here are the basics on the Cannabis Legalisation and Control Bill
STROKE
Treatment injuries for misdiagnosed strokes costing $1.5 million per year
ACC is paying out more than $1.5 million in compensation per year for treatment injuries relating to misdiagnosed strokes.
Strokes Will Cost New Zealand $1.1 Billion This Year
Strokes will cost New Zealand $1.1 billion this year according to a report released today by the Stroke Foundation of New Zealand. The research completed by the New Zealand Institute of Economic Research (NZIER) confirmed strokes have a significant impact on life expectancy and quality of life, and at current rates are likely to cost New Zealand $1.7 billion by 2038
WORKPLACE
5 tips to deal with workplace bullying
Bullying in the workplace can cause significant harm to a person's physical, emotional and mental wellbeing.
I want to write a literature review, where do I start?
Writing a literature review can be a deceptively tricky task, especially if it is your first time writing one. Asking yourself the question; 'what actually is a literature review?' is perfectly reasonable and a useful place to start.
MINISTRY OF HEALTH REPORTS
Whakamaua: Māori Health Action Plan 2020-2025
As kaitiaki of the system, the Ministry of Health has an important leadership role to play in creating an environment that enables Māori to live healthier, happier lives.
Whakamaua: Māori Health Action Plan 2020-2025 is the implementation plan for He Korowai Oranga, New Zealand's Māori Health Strategy – it will help us achieve better health outcomes for Māori by setting the government's direction for Māori health advancement over the next five years.
Whakamaua is underpinned by the Ministry's new Te Tiriti o Waitangi Framework, which provides a tool for the health and disability system to fulfil its stewardship obligations and special relationship between Māori and the Crown.
Whakamaua outlines a suite of actions that will help to achieve four high-level outcomes.
Whatua: Engagement for the development the Māori Health Action Plan 2020-2025
This publication is a companion document to Whakamaua: Māori Health Action Plan 2020-2025. It provides a summary of the insights gathered during an extensive engagement process in 2019 to develop Whakamaua.
GENERAL REPORTS
The psychology of loneliness: why it matters and what we can do
This report looks at how psychological approaches can help tackle loneliness. It is focused on older people but has lessons for all adults. It gathers the current research and evidence available to us about what we can learn from psychology, as well as making policy recommendations for how this learning can be applied and help the millions of lonely people across the UK.
ARTICLES OF INTEREST
Telephone nurses' strategies for managing difficult calls: A qualitative content analysis.
Eriksson, I, Wilhsson, M, Blom, T, Broo Wahlström, C, Larsson, M.
Nursing Open. 2020; 00: 1– 9. https://doi.org/10.1002/nop2.549
Aim
To describe telenurses' strategies for managing difficult calls.
Background
Telenursing is a growing and complex area and places great demands on telenurses' knowledge and skills and on their ability to communicate and listen. To become emotionally concerned is central to telenurses' experiences of difficult calls.
Supporting Australian clinical learners in a collaborative clusters education model: a mixed methods study.
van de Mortel, T.F., Armit, L., Shanahan, B. et al.
BMC Nurs 19, 57 (2020). https://doi.org/10.1186/s12912-020-00451-9
Nursing student numbers have risen in response to projected registered nurse shortfalls, increasing numbers of new graduates requiring transitional support and pressure on clinical placements. A Collaborative Clusters Education Model, in which Entry to Practice facilitators coach ward-based registered nurses to support students' and new graduates' learning, may address placement capacity. The research aim was to evaluate the acceptability of the Collaborative Clusters Education Model to stakeholders by examining their perceptions of the facilitators and barriers to the model in its implementation.
Predicting needlestick and sharps injuries in nursing students: Development of the SNNIP scale.
Bagnasco, A, Zanini, M, Catania, G, et al.
Nursing Open. 2020; 00: 1– 10. https://doi.org/10.1002/nop2.540
Aim
To develop an instrument to investigate knowledge and predictive factors of needlestick and sharps injuries (NSIs) in nursing students during clinical placements.
The above information has been collated for the College of Nurses Aotearoa (NZ) Inc by Linda Stopforth, SNIPS and is provided on a weekly basis. It is current as of August 4 2020
If you have any feedback about content - what parts are most useful or what you would like added - please email admin@nurse.org.nz
For more up to date news and information follow SNIPS at:
Facebook: Snips Info
Twitter: @SnipsInfo