News bulletin 26 August
on 26 August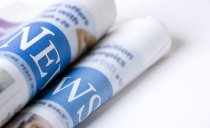 Welcome to the College of Nurses Aotearoa News Update.
No. 509 Wednesday 26 August 2020
Weekly news round-up of nursing and health information in New Zealand and internationally
NATIONAL NEWS
Can we manage hospital deficits without putting patients at risk?
OPINION: A number of district health boards have recently announced major budget deficits. The latest hotspot is Christchurch, where senior health leaders are quitting in droves while citizens protest in the streets to voice their concerns about how funding cuts will affect patient care and safety.
Hundreds of staff, nurses and services may be axed at Canterbury DHB
New nurses are first on the chopping block as the Canterbury health board seeks to slash spending.
Health network laments planned strike by nurses
Planned strike action by primary care nurses is "truly disappointing", WellSouth primary health network says.
Coronavirus: Frontline nurses preparing to strike 'stretched to the maximum'
Denise Moore is among about 3200 primary health care nurses who have voted to strike over pay. Trustworthy, accurate and reliable news stories are ...
Covid 19 coronavirus: Nurses continue to jump between ED and managed isolation, patient lives at ...
Cancer patients and critically ill children are being put in further danger due to Auckland hospital nurses continuing to work lucrative shifts at managed isolation hotels, a whistle-blower warns.
Nurse who performed indecent act on patient didn't initiate activity, Tribunal finds
A nurse who performed an indecent act over a hospital patient as three others slept nearby has been found guilty of misconduct - but a tribunal has found he didn't initiate the sexual contact.
INTERNATIONAL NEWS
Nurses 2.0 - The digital transformation of nursing
Healthcare IT News spoke to nursing and informatics experts to find out how exactly nurses have led the digital transition.
CANCER NEWS
University Of Waikato Study Finds Inequities In Bowel Cancer Treatment
Pacific patients least likely to get timely chemotherapy treatment
South Islanders most likely to receive timely chemotherapy treatment
COVID-19 / CORONAVIRUS
The 'yellow flag' case that shows why Covid-19 remains such a worry in Auckland
A man in his 30s turned up at hospital on Friday with symptoms. He's now in ICU. Nobody knows how he contracted the virus.
Amid the daily rush of numbers as Auckland's tally of active Covid-19 tops 110, one new infection has given Ashley Bloomfield particular pause for concern. It's another indication that the growing cluster in New Zealand's largest city still hasn't been fully contained.
Health Select Committee brought back to assess Covid-19 response
The Health Select Committee will reconvene next Wednesday, following pressure from the National Party and New Zealand First.
Community testing must continue long-term, GPs warn
As the government races to test 70,000 people in seven days, GPs are warning it must get community testing back on track long-term
Coronavirus: Is elimination still the best strategy?
A variety of strategies were put into use around the world to slow the spread of the novel coronavirus– but just how effective they have been is now one of the biggest questions for scientists and politicians.
Covid 19 coronavirus: Unexpected symptoms in some patients
People with Covid-19 are developing lesser-known symptoms than the more recognisable red flags of a cough, fever and sore throat, Australian doctors say.
Hospital rooms are increasingly seeing virus-infected patients presenting with unexpected symptoms such as headache and even conjunctivitis.
Research finds link between COVID-19 mortality and morbid obesity
The prevalence of morbid obesity in a population is associated with negative outcomes from COVID-19, according to an analysis by researchers at The University of Alabama of morbid obesity data and reported COVID-19 deaths in the United States.
Study: Many COVID-19 patients suffer cardiovascular damage even after recovery
One of the most harrowing effects of COVID-19 is severe damage to the lungs, which makes breathing hard or impossible for those who're severely affected.
Contact tracing apps not likely to control the spread of COVID-19
Contract tracing apps used to reduce the spread of COVID-19 are unlikely to be effective without proper uptake and support from concurrent control measures, finds a new study by UCL researchers.
Coronavirus: Children the 'silent spreaders' of Covid-19, study finds
A new study adds to growing evidence that children are not immune to Covid-19 and may even play a larger role in community spread than previously thought.
Children aged 12 and over should wear masks - WHO
The World Health Organization (WHO) has issued guidance saying children over the age of 12 should wear masks, in line with recommended practice for adults in their country or area.
DHBs
District health boards urged to upgrade hospital IT systems in wake of Covid-19
The Director-General of Health is urging district health boards to "reprioritise" spending to upgrade hospitals' IT systems in the wake of Covid-19.
Taranaki District Health Board $29 million in the red
Coronavirus, previous debt, and an increase in wages left the Taranaki District Health Board $29.03 million in the red in the last financial year, new figures reveal.
Two more top-level resignations at Canterbury District Health Board, taking total to 7 out of 11
Staff were stretched already and nurses were worried about recruitment ... Stuff holds a special position in New Zealand, with the largest network of ...
PM says Government will act to stop further meltdown of Canterbury health board
Prime Minister Jacinda Ardern said the Government wanted to "move quickly" to intervene in the leadership crisis at Canterbury's health board.
Canterbury DHB remains quiet on Friday as doctors call for government intervention
... day in the wards and halls of Christchurch Hospital, New Zealand Nurses Organisation chief executive Memo Musa said it was hard for medical staff ...
Resignations of Mary Gordon & Stella Ward
Mary is a member of Nurse Executives of NZ, College of Nurses, Aotearoa, and both of the National Lead Directors of Nursing and the South Island ...
Health boss to help Christchurch DHB following shock resignation of its CEO
Nelson Marlborough Health's chief executive Peter Bramley is headed to Christchurch to help its DHB following the shock resignation of its CEO David Meates.
DHB resignations: 'There's a kind of resistance to a different point of view'
The leadership team at the Canterbury DHB has not properly explained how it would save money to fix an enormous financial shortfall, Crown Monitor Lester Levy says.
Canterbury DHB crown monitor criticises management's financial performance
Canterbury District Health Board (CDHB) management have failed to address significant overspending, leading to a deficit that has grown out of control, Crown monitor Lester Levy says.
NZNO Seriously Concerned About Leadership Crisis At Canterbury DHB
The New Zealand Nurses Organisation (NZNO) expresses extreme concern and alarm following the resignations of executive staff at Canterbury ...
END OF LIFE CARE
Hospice Southland says 'no' to End of Life Choice bill
Assisted dying will not be carried out on Hospice Southland grounds or by its staff, no matter how Kiwis vote in the upcoming referendum.
Hospice leadership have made their opposition to the End of Life Choice Act clear in a position statement sent to Southland medical bodies, medical staff, and rest homes.
ETHICAL ISSUES
COVID-19: The moral costs of making tragic choices
In its guidance document Ethics and COVID-19: resource allocation and priority setting, the World Health Organization (WHO) warn 'setting priorities and rationing resources in this [COVID-19] context means making tragic choices' (WHO 2020, p.1).
MENTAL HEALTH
Mental Health Foundation response to annual provisional suicide data
Today the Mental Health Foundation joins all New Zealanders in grieving for the 654 people we lost to suicide last year. We know each of these numbers represents an individual who was loved and whÄnau, communities and loved ones who are grieving them. We send our aroha to everyone who is mourning a loss today.
Pandemic Prompts Thousands To Use EMental Health Tools
Thousands of Kiwis are using eMental Health tools to deal with stress, anxiety and other issues related to the Covid-19 pandemic.
Suicide rise prediction not realised
A predicted jump in mental health calls to police did not eventuate during lockdown, new figures show.
Mental health units breach UN human rights rules, Ombudsman tells Government
The Ombudsman is urging action to fix "serious and persistent" problems at New Zealand's mental health units, after delivering scathing reports on the state of five units, which found a litany of human rights breaches.
MIDWIFERY / MATERNITY
30 Years Since Midwives Gained The Right To Practice Autonomously* | 22 August Marks ...
"We felt we had little control over own bodies."
That's how one Auckland woman describes her experience of childbirth in the 1970s. That all changed 30 years ago with the passage of the Nurses Amendment Act 1990, providing statutory recognition for midwives as "safe and competent practitioners in their own right".
PASIFIKA HEALTH
Pacific languages a key to overcoming Covid 19 resurgence
Weekly briefings in different Pacific languages on various media outlets amid the recent COVID-19 resurgence in Auckland is a vital resource for the community, says a senior Pacific doctor. Read more
Auckland Covid-19 response: 'We need a Pasifika voice'
The chair of the Pasifika GP Network is calling on the government to ensure there is a Pacific voice on the new group overseeing testing at the country's border.
Call for Pacific community connection amid Covid data divide
A senior Pacific health official in New Zealand says not everyone has access to the technology required to receive important information about the Covid-19 pandemic. Read more
PUBLIC HEALTH
'We have totally failed': Rheumatic fever: The Third World disease entrenched in New Zealand
It's a disease that can have a life-long impact on those it strikes, it disproportionately hits Māori and Pacific people, and it shouldn't even be in this country. Virginia Fallon reports. Read more
Coronavirus: Gonorrhoea, chlamydia tests sidelined as labs pump out Covid-19 tests
Gonorrhoea and chlamydia are just two of the country's common sexually transmitted infections which won't be diagnosed as labs grapple with Covid-19 pressure.
RESPIRATORY
'Maori and Pacific asthma patients to benefit from ground-breaking Kiwi research'
New analysis from a 'landmark' New Zealand study which has radically changed the way doctors treat asthma worldwide shows a simpified inhaler treatment dramatically reduces severe asthma attacks among Māori and Pacific patients with mild asthma.
WORKPLACE
Nurse turnover: Understand it, reduce it
Nurses work in a fast-paced environment, providing patient care, reassuring family members, and keeping up with evidence-based practices and procedures. That level of stress can leave many healthcare organizations with a high nurse turnover rate. Fundamentally, though, turnover is a reaction to every leadership decision, so managing it is a process, not an event that's concluded with a quarterly or annual review.
Is your topic suitable for your target journal? Three questions to ask
As editorial director for American Nurse Journal, it's my job to field what we call "queries"—emails from nurses asking if a topic would be of interest to the journal. You can learn more about crafting a query in an earlier article. Here I want to address a more fundamental question: Is your topic suitable for the publication you are targeting? Before reaching out to an editor, you want to be able to answer that question with a resounding "yes!" Before you can do that, though, think about your answers to three other questions.
ARTICLES OF INTEREST
Creating a healthy working environment is every nurse's responsibility
Professionalism creates the foundation for civil and healthy work environments.
According to the American Nurses Association, a healthy work environment is one that is safe, empowering, and satisfying.
Using the Form, Storm, Norm, Perform, and Adjourn method of team formation, teams of clinical faculty and practicing clinicians can collaborate to help students learn professionalism. Read more
The article below is not freely available but may be accessed through databases and libraries to which readers have access
Strategies for embedding population health concepts into nursing education.
Jordan, K, Lofton, S, Richards, EA.
Nursing Forum. 2020; 1– 6. https://doi.org/10.1111/nuf.12498
Advances in community and public health are needed to address contemporary health needs, particularly poor health outcomes related to the social determinants of health and inequity. Nurses are ideally placed to promote meaningful advances in community and public health, collectively referred to as population health. Nurse educators can promote a deeper understanding of core population health concepts by threading these concepts throughout the academic nursing curricula in addition to standalone population or public health courses. Strategies for incorporating population health concepts in a variety of courses can be conceptualized through the themes emphasizing context, honoring community voices, cultivating community connection, and fostering leadership in social responsibility. Nurse educators with expertise in population health can serve as a resource for faculty as these strategies are implemented. Teaching population health provides exciting opportunities for innovative approaches to facilitate students to link their practice to wider social contexts. Further steps to strengthen the public and community health workforce will still be needed to meet population health needs.
The above information has been collated for the College of Nurses Aotearoa (NZ) Inc by Linda Stopforth, SNIPS and is provided on a weekly basis. It is current as of August 25 2020
If you have any feedback about content - what parts are most useful or what you would like added - please email admin@nurse.org.nz
For more up to date news and information follow SNIPS at:
Facebook: Snips Info
Twitter: @SnipsInfo