News bulletin 12 October 2011
on 12 October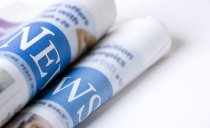 Welcome to the College of Nurses – News Update.
No. 75 – 12 October 2011 

From NZ media this week 

Canterbury people to benefit from new health information sharing system
A new way of sharing health information will be introduced in Canterbury later this month. Called the Shared Care Record View or eSCRV for short, the system takes certain patient information and makes it available to authorised doctors, nurses and pharmacists ..
http://bit.ly/o081N6 

Hospitals 'need to be ready for disaster'
February's devastating earthquake has highlighted a need for hospitals to do more planning on how they would cope with mass casualty events, says senior Christchurch orthopaedic surgeon John McKie.
http://bit.ly/qddIt0 

Hospitals fork out big-time for equipment to care for obese
Hospitals have spent more than $16 million in the past three years buying equipment to care for obese patients.
http://bit.ly/oYg0GA 

Waitemata DHB Tops All District Health Boards in National Programme Addressing Family Violence
Waitemata District Health Board has achieved the top ranking of all New Zealand DHBs in the Government-initiated Violence Intervention Programme (VIP). All 20 DHBs in the country are participating in the programme, which measures their responsiveness, support and service delivery in the area of family violence prevention.
http://bit.ly/ozHOql 

New Course Aims to Lower Mental Health Risks
Has the person sitting at the desk next to you been behaving unusually oddly? Is your elderly parent inexplicably depressed? Do you have a friend being uncharacteristically abusive or manipulative? These may indicate early signs of mental health distress.
http://bit.ly/nGEBV4 

Half of ENs transitioned to new scope
About half of the country's practicing enrolled nurses have transitioned to the new wider scope of practice.
http://bit.ly/nJsjJs 

Oz exodus continues but Kiwi workforce still growing
The number of Kiwi nurses seeking work in Australia continues to grow but the nursing workforce this side of the Tasman is also growing steadily, the latest Nursing Council statistics show.
http://www.nursingreview.co.nz/pages/section/article.php?s=News&idArticle=22366 

MH nurse shortages prompt bed closures
Bed numbers have been temporarily reduced at Auckland District Health Board's acute mental health unit in the wake of ongoing concerns about staffing levels.
http://www.nursingreview.co.nz/pages/section/article.php?s=News&idArticle=22371 

Problem-solving aid to beating suicide
Problem-solving therapy to help people who attempt suicide or self-harm could complement work already being done in the Southern district, a suicide prevention co-ordinator said.
http://bit.ly/pOYUgc  

Urgent need for collaboration and innovation in aged care 
The sooner ALL interested parties get together to resolve the many complex issues inherent in aged care in New Zealand the better for all concerned, especially for older people" says Judy Yarwood, the Co-Chair of the College of Nurses (Aotearoa). Like so many other organisations and interested groups the College of Nurses wants a collaborative approach taken to focus urgently on services that will best suit the needs of older people.
http://www.nurse.org.nz/daily-news,listing,190,press-release-.html 

Hutt Hospital's self-booking idea cuts appointment 'no shows'
A school parent-teacher interview led to a computer system that will let outpatients go online to book their own hospital appointments.
http://bit.ly/oE7mq8 

Culture change sought in dementia care
n Australian expert in dementia care says culture change is needed to fix unhealthy situations in rest homes, and that change has to be led from the top.
http://bit.ly/nvOeom  

International media 

An Ageing Aged Care Sector
More than half of the country's aged care workforce is aged 45 years and over. The Australian Social Trends September 2011 report issued by the Australian Bureau of Statistics shows that the aged care workforce is ageing quickly, but that recruitment of younger workers has similarly declined.
http://bit.ly/omtAJs 

Doctors Critical of Nurse-Run Clinic's Success
Despite boasting more than 100 patients within the first week of its opening, the first-of-its-kind nurse practitioner-run clinic in Brisbane has still garnered much criticism from the country's top medical bodies. Nevertheless, plans are underway to open a second SmartClinics sometime next year.
http://bit.ly/pSUznB 

Hire education
Unfilled school nurse positions jeopardize school healthcare
http://news.nurse.com/apps/pbcs.dll/article?AID=2011109260036 

ED Nurses Caring for More Patients With Mental Illness
In their study, published in the Australian Emergency Nursing Journal, Donna Marynowski-Traczyk and Marc Broadbent undertook an interpretive phenomenological investigation to detail the lived experiences of six ED nurses who, through their role in the EDs, found themselves increasingly caring for patients with mental illnesses. With the growing use of EDs as a first point of contact and portal for patients into the Australian healthcare system, nurses working in the ED often deal with patients w
http://bit.ly/okvkn8 

ANA criticizes Bahrain for imprisonment of nurses
The American Nurses Association released a statement condemning the Bahraini judicial system for imposing prison sentences on 20 healthcare professionals, including nurses, who treated wounded political protesters earlier this year.
http://news.nurse.com/article/20111005/NATIONAL02/110170005/1003 

When the Nurse Wants to Be Called 'Doctor'
NASHVILLE — With pain in her right ear, Sue Cassidy went to a clinic. The doctor, wearing a white lab coat with a stethoscope in one pocket, introduced herself.
http://www.nytimes.com/2011/10/02/health/policy/02docs.html?_r=1 

Bonded nursing graduates to be released: minister
ZIMBABWE is releasing 2,000 nurses from a bonding scheme after they failed to secure jobs in the health service, Health Minister Henry Madzorera has told Parliament.
http://bit.ly/oKgIlh 

Language tests for nurses less pressing than for doctors, says DH
A ban on language testing for nurses is to remain in force, even though the government is overturning that on doctors on the grounds that they pose more of a risk to patients.
ttp://www.nursingtimes.net/5036119.article?referrer=e1 

Half of hospitals 'failing to feed elderly patients properly
'Staff forgetting to give food and water, while dignified care is lacking at 40% of hospitals, Care Quality Commission says
http://www.guardian.co.uk/society/2011/oct/08/half-hospitals-not-feeding-elderly  

Public health 

US asks NZ why people die of fluWhy some people die of flu and others survive is one of the questions Kiwi scientists are trying to answer in one of the biggest studies of the disease yet conducted.
http://bit.ly/oNiKad 

Jonah's plight highlights organ issues
Jonah Lomu's health scare has highlighted a reluctance among Pacific Islanders to receive life-saving organ transplants, the Ministry of Pacific Island Affairs says.
http://www.stuff.co.nz/national/5754780/Jonahs-plight-highlights-organ-issues 

Sex clinics treating more youngsters
Sunita Azariah's heart sinks each time a 12-year-old walks into her clinic. Treating anyone for a preventable sexually transmitted infection is hard enough, says Azariah, a sexual health physician with the Auckland Sexual Health Service. Treating a child is worse.
http://www.nzherald.co.nz/nz/news/article.cfm?c_id=1&objectid=10757558 

Whooping cough rise a concern in Nelson
The number of people coming down with whooping cough is still rising in Nelson and Tasman, with confirmed cases in September far outnumbering those in August and surprising health professionals.
http://bit.ly/rsZScm 

ore whooping cough cases on West Coast
The West Coast's whooping cough (pertussis) outbreak continues, despite health authorities offering free booster vaccines to some adults.
ttp://www.nzherald.co.nz/nz/news/article.cfm?c_id=1&objectid=10757288 

Measles infects hundreds as outbreak spreads
It all started with five students who caught measles on an Emirates flight from Singapore in January.
http://www.nzherald.co.nz/nz/news/article.cfm?c_id=1&objectid=10758089 

Measles warnings fall on deaf ears
Health authority pleas for Aucklanders to get immunised are falling on deaf ears as 24 new cases of measles have been confirmed since last Tuesday.
http://www.stuff.co.nz/national/health/5730286/Measles-warnings-fall-on-deaf-ears  

Computers and social networking 
Surgeons, Start Tweeting! Embrace Social Media, UB Professor Tells Peers
BUFFALO, N.Y. -- Surgeons should add their voices to social media and online discussions, while taking care to fully understand the potential security and medical-legal implications.
http://www.buffalo.edu/news/12925  

Kings Fund blog
About the blogWelcome to The King's Fund Blog. Here you will find up-to-date comment and analysis on the key issues surrounding health and social care in England. We actively encourage comments and discussion on the blog, to further the debate and to help inform our thinking. To comment, please take a few moments to register with us
http://www.kingsfund.org.uk/blog/index.html 

Websites of interest 

Agency for healthcare research and quality
The Agency for Healthcare Research and Quality's (AHRQ) mission is to improve the quality, safety, efficiency, and effectiveness of health care for all Americans. Information from AHRQ's research helps people make more informed decisions and improve the quality of health care services. AHRQ was formerly known as the Agency for Health Care Policy and Research.Not only does this site have a lot of information and links it also offers information via twitter and email newslettershttp://www.ahrq.gov/ 

Articles of interest 

The future of nursing and health IT
APRNs Achieve Comparable or Better Outcomes Than Physicians, Review Suggests

PITMAN, NJ - How do advanced practice registered nurse (APRN) patient outcomes compare with those of physicians and other health care teams without APRNs? A systematic review to be published in the September/October 2011 issue of

Nursing Economic$

suggests APRNs garner similar and in some ways better outcomes than their physician counterparts.
This special report, which is being published online ahead of the print issue, reinforces that APRNs provide effective, high-quality patient care and play an important role in improving the quality of care in the United States. The article, "

Advanced Practice Nurse Outcomes 1990-2008: A Systematic Review

," is available online for free.
From the Ministry of Health
Vote Health: Report in relation to selected Non-departmental Appropriations for the year ended 30 June 2011

Date of publication (online): October 2011

ummary of publication
This report covers the Vote Health appropriations used for purchasing outputs supplied by third-party service providers that do not report to Parliament directly on that expenditure.

http://www.moh.govt.nz/moh.nsf/indexmh/vote-health-ar-2011
The above information has been collated for the College of Nurses Aotearoa (NZ) Inc by Linda Stopforth, SNIPS and is provided on a weekly basis.

 

It is current as at Tuesday 11 October 2011

If you have any feedback about content - what parts are most useful or what you would like added - please email
admin@nurse.org.nz