News bulletin 16 September
on 16 September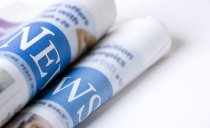 Welcome to the College of Nurses Aotearoa News Update.
No. 512, Wednesday 16 September 2020
Weekly news round-up of nursing and health information in New Zealand and internationally
NATIONAL NEWS
Medical nursing led to dialysis specialty
2020 is the International Year of the Nurse and Midwife. It is a year to celebrate and acknowledge all nurses and midwives, who make an enormous contribution to the health and wellbeing of the people of Tairawhiti.
The first nurse featured is Kathy Bunyan.
NZ's first Tongan nurse practitioner upholds her culture and language to best support her patients
Latest News 07 September | Supporting whaanau for nearly twenties years in various nursing roles at Counties Manukau Health (CM Health), nurse practitioner Fakaola 'I Vaiola Siliva 'Otuafi loves being at the heart of the Pacific community in South Auckland; working towards better health outcomes for her people.
New programme gives Taranaki nursing students better quality clinical training
The DEU has been integrated into multiple clinical learning environments in New Zealand and overseas but is the first of its kind in Taranaki.
Those forming the fence at the top of the cliff deserve fairness
The future of New Zealanders' health will rest in the hands of primary healthcare staff. They need to be paid accordingly, writes Teresa Wasilewska.
'No picnic': Hawke's Bay primary care nurses strike for parity
Tamatea Medical Centre practice nurse Katherine Kohlis wants primary care nurses to be recognised for the work they do, and be paid accordingly.
More than 3400 health care workers across country will stop working for two hours as fight for pay continues
More than 3400 health care workers across the country will stop working for two hours as they fight for better pay conditions.
AGED CARE AND ELDERLY
Rest home care provided to elderly woman - Health and Disability Commissioner
Deputy Health and Disability Commissioner Rose Wall today released a report finding a rest home and a nurse in breach of the Code of Health and Disability Services Consumers' Rights (the Code) for failings in the care provided to an elderly rest home resident.
COVID-19 / CORONAVIRUS
How do pandemics usually end? And how will this one finish?
Just over 100 years ago, a new strain of influenza infected a third of the world's population — but within just three years, the threat of this deadly flu had all but passed.
Hospital COVID-19 risk lowest among intensive care staff
Contrary to expectations, the risk of COVID-19 infection among hospital staff at the height of the coronavirus pandemic was lowest among intensive care clinicians, reveals a study of one major UK medical centre, published in the journal Thorax.
WHO sees mid-2021 for widespread COVID-19 vaccinations
Widespread COVID-19 vaccinations are not expected until the middle of 2021 as none of the vaccine candidates in late-stage testing have shown any clear signs of a minimum 50% efficacy level as required by the World Health Organization. "This phase 3 must take longer because we need to see how truly protective the vaccine is and we also need to see how safe it is," said WHO spokeswoman Margaret Harris.
Fighting mistrust vital to stamp out Covid in Auckland - experts
Community pushback against Covid-19 misinformation, and leaders promoting safety precautions are crucial to fight the virus in Auckland, experts and community leaders say.
Coronavirus: Misinformation about Covid-19 'could block move to level 1'
The "repeated, deliberate, malicious" spread of misinformation about coronavirus is threatening to block a move in alert levels, the health minister says.
Pacific health leaders unimpressed with police involvement in Covid-19 contact tracing
Pacific health leaders say bringing police in to help with contact tracing is a bad look and there are better ways to bolster expertise
Coronavirus: Move to alert level 1 unlikely amid growth of 'sub-clusters'
For 100 days New Zealand appeared to have eliminated coronavirus, however, on August 11, multiple cases popped up in the community again, seemingly out of nowhere.
Now, just as the country's largest cluster, with tentacles stretching from the North Shore to Tokoroa, appears to be mostly contained, the growth of new "sub-clusters" is dashing hopes that life could go back to normal anytime soon.
Discovery of four COVID-19 risk groups helps guide treatment
People who are admitted to hospital with COVID-19 can be divided into four distinct groups, according to data from the world's largest study of patients with the disease.
Covid patients have lung damage 'weeks after leaving hospital'
Austrian research shows how recovery can be slow process for those with severe infection
DHBs
Waikato DHB plans to break even next financial year after years of deficits
Waikato DHB expects it to be "extremely challenging" to balance its books by mid 2022.
The DHB has had a rocky few years and the organisation's latest annual plan says it had been heading for a deficit of around $100m in 2019/20.
'Debris' from previous surgeries still on 'sterilised' surgical instruments
A "pervasive blame culture" contributed to multiple instances of soiled surgical equipment being presented at Wairarapa Hospital for operations.
Patient safety at risk after Canterbury health board cuts, outgoing nursing boss says
Outgoing Canterbury health nursing head Mary Gordon told nursing magazine Kai Tiaki Nursing New Zealand the plan, which included $16m of cuts ...
Severely brain-injured will have to travel for treatment as rehab forced to close
People with traumatic brain injuries will have to travel to another city for treatment when Christchurch's only specialist rehabilitation clinic closes.

Culture threat to New Zealand's health system
OPINION: On September 5 Stuff published a timely editorial on the toxic relationship between the Ministry of Health and the Canterbury District Health Board. The catalyst is the size of the CDHB's deficit, with the Ministry punitively blaming the CDHB, leading to the meltdown of its senior management leadership team.
Christchurch Hospital to get $14m carpark after reports of nurses being attacked while walking to cars
The Crown is forking out $14 million for the package, which will see a brand new car park building constructed within the next two years
Doctors at understaffed Christchurch cancer department getting coaching to manage stress
A staffing crisis at Christchurch Hospital's cancer department has left doctors so stressed they are receiving specialist coaching to manage the workload.
Why we left: Ex-DHB bosses speak out
Cost-cutting demands at the Canterbury DHB are compared to asking Air NZ to maintain its flight schedule while shedding thousands of jobs. David Williams reports
What should be done about the CDHB crisis?
OPINION: There has been nothing in the Canterbury DHB's history comparable to the crisis it is currently embroiled in. There has been a complete failure of the relationship between the Ministry of Health and the DHB.
New $1.4 billion Dunedin Hospital to feature two main buildings
Dunedin's new hospital – one of the largest infrastructure projects in the country – will feature two separate buildings.
EDUCATION
Cash-strapped education sector facing widespread job losses
The loss of millions of dollars in fees from foreign students mean hundreds of jobs are at risk in the country's schools, universities and polytechnics.
Caution urged over 'out of blue' proposal to limit special pathway for Māori, Pasifika at Otago Med School
The Medical Council is adding its voice to the chorus of concern about Otago University medical school's closed-door discussions about capping the number of special entry students.
HEALTH RESEARCH
Reducing Inequalities Major Focus Of New Research At The Frontline Of Healthcare Services
The Health Research Council of New Zealand (HRC) has today announced $14.4 million in funding for research that will directly improve the delivery of healthcare services in New Zealand.
PHARMACY
Pharmac seeking views on widened access to juvenile idiopathic arthritis medicines
PHARMAC is looking at widening access to three funded treatments - adalimumab, etanercept and tocilizumab - to enable more young people with juvenile idiopathic arthritis to benefit from these medicines.
PUBLIC HEALTH
Doctors, nurses get behind free EpiPen initiative
Health professionals gave a huge thumbs up to Allergy New Zealand's recent free EpiPen® campaign, according to the organisation's Chief Executive Mark Dixon.
REFERENDUM and ELECTION 2020
National announces $30m childhood dental services policy
National is promising to spend an extra $30 million on improving dental services for children, including a free toothbrush, toothpaste and information pack each year.
Euthanasia referendum: There is no 'slippery slope' to the End of Life Choice Act, say senior legal professionals
OPINION: As the referendum on the End of Life Choice Act approaches, people naturally want to know - are the safeguards in the Act safe enough? As two lawyers (one practicing and one academic) with extensive expertise in this area, our answer to this question is a resounding and evidence-based 'yes'.
'Limits' to palliative care part of case for assisted dying option
Dr Libby Smales is a palliative care specialist with more than 20 years' experience as director of Cranford Hospice in Hawke's Bay. On behalf of the Yes for Compassion group she replies to the Nelson Tasman Hospice column (September 5) on the End of Life Choice Act referendum.
WORKPLACE
Strategies for Nurses to Handle Workplace Incivility
An old adage says, "older nurses eat their young," but age is not the only factor that can drive gossip, bullying, and overall workplace incivility for health care workers. Tension in the workplace can affect nurses personally and professionally, but there are steps that can be taken to promote a more respectful environment, according to Penne McPherson, EdD, RN-NPD, OCN.
MINISTRY OF HEALTH REPORTS
Human Rights and the Mental Health (Compulsory Assessment and Treatment) Act 1992
Human Rights and the Mental Health (Compulsory Assessment and Treatment) Act 1992 provides guidance on how to think about and apply human rights, recovery approaches and supported decision-making when implementing the current Mental Health (Compulsory Assessment and Treatment) Act 1992 (the Mental Health Act). Read more
Guidelines to the Mental Health (Compulsory Assessment and Treatment) Act 1992
The Ministry has revised the guidance to the Mental Health (Compulsory Assessment and Treatment) Act 1992 (the Act), outlining the rights of compulsory mental health consumers and the obligations of mental health clinicians. This guidance is intended to promote the protection of compulsory mental health consumers' rights by clarifying the responsibilities of mental health services and clinicians and offering guidance on how sections of the Act can be administered.
The above information has been collated for the College of Nurses Aotearoa (NZ) Inc by Linda Stopforth, SNIPS and is provided on a weekly basis. It is current as of September 15 2020
If you have any feedback about content - what parts are most useful or what you would like added - please email admin@nurse.org.nz
For more up to date news and information follow SNIPS at:
Facebook: Snips Info
Twitter: @SnipsInfo