News bulletin 23 September
on 23 September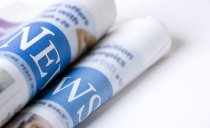 Welcome to the College of Nurses Aotearoa News Update.
No. 513, Wednesday 23 September 2020
Weekly news round-up of nursing and health information in New Zealand and internationally
NATIONAL NEWS
A New Approach To Mental Health In Nursing
With mental health needs rising sharply and services already stretched, the University of Waikato is responding to the challenge with the launch of the new Bachelor of Nursing in 2021, integrating a focus on mental health and addictions throughout the three-year degree.
Focus on Pacific as Whitireia creates new nursing programme role
In response to an urgent need within New Zealand's health sector to have a 'by Pacific for Pacific' approach to improve spiralling statistics, Whitireia Community Polytechnic has appointed a new programme manager to lead its Bachelor of Nursing - Pacific - programme. This is the first time a person of Pacific descent has led the programme since its inception in 2004.
NZNO Service to Nursing Award 2020 goes to patient rights advocate
Each year the New Zealand Nurses Organisation (NZNO) presents Service to Nursing and Midwifery Awards as a way of recognising nurses or ...
INTERNATIONAL NEWS
On the beat: Mental health nurses join forces with NSW police to improve care
"Our main objective is to support people out in the community in their own environment as much as possible using the least restrictive and least coercive measures that are available to us," says mental health nurse Fiona I'Anson of her role attending scenes where people are experiencing mental health emergencies alongside NSW police officers to provide specialist assessment and care.
Covid-19 nurse deaths in the thousands: federation
More than a thousand nurses are known to have died worldwide due to COVID-19, the International Council of Nurses said Wednesday, adding that the true figure was likely far higher.
BC authorizes nurses to prescribe safe alternatives to toxic street drugs
Overdose deaths in B.C. have spiked since the start of the COVID-19 pandemic
CHILDREN AD YOUNG PEOPLE
Thousands of children missed vaccinations due to Covid-19
There are fears an outbreak of measles or whooping cough could re-emerge once borders open if thousands of children who have missed vaccinations because of Covid-19 are not caught up quickly.
COVID-19 / CORONAVIRUS
Coronavirus: New Zealand signs agreement for Covid-19 vaccine for half of population
New Zealand has signed a $27 million agreement to guarantee Covid-19 vaccines for half the population, if an international effort to create a vaccine succeeds.
Covid 19 coronavirus: One in 10 cases was a healthcare worker doing their jobs, as unions call for a full independent investigation
Almost 100 healthcare workers were infected with Covid-19 while they were doing their jobs during the first outbreak - equating to 10 per cent of all local cases.
Zero healthcare workers should be infected with Covid-19 at work, says top epidemiologist
At least five healthcare workers are among the confirmed cases from the second outbreak - but only the nurse working at the Jet Park Hotel who was ...
Rod Jackson: Why Covid is at least 10 times more deadly than the flu
Estimates of the proportion of people who die from Covid-19 have been controversial, with some even dismissing it as similar to a bad flu. There are three main problems accounting for this controversy.
Covid-19 leave scheme to be expanded
The government is expanding its Covid-19 leave scheme to cover people who have symptoms of the coronavirus and need to self-isolate while waiting for the results of a test.
Exploring how COVID-19 pandemic trajectory might unfold in the future
Researchers who adapted standard epidemiological models to explore how the COVID-19 pandemic trajectory might unfold in the next five years report diverse scenarios ranging from recurring severe epidemics to elimination. Their work emphasizes how dependent the future course of the pandemic is on the nature of the adaptive immune response to this virus and on the efficacy of future potential vaccines. The duration and severity of future COVID-19 cases will depend on the strength of both natural and vaccine-derived immunity against the SARS-CoV-2 pathogen.
DHBs
Māori, Pacific in public sector 'significantly' less likely to earn six figures
Māori and Pacific staff in government departments and district health boards are far less likely to earn six-figure salaries than their Pākehā counterparts.
DIABETES
More children diagnosed with 'insidious' type 2 diabetes each year – experts
More children are being diagnosed with type 2 diabetes every year with some weighing up to 150 kilograms at just 12 years old, says Starship paediatrician Dr Craig Jeffries. Read more
REFERENDUM and ELECTION 2020
Cannabis referendum: evidence does not suggest legalisation would mean more road deaths, expert says
There are concerns the legalisation of cannabis could lead to an increase in road deaths, with the impact of drugged driving already becoming more apparent.
Will you let palliative care be dropped for euthanasia?
Nicole van den Engel is an NZ Registered Nurse currently volunteer nursing in the Philippines. Dear New Zealander. Euthanasia is a complex issue, an ...
MINISTRY OF HEALTH REPORTS
Influenza vaccine supply chain report
This report was commissioned by the Ministry in May 2020 to examine the supply and distribution of influenza vaccines and identify improvements for the 2021 influenza season and beyond.
It was produced by PricewaterhouseCoopers (PWC), and highlights ten areas of focus grouped into the following themes of authorising and political environment, the strategic goals of the programme, and the organisation and system capabilities.
Mental health 2016/17: New Zealand Health Survey
The Mental Health Data Explorer presents survey results on mental health status, risk of problematic substance use, loneliness, informal help-seeking and access to mental health and addictions services for both adults and children. Results are available by gender, age group, ethnic group and neighbourhood deprivation.
Health Sector Response to the 2019 Measles Outbreaks
This report was commissioned by the Ministry in early 2020 to consider the health system's response to the measles outbreaks, and was conducted by Dr Gerard Sonder and Dr Suitafa Debbie Ryan.
The review was tasked with reflecting on how the system responded, and continues to respond, to the outbreak, and to identify opportunities to strengthen future responses, and identifying what went well and what could be improved to help manage future disease outbreaks.
It includes a set of recommendations to improve the health system's ability to prevent and respond to measles and other disease outbreaks.
GENERAL REPORTS
Te Piringa insights into ensuring effective whānau-centred, primary health care services and support
This integrative literature review sought to understand the evidence for whānau-centred primary health provision towards improved Māori and Pacific health outcomes.


ONLINE RESOURCES
Critical Appraisal Tools
JBI's critical appraisal tools assist in assessing the trustworthiness, relevance and results of published papers.
ARTICLES OF INTEREST
The articles below are not freely available but may be accessed through databases and libraries to which readers have access
The need for and value of nurse and midwife prescribing: Findings from an Irish research investigation.
Wilson, DM, Fahy, A, Nam, MA, Murphy, J.
Int J Nurs Pract. 2020;e12877. https://doi.org/10.1111/ijn.12877
The aim of this study is to determine the need for and value of nurse and midwife prescribing in Ireland as identified by these prescribers—the people most able to provide relevant insights and information.
Background
Since 2007, nurses and midwives in Ireland who have passed an additional educational program can prescribe medicinal products relative to their clinical practice areas. Research evidence of efficacy is needed now for prescribing sustainability in Ireland and to encourage, if successful, the adoption or expansion of frontline nurse/midwife prescribing rights in other countries.
Investigating non-medical prescribers' awareness of compliance
Sonia Boulton and Alison White
Journal of Prescribing Practice, Vol. 2, No. 9: 504-510.
This paper sought to investigate non-medical prescribers' awareness of compliance and what is required for them to be compliant when prescribing in an acute NHS trust. This was a quantitative pilot study using a survey technique with an online questionnaire. A purposive sample from 85 registered non-medical prescribers who were actively prescribing were invited to participate. Data analysis was restricted because of the limited number of respondents (n=14), making this a pilot study. Data were analysed using descriptive statistical analysis IBM SPSS 25 software. The majority (85.7%) of non-medical prescribers were shown to be compliant, highlighting 14.3% as non-compliant. Furthermore, 28% prescribed outside of their personal formulary, which is in breach of the non-medical prescribers' trust policy. A further 85% participated in continuous professional development and 72% requested regular continuous professional development. Despite the majority being compliant with the non-medical prescribers' policy, 14.3% were not. This clearly has implications for patient safety and practitioner professionalism, in terms of responsibility and accountability. Although limited by small respondent size, the findings highlight the need for further research to inform recommendations for practice.
The above information has been collated for the College of Nurses Aotearoa (NZ) Inc by Linda Stopforth, SNIPS and is provided on a weekly basis. It is current as of September 22 2020
If you have any feedback about content - what parts are most useful or what you would like added - please email admin@nurse.org.nz
For more up to date news and information follow SNIPS at:
Facebook: Snips Info
Twitter: @SnipsInfo